Sophie Bass – Evolutionary Biologist, Volunteer Support Officer, AMLR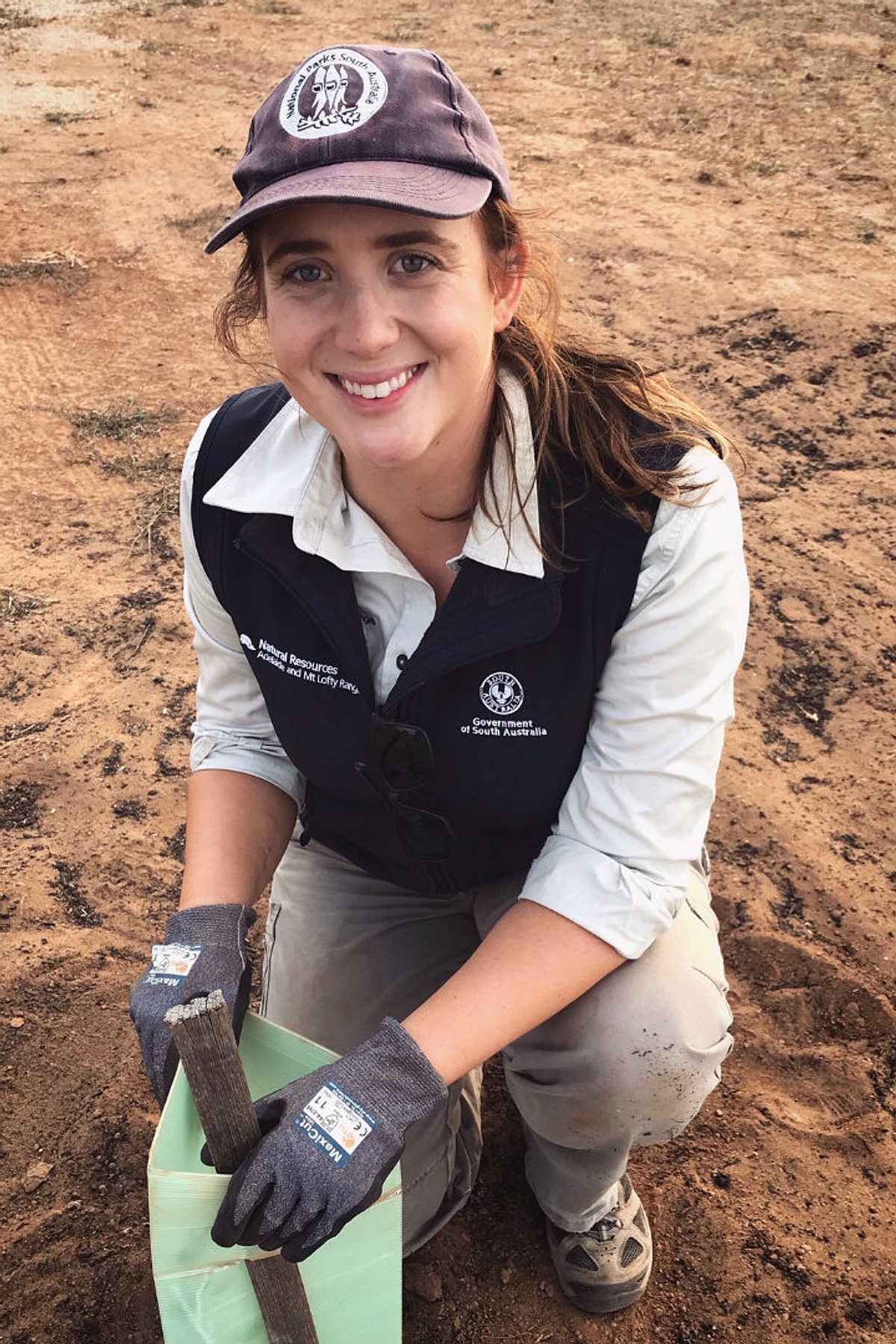 1. Science qualifications?
Bachelor of Science (Hons) majoring in Botany and Environmental Geoscience, and PhD in Science (general area was environmental science)
2. Path to current role?
My first job with the Department was a District Officer role in the Ranges to River District in the SA Murray-Darling Basin. I grew up spending a lot of time at my family's shack at Purnong, so I have always loved the mallee and really enjoyed working in this region. Before working for the Department, I worked in the SA Museum's Discovery Centre, as well as a Teaching Assistant in Zoology. I also had a seven-year stint working in events. I now work as a Volunteer Support Officer in the Adelaide Mount Lofty Ranges.
3. What encouraged you to go into a career in science?
My love for science began in early high school when I first discovered biology. I remember our science teacher teaching us about DNA replication, and saying that it was the most interesting thing he'd ever learned. I remember most of my friends going on about how boring it was and I was completely fascinated by it. My honours and PhD both ended up having a strong molecular systematics focus as I never lost my interest in DNA and genetics.
4. What does "a day in the life" consist of for you?
At the moment, I am working as a Volunteer Support Officer. I provide environmental volunteer groups with technical support and advice, and help with grant applications and project planning. These groups do amazing work preserving and improving our parks and reserves and it is a pleasure to support them.
5. How do you use science at work and how does it contribute to the state?
I worked on trapdoor spiders for my PhD, and some of the species I worked on were found only in one or two locations. Often, the continued survival of these species relies heavily on the habitat preserved in conservation parks and roadside reserves. My background in environmental science and conservation puts me in an excellent position to help support the volunteers that are doing amazing on-ground work in these parks and reserves.
6. Tell me about a memorable moment in science or a special milestone or achievement of yours.
Discovering 19 new species of trapdoor spiders during my PhD, and also having a species of Western Australian trapdoor spider named after me!
7. Why do you think women in science are important?
I think it's really important to have diversity in science. Different genders, experience levels and backgrounds all provide different contributions.
8. Anything else you'd like to add.
Studying science can take you down so many different paths. I began my PhD with the intention of pursing an academic career in research. However, during my studies, I spent months searching for spiders all over Australia in some truly stunning conservation parks. I saw just how important these parks were to so many threatened species; some of the spiders I worked on are found nowhere else in the world, and they rely heavily on the habitat provided by these parks and reserves to keep their populations alive. This made me realise I wanted to pursue a career that would help to preserve and improve the valuable habitat that our parks and reserves provide.