Prescribed burning frequently asked questions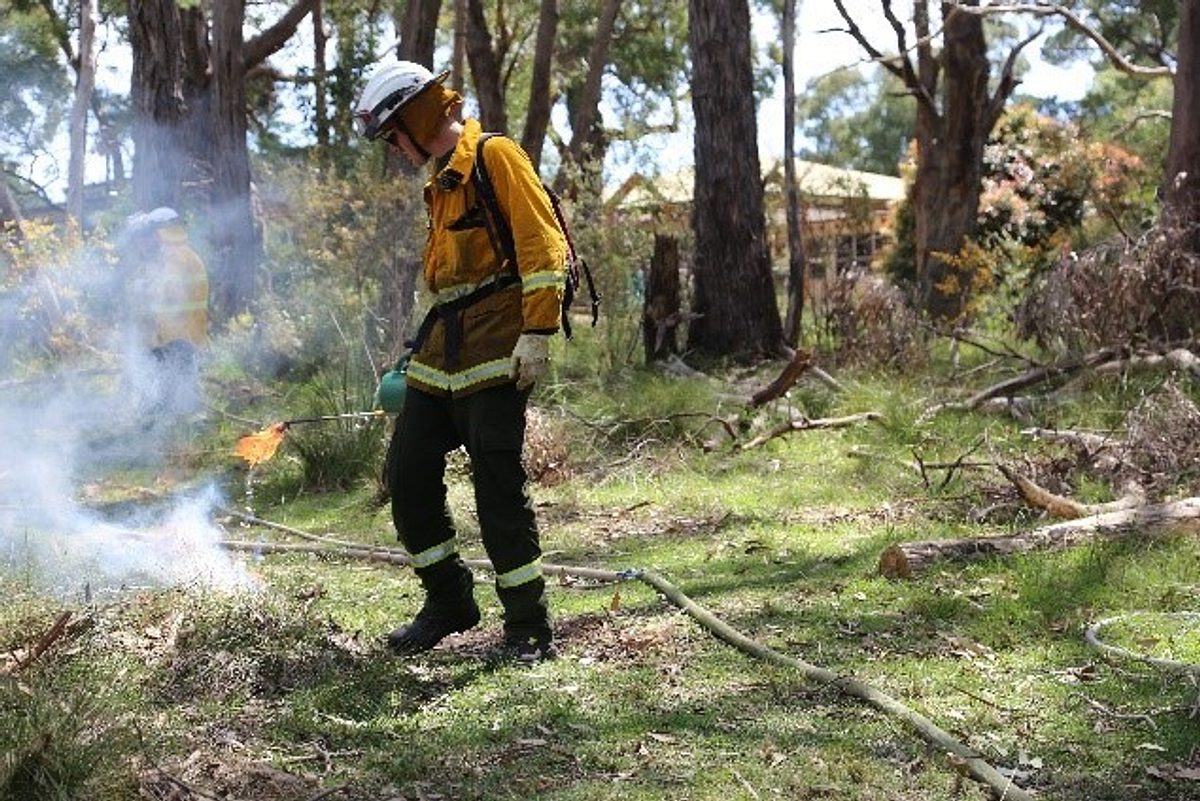 How do you decide when to burn?
The majority of prescribed burns are undertaken in spring and autumn when there is enough moisture in the landscape to make them easier to control but weather conditions are warm and dry enough to achieve the desired fire intensity.
The Bureau of Meteorology is consulted and a burn is only scheduled if the conditions are appropriate. There is generally a fairly short window of time when fuels are dry enough to burn and the weather is mild enough to make it safe to conduct.
Planned burns not completed in one season are rolled over and may be prioritised the following spring or autumn.
Is burning harmful to the environment?
As a general rule Australia's plants and animals have evolved to flourish, or at least persist, with the particular fire regime they've been exposed to.
Before every prescribed burn, staff assess the potential impact on animals and plants, and ensure there is enough unburnt habitat in the landscape for populations to use while the burnt habitat regenerates. Find out more about fire and the environment here.
How do you safely burn land?
Careful planning, preparation and management are key. Staff wait for the right combination of fuel and weather conditions before going ahead. Many months of research, planning, and approvals occur before staff will attempt to ignite a burn.
This includes making sure appropriate firefighting resources are organised and fall-back positions identified before they're needed. Firefighters patrol the area and extinguish hotspots until the burn is declared safe.
Will everything in the area burn?
Prescribed burning generally targets the 'fine fuels' such as dry grass, leaf litter, twigs, bark and other vegetation, similar to what you would use to light a campfire or a fireplace in your lounge room. This fuel type ignites the easiest and carries the fire front.
Larger fuels, such as tree branches and fallen logs, typically don't burn in the fire front or carry the fire, and are far less combustible. Reducing fine fuels, as well as some of the bark on trees, will make the area safer from bushfires for a number of years.
In areas of mallee vegetation it is sometimes necessary to burn the tree tops to achieve the desired fuel reduction and ecological outcomes. Temporarily reducing the canopy cover can provide access to light and nutrients for a greater variety of plant species, improving the biodiversity of the area.
Who does the burning on private land?
Under the Burning on Private Land program, prescribed burning is undertaken by skilled fire practitioners from National Parks and Wildlife Service as part of an agreement between the landholder and the Department for Environment and Water.

What's the difference between back burning and hazard reduction?
Back burning involves burning strategic locations around the path of an approaching bushfire. It requires the permission of the incident controller and needs careful consideration, planning and resourcing to implement under conditions that keep firefighters safe. It's a complex operation in a dynamic environment which is why it's not undertaken lightly.
Hazard reduction is the planned prescribed use of fire to strategically reduce fine fuel hazards to manage native vegetation and protect assets, life, and biodiversity, and is determined by a fire management plan. It can also include works such as removing fuel around areas we don't want to burn, such as fence lines, infrastructure, or vegetation we want to protect such as large trees with hollows.
Are there alternatives to burning?
Prescribed burning is part of a broader strategy to combat bushfires and is generally considered the most effective and ecologically sound method of reducing fuel loads across large areas. Other methods may include mechanical thinning, slashing and weed control. It is important to remember that prescribed burning is not a panacea to reduce bushfire risk and is most effective when incorporated with individual property preparedness. Visit the CFS for more information on how to prepare your property for bushfire.