Projects
Flood management improvements
After the flood event of 2016, the South Australian Government looked at how flood management could be improved and how to address the recommendations of the Independent Review of the Extreme Weather Event South Australia 29 September-5 October 2016 (Burns Review).
Gawler River Flood Management
The Gawler River catchment was one of the hardest hit areas in the 2016 flood event.
To manage future flood risk, the South Australian Government is investing $9 million between 2020 to 2023 in 4 projects:
Hillier fire ground rehabilitation works to remove weeds and fallen trees to reduce the likelihood of blockages in the river channel
Carmelo and Park Roads drain to be built to enable excess water to drain away more quickly
Improved flood forecasting and warning via new and improved monitoring systems
River survey, levee repair and vegetation management to improve the river's capacity to carry water.
This is a collaborative project being delivered with other state government agencies, Adelaide Hills Council, Adelaide Plains Council, Barossa Council, City of Playford, Town of Gawler, Light Regional Council, and the Gawler River Floodplain Management Authority.

This map shows the project locations in the Gawler system: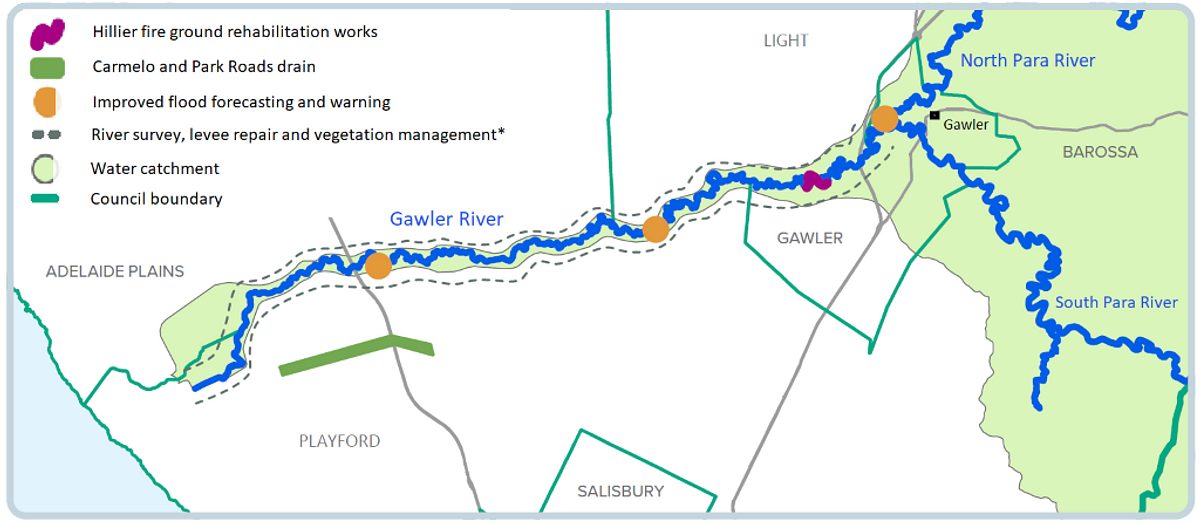 Newsletters and information sheets
Levee bank management
Levee banks are artificially raised or constructed embankments or walls that reduce the likelihood of flooding during high flow events in a watercourse. They are a type of flood mitigation infrastructure.
The South Australian Government reviewed how the management of levee banks could be improved in South Australia. See the 2020 position paper in response to the Burns Review:
Levee banks exist in many parts of South Australia, for example:
extensive levee banks on the River Murray at Renmark and the lower River Murray, and smaller sections at Paringa, Lyrup and Berri
levee banks on the Gawler River, Little Para River, Dry Creek, Onkaparinga River, River Torrens, Hindmarsh River, and in the South East of the state as part of the South Eastern Water Conservation and Drainage Scheme.
Key actions of the position paper are to document existing levee banks, establish a planning process to identify priority levee banks and determine formal management arrangements, and plan and seek funding for levee bank works needed.
Dam safety management
During the 2016 flood event, it was clear that the design and maintenance of South Australia's irrigation, domestic and similar dams were often inadequate. Spillways are often non-existent or inadequate for containing flood waters and many dam walls have structural issues. A significant number of dams failed or threatened to fail during this event.
The South Australian Government reviewed how dam safety management could be improved in South Australia. See the 2020 position paper in response to the Burns Review:
Note that SA Water reservoirs, tailings dams and some wastewater storage and evaporation lagoons were not in-scope for the review.
Key actions of the position paper include an annual dam safety awareness campaign for dam owners and as needed for SES volunteers, developing a dam failure risk rating method, developing a pilot register for one or more catchments in the Mt Lofty Ranges. Funding will need to be secured for some of the actions.
Flood Hazard Mapping and Assessment Project
This $3 million Hazard mapping project, being led by the Attorney-General's Department – Planning and Land Use Services (AGD-PLUS) is producing additional flood studies, expanded outputs from existing flood studies, LIDAR, and improved flood policies in the Planning and Design Code (the Code).
The aim is to provide a more contemporary and consistent approach for planning decisions and emergency management. The mapping will be fit for purpose and easily understood, enabling the planning process to be quicker and simpler and ensuring that developments consider the risk of flood.