Wardang Island Maritime Heritage Trail
The Wardang Island Maritime Heritage Trail features eight shipwrecks located around Wardang Island, near Port Victoria in Spencer Gulf.
Port Victoria, on the west coast of Yorke Peninsula, was an important trading port in the early 1900s and was one of the last Australian ports to see large square-rigged sailing vessels operate on a commercial basis. The last 'Grain Race' from Australia to Britain began from Port Victoria in 1949.
Of the eight wrecks featured in this trail the Monarch, S.S. Australian, S.S. Investigator, MacIntyre and Moorara were small local schooners and coastal steamers used to carry wheat and other cargo to Port Victoria from outlying areas, and to ferry wheat from the jetty to the larger vessels at anchor. The larger Aagot, Notre Dame D'Arvor and Songvaar were three masted square-riggers which carried the grain overseas.
You can download a booklet of the trail here.
Aagot (1882-1907)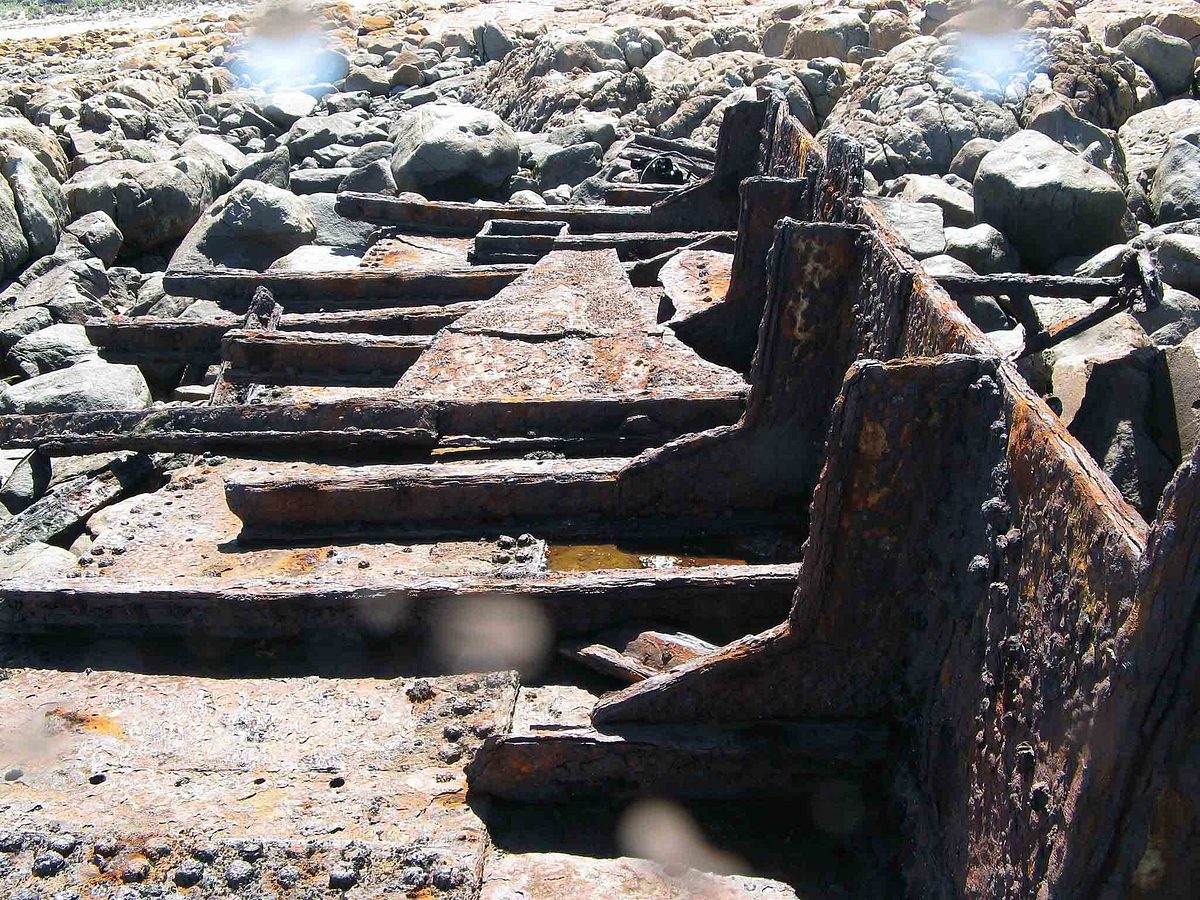 Location: Carpenters Rocks (-34.495349°S 137.336373°E)
Vessel type: 3-masted iron barque
Aagot was built in Glasgow, Scotland, in 1882, and was originally named Firth of Clyde. On 11 October 1907 Aargot departed Semaphore for Port Victoria to load wheat. After rounding Corny Point on Yorke Peninsula, Aaagot set a course that that the master expected would take it well clear of Wardang Island in Spencer Gulf. However on 12 October the vessel struck rocks at the western side of the island. No lives were lost during the incident and all 17 crew and passengers got ashore safely.
The remains of Aagot are scattered amongst the rocks, both underwater, to a depth of about 4m, and ashore on Wardang Island. The site is 10-50 per cent covered with weeds. The site is affected by surf/surge, current wind and sand.
Monarch (1871-1909)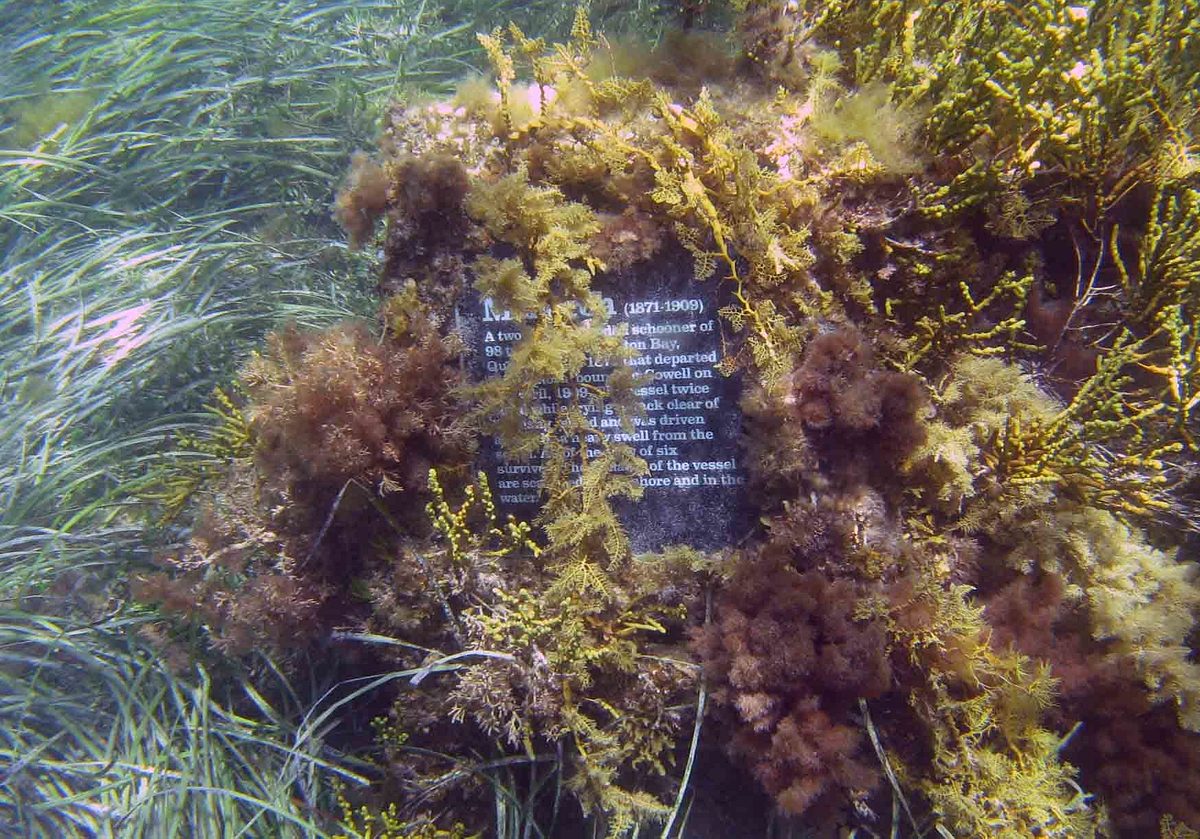 Location: Wardang Island, southern shore (-34.532301°S 137.353877°E)
Vessel type: 3-masted wooden schooner
Monarch was built in Moreton bay, Queensland, in 1871. Monarch left Port Victoria at about 5am on 1 April 1909 bound for Warrens Beach at Cowell with a crew of six and no cargo. While trying to sail around the southern part of Wardang Island and head northwards, the vessel missed stays (failed to tack) and an anchor was dropped in an attempt to stop it from being swept onto the rocks. The anchor would not hold and the southerly tide and swell drove it onto the rocks where it soon became a total wreck. Today, the site is scattered on both the shore and underwater in about 2m of water
Songvaar (1884-1912)
Location: Wardang Island, northwest corner, in the shoals between Wardang Island and Point Pearce (-34.459566°S 137.38751°E)
Vessel type: 3-masted iron ship
Songvaar was built in 1884 in Stockton (Durham), England. The vessel was owned by Norwegian company Sven O. Stray and used on the Australian grain run. On 14 April 1912 Songvaar was preparing to leave Port Victoria, bound for Europe with 40,700 bags of wheat that had just been loaded. While the vessel was at the outer Wardang Island anchorage, the vessel began to take water rapidly and list. One of its own anchors had pierced the hull on the starboard side just behind the fore-mast. Attempts to salvage the vessel were unsuccessful and it sat upright on the bottom until 1920, when a storm caused further damage and the vessel was deemed a hazard to shipping and subsequently demolished with explosives. Today, the wreck lies in about 10m of water, and is easily accessible to divers, with many of the features easily recognisable.
SS Australian (1879-1912)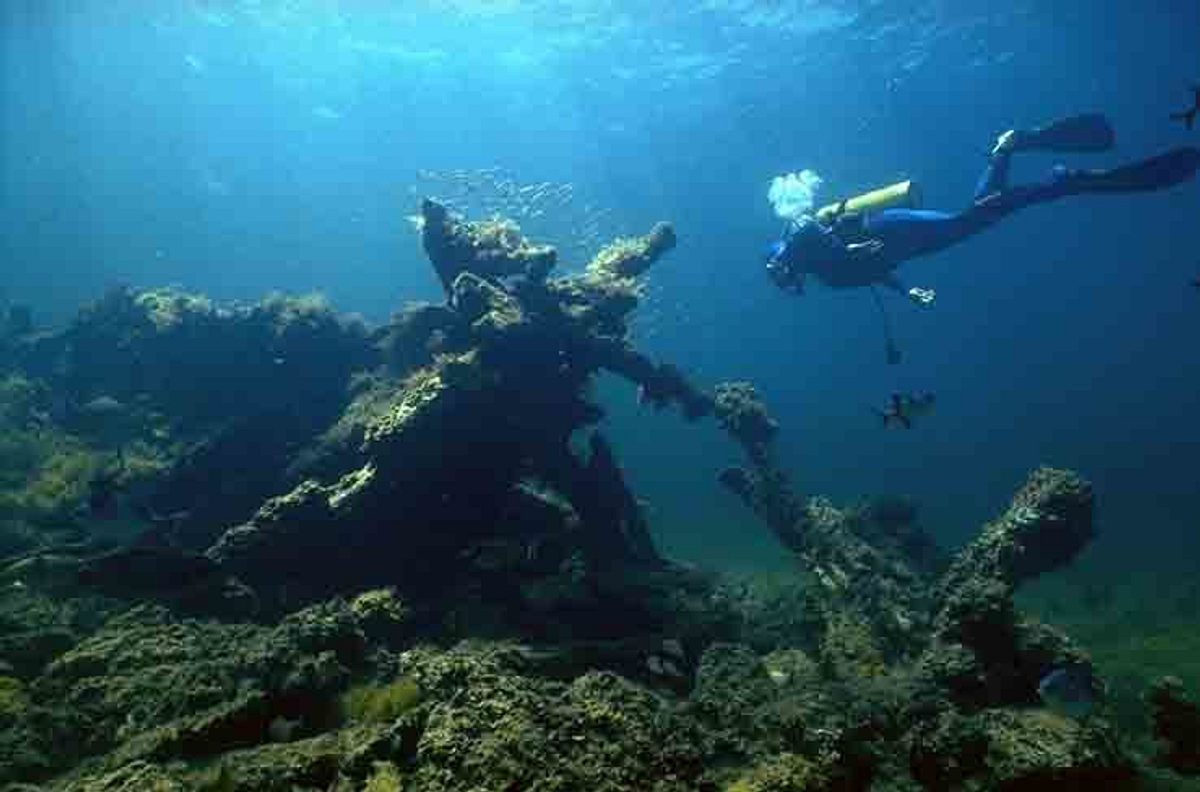 Location: Wardang Island, off southeast corner (-34.534287°S 137.364728°E)
Vessel type: iron-hulled screw steamer
SS Australian was built in Dundee, Scotland, in 1879. The vessel worked as a steam coaster carrying wheat from and between South Australian outports. On its final voyage the vessel was carrying 3,300 bags of wheat from Elliston, Eyre Peninsula, to Port Victoria under the command of Captain Gustafsen. On 8 May 1912, during a blinding sand storm, SS Australian ran onto a reef on the south-eastern corner of Wardang Island. Today, the wreck lies underwater at a depth of about 8m.
SS Investigator (1882-1918)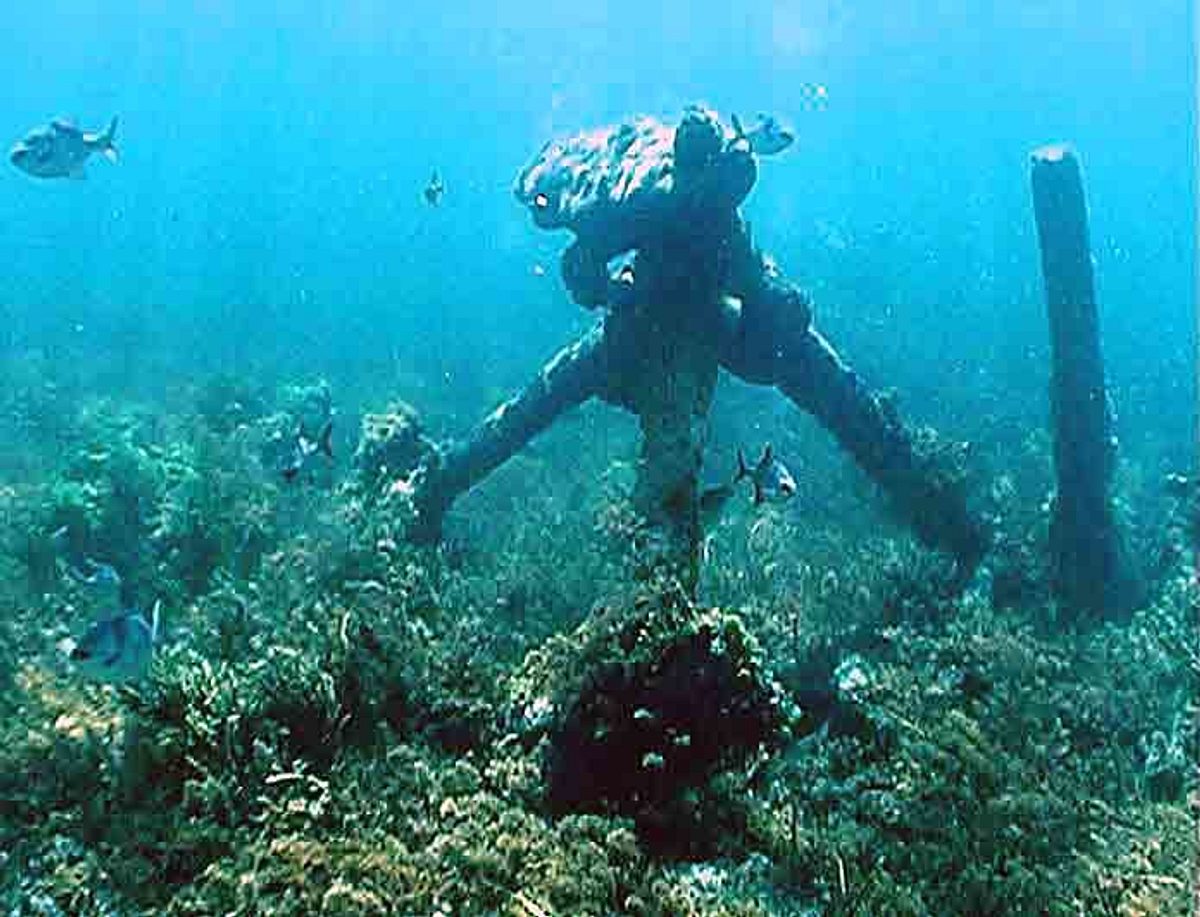 Location: about 500m southwest of Wardang Island (-34.527066°S 137.334731°E)
Vessel type: iron-hulled screw steamer
Investigator was built in Glasgow, Scotland, in 1882, and operated by the Adelaide Steamship Company when it was lost. On 24 April 1918 Investigator was on a voyage between Port Pirie to Port Victoria with a cargo of about 200 tons of superphosphate when it grounded on rocks southwest of Wardang Island. A Marine Board enquiry found that government charts were inaccurate, and cleared the mate, who was on watch, of any blame. The wreck lies on a rocky reef seafloor in about 4m of water. The remains are collapsed and broken down with boilers and tubes and the engine in the centre of site with propeller shaft and iron stern. Some frames and iron plating are collapsed and an unidentified iron object lies just north of boiler.
Notre Dame D'Avor (1902-1920)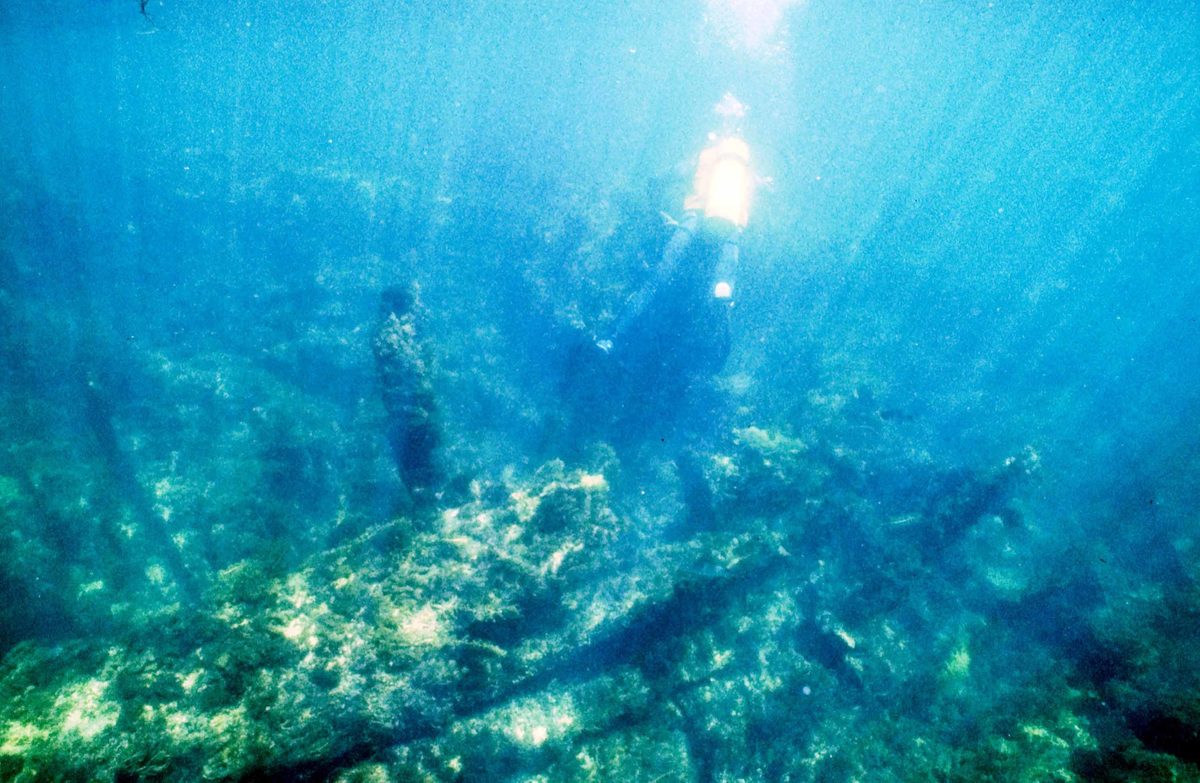 Location: Wardang Island, southwest side (-34.517016°S 137.335257°E)
Vessel type: 3-masted iron barque
Notre Dame D'Arvor was built in 1902 by Antel & Chant De La Loire of Nantes, France. The barque left France in ballast to load wheat at Port Victoria. On 20 March 1920 the barque was approaching Port Victoria in strong southwest to southeast squalls and high seas. While rounding up to anchor it ran aground on the rocks on the southwest corner of Wardang Island. It was later claimed that the Wardang Island Light had been inaccurately placed on the charts used by Captain Menguy. Attempts to tow the vessel failed and an accidental fire aboard the vessel a few months later totally gutted it. The intact hull, masts and some yards remained upright for 10 years before they broke down.
Today, the wreck lies approximately 150m from the rocks at a depth of 4m, with much of the remains covered in weeds.
MacIntyre (1877-1927)
Location: south-southeast of Wardang Island, about 500m offshore (-34.53396°S 137.366931°E)
Vessel type: composite schooner-rigged screw steamer
MacIntyre was built at Echuca, Victoria, in 1877, originally as a composite barge, but later converted to a schooner-rigged screw steamer. MacIntyre was outward bound from Port Victoria after having topped up its cargo of wheat, which had been loaded at Port Rickaby. Under the command of Captain Lingard, the vessel reportedly struck a rock on the south end of Wardang Island at midnight on 1 April 1927. The wreck site lies in 5-10m of water on rocky reef and sandy floor.
Moorara (1909-1975)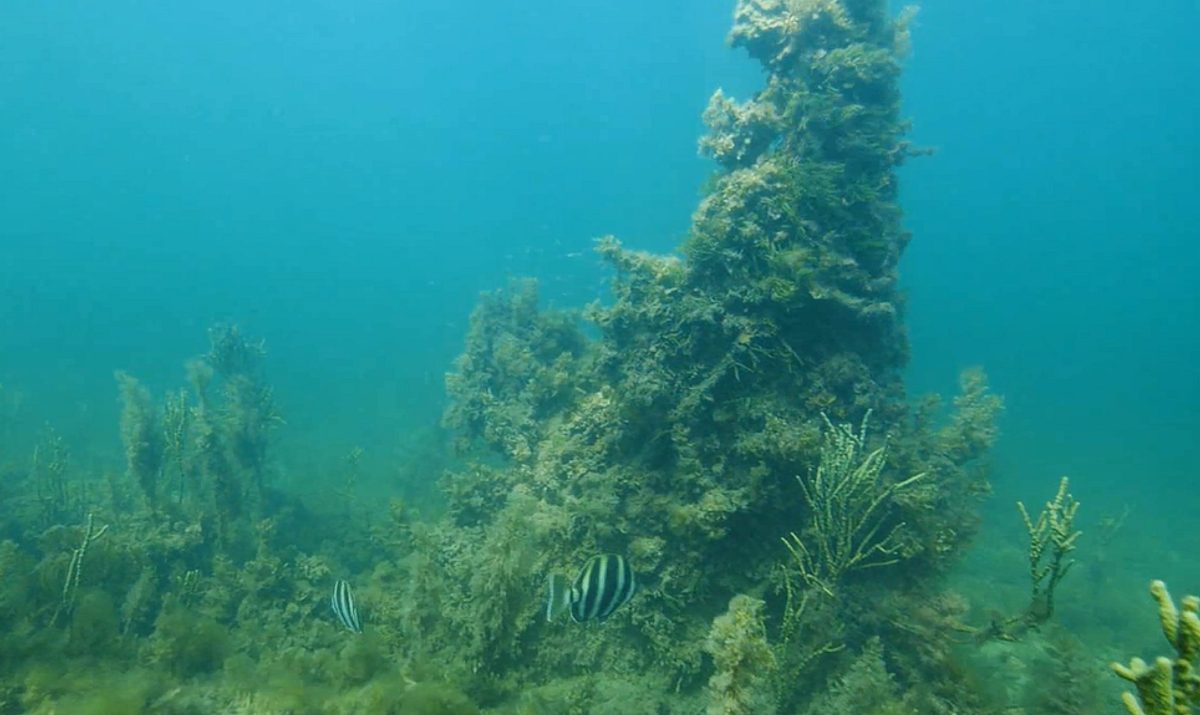 Location: In shallows between Wardang Island and Point Pearce (-34.476463°S 137.38526°E)
Vessel type: 3-masted composite schooner
Moorara was built in 1909 by Adolphus James Inches in Echuca. The double-ended, flat-bottomed vessel was originally a river barge, but converted to a 3-masted schooner in 1930, and operated as a local coaster out of Port Victoria, and as a lighter ferrying grain to larger international vessels anchored offshore. Towards the end of its career it was purchased by the Aboriginal Lands Trust to service Wardang Island. Moorara sank on 25 August 1975 while anchored off Wardang Island, when a sudden storm struck from the southwest.
Today the remains lie in 3-4m of water on a sandy/grassy seabed. The hull lists to port and many of the inner features have collapsed. Major features that are still present include two engines, a hatch, the collapsed washroom (deckhouse) and a turning wheel near the bow.