Adelaide's Underwater Heritage Trail
Adelaide's Underwater Heritage Trail explores the four shipwrecks located in Gulf St Vincent; the Grecian, Zanoni, Star of Greece and Norma.
These wrecks represent a variety of vessels associated with trade and development in South Australia during the 19th and early 20th centuries, and span the period of British shipbuilding from 1841 to 1893.
The remains demonstrate the four major types of materials used in sailing vessel construction during that era - wood, composite (wood and iron), iron and steel.
This trail extends from Port Willunga (Star of Greece) to the mid-upper Gulf St Vincent (Zanoni, about 15km south east of Ardrossan).
Download the brochure for more information.
Star of Greece (1868-1888)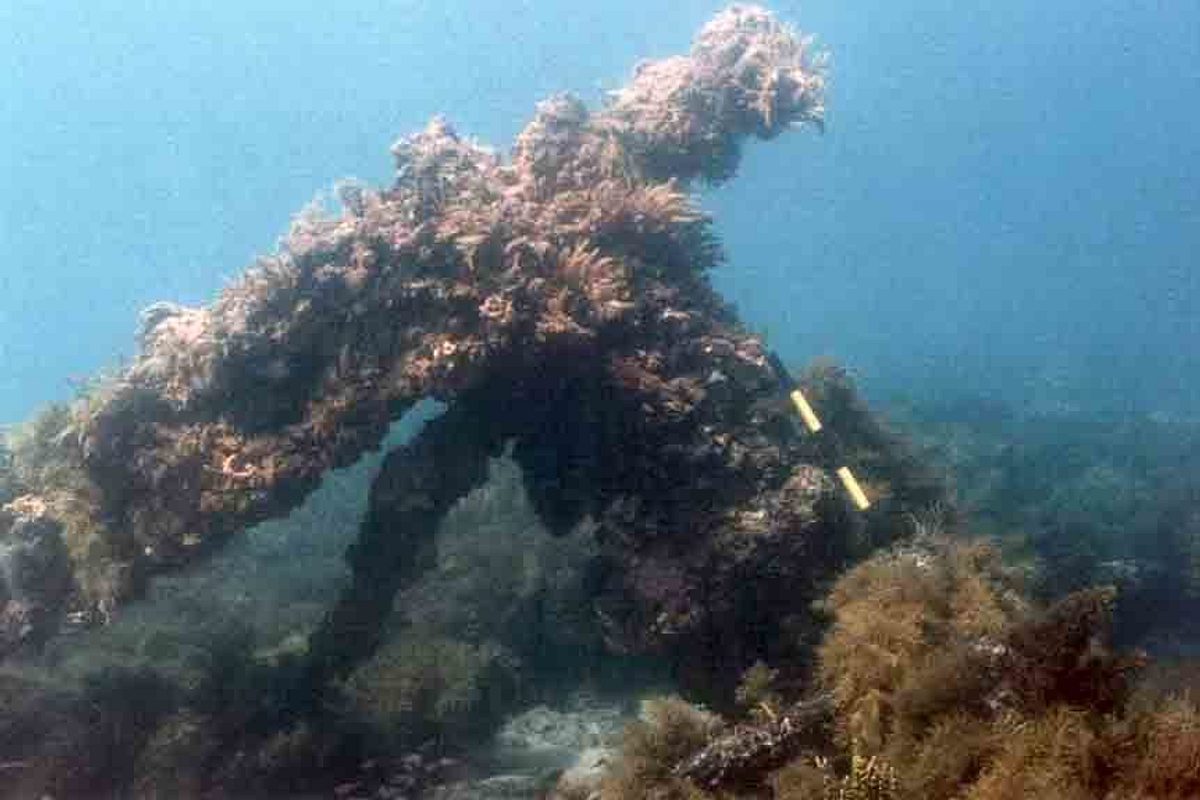 Location: Port Willunga -35.252344°S 138.459701°E
Vessel type: three-masted iron ship
Star of Greece was built in 1868 at Belfast, Northern Ireland, by Harland and Wolff, for James P. Corry & Co. 'Corry's Star Clippers' or 'Corry's Irish Stars', as they were known, served the trade routes linking the United Kingdom to India, Australia and New Zealand.
On 12 July 1888 the vessel left Port Adelaide with 16,000 bags of wheat bound for the UK. The ship ran off-course and, despite attempts to get to sea, ran aground near Port Willunga, with the loss of at least 18 lives.
Today, the wreck is located about 200m offshore, about 850m north of the Star of Greece Café, and is a popular snorkelling/diving location.
Norma (1893-1907)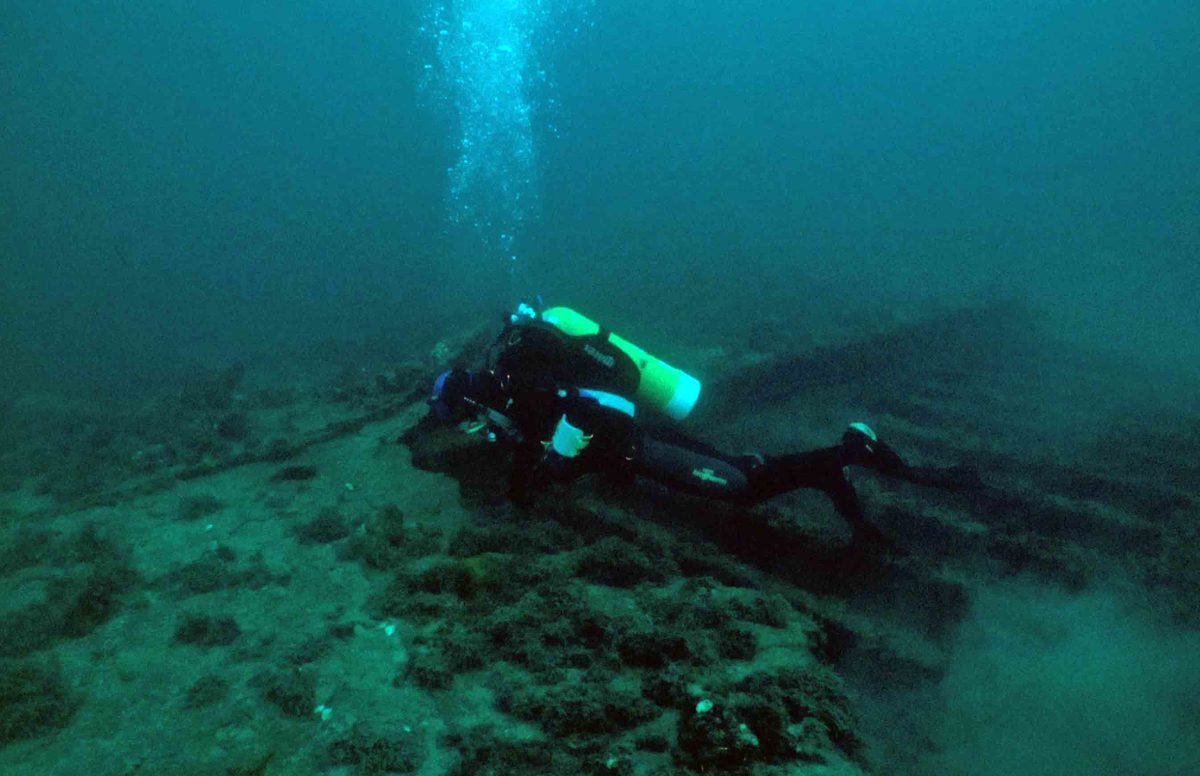 Location: Semaphore, 5km offshore -34.823576°S 138.417282°E
Vessel type: four-masted steel barque
Norma was built in 1893 by Barclay, Curle & Co. of Glasgow, Scotland. On Saturday 20 April 1907 Norma was lying at anchor off Semaphore, loaded with 31,000 bags of wheat bound for the UK, and awaiting favourable winds to depart. Meanwhile the iron ship Ardencraig, 101 days out from London and carrying a light cargo, was sailing up the gulf and at 2 am on Sunday 21 April, it rammed the stationary Norma amidships, ripping a gaping hole in its side. Norma sank almost immediately.
Today the Norma's remains form an artificial reef on a sandy bottom in about 15m of water – a maze of steel frames, plating, fittings, masts and other structures.
Grecian (1841-1850)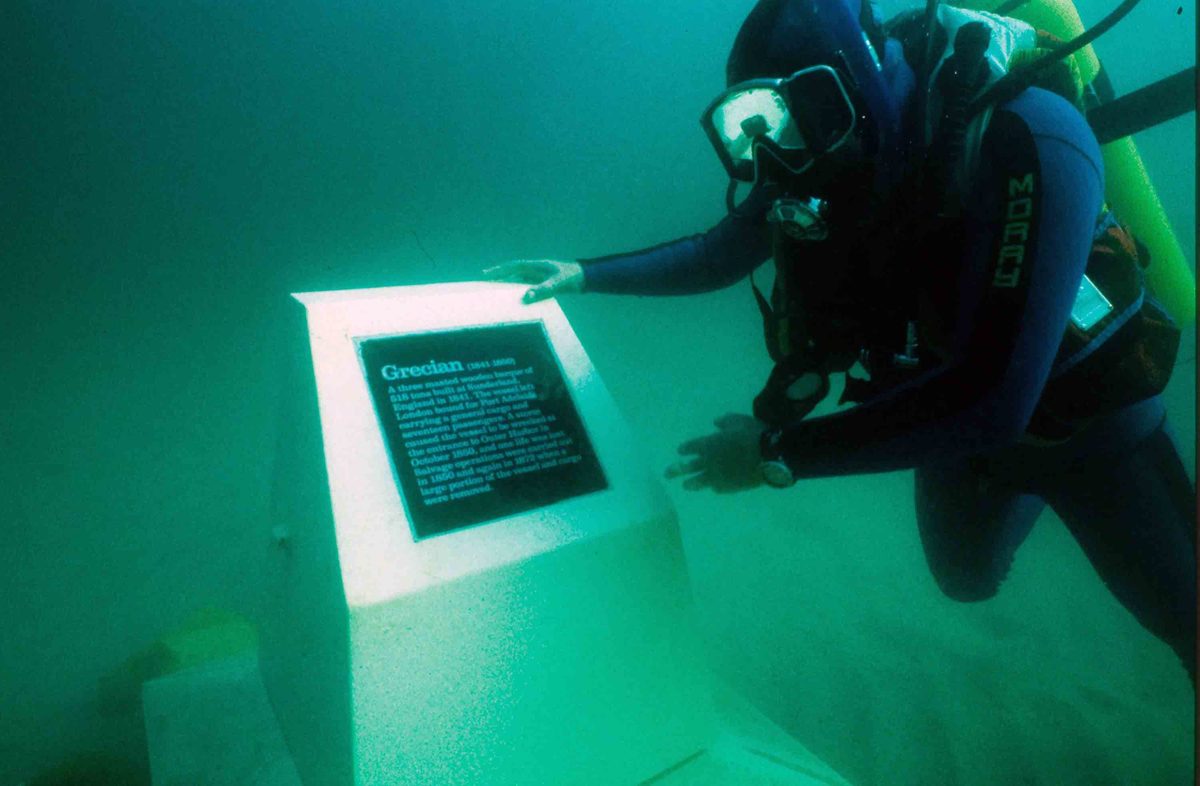 Location: Outer Harbor, about 200m southeast of the southern breakwater -34.789566°S 138.46887°E
Vessel type: three-masted timber barque
Grecian was built in 1841 by William and A. Adamson at Sunderland, England. Grecian sailed from the UK on 15 June 1850 and arrived at the mouth of the Port River, Adelaide, on the afternoon of Sunday 13 October. Stormy weather increased to a full gale from the WNW and the barque was driven rapidly towards shore. Grecian struck the beach broadside on about 9 pm with the sea breaking over fore and aft. Passengers and crew were evacuated by longboat and eventually arrived in Port Adelaide, although one passenger was found to be missing and was presumed washed overboard and drowned.
The wreck lies in about 5 m of water on a sandy sea floor, just off the southern breakwater at Outer Harbour.
Zanoni (1893-1907)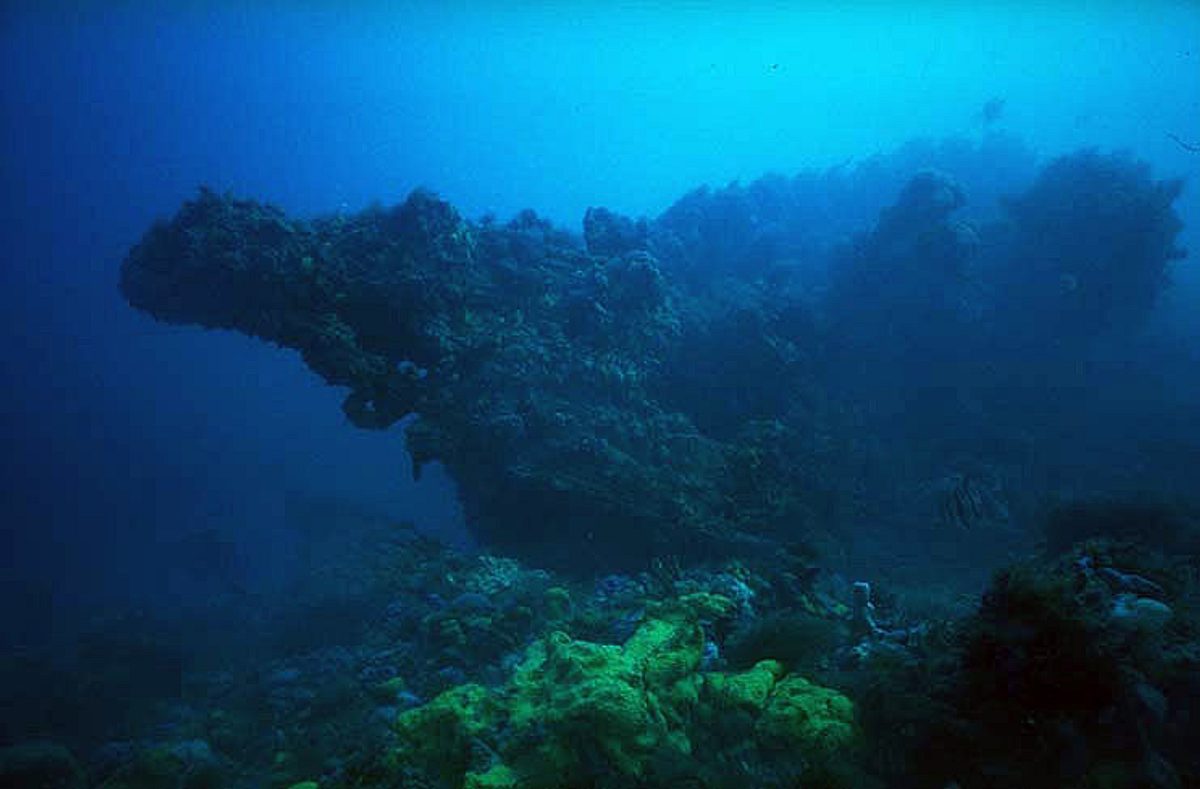 Location: about 15km south east of Ardrossan -37.140344°S 139.7947°E
Vessel type: three-masted composite barque
Zanoni was built in 1837 at Liverpool, England. On its final voyage, Zanoni departed Port Wakefield, Gulf St Vincent, on 11 February 1867 with a cargo of wheat and bark. Although the weather was fine, at 1.30 pm an approaching squall prompted the master, Captain Summers, to reduce sail. However, the strength of the squall threw the ship on its beam ends. As the crew made for the weather-side, the ship capsized.
Some crew members managed to scramble onto the keel and were able to assist others, including the captain, who had been clinging to the ship's side. Realising that the ship would soon founder, the best swimmers began to make for one of the ship's boats. Five or ten minutes after the squall struck, the ship sank. All 16 crew members were rescued that evening by the ketch Powles.
Zanoni is the best preserved shipwreck of its type and age in SA. The wreck site is surrounded by a 550m-radius protected zone, which makes it illegal to enter with a vessel or to conduct any underwater activities without a permit.