Shipwrecks of South Australia's West Coast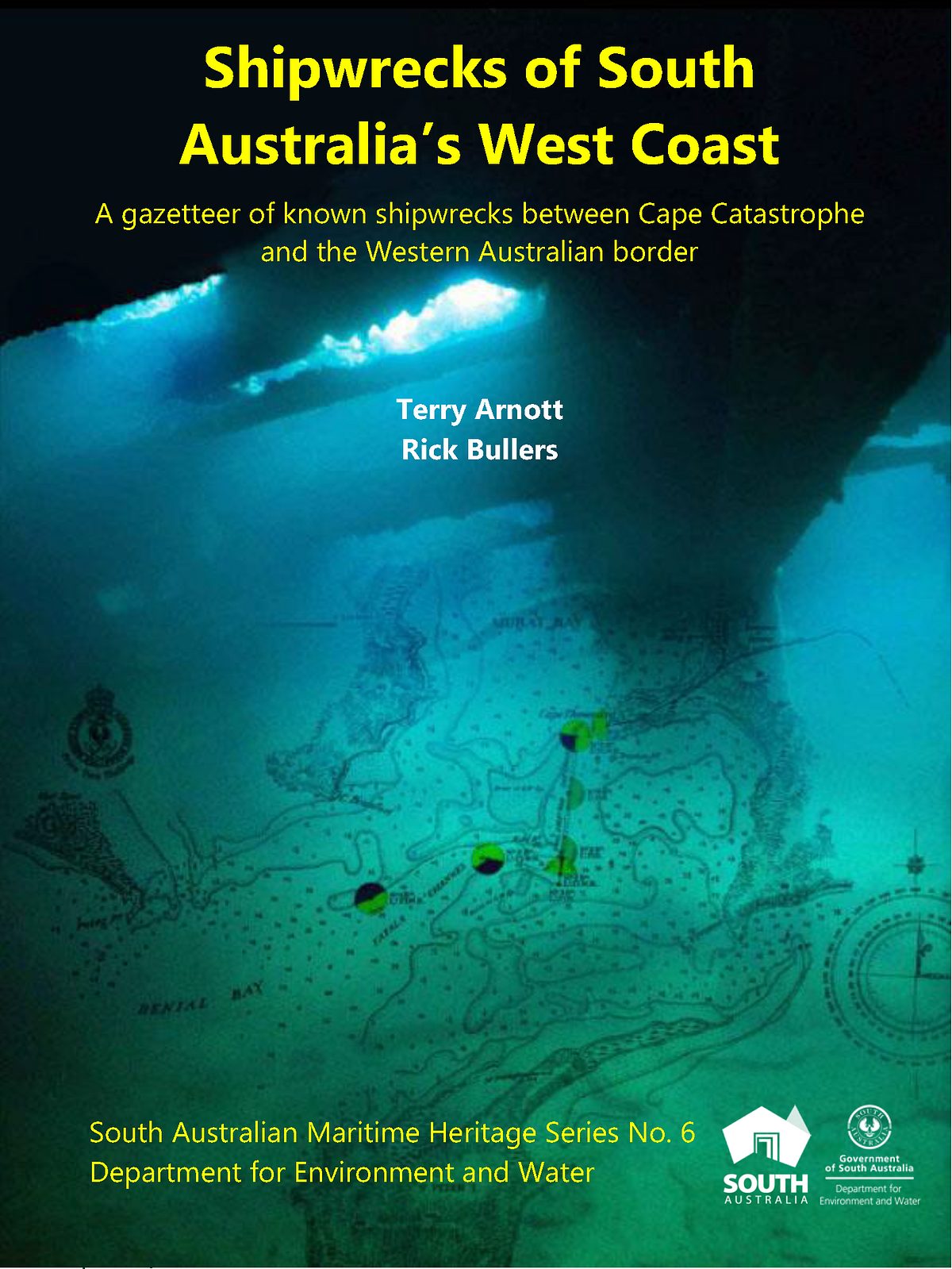 A gazetteer of known shipwrecks between Cape Catastrophe and the Western Australian border
South Australian Maritime Archaeology Series No. 6
Heritage South Australia's survey of shipwreck sites along the West Coast, from Cape Catastrophe to the Western Australian border, is the sixth in a series of regional shipwreck surveys of South Australia undertaken to provide essential data to preserve and promote the state's historic shipwreck resource.

The region's numerous bays and inlets, vast stretches of coastline with high cliffs, treacherous reefs and offshore islands that are open to the relentless surge of the Southern Ocean and its high-energy oceanic swells have contributed to the wrecking of many ships, some pre-dating the State's colonisation.
Shipwrecks of South Australia's West Coast provides a gazetteer of known shipwrecks in the region and places them in the context of the region's physical environment and history. In total, 126 ships are known to have wrecked along these shores, resulting in at least 28 deaths and 11,500 tonnes of lost shipping. Potentially the earliest shipwreck in the region is a scattering of unidentified wreckage at the Head of the Bight, reported by the explorer Edward John Eyre in March 1841. The earliest confirmed shipwreck is the whaling brigantine Camilla (1844), and the most recent is the fishing vessel Pisces (May 1999). The shipwrecks reflect the patterns and periods of human activity and settlement along the West Coast, which are markedly different that those of other areas of South Australia.

In completing this survey, the department's maritime archaeologists collaborated with educational and research institutions, industries, government agencies and especially local communities. More than 80 residents of the region contributed to this work by providing information on lost vessels and, in some cases, their location. Successful ongoing management of the region's historic shipwrecks will require the continued collective efforts of all these groups and individuals.
There are almost 800 vessels known to have wrecked in South Australia's coastal and inland waters, including 70 vessels that ended their days in 19 identified ships' graveyards. Shipwrecks in state waters are protected under South Australia's Historic Shipwrecks Act 1981, while those in Commonwealth waters are protected under Australia's Underwater Cultural Heritage Act 2018.

You can read or download the report here.