Heritage Agreements
Heritage Agreements are helping to maintain important ecosystems in South Australia.
Since the Native Vegetation Heritage Agreement program was first introduced in 1980, more than 2800 landholders have agreed to ensure the long-term protection of over 1 million hectares of the state's native vegetation.
Revitalising Private Conservation in South Australia
The SA Government has committed $3 million in funding over the next two years (from August 2020) to revitalise the current SA Heritage Agreement program for voluntary conservation on private land.
This two-year round of funding is here to help landholders and support farmers to improve their bushland and protect native vegetation and the species that depend on it, into the future.
The Heritage Agreement grants funding will be rolled out through two types of grants:
Small grants – up to $10,000
Linking Landscapes grants – more than $10,000.
These grants are open to support Heritage Agreement owners. Find out if you're eligible for an heritage agreement.
The Revitalising Private Conservation project partners are currently undertaking a survey, if you would like to participate, please visit the Nature Foundation website.
How to apply for a small Heritage Agreement grant
Small grants are on offer – up to $10,000 per applicant.
The purpose of small grants is to achieve property-scale conservation outcomes that are quick and easy to execute.
Small grants may cover submissions that include:
Management and/or action planning implementation.
Effective control of weeds, feral animals or over abundant native species.
Management of grazing impacts.
Repairing damaged areas i.e. sites previously used for dumping, sites being trespassed.
Internal property fencing to exclude stock from or reduce grazing pressure on proposed or current Heritage Agreement area.
The next small grants round will be open from 28 June 2021 to 23 August 2021. Visit the Nature Foundation website for more information.
Linking Landscapes grant
Linking Landscapes grants round is now closed.
Visit the Nature Foundation website for more information.
Heritage Agreements
What is a Native Vegetation Heritage Agreement?
A Native Vegetation Heritage Agreement is a conservation area on private land, established between the landholder and the Minister for Environment and Water on recommendation of the Native Vegetation Council (NVC), that contributes to protecting and/or restoring indigenous biodiversity.
Heritage Agreements are established in perpetuity to protect and enhance the natural character of the flora and fauna. Many unique features are found within privately owned land, and can often form part of an important wildlife corridor, provide an extension to national or conservation parks, or help establish private sanctuaries.
Each Heritage Agreement, while bound by standard conditions, is unique and can include clauses specific to the management of the native vegetation within the conservation area.
Any change in ownership or lease to the property that contains the Heritage Agreement area must be noted to the Native Vegetation Branch. Regardless of lease, transfer or sale, the Heritage Agreement remains binding on the property title holder at that time.
For Heritage Agreements entered into voluntarily by a landholder, the NVC will meet the costs associated with the negotiation, assessment, drafting and registering of the Heritage Agreement.
Land protected by a Heritage Agreement provides an important accompaniment to the state's natural character. As such, land under the Heritage Agreement is valued differently as a recognition of its conservation status.
Properties identified in the agreement or registered plan as Heritage Agreement areas can receive a reduced valuation and subsequent reduction in particular rates and taxes. The reduction is based on property valuations made by the State Valuation Office and varies between properties across the state.
Note: The NVC is an advisory body established under the Native Vegetation Act 1991, and the Minister may not enter into, vary or terminate a Heritage Agreement without first consulting with and obtaining the approval of the NVC.
Find out whether your property would be eligible to enter into a Heritage Agreement: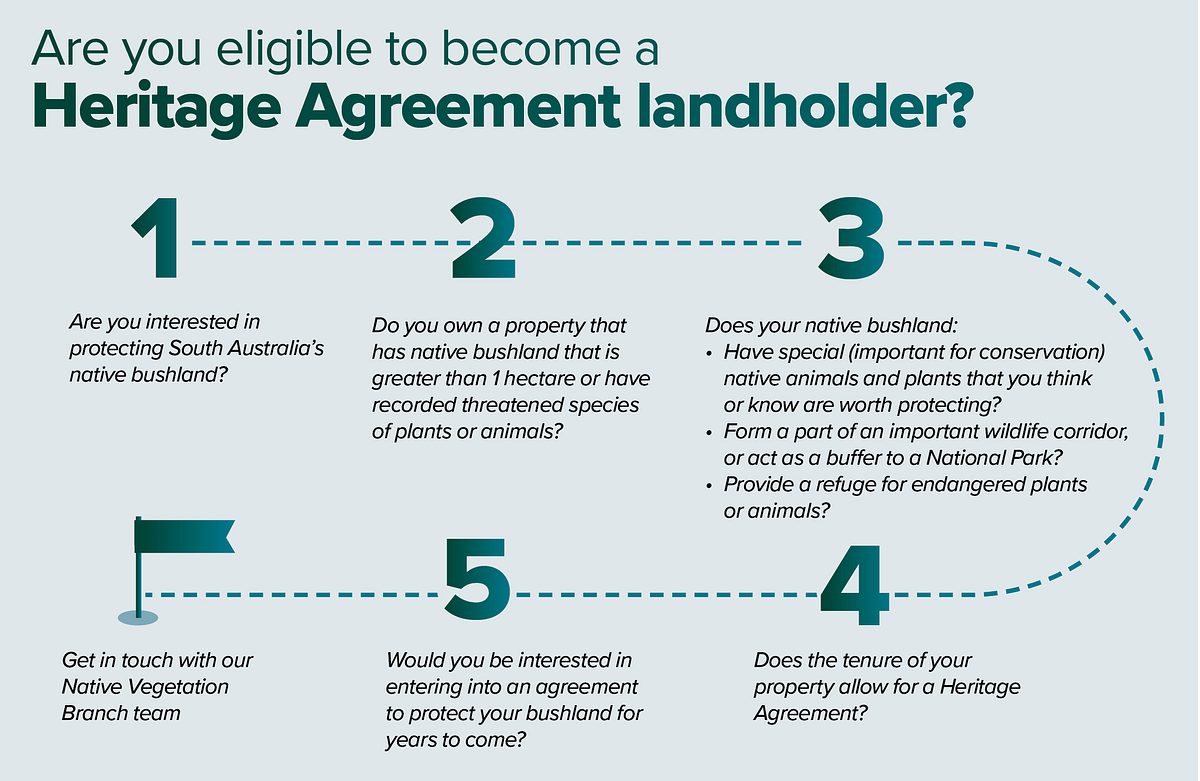 How to apply for a Heritage Agreement
Fill out the Heritage Agreement quick application either online or download the form. Once you have submitted your form a team member from the Native Vegetation Branch will be in touch.
If you are successful in this application you will be able to apply for both the small and large grants listed above.
Contact us
Queries relating to existing applications or current Heritage Agreements (including support for replacement fencing for Heritage Agreements burnt in bushfires since December 2019) can be made via the Native Vegetation Branch.
If you have submitted an application, or are seeking follow up information, please contact the department's Native Vegetation Branch.