Rare chance to spot historic shipwreck at Dhilba Guuranda-Innes National Park
Recent winter storms and heavy seas have fully exposed the historic wrecks of the Ethel sailing ship and the S.S. Ferret coastal steamer, at Ethel Beach in Dhilba Guuranda-Innes National Park on southern Yorke Peninsula.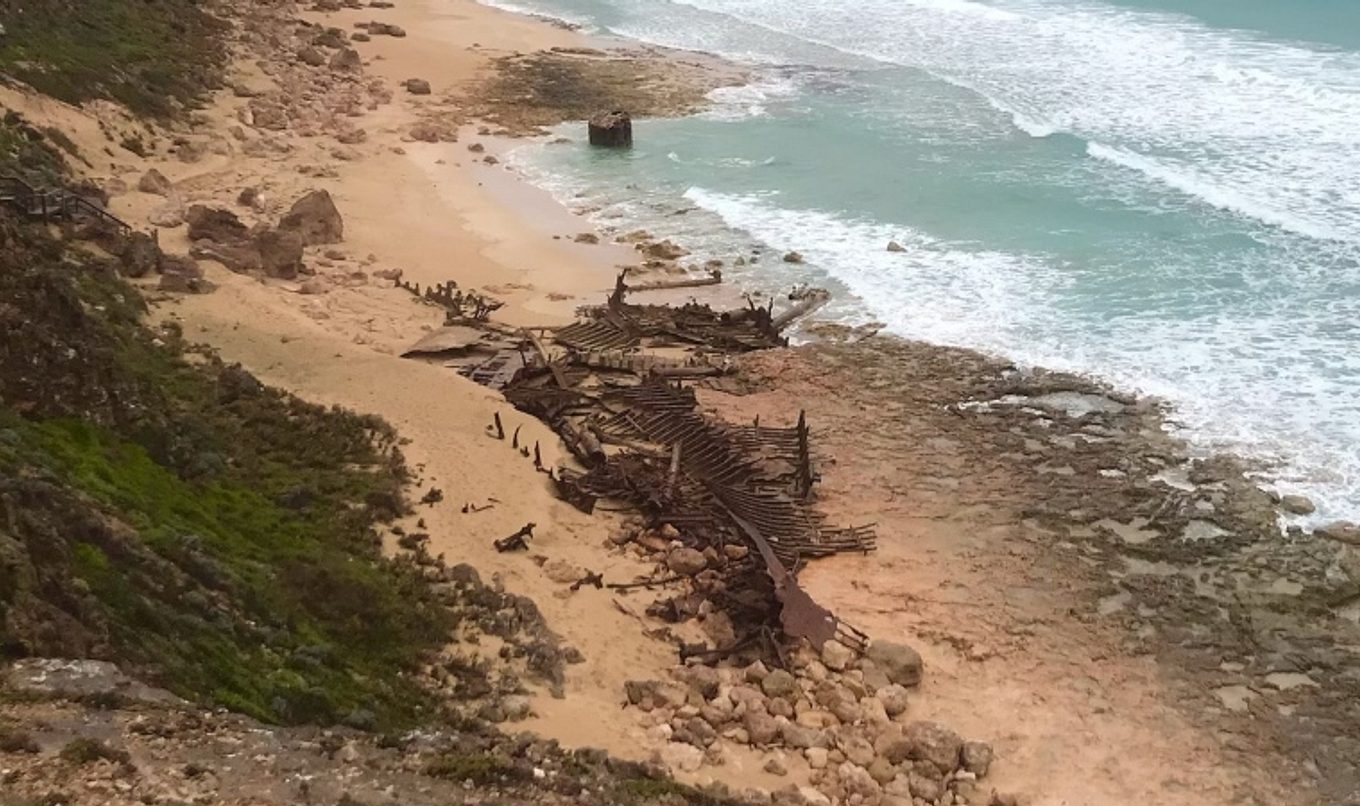 Both are now visible and expected to remain this way for the next few months.
Dhilba Guuranda-Innes National Park Senior Ranger Mark Davison said that the wrecks will be exposed until seasonal sand movement covers them again, which generally occurs from mid-October.
"Each year the Ethel and Ferret wrecks are exposed to varying degrees," Mr Davison said.
"Due to recent storm activity, both wrecks have been completely exposed and offer visitors the chance for a rare glimpse into South Australia's rich maritime heritage, by viewing from either the cliff top lookout or at beach level.
"While the wreck is exposed, visitors to Ethel Beach can now walk around the historic shipwrecks.
"It's a very unique opportunity as there are very few shipwrecks in Australia which are land based, with the majority lying below the sea and only accessible to divers.
"While we encourage visitors to make the most of being able to look at and walk around these wrecks, please remember to be careful not to disturb the sites as we want to make sure they'll be here for many more years to come and there are also penalties for disturbing or damaging shipwreck sites."
Access to Ethel Beach is via a boardwalk and steps.
Ethel, originally named Carmelo, was a three masted iron barque of 711 tons and built in Sunderland, England in 1876. The ship was driven ashore, with the loss of one life, after being caught in a violent storm off Yorke Peninsula in 1904 while on route to Port Adelaide from South Africa.
The coastal steamer S.S. Ferret attempted to help the Ethel without success and notified authorities. Ironically, Ferret ran aground on the same beach 16 years later on the 14 February 1920. The Ferret's boiler can be clearly seen 100 metres south of the Ethel wreck.
Ethel and S.S. Ferret form part of the Investigator Strait Shipwreck Trail, the stretch of water which lies between southern Yorke Peninsula and Kangaroo Island, named by Captain Matthew Flinders on 27 March, 1802 in honour of his ship HMS Investigator.
Historic shipwrecks in South Australia are protected under the Historic Shipwrecks Act 1981 and visitors are prohibited from interfering with the wreck.
For more information about the Ethel wreck, as well as camping and heritage accommodation bookings at Dhilba Guuranda-Innes National Park, visit www.parks.sa.gov.au
Heritage SA are currently seeking photos of the Ethel wreck site, from the 1900s to the present day. They have received a large number of photos from the 1970s onwards, but are still seeking more photos from earlier decades, in particular from the 1900s to1960s. Please visit the Heritage SA website to upload photos: www.environment.sa.gov.au/topics/heritage/maritime-heritage/ethel-project.