SA climate smart leaders celebrated
The Premier's Climate Change Council Climate Leaders Awards showcases the innovative work taking place to address climate change and build South Australia's reputation as a climate smart state.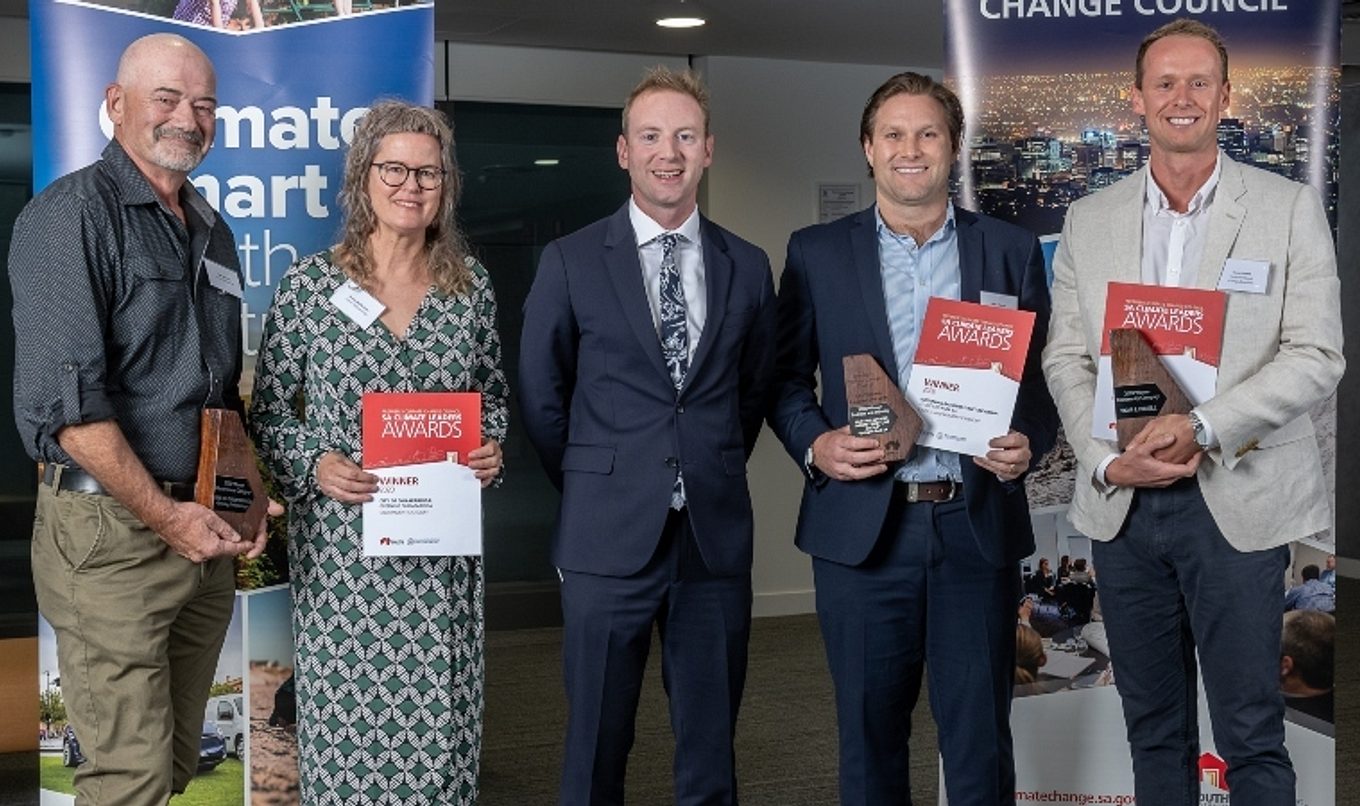 Congratulations to all the winners and finalists this evening, but also to all the nominees. From grassroots change makers to ecotourism to carbon neutral certification – every project has an important part to play in tackling climate change.
Tom Linnell took out the SA Climate Leaders Awards last night at the Premier's Climate Change Council ceremony, for his innovative work in climate change and sustainability education.
Mr Linnell was awarded a $10,000 prize as the overall winner for empowering his students to in deliver innovative emissions reduction projects linked to learning outcomes.
Tenison Woods College has set targets to be to be off grid by 2030 and zero waste by 2025, thanks to the work of Mr Linnell, his students and the school board. A number of exciting projects have been initiated to achieve these targets, including an industrial green waste composter, an e-waste reuse market and a student managed plastic recycling enterprise.
Tom Linnell is a great example of how an individual can lead by example and create positive change in our communities.
Mr Linnell's achievement in combining practical action and education to tackle climate change and prepare students for the jobs of the future is inspiring.
A number of the projects being delivered are a first for an Australian school, and to align them with the curriculum and with TAFE certificates is a clever way to prepare students for future careers.
Premier's Climate Change Council Chair Martin Haese said that the SA Climate Leaders Awards recognise the achievements of individuals and organisations who are leading on action to tackle climate change in South Australia and contributing to a climate smart economy.
"The judging panel was extremely impressed with the calibre of entries received this year. There are so many innovative projects and initiatives across South Australia which are helping our communities to deal with a changing climate and to build our reputation as a climate smart state." said Mr Haese.
The awards recognised three category winners and an overall winner:
Overall winner and winner community category – Tom Linnell – for his role as a climate change educator and leader in empowering his students in delivering innovative emissions reduction projects linked to learning outcomes.
Business and industry category – Australian Gas Infrastructure Group – for delivering one of Australia's largest renewable hydrogen projects at Hydrogen Park SA.
Government category - City of Onkaparinga – for greening and cooling their streetscapes and urban areas through the Greening Onkaparinga project.
For more information and to read case studies of the winners and finalists visit: https://www.environment.sa.gov.au/topics/climate-change/premiers-climate-change-council/2020-sa-climate-leaders-awards-winners