Spotted-tail quoll found for first time in 130 years
A rare spotted-tailed quoll has been officially discovered in the state's South-East for the first time in more than 130 years.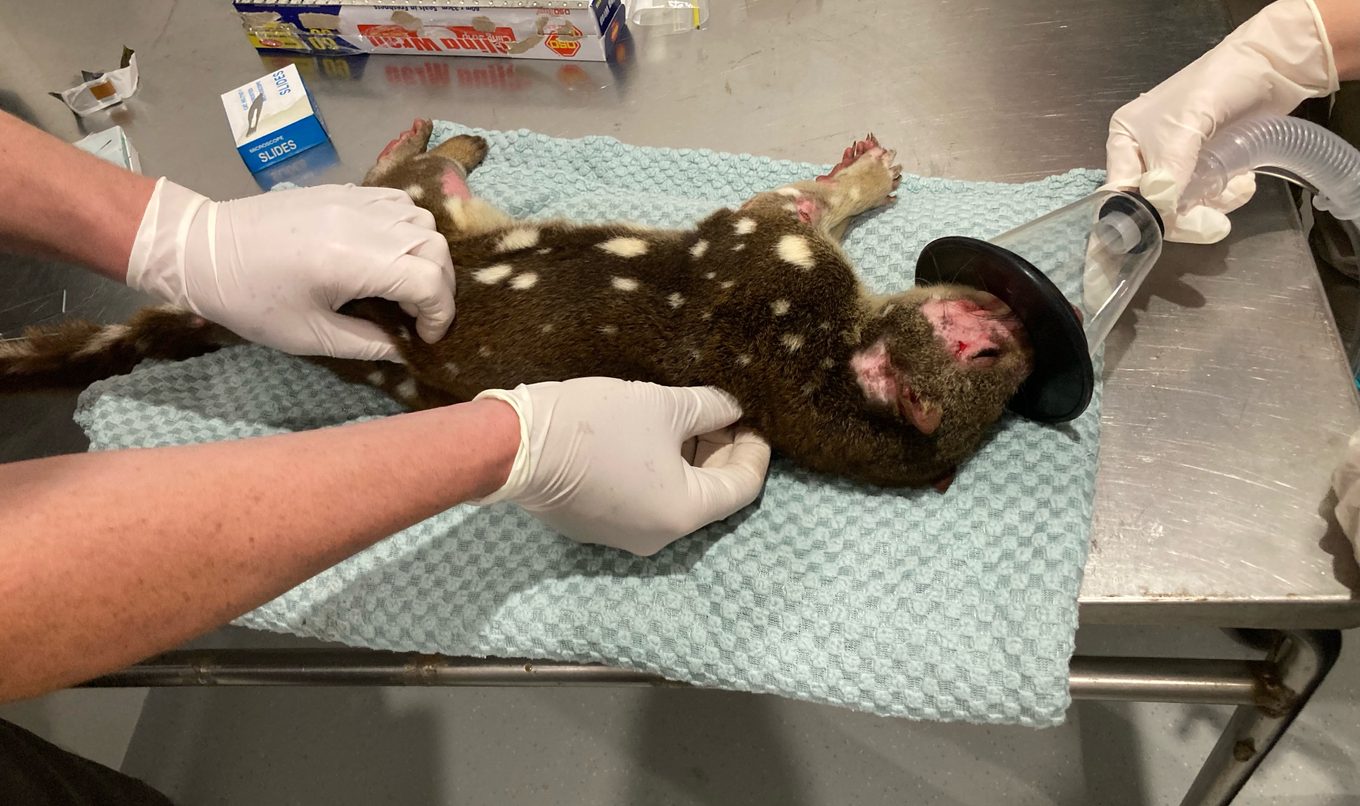 A Beachport farmer first spotted the nationally endangered animal this week, after attacks on his chickens.
National Parks and Wildlife Service rangers visited the property and trapped the animal overnight on Wednesday.
The species, which is considered extinct in South Australia, was last officially recorded in the Mount Burr Forest and near Robe in the 1880s.
Rangers took the male animal to the Millicent Veterinary Clinic for a health check on Thursday.
Vets treated the quoll, also known as a tiger quoll, for mange and genetically tested the animal.
Rangers released the quoll in an unnamed area on Thursday evening.
District Ranger Ross Anderson said discovering a quoll in the area for the first time in more than a century was a "once-in-a-lifetime" experience.
"There's been some anecdotal, verbal records in the 1970s and 1980s of local sightings, but the last official records of spotted-tailed quolls are from the 1880s," Mr Anderson said.
"Part of the reason they're thought to have become extinct here in the South-East is due to a loss of habitat, but they can survive anywhere from forests to more open country."
Rangers will continue to monitor the area to determine if the quoll is part of a larger population of the animal.
"The traps that we've set won't harm an animal. We wouldn't recommend people try to trap them or interact with them themselves, but trail cameras are a really good way of recording and monitoring any suspected quoll populations or activity in the local area."
Spotted-tailed quolls are found in Queensland, News South Wales, Victoria and Tasmania, but there are less than 5000 left worldwide.
The Department for Environment and Water has also been working to reintroduce the western quoll species to national parks in the northern Flinders Ranges.
Locally known as an idnya, the carnivorous marsupial was once found across Australia but until recently it could only be spotted in small pockets of wilderness in southwest Western Australia.
Idnya were last year successfully released in Ikara-Flinders Ranges National Park, establishing a thriving population. They have also been released in Vulkathunha-Gammon Ranges National Park.