Quolls thrive in Vulkathunha-Gammon Ranges National Park
Once a widespread species in the Flinders Ranges, the western quoll is making a quiet comeback.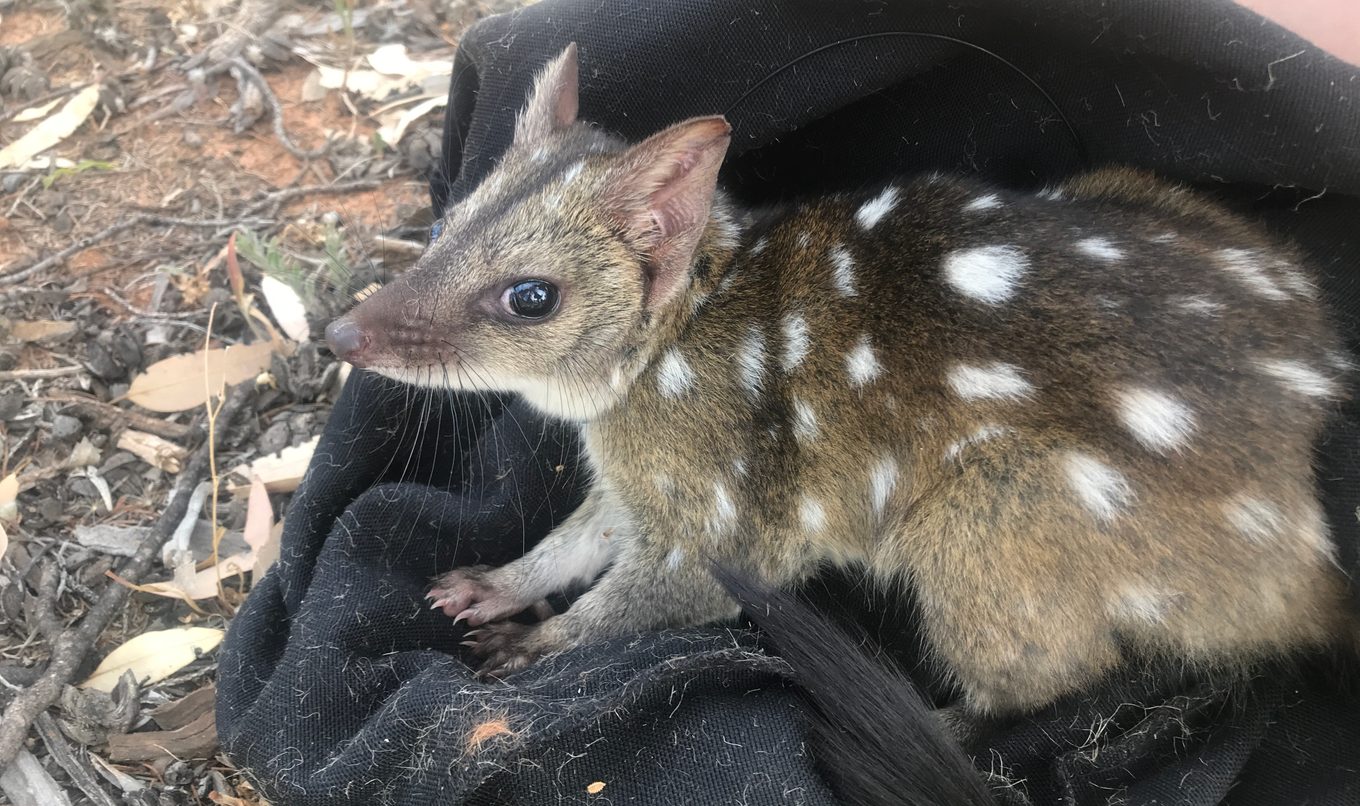 Locally known as an idnya, the carnivorous marsupial was once found across Australia but until recently it could only be spotted in small pockets of wilderness in south west Western Australia.
But an ongoing project led by the Department for Environment and Water (DEW) is helping to reintroduce this feisty native animal to national parks in the northern Flinders Ranges.
The final of four planned idnya releases rolled out in Vulkathunha-Gammon Ranges National Park late last month.
Idnya already have been successfully released in Ikara-Flinders Ranges National Park, establishing a thriving population.
In recent months they have also been spotted off-park as well, boosting hopes that they will continue to establish populations in this remote part of South Australia.
Foundation for Australia's Most Endangered Species (FAME) Chief Executive Officer Tracy McNamara, says the foundation has been absolutely delighted with the success of the program.
"Our partnership with DEW in this project continually reflects that when like-minded, capable conservationists join forces, the potential for success remains high," Ms McNamara said.
The newly established population in the Vulkathunha-Gammon Ranges National Park is a multi-organisational conservation collaboration, returning the endangered idnya to an area where they once roamed.
DEW Senior Conservation Ecologist Rob Brandle said that the translocation and release of western quolls was a key part of one of Australia's longest running biodiversity programs, Bounceback.
"Radio-tracking from the release in April last year indicated a good survival rate with no evidence of predation from cats, possibly because of the abundance of alternative prey in what has been an exceptionally productive year after 250mm of rain in the first 5 months," he said.
"The initial reintroduction of the western quoll to South Australia was very successful, with the Ikara-Flinders Ranges National Park population surviving its first prolonged drought and growing annually since 2019.
"Our most recent annual monitoring event trapping 35% more animals than our previous best in March 2022. This has meant our translocation of 25 animals to Vulkathunha-Gammon Ranges National Park last March 2022 had minimal impact on our population, and enabled us to translocate a further 25 animals to this park in March 2023, as well as assist the Taronga Zoo breeding program with 5 extra animals.
"This is the fourth time that we have released western quolls into the national park in
the past 12 months and the addition of further individuals is a major step towards
improving its conservation status."

Bounceback is a landscape scale conservation program that aims to protect and restore
the semi-arid environments of the Flinders, Olary and Gawler ranges, operating on
national park reserves, Aboriginal owned and managed lands, private sanctuaries, and
pastoral lands.

The project is supported by partner organisations including the Foundation for
Australia's Most Endangered Species, the South Australian Arid Lands Landscapes Board
through its Bounceback and Beyond project funded by the Australian Government's
National Landcare Program, and the Taronga Western Plains Zoo.

Find more information about Bounceback www.environment.sa.gov.au/topics/ecosystemconservation/
bounceback