Riverland companies getting behind successful re-snagging program
An emerging collaboration between government, private business and the community is set to deliver another big win for the River Murray with the Department for Environment and Water's (DEW) successful re-snagging initiative being rolled out again in 2022.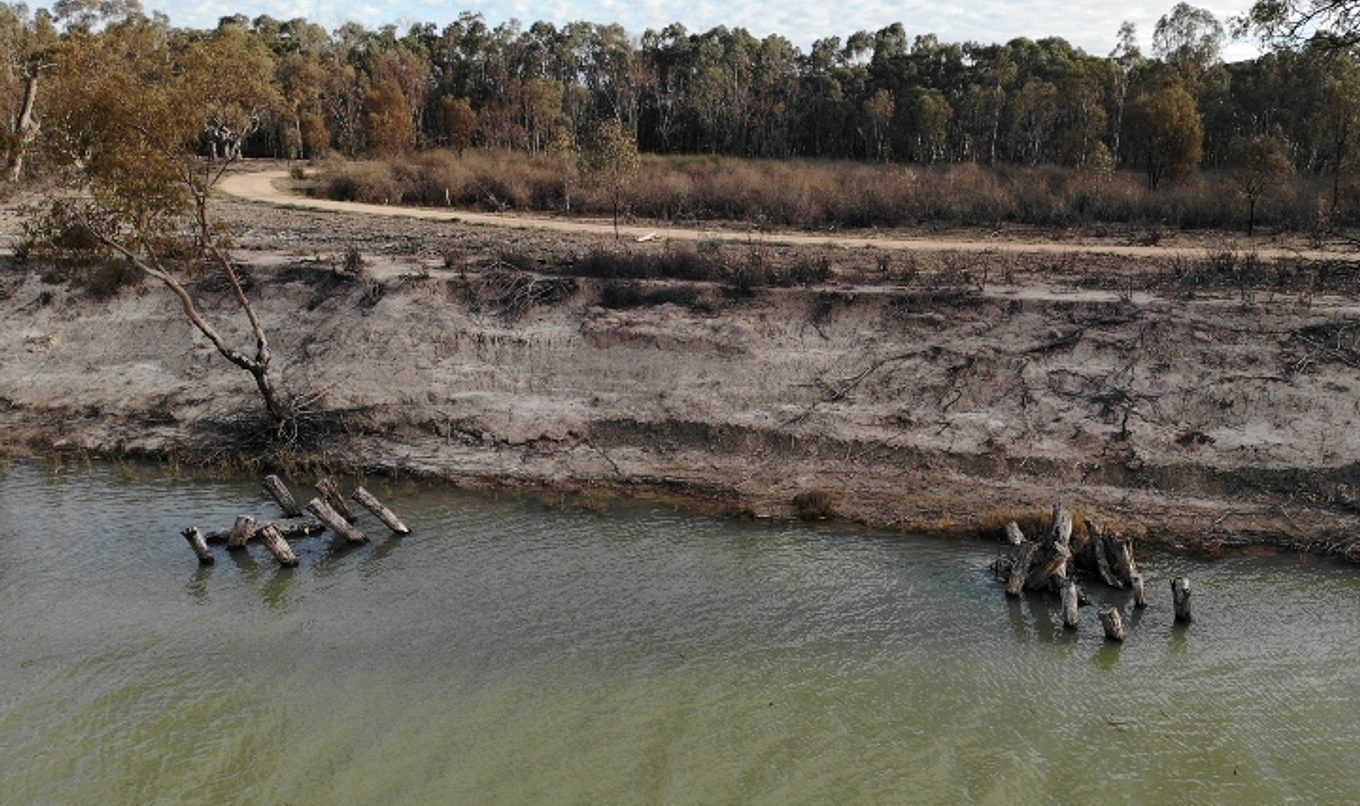 And this year even more Riverland-based companies are jumping on board.
DEW Program Coordination and Development Manager Glenn Shimmin said re-snagging is the process of placing native hardwood root balls and timber in the river to create native fish breeding habitats.
"The first trials of this project in 2019 at Bookpurnong, and subsequent placements at Banrock Station and Overland Corner, are already showing promising signs with Murray cod and golden perch (callop) juveniles being recorded within the snags," Glenn said.
"However, these first placements came at a cost as the required red gum timber pins, used to lock down the root balls, had to be sourced from interstate and trucked to South Australia."
Enter local wineries - Accolade Wines and the Angove Family Winemakers.
Seeing first-hand the success of the first re-snagging projects and hearing of plans for further placements under the Sustaining Riverland Environments (SRE) Program, Accolade Wines (owner of Banrock Station) and Angove offered up trees from their woodlots for the pins and root balls.
As part of their environmental commitment, both wineries divert waste water from their operations to woodlots where they plant and subsequently water native trees like river redgum.
Banrock Station Wetland Manager Tim Field said offering up the woodlot trees was an important part of the Company's contribution to the region.
"After being involved in one of the first re-snagging activities, and with the trees in our woodlot coming to the end of their life, we knew they would be perfect for root balls or red gum pins." Tim said.
"We recognise the need for timber to go back into the river to provide important native fish habitat, and repurposing these trees fits the bill.
"At Banrock Station and across Accolade Wines, sustainability is at the heart of what we do. We work alongside our winegrowers and nature to preserve and protect this internationally recognised area for future generations to enjoy."
Angove's Operations Manager Deon Hallam said the company was pleased to be partnering with DEW, other local businesses and the community by providing trees grown at its Renmark woodlot.
"We've been here for five generations and we've always had a strongly held belief that all activities undertaken must be sustainable now and into the future, so supporting initiatives like this is vitally important," Deon said.
"Our woodlot was originally planted to rehabilitate a salt scald on an area of land adjacent to the winery and use up some of the winery waste water.
"The time has come to thin them (the trees) so putting them to good use with the Department was an easy decision to make."
Glenn Shimmin said the winery re-snagging collaboration would extend to partnerships with other Riverland businesses and the community to benefit the river, its surrounding environment and the region in general.
"It is an exciting venture that is bringing government together with private business and the community to create a positive environmental outcome," Glenn said.
"This is a great use of funding, to stimulate the local economy, for an operation that benefits everyone.
"We have trees being repurposed with other local businesses and workers being paid to transport and install these snags that will see more native fish in a healthier river system."
Sites earmarked for the next round of re-snagging include Bookmark Creek in Renmark, Overland Corner and Banrock Station. More sites will be identified at a series of community workshops to be held early this year.
The Sustaining Riverland Environments Program is a $37.6 million program funded by the Australian Government through the Murray-Darling Basin Authority and delivered by the Government of South Australia through the Department for Environment and Water.