Hatchling success for relocated Kangaroo Island osprey nest
Three osprey chicks have been spotted in a nest which was relocated earlier this year near Bay of Shoals on Kangaroo Island.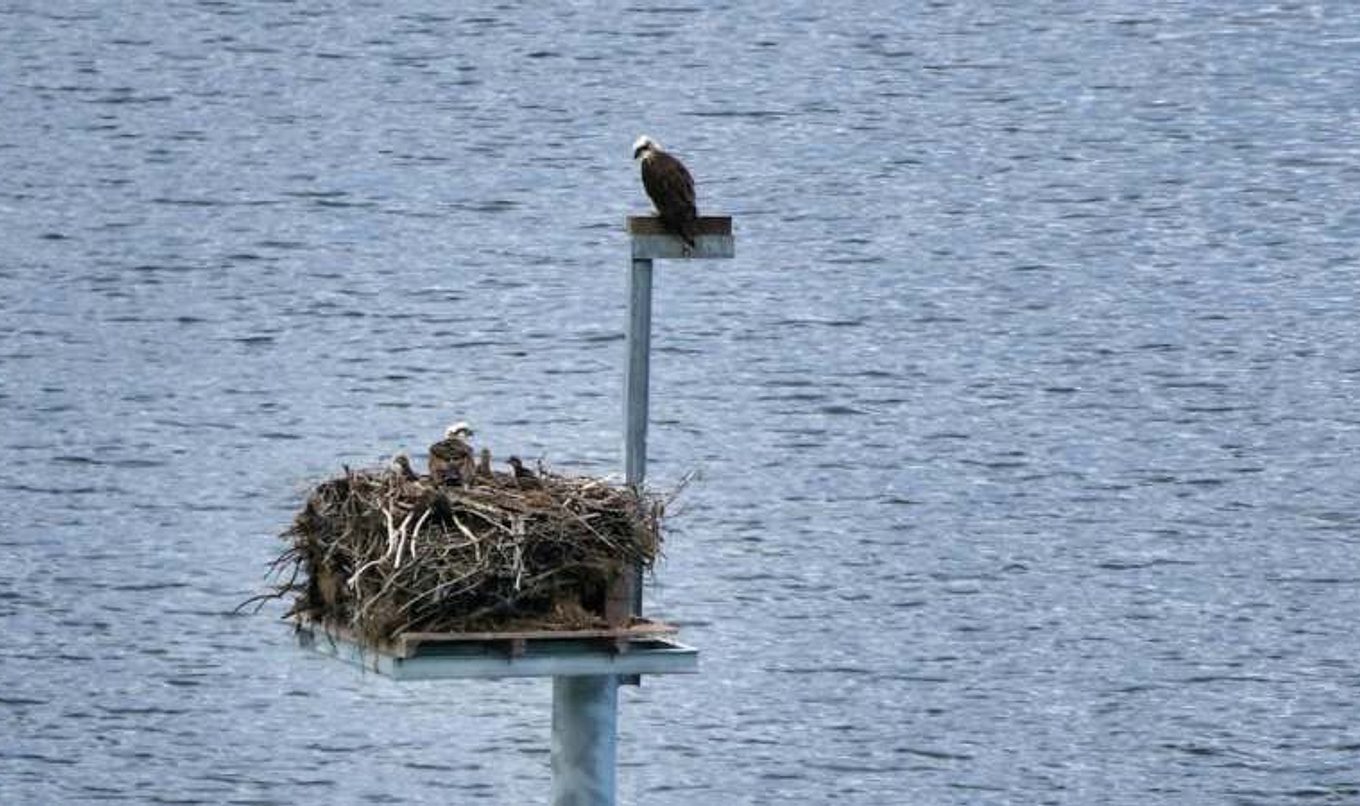 Now located on top of a pole, which sits 7.5 metres above the seabed, and about 5m above the water, the nest was repositioned from an old power pole in a parcel of land near an old quarry. The move was able to be undertaken, thanks to advice from coastal raptor experts and a collaborative effort from the Department for Environment and Water's National Parks and Wildlife Service (NPWS), the Coast and Marine Branch, and SA Power Networks.
During the careful operation to relocate the nest, it was removed from the power pole and placed onto a square platform where it was bolted and wired on, before being hoisted up and hitched into position on top of the pole. A perch above the nest is faced in an easterly direction, to counter for winds blowing in from the west.
The location was chosen to ensure the ospreys would remain undisturbed by people walking or driving near, or underneath the nest. The new location will still allow the opportunity for members of the public to monitor activities at the nest throughout the year without disturbing the birds.
Kangaroo Island National Parks and Wildlife Manager Mike Greig said NPWS staff have been monitoring the nest carefully since the move.
"We advise recreational boat users that they need to maintain a distance of at least 500m from the nest, and remind them that it is an offence to interfere with or harass a protected animal under the NPWS Act," Mr Greig said.
In an effort to better conserve and recover ospreys in South Australia, a statewide census is currently underway to count their numbers and assess any population trends, which builds on the work the South Australian Government is already doing to support raptor conservation and recovery around South Australia.
As part of the census, two surveys are currently underway on Kangaroo Island, on the north and south coast.