Signs point the way for new Parnka Point walking trail
A new walking trail has opened at Parnka Point in Coorong National Park and is already proving to be highly popular with visitors.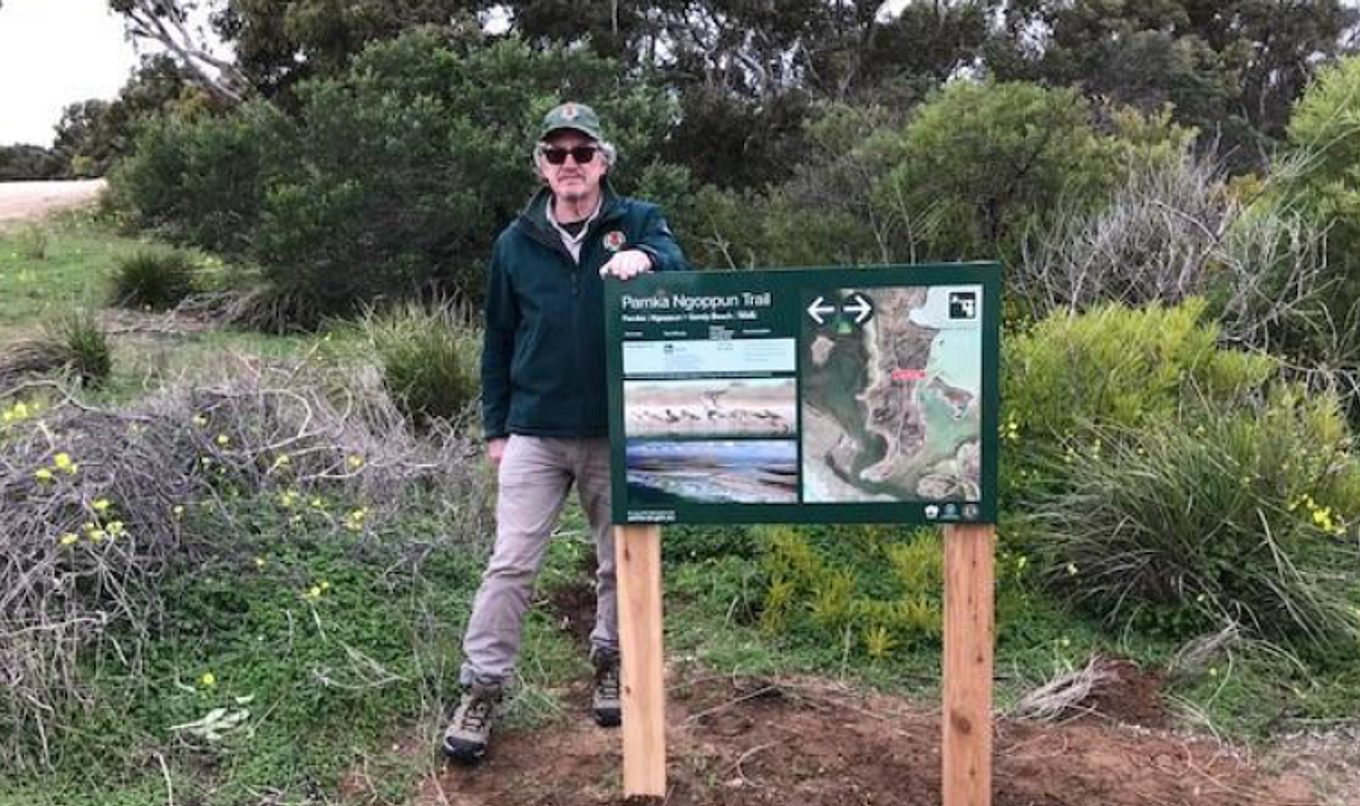 The five-kilometre loop Parnka Ngoppun trail was developed by National Parks and Wildlife Service (NPWS) rangers in consultation with local Ngarrindjeri community members, who also named the trail with Parnka meaning 'sandy beach' and Ngoppun meaning 'walk'.
Located about 30 minutes from Meningie, the walking trail allows visitors to take in the spectacular beauty of the Parnka Point shoreline, taking in the beautiful views of the North and South Lagoons.
The walk circumnavigates and connects the Avocet and Pelican campgrounds and takes about 1.5 to two hours to complete.
Ranger-in-Charge John Gitsham said the trail is ideal for birdwatching and absorbing the wonderful diverse scenery.
"It's great to have the signs installed, and to have an official walking path in this area," he said.
"We know from discussions with local Ngarrindjeri community members that this area is a culturally significant meeting point."
Funding for the walking trailhead signs and totems were provided as part of the South Australian Government's $7.1 million Parks Renewal & Investment Program designed to improve park facilities.
John said there were many species of migratory birds which could be spotted on the walk, such as avocets, banded stilts, sharp-tailed sandpipers and red-necked stints.
"It's a haven for bird watchers, particularly as we get closer to summer," he said.
"Coming out of winter we've had great rainfall here, and the lagoons are full, with lots of grasses and plants growing, lots of macroinvertebrates and birds beginning to breed and nest.
"We're really trying to encourage visitors to participate in more activities throughout the Coorong where they can enjoy nature, such as bird spotting, walking, kayaking and canoeing.
"The new Parnka Ngopun trail is a really great start for visitors to get a glimpse of the beautiful scenery that we have on offer here in Coorong National Park."
For more information visit parks.sa.gov.au