Biologists on quest to map unique plant species on Kangaroo Island
Local ecologists and botanists have been undertaking an urgent and very unique quest among fire-damaged vegetation on western Kangaroo Island, in a search to find and map native plant species, some of which have not been observed in almost a century.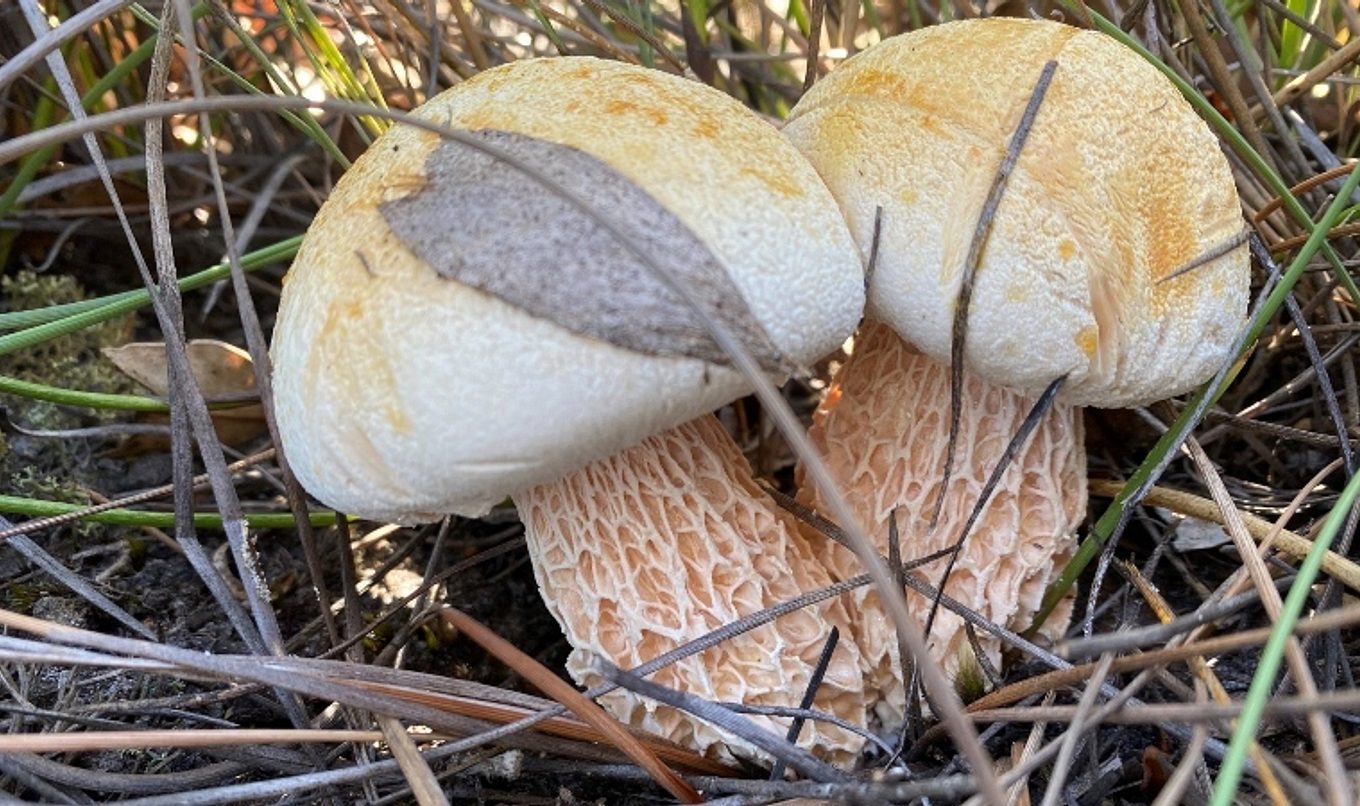 As part of this quest, rare bolete mushrooms have been spotted on the island for the first time.
National Parks and Wildlife Service (NPWS) Conservation Ecologist Heiri Klein said the fungus will now be assessed by South Australian Herbarium staff to see if it is Austroboletus lacunosus, which would be a new record for the island.
Heiri said last summer's bushfires have had a devastating effect on much of the natural habitat on the western end of the island – but for many species this devastation was only temporary.
"Very few people alive have ever seen some of these plants," he said.
"The rush is now on as we are hoping to find these species so we can map their populations and where possible establish back-up populations to secure their future.
"Some of these particular species are fire colonisers and will thrive with fire and are at risk of extinction without it. Others are threatened by foraging activities from feral pigs.
"For example false tobacco, also known as Apalochlamys spectabilis, only appears for one season after fire to flower, produce seed before it dies off again. The seed will then lie dormant for a number of years before it is given the opportunity to grow and set seed again."
Some species that are rarely found can become more common after fires.
Heiri encouraged community members and visitors to the island to take note of different plant species they spotted as well as their location, and to send in these details, plus a photo to NPWS, which could help them to identify these fire colonisers.
"The rare, endemic Kangaroo Island cress can become prolific for a year or two after the fires, before it again dies down and becomes less commonly found," Heiri said.
"The Kangaroo Island river daisy, also known as Achnophora tateii, is a small plant, unique to the island which has very specific habitat requirements, preferring the edges of shallow, low-flow stream banks and marshy grounds. After fires it has the ability to resprout.
"With the help of satellite imagery it has been possible to identify suitable habitat for this species and prioritise the search for it at new locations. As a result of the recent fires some remote locations were now more easily accessible which has helped us to now have a better understanding of the species' distribution.
"Some of these species are also threatened by feral pigs foraging in the areas where some of these plants occur. An example is the Kangaroo Island woodruff, Asperula tetraphylla, a plant that is easily overlooked and confined to stream banks and wet depressions.
"In the past 100 years we only have a few records that document a handful of locations of where this plant can be found. It's only been seen by a few dozen people in the space of a century.
"This species is currently threatened by feral pig foraging."
Staff from the South Australian Seed Conservation Centre also recently rediscovered the open marshwort, which had not been seen for nearly 60 years and has only been documented at three distinct locations on the island.