First Peoples workshop previews Master Plan process for Lock 3, Bookmark Creek, Weir Pool 3
Camp Kedron on the banks of Lake Barmera was the perfect location for a recent Sustaining Riverland Environments (SRE) workshop with the River Murray and Mallee Aboriginal Corporation (RMMAC).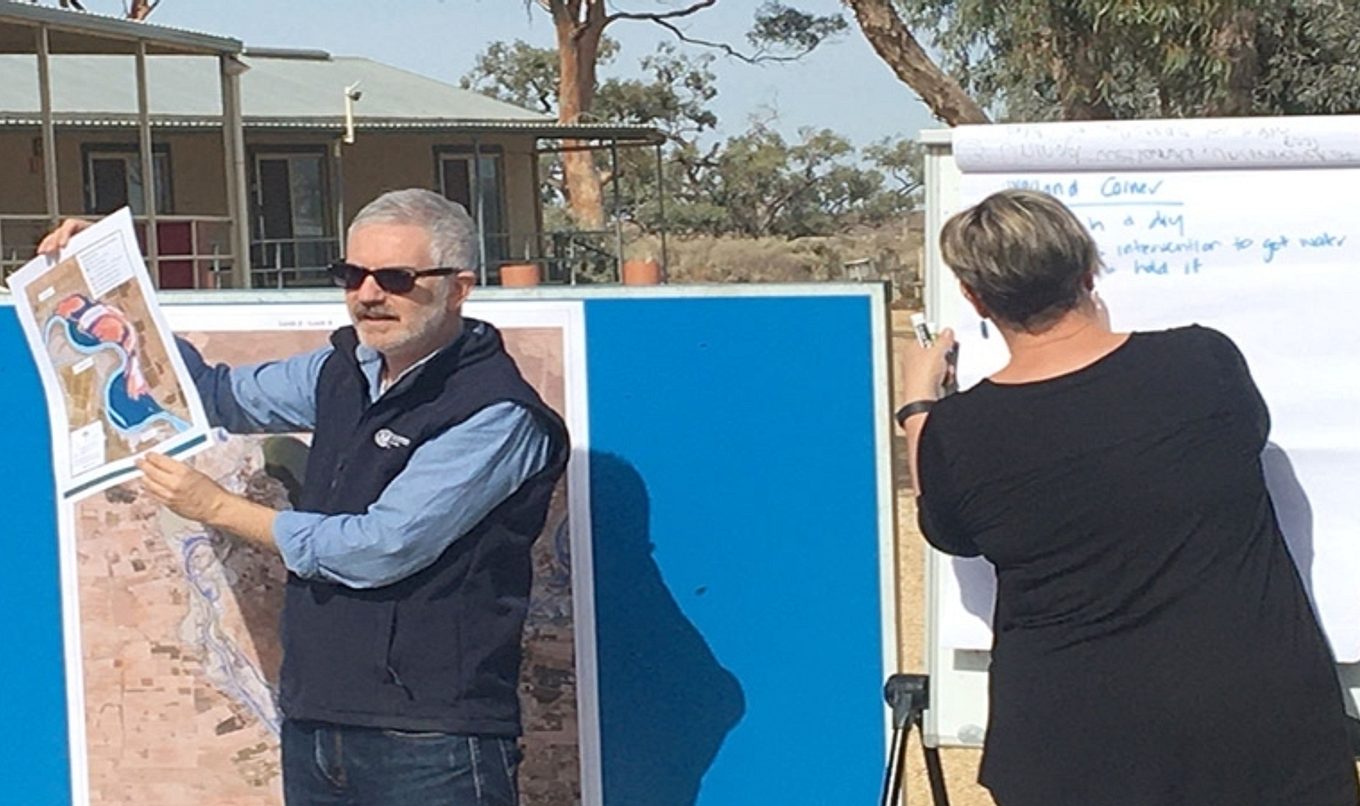 The event comes as a draft Master Plan for Lock 3, Bookmark Creek and Weir Pool 3 is being developed which will be released for pubic consultation later this year.
The Master Plan will be the first key milestone in the Sustaining Riverland Environments initiative, a $37.6 million federal government investment in practical projects to improve river and wetland health and support native fish in the River Murray.
Initiated by the Department for Environment and Water, the On-Country event with the RMMAC was designed to build the relationship and connection between First Peoples and the SRE project.
SRE Program Leader Nathan Clisby said it was the second workshop with RMMAC as the Department looks to finalise the Master Plan and move its focus to the feasibility assessment and prioritisation of projects.
Mr Clisby said that the Camp Kedron gathering was extremely positive and vital the project.
"Cultural considerations and the involvement of First Peoples is important in finalising the Master Plan and starting to prioritise projects under the SRE project," Nathan said.
"We gathered important information at our first workshop with RMMAC and this gathering shored that information up.
"It gave us an even clearer picture of what First Peoples think of the options to finalise the Master Plan and what are important cultural and community considerations in the SRE project space."
"With the RMMAC board members having so much knowledge about country, it was a great setting to sit down and better understand what is important to First Peoples in these regions.
"The backdrop of the beautiful lake really set the scene for some real collaborative information sharing."
First Nations spokesperson Sheryl Giles said it was great to see that First Nations are being listened to.
"Listening is key to communication and communication has been lacking for far too long," Sheryl said.
The Master Plan will consists of 21 option profiles with the aim of improving environmental outcomes in the Lock 3 and Bookmark Creek regions. In addition to implementing many of the option profile ideas, SRE will enable weir pool lowering at Lock 6 and support the achievement of enhanced outcomes for native fish.
Once the Master Plan is completed, the newly-formed SRE team will assess and prioritise the process with more collaboration with RMMAC and the general community.
SARFIIP (The South Australian Riverland Floodplains Integrated Infrastructure Program) is a $155 million investment program funded by the Australian Government through the Murray-Darling Basin Authority and implemented by the South Australian Government to improve the watering and management of River Murray floodplains in South Australia's Riverland.