Collaboration helps reduce bushfire risk on KI
Spring prescribed burns completed by National Parks and Wildlife Service SA (NPWSSA) on Kangaroo Island are helping to reduce bushfire risk to the island community, valued assets, and improve biodiversity.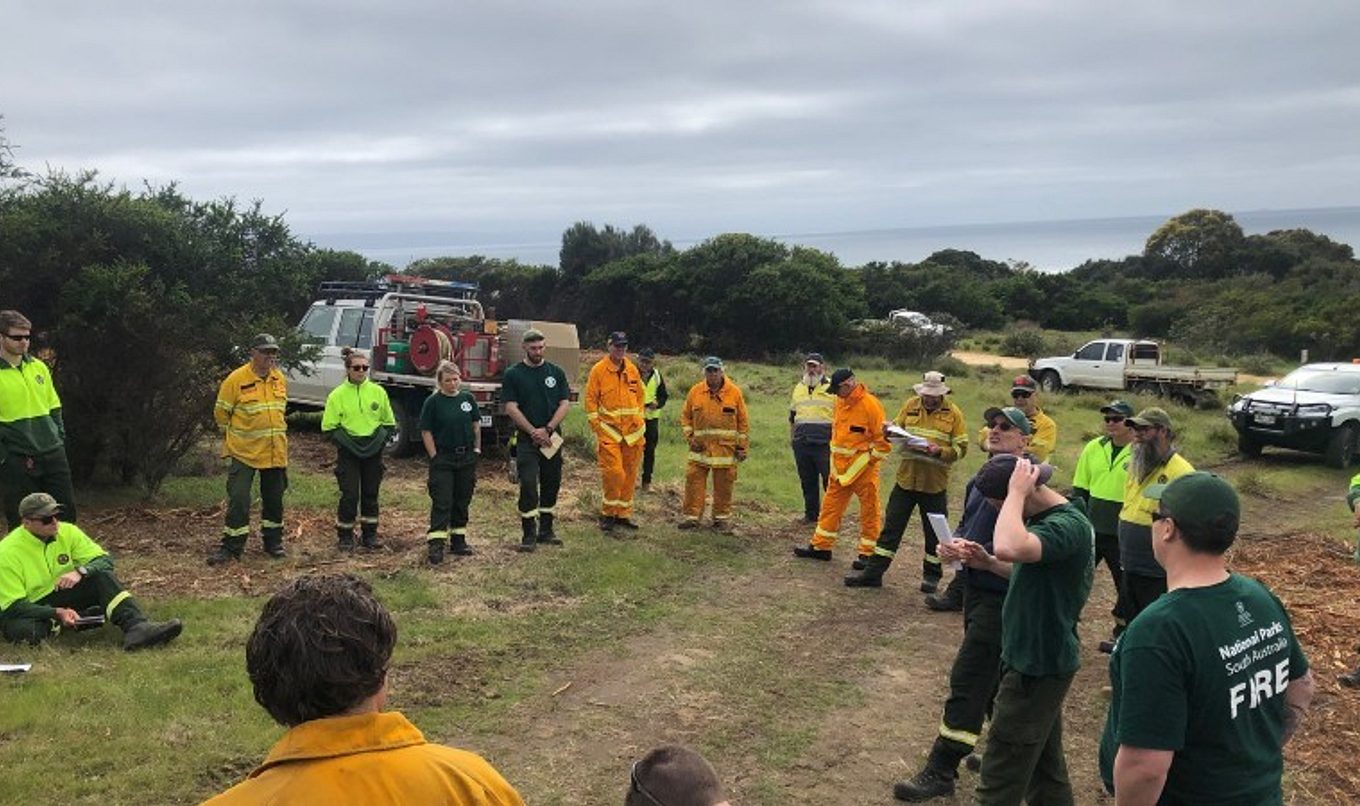 Prescribed burns were conducted around the township of Parndana, and in Dudley and Lashmar conservation parks with considerable support from local SA Country Fire Service (CFS) volunteers and Kangaroo Island Council.
These burns have reduced the fine fuels which ignite and carry a fire, such as dry grass, leaf litter and twigs. This type of fuel ignites the easiest and carries the fire front, making it the most dangerous of all.
The Parndana prescribed burn was on Crown Land managed by council, delivered as part of NPWSSA's Burning on Private Land program. This program strategically reduces fuel in high-risk areas on privately owned lands. Sites are identified in collaboration with private landholders, CFS, council and the Kangaroo Island Bushfire Management Committee.
"Parndana now has reduced fuel loads south of the town," said NPWSSA Fire Operations Officer Shane Parker, "which minimises the risk of a bushfire impacting on it."
To make staging and the logistics of the burn easier, Parndana CFS Brigade gave NPWSSA access to its station, and council prepared the site by removing garden and other waste materials, and helping with traffic management during the burn.
Council also worked closely with NPWSSA to manage local traffic through the road network at the Lashmar and Dudley burn.
"The Dudley burn was designed to create a strategic mosaic of low fuel areas to support bushfire suppression in this park, build access along East West Rd and reduce the park from burning out in a single event," said Shane Parker.
This will improve strategies to fight future bushfires, provide refuge areas after a fire, along with helping many native plants regenerate.
CFS Deputy Group Officer Rodney Lade attended the Dudley burn along with a Kingscote CFS Brigade member, and Penneshaw CFS Brigade attended both burns on the eastern end of the island.
Penneshaw CFS Brigade Captain Shane Bates contacted neighbouring landholders of the Dudley burn, to get their permission for a helicopter to land on the properties which was used to ignite the burn, and for their dam water to be used as a backup. Fortunately no additional water was needed.
Captain Bates also attended the Lashmar burn with Shane Parker, to share an understanding of how the two partners manage fire.
"Shane shared with me detail on the techniques NPWSSA was using, the reason behind ignition patterns staff were implementing, along with information on the science, training and skill set required during a prescribed burn," said Captain Bates.
"We very much appreciated all the support council and CFS gave us," said Shane Parker. "It was also useful to have local backing on the fire ground; help in accessing water points; and the loan of two appliances due to a breakdown of a NPWSSA fire vehicle."
The Black Point Road prescribed burn, planned for Simpson Conservation Park has been postponed to autumn 2021.
Because all prescribed burn conditions need to be just right, it was decided to postpone this burn as forecast weather conditions were now not conducive to implementing the burn in a safe and effective manner.
Fire management includes more than prescribed burning and the risk of fire was also reduced by rolling trees and vegetation with a bulldozer along strategic areas in Dudley Conservation Park and slashing along Binney's Track at Baudin Conservation Park.
All this work built on winter fire management activities by NPWSSA which focused on maintaining and improving fire access tracks and infrastructure across the island, and identifying strategic locations for these prescribed burns and mechanical works to modify the fuel load.
All this goes a long way to reducing the impact of future bushfires with NPWSSA and CFS fire crews ready to respond to any bushfires on the Island this season.