'Snags' re-establishing critical new habitats for Murray fish populations
2020 has seen noticeable improvements to native fish habitats along the South Australian leg of the River Murray thanks to an ongoing re-snagging process led by the Department for Environment and Water (DEW).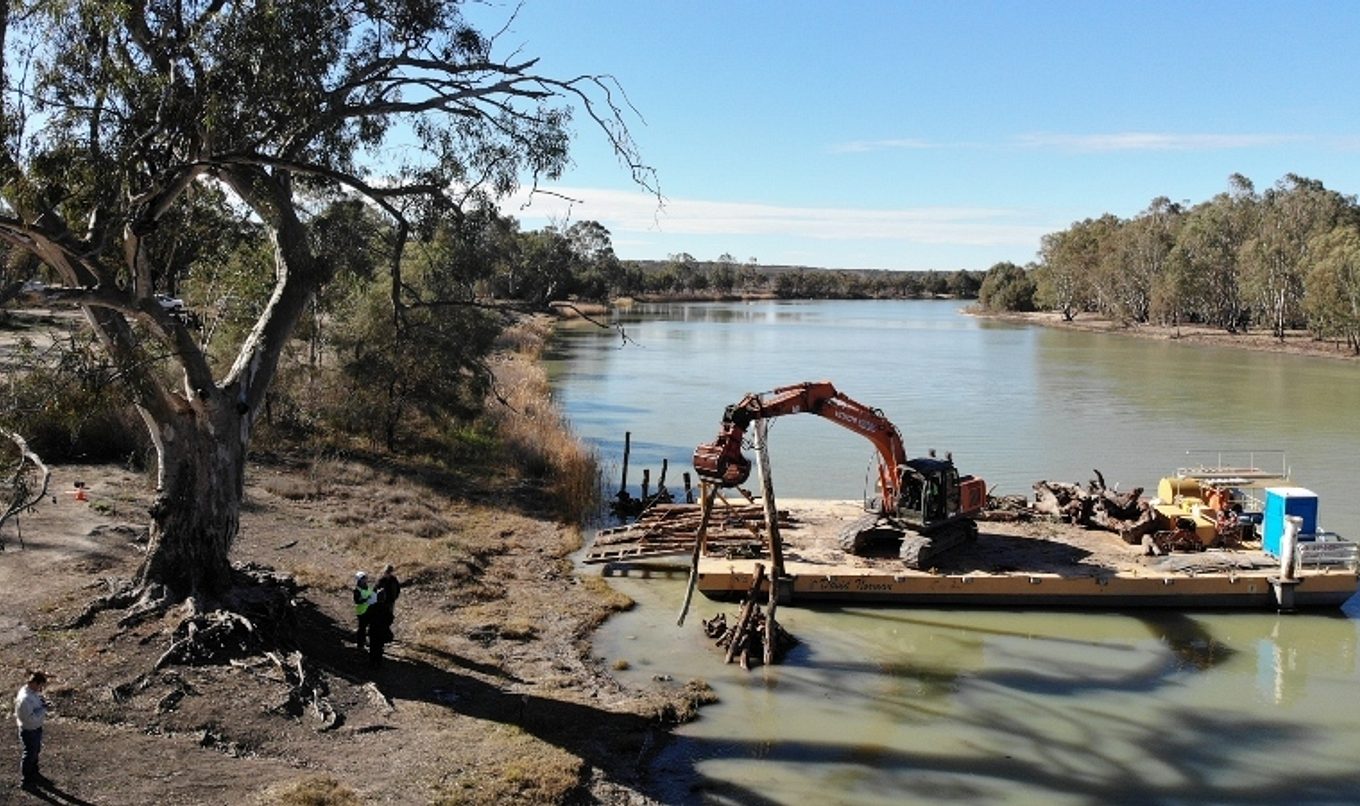 DEW spokesperson Dr Glenn Shimmin said habitat has been rebuilt at two additional locations in the River Murray to help restore the ecology of the area and support local fish populations.
"New work has been completed at Bookpurnong and Overland Corner and we have additional structures adjacent to Banrock Station Wetland that were completed in July 2019," Dr Shimmin said.
"Based on the success of last year's project, we installed 23 additional structures this year giving us a total of 47 snags in the river.
"We've been really pleased to observe a range of native fish already using the new structures including juvenile Murray Cod, bony herring and Australian smelt which has been a great reward for effort."
Dr Shimmin said snags are typically from trees placed into the river at strategic locations along the bank and can be made up of rootballs, trunks or limbs.
"What they do is create important variations in stream flow and provide habitat for aquatic wildlife, including macro-invertebrates, crustaceans and fish," Dr Shimmin said.
"Snags in the water can happen naturally during weather events such as flooding, strong winds and droughts, but more are needed along the Murray.
"They play a critical role by providing a place for bacteria, algae and micro-organisms to grow and create food for fish, birds, yabbies etc. They also produce areas of fast and slow water movement which is required by native fish for refuge or as a place to 'sit and wait' for food."
Dr Shimmin said adding more snags to the existing Bookpurnong site is important because snags that are close to each other support a bigger population of fish which will be more resilient to changing conditions.
Historically, snags were removed from South Australian leg of the River Murray to improve navigation, reduce flood damage and beautify the river. During the 1990s this practice was abolished as it became clear how important snags are for the river environment.
Nonetheless, habitat degradation due to historical removal of snags is thought to have greatly contributed to declines in native fish populations, which have reduced by more than 90 percent across Australia since European colonisation.
Many Australian species now experience restricted habitats and are reduced to small and highly fragmented populations, which are increasingly vulnerable to extreme environmental events.
Dr Shimmin said returning snags to the river seems simple, but the type of tree and its size, shape, position and location in the river are all important factors.
"The Riverland and Murraylands community have been incredibly supportive of our efforts to restore habitat in these areas and it's been really gratifying to have received extremely positive feedback from the public and recreational fishers," Dr Shimmin said.