Traditional owners support successful watering for the environment at Chowilla
A successful environmental watering program on the Chowilla floodplain has been undertaken with active involvement and knowledge from First Peoples of the River Murray and Mallee Region.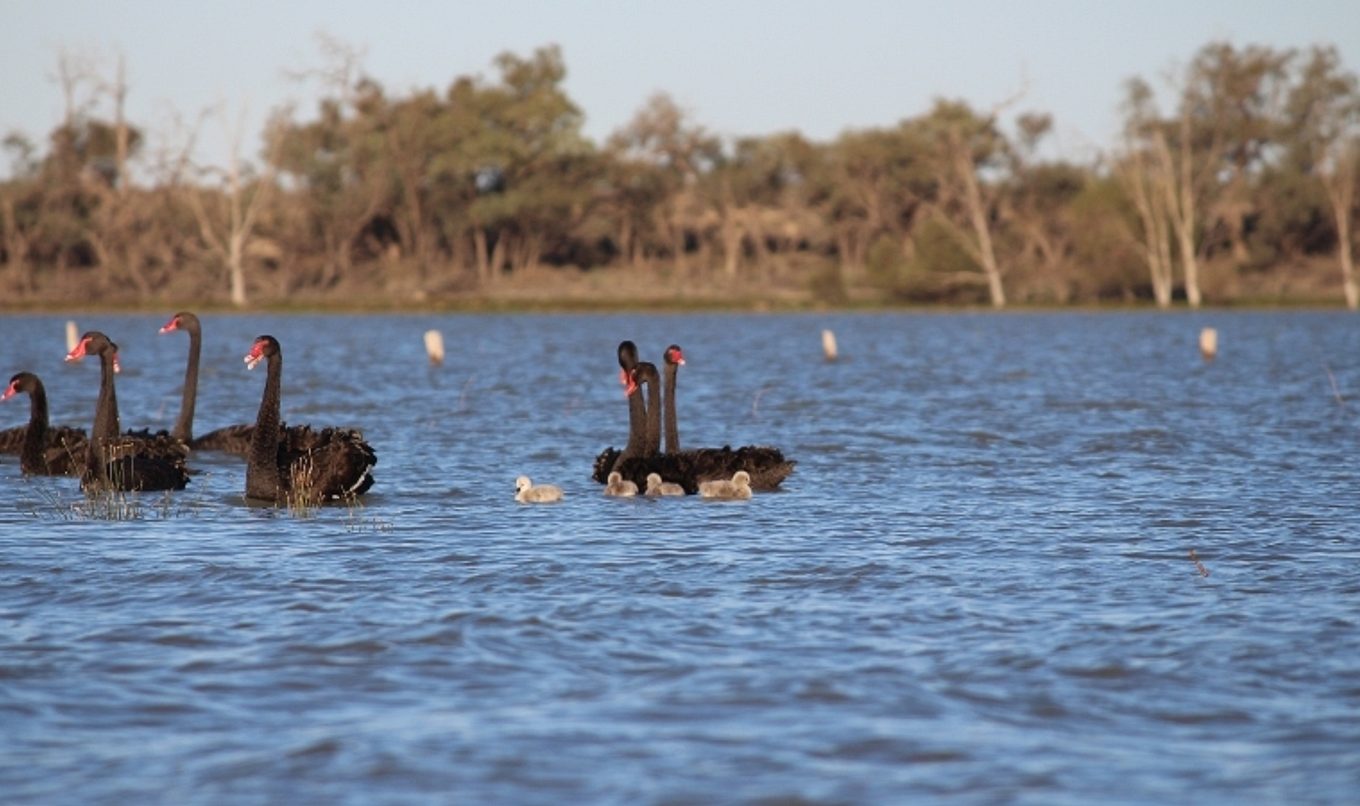 The Chowilla floodplain is one of many important sites to the First Peoples of the River Murray and Mallee Region who maintain a rich cultural connection with the land today.
Following the delivery of water for the environment to Coombool Swamp between September 2019 and January 2020, the site continued to hold water and was being used by large numbers of water birds.
An Aboriginal Waterways Assessment (AWA) was undertaken of the floodplain by the First Peoples in early March. AWA's are used by Traditional Owners to assess the cultural values of wetlands and other important sites to support environmental water and wetland management planning.
First Peoples Coordinator, Fiona Giles said during the survey the AWA team spotted a number of Black Swan nests on the lake, with swans sitting on them. Fiona waded out close to one of the nests and confirmed it contained seven eggs. Subsequent bird surveys further noted a number of active nests.
"While these swans are not a threatened species, they are very significant to the Traditional Owners in this region," Fiona said.
"The eggs are a prized food along with the birds themselves. Swans are also a ngartji (totem) and the feathers are used in the traditional practise of making feather flowers."
Senior Project Officer, Alison Stokes said following strong encouragement from the Traditional Owners a request was put forward to deliver additional water to this site to ensure swans could complete their breeding cycle.
"The additional water for the environment was approved from The Living Murray program and was gradually pumped to Coombool to maintain water levels within the lake," Ali said.
"It's been great to see the swans are continuing to nest and several cygnets have been sighted during recent surveys along with the large numbers of other bird species including migratory waders."
Traditional Owner Kayleen Giles, highlighted during the AWA that Coombool Swamp is culturally significant and a place to teach the younger generation, so knowledge is kept and not lost.
This project is supported by The Living Murray, a joint initiative funded by the New South Wales, Victorian, South Australian, and Commonwealth governments and coordinated by the Murray–Darling Basin Authority
For more information visit: https://www.environment.sa.gov.au/topics/river-murray/improving-river-health/the-living-murray-program