Popular frequent flyer preparing for his next trip
One of Adelaide's most well-known frequent flyers, Go-Go godwit, has been spotted on the mudflats north of Adelaide.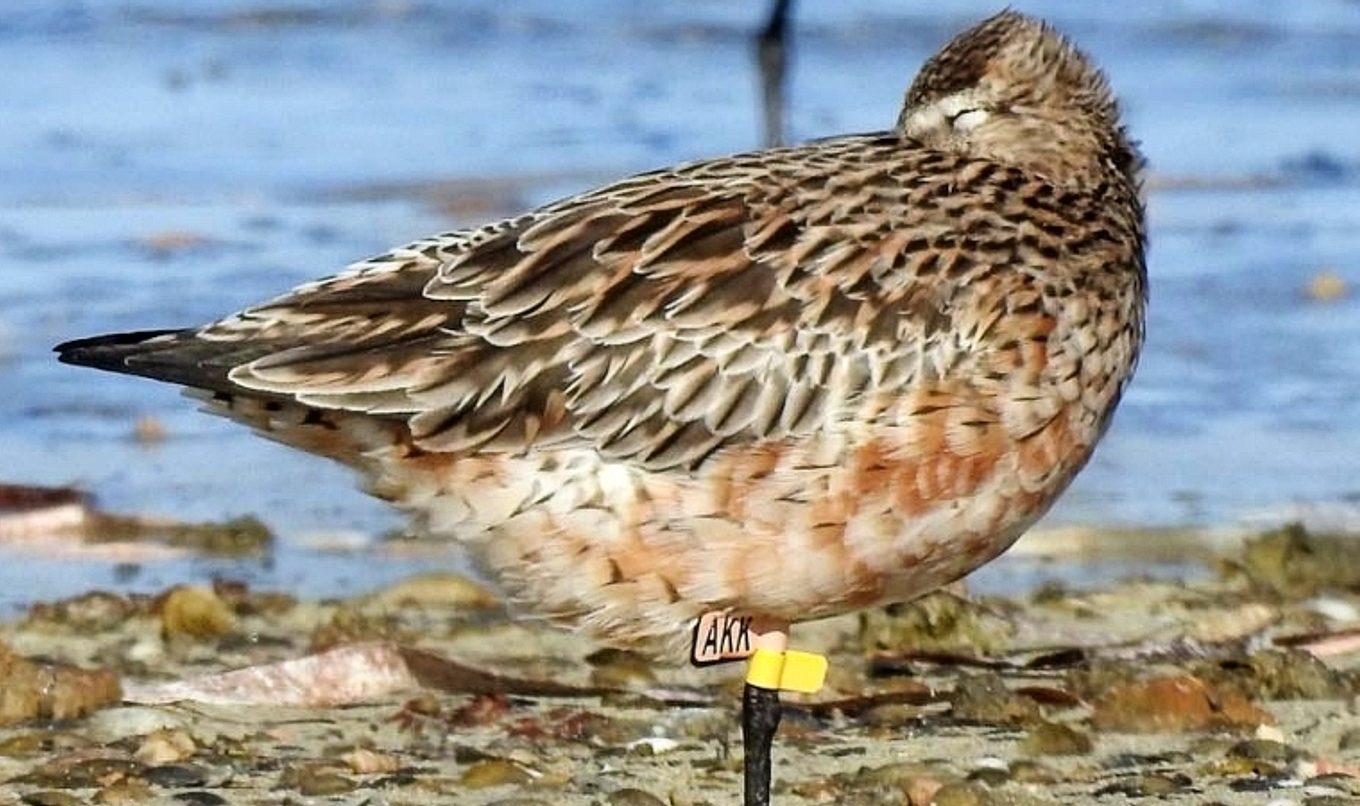 Go-Go, a migratory shorebird known as a bar-tailed godwit, was snapped by local bird photographer Paul Taylor in February in a flock at Bald Hill near Port Wakefield.
Go-Go – more formally known as AKK – was tagged in 2012 at Thompson Beach, north of Adelaide, as part of the Natural Resources Adelaide and Mt Lofty shorebird conservation programme, by volunteers from the Victorian Waders Study Group and Friends of Shorebirds SE.
Godwits may fly up to 30 000 km on their annual round trip from Adelaide to Arctic Siberia and western Alaska, via China, and may clock up more than 900 000 km in their 30 year-plus lifespan.
AKK would have been at least two years old when banded, so over the past 10 years in his daily flights and annual migrations from Adelaide to the arctic, he has probably already clocked more than 300 000 kilometres of flight time — almost from here to the moon.
Photographer and shorebird researcher Adrian Boyle first recorded AKK in China in 2013 on its annual northern stopover at Nanpu in Bohai Bay. Adrian had re-sighted AKK in Bohai Bay each year until April 2015. After a number of years' absence, Adrian finally spotted AKK back in Bohai in April 2018, prompting much rejoicing by local researchers.
Until this month's sighting, the male bar-tailed godwit was last spotted at Thompson Beach in March 2019.
Go-Go is looking in good condition and is with birds flocking in on low tides to fatten up in preparation for their long haul flights north to their artic breeding grounds. At this time of year these long-distance flyers are stocking up on food to make their massive non-stop flights to China and beyond. Beach-users should be mindful that this is a critical time for these birds and try not to disturb them as they roost and feed.
The many migrant shorebirds which have been grey and brown to blend into the mudflats start to "colour up" into their more spectacular breeding plumage. Go-Go is no exception and has begun to display the red and russet tones which provide good camouflage for the arctic summer.
Bar-tailed godwits travel from Adelaide to the Arctic Circle via China. Weighing 250g to 450g, they undertake the longest non-stop flight of any bird, with one satellite-tracked bird from New Zealand making a non-stop flight of more than 11 000km in just nine days.
Adelaide's northern coastline is a haven for migratory birds and the Adelaide International Bird Sanctuary National Park - Winaityinaityi Pangkara, was established in 2016 to protect shorebirds and their habitat.
The migratory shorebirds will return to our shores in spring.