Bushfires and South Australia's national parks
South Australia's recent bushfires have burnt over 90,000 hectares of national park land resulting in the closure of multiple parks on Kangaroo Island and Adelaide Hills until future notice.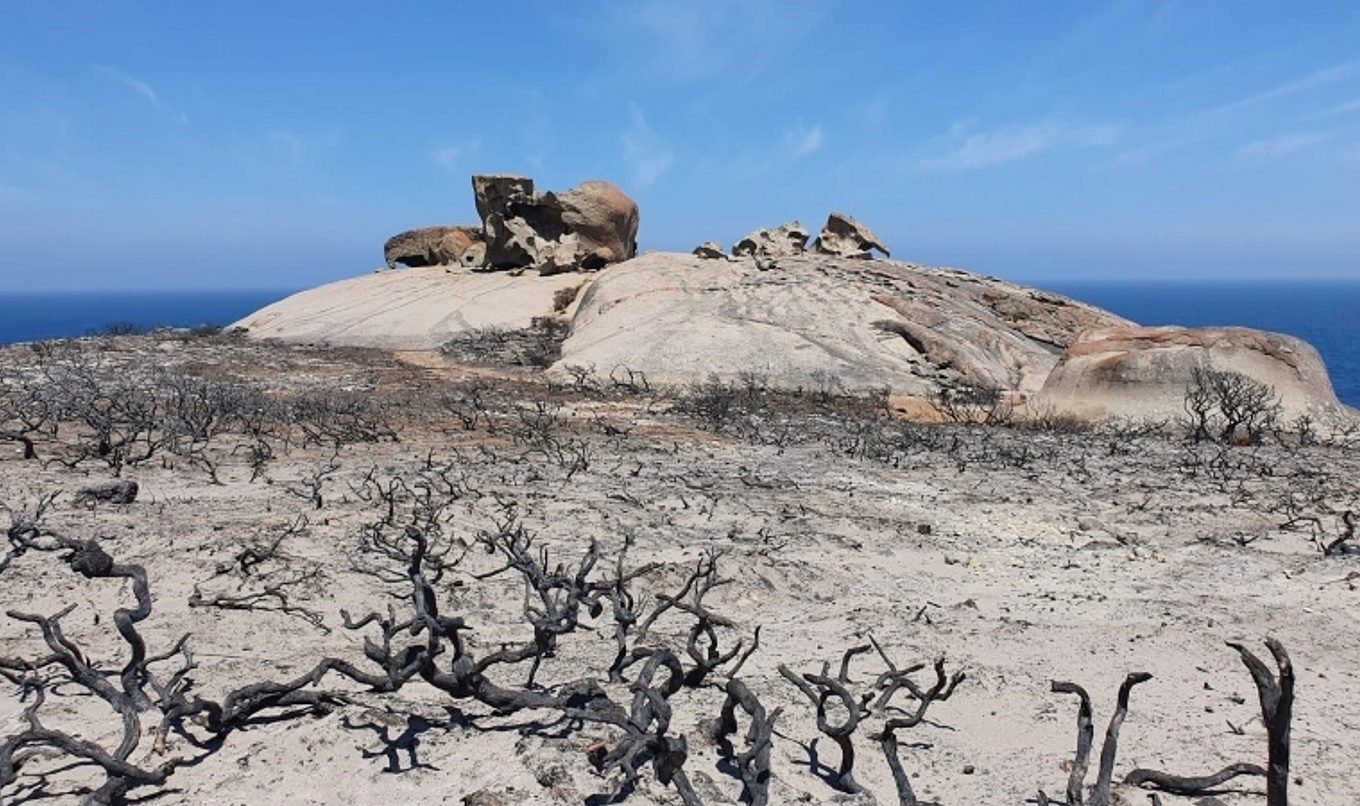 On 6 February the Kangaroo Island fire zone was declared safe by the CFS, which marks all bushfire-affected areas in South Australia as now safe.
Department for Environment and Water a/National Parks and Wildlife Service Executive Director Brenton Grear said the exact number of native animals impacted by bushfires on Kangaroo Island, Cudlee Creek and other parts of the state is yet to be determined.
"There is no doubt that large numbers of koalas have been affected, as well as kangaroos and other native species, including some that are threatened and endangered," Mr Grear said.
"While local koala populations in the Cudlee Creek area were affected by the fire, fortunately areas of high density koala populations were not impacted and overall the koala population in the Adelaide and Mount Lofty Ranges is believed to remain stable.
"On Kangaroo Island the bushfire has burned important animal habitat on parks and private land and severely impacted the island's unique and endangered fauna in some areas."
Mr Grear said the iconic Flinders Chase National Park on Kangaroo Island had suffered significant damage in the bushfires.
"The Rocky River visitor precinct, including the visitor centre, housing, campground and other accommodation has been destroyed as well as the Kangaroo Island Wilderness Trail," he said.
"Luckily the historic Cape du Couedic Lighthouse Station and light keeper's cottages, as well as the iconic Admiral's Arch and boardwalk at Flinders Chase have not been damaged.
"Remarkable Rocks have not been damaged, however, the supporting boardwalk and visitor facilities have been destroyed."
The following DEW-managed Kangaroo Island parks are closed until further notice:
Flinders Chase National Park (including Cape Borda)
Ravine des Casoars Wilderness Protection Area
Cape Torrens Wilderness Protection Area
Western River Wilderness Protection Area
Kelly Hill Conservation Park
Cape Bouguer Wilderness Protection Area
Parndana Conservation Park
Lathami Conservation Park
Vivonne Bay Conservation Park
Seddon Conservation Park
Mount Taylor Conservation Park
The following DEW-managed Mount Lofty Ranges parks are closed until further notice:
Porter Scrub Conservation Park
Charleston Conservation Park
Mr Grear said National Parks and Wildlife Service SA were making daily assessments of the parks and are working to provide public access to iconic tourism sites as quickly as possible.
"Elsewhere on the island, Cape Willoughby Conservation Park was unaffected by bushfires and we'll be open seven days a week for extended hours for the foreseeable future," he said.
"Cape Willoughby is home to a visitor centre and lighthouse station and runs tours, and these experiences are highly rated by visitors on Trip Advisor."
Information on which parks are open and the status of closed parks is available on the National Parks and Wildlife Service website.
The South Australian Tourism Commission has information on tourism businesses that are open on the island.
The National Parks and Wildlife Service SA has joined forces with Nature Foundation SA to launch a special fund to re-establish habitat for wildlife in the state's bushfire-ravaged regions. Donate by visiting the Nature Foundation website.
DEW manages 26 national parks, conservation parks and wilderness protection areas on Kangaroo Island that total 126,743 hectares. In the Adelaide and Central Hills district of the Mount Lofty Ranges DEW manages 30 national parks, conservation parks and recreation parks that total 6,267 hectares.