Troubridge lighthouse tower gets a spruce-up
Troubridge Island lighthouse tower, off the coast of Edithburgh at the bottom of the Yorke Peninsula, has received a much-needed paint job.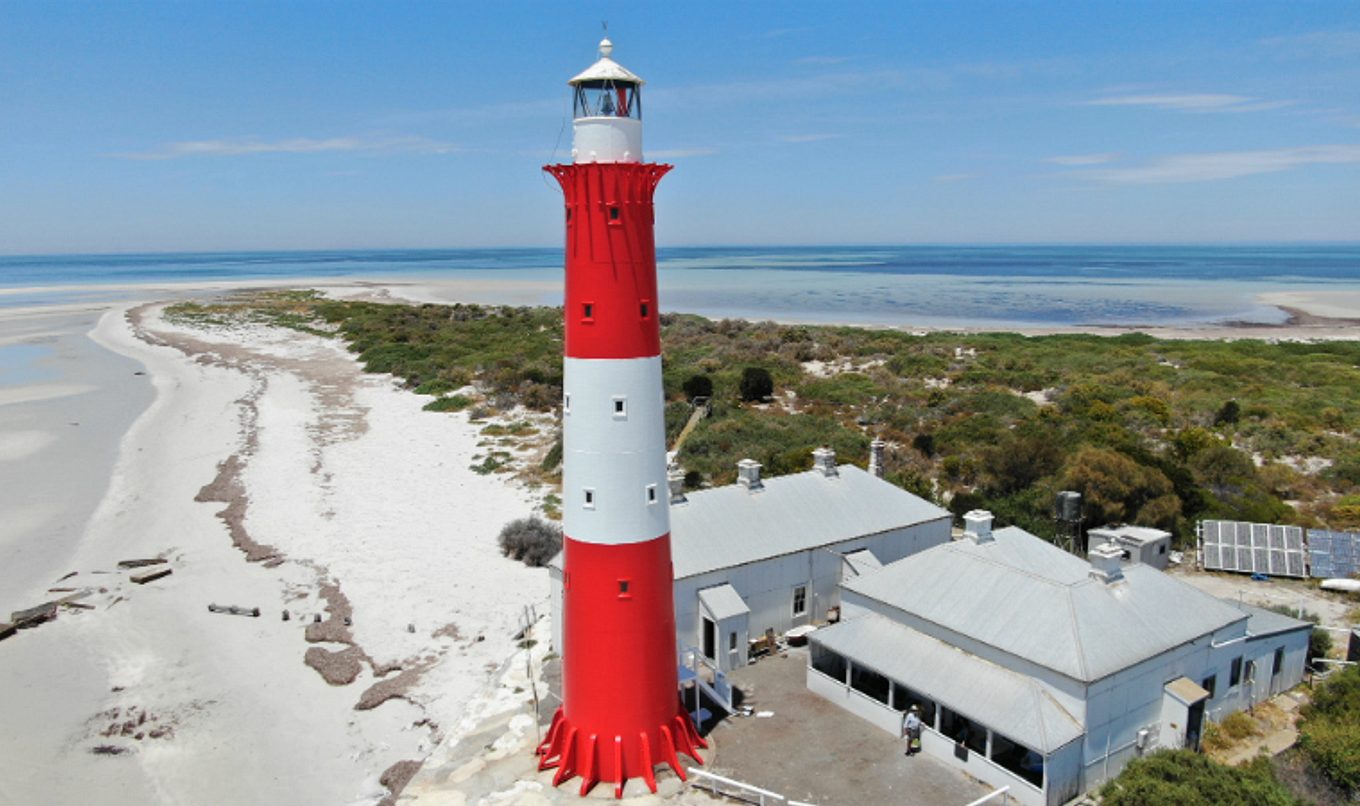 Over a three-week period, a highly specialised painting team has abseiled up and down the 24-metre high tower, first brushing off loose rust and paint and then priming the structure before applying two glossy red and white striped top coats.
The painting was carried out by a specialised rope access company that paints high-rise signs, mine sites and grain silos, who said this project was the most unusual they have handled.
SA Heritage Council chair Keith Conlon said the lighthouse, which was commissioned in 1856, is a prefabricated cast-iron structure - the only one of its kind in South Australia.
"The landmark tower is also a significant representative of the early maritime history of the state," Mr Conlon said.
"It was built to stop ships running aground on the Troubridge shoals after 17 shipwrecks in Investigator Strait in the1800's.
"The other interesting aspect about the Troubridge lighthouse is that it appears to be moving around the island – but that's just an illusion.
"That's because the Troubridge sand shoal has been moving since the tower was built. So sometimes the tower appears close to the water's edge, (as is the case now), and at other times, it's appeared to be in the middle of the Island.
"While the lighthouse helped passing ships navigate safely, life on the island was far from smooth sailing for the keepers.
"There are lots of tragic stories of feuding families, suicide, drowning and suspected murders.
"The lighthouse was automated in 1980 and decommissioned in 2001 prior to being transferred to SA State Government ownership in 2003. The observation deck and handrail were removed in 2015 after suffering extensive rust damage.
"The Island was purchased from the Federal Government in 1982 and the Troubridge Island Conservation Park established.
"The Troubridge Island lighthouse and adjacent Keepers' Cottages are listed in the South Australian Heritage Register and it's great to see the outside of the lighthouse get a much needed spruce-up."
The re-painting was funded by the Department for Environment and Water. The project was managed by Heritage South Australia in conjunction with the Friends of Troubridge Island group and Troubridge Island Hideaway and Charter (current lessees of the Lighthouse Cottage accommodation.)