Rare opportunity to explore historical shipwreck at Innes
Recent Southern Ocean storms, heavy seas, high winds and large swells have combined to remove sand from Ethel Beach and fully expose the wrecks of the Ethel sailing ship and S.S. Ferret coastal steamer, at Dhilba Guuranda-Innes National Park on southern Yorke Peninsula.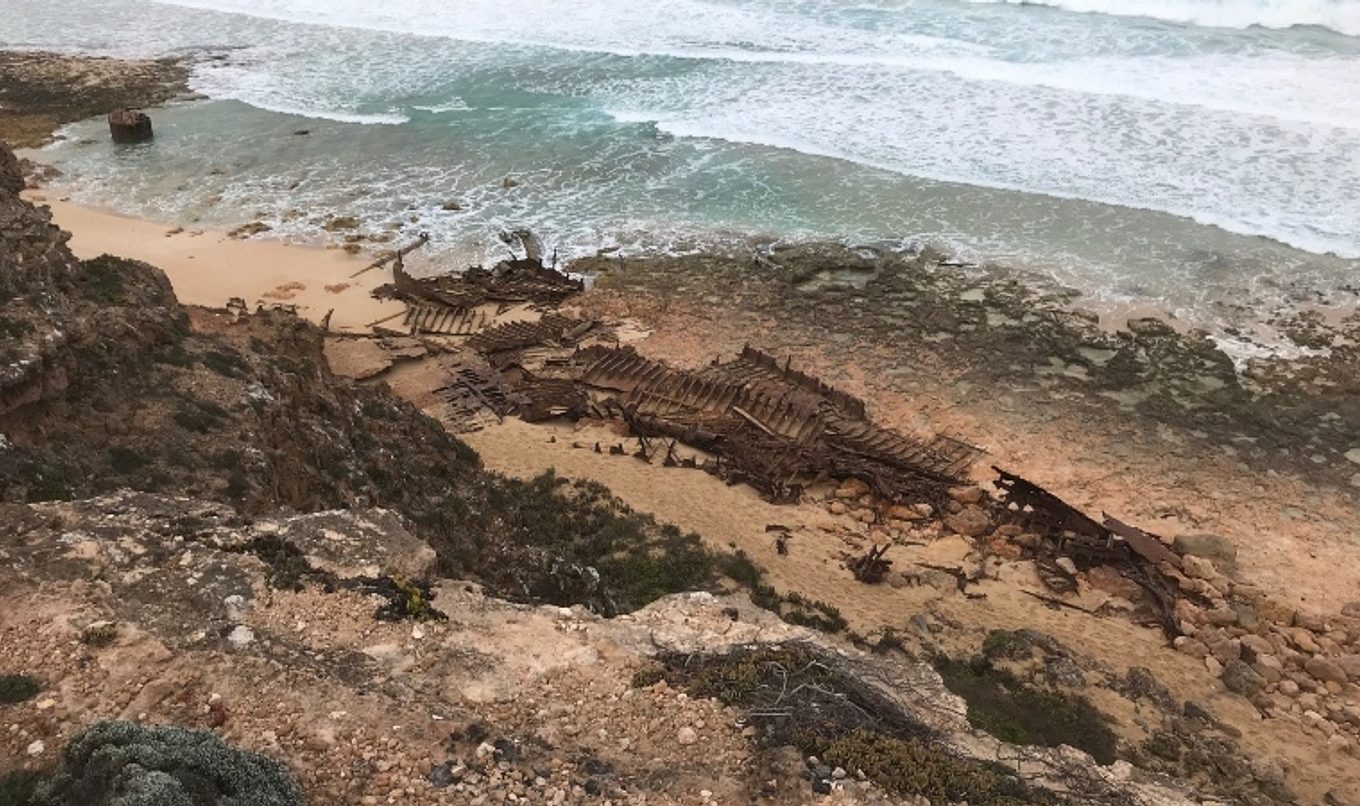 Dhilba Guuranda-Innes National Park Ranger in Charge Mark Davison said that the wrecks will be exposed until seasonal sand movement covers them again, which generally occurs around late September to early October.
"Each year the Ethel and Ferret wrecks are exposed to varying degrees," Mr Davison said.
"Due to recent storm activity, both wrecks have been completely exposed and offer fascinating viewing from either the cliff top lookout or from beach level.
"While the wreck is exposed, visitors to Ethel Beach are given a rare opportunity to learn about South Australia's rich maritime history and walk around and amongst a historical shipwreck.
"There are very few shipwrecks in Australia which are land based, with the majority lying below sea and only accessible to divers."
Access to Ethel Beach is via a boardwalk and steps.
The Ethel, originally named Carmelo, was a three masted iron barque of 711 tons and built in Sunderland, England in 1876. The ship was driven ashore, with the loss of one life, after being caught in a violent storm off Yorke Peninsula in 1904 while on route to Port Adelaide from South Africa.
The coastal steamer S.S. Ferret attempted to help the Ethel without success and notified authorities. Ironically, the Ferret ran aground on the same beach 16 years later on the 14 February 1920. The Ferret's boiler can be clearly seen 100 metres south of the Ethel wreck.
The Ethel wreck and S.S. Ferret form part of the Investigator Strait Shipwreck Trail, the stretch of water which lies between southern Yorke Peninsula and Kangaroo Island, named by Captain Matthew Flinders on 27 March, 1802 in honour of his ship HMS Investigator.
Shipwrecks in South Australia are protected under the Historic Shipwrecks Act (1976) and visitors are prohibited from interfering with the wreck.
For more information about the Ethel wreck, as well as camping and heritage accommodation bookings at Dhilba Guuranda-Innes National Park, visit www.parks.sa.gov.au or contact the Dhilba Guuranda-Innes National Park Visitor Centre on 8854 3200.