First Fund My Project completed along the Murray
The Bookmark Creek Canoe Trail has been launched, the first of twelve Fund My Projects, worth a total of $200,000, to be completed since the grants were issued last year.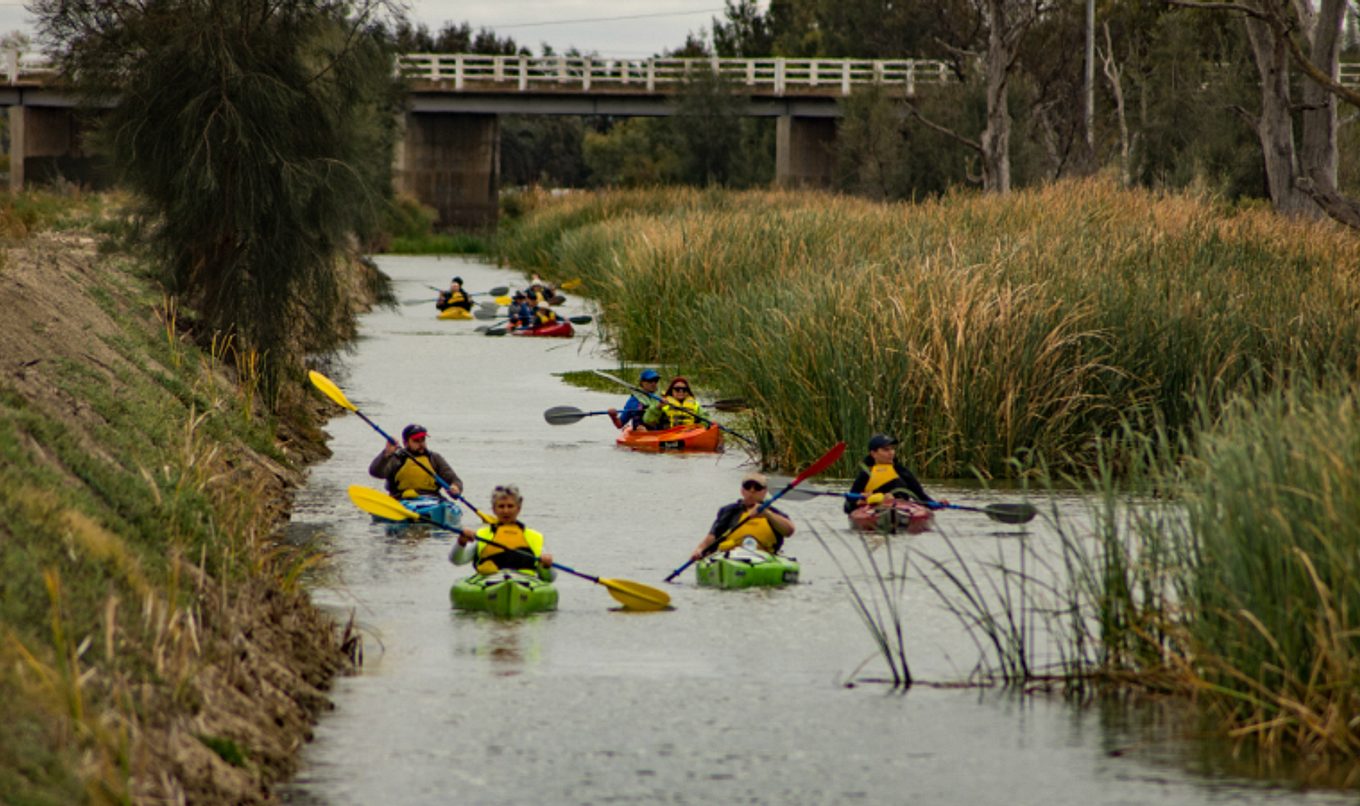 The newly created canoe and kayak trail is located in Renmark, and runs about a kilometre from Jane Eliza Inlet to the Twentyfirst Street Bridge, along Bookmark Creek.
Renmark Paringa Council received a $20,000 Fund My Project grant to set up the trail which included the removal of reeds and silt to increase flows and improve habitat for fish, widening of the creek and the setup of community tours.
Renmark Paringa Council Environmental Officer Myles Fauser said the creek and walking trails are expected to be regularly used by Renmark residents as well as visitors, plus they will add to the communities' understanding of the riverine recovery through the educational opportunities that will become possible in this anabranch system so close to the township.
Department for Environment and Water spokesperson Dr Glenn Shimmin said that the eleven remaining Fund My Projects are expected to be completed in the coming months.
"Each project received a grant between $5,000 and $20,000 to build knowledge, information and understanding of the River Murray," Dr Shimmin said.
"All twelve projects are helping to increase community involvement in the river's health and will leave a lasting legacy of knowledge and understanding of wetland management and recovery."
The twelve Fund My Projects include:
Bookmark Creek Canoe Trail – improve access at Bookmark Creek for recreational activities and fish movement.
Youth Voice for Maize Island - create a Maize Island walking trail which includes educational signage.
Connect with Paiwalla Wetland – hold Community Discovery Day at Paiwalla Wetland and install educational signage around the wetland.
Murrundi Reserve Wetland Works – perform track upgrade and reed clearing around the Murrundi Reserve Wetland and install educational signage.
Floodplains Explained - install educational and plant identification signs on frequently visited wetlands along the River Murray.
Lower Murray Canoe Trail – create an interactive boating trail between Murray Bridge and Wellington featuring educational signs and geocaches.
Riverine Cycles and Culture – develop educational information for Ngaut Ngaut Conservation Park which includes the significance of the park to Indigenous people, culture and society.
My Healthy River Toolkit – develop a toolkit of easy to access and freely available mobile friendly fact sheets and YouTube Tutorials about the River Murray.
Riverland (a film) – develop a low budget film to draw attention to the beauty of the River Murray.
Wetland Viewing Platform – construct a viewing platform along Bookmark Creek walking and cycling trail.
Hook, Line and Thinker – install bins for fishing tackle waste along the River Murray.
Mypolonga Wetland Boardwalk – install a boardwalk and educational signage at Mypolonga Wetland.
For more information, visit the YourSay website.
Fund My Project: Riverine Recovery is part of the $98 million joint Australian and South Australian government's Riverine Recovery Project, to improve the health of the River Murray and its wetlands and floodplains from the South Australian border to Wellington.