Dive into an exciting opportunity to experience maritime history
Keen divers can rejoice because permits no longer will be required to enjoy one of the state's most incredible underwater experiences.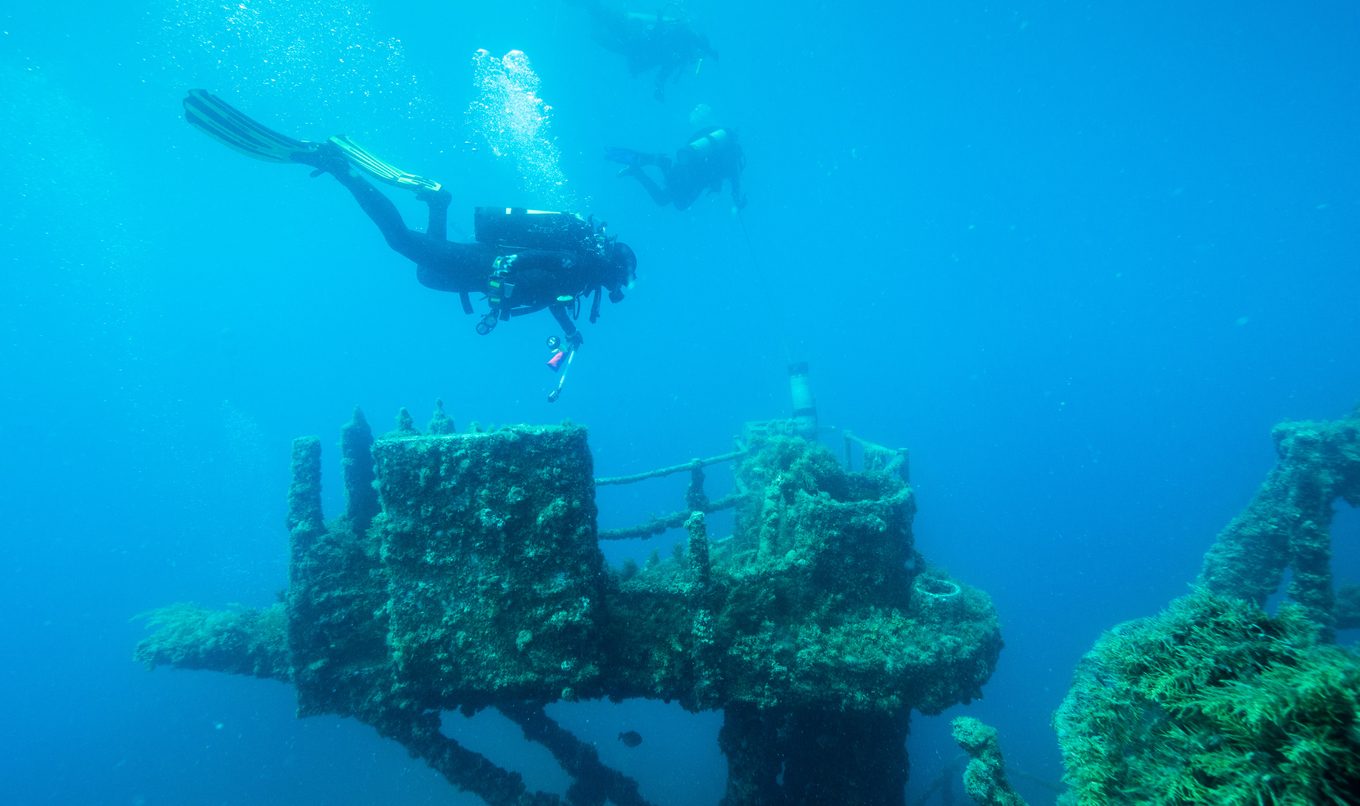 The state government has removed the 550m radius protected zone around the HMAS Hobart shipwreck site in Encounter Marine Park, near Yankalilla on the Fleurieu Peninsula.

This decision means diving enthusiasts can experience the spectacular site, which is just a short drive from Adelaide, without having to obtain permission from the Department for Environment and Water (DEW).
The move is expected to significantly increase diver visitation to the site and benefit the greater Adelaide and Fleurieu Peninsula economies.
The department's Senior Maritime Heritage Officer Mark Polzer said it was exciting for everyone to be able to enjoy the fantastic dive site.
"The HMAS Hobart is regarded as one of South Australia's – if not Australia's – premier dive sites, so the decision to remove the protected zone is a huge win for the local area," Mr Polzer said.
"This decision is expected attract the diving community in droves, benefitting the heritage tourism economy of the region."
The HMAS Hobart was a Charles F. Adams class guided missile destroyer in the Royal Australia Navy (DDG 39).
It was built in the United States of America and commissioned in Boston, Massachusetts, in 1965.
The vessel completed three tours of duty off Vietnam, where two sailors lost their lives, and seven others were injured after the vessel was hit by friendly fire in 1968.
The ship was gifted to South Australia in June 2000 and intentionally scuttled to create an artificial reef off Yankalilla Bay in November 2002.
It was declared a historic shipwreck in December 2002 and the protected zone was established. It now lies in 30m of water within the northern part of the Rapid Head Sanctuary Zone in the marine park.
It is important to note that only the shipwreck protected zone around the HMAS Hobart has been removed.
DEW's Marine Parks Regional Coordinator Jon Emmett said all other restrictions, including prohibiting fishing, remained within Encounter Marine Park.
"This is to ensure continued protection of the marine life which calls the shipwreck home," Mr Emmett said.
"Marine park rangers from the National Parks and Wildlife Service regularly patrol the HMAS Hobart to ensure fishing restrictions are adhered to, and the wreck and marine life is conserved for everyone's enjoyment.
"For a safe and enjoyable experience, rangers recommend that divers use the services of an experienced, accredited dive tour operator to visit the site."