Knowledge Building Resilience - Coorong science on display
The Healthy Coorong, Healthy Basin Science Forum returned to Goolwa on Tuesday 16 May, bringing some of Australia's top scientists to discuss key scientific findings for the Coorong region.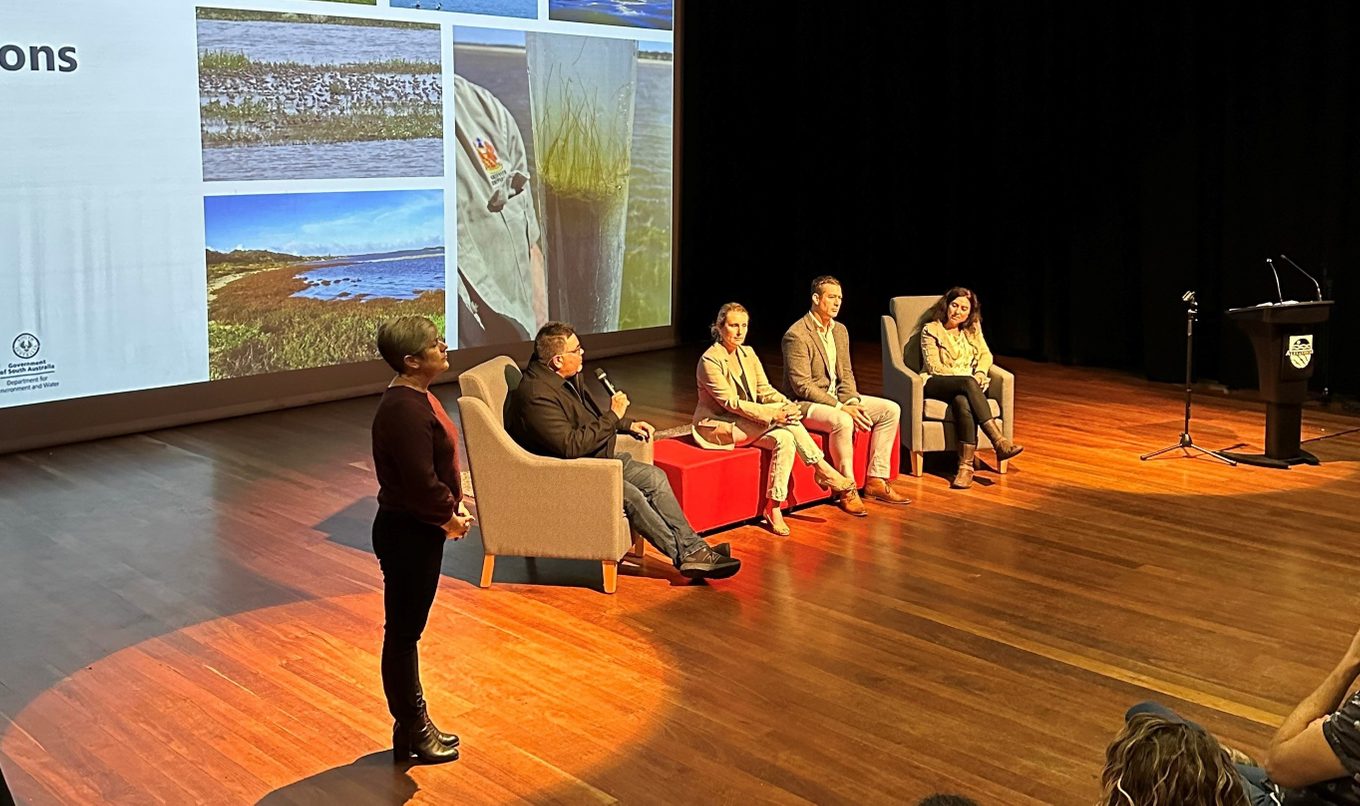 From seagrass to salinity, algae to black oozes, and microbes to migratory shorebirds, it was all on show at the Healthy Coorong, Healthy Basin 2023 Science Forum.

Hosting the first Healthy Coorong, Healthy Basin (HCHB) community science forum since February 2021, Goolwa's Centenary Hall was a hive of knowledge, with community members, scientists and researchers alike, converging for the event. Forum attendees were treated to a deep dive into all things Coorong, including ecology, science integration, climate adaptation, and Ngarrindjeri knowledge.
Presentations shared some of the key findings from the award-winning Department for the Environment and Water (DEW) Scientific Trials and Investigations (T&I) project, which is the largest ever scientific research project undertaken in the Coorong region.
Following the 2022-23 River Murray flood event, and with the theme of 'Knowledge Building Resilience', the forum was also an opportunity to provide a snapshot of the latest observations from around the Coorong, Lower Lakes and Murray Mouth.
With approximately 100 people in attendance and another 45 tuning-in online, HCHB Program Leader Nadine Kelly said it was encouraging to see so many people engaged in the science of the Coorong.
"The Coorong is a national treasure and a unique environment that means a great deal to a lot of people, so it's vital that we communicate the latest research findings with the community," Dr Kelly said.
"Not only do these forums play an important role in knowledge sharing, they are also an important opportunity for community members to ask questions and provide feedback about the important research happening in their own backyard."
Rounding out the day was a facilitated workshop focusing on consultation of the recently released draft Coorong Restoration Roadmap. Guided by the International Principles and Standards for the Practice of Ecological Restoration, the Coorong Restoration Roadmap presents how the Healthy Coorong, Healthy Basin program is using scientific key findings and is partnering with scientists, communities and First Nations to implement a strategic restoration program for the Coorong.
The draft Coorong Restoration Roadmap is still open for consultation until 5pm, Monday 19 June 2023. You can find out more and provide feedback via attending one of our regional drop-in sessions or via the YourSAy online consultation hub.
The Healthy Coorong, Healthy Basin team would like to thank Goyder Institute for Water Research, Department of Climate Change, Energy, Environment and Water, and everyone who helped make the 2023 Science Forum a success.
The Healthy Coorong, Healthy Basin program is jointly funded by the Australian Government and the Government of South Australia.