Artist impressions for Bookmark Creek restoration revealed
Artist impressions of the Bookmark Creek restoration upgrade have been revealed today showing proposed infrastructure upgrades at Jane Eliza Estate and Nelwart Street as part of a project to reinstate natural habitat conditions for native species.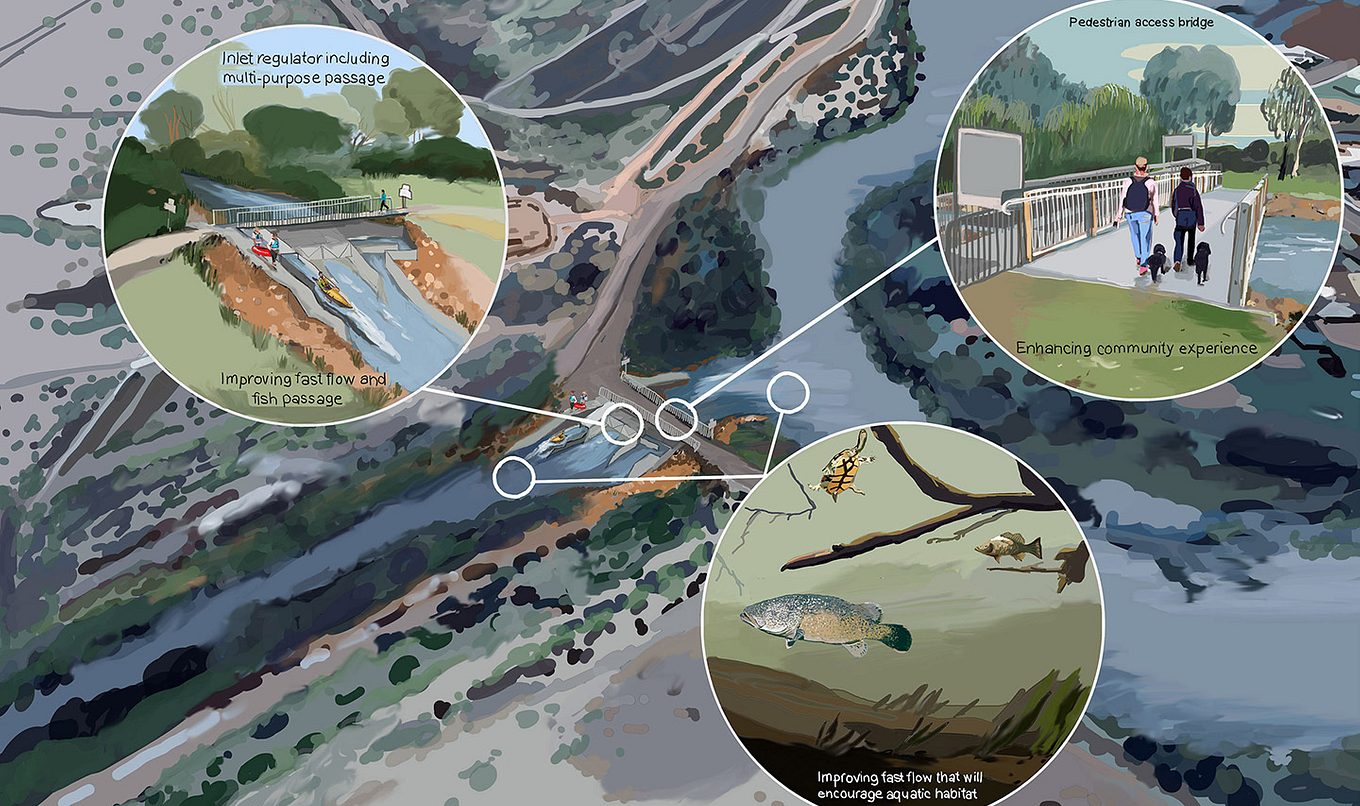 The impressions are the latest milestone in the Bookmark Creek restoration process which is a key part of the $37.6 million Sustaining Riverland Environments (SRE) Program.
Through SRE, the Department for Environment and Water (DEW) is working with Australian engineers, Jacobs, key landholders and stakeholders to design the best and safest options to create improved connectivity for fish to the River Murray.
DEW's SRE project team lead, Nathan Clisby said upgrades to the Jane Eliza Inlet regulator include a multi-purpose passage for aquatic life such as fish and turtles as well as for community benefit with canoe passage and a pedestrian bridge.
"This will improve flow conditions for fish movement, as well as enhance community experience and recreation opportunities," Nathan said.
"The work at Nelwart Street Bridge will replace existing infrastructure and this upgrade will dramatically improve connectivity and movement for native fish, which will encourage aquatic habitat.
"This project is about creating better connectivity and passage for fish through the creek, by undertaking works on a series of structures which currently impede fish movement.
"The existing regulator currently restricts flow and impedes fish movement so the proposed works seek to improve access to habitat for large-bodied native fish."
Nathan said the upgrades will enable passage from the River Murray into Bookmark Creek, travelling through Angove Family Winemakers, 23rd Street Distillery and reconnect to the Murray.
"Recreational users such as kayakers will be able to paddle from the top structure, travel down Bookmark Creek and loop back to the top via the river," Nathan said.
The artist impressions revealed today are based on concept drawings that were co-designed with key Riverland stakeholders including Renmark Paringa Council, Renmark Irrigation Trust, Murraylands and Riverland Landscape Board, Bookmark Creek Action Group, Angove Family Winemakers and 23rd Street Distillery.
The construction stage will commence this year, with infrastructure works anticipated to commence in early 2022 and scheduled for completion by December 2023.
Artist impressions can be viewed online at https://www.environment.sa.gov.au/news-hub. If you have any feedback about these designs, email DEW.SREProgram@sa.gov.au by Monday, 7 February 2022.
The Sustaining Riverland Environments (SRE) Program is a $37.6 million program funded by the Australian Government through the Murray-Darling Basin Authority and delivered by the Government of South Australia through the Department for Environment and Water.