National park attractions take out state tourism awards
Two of South Australia's well-known national park visitor attractions were recently recognised at this year's Tourism Industry Council of South Australia, South Australian Tourism Awards, with Cleland Wildlife Park being awarded silver and the Naracoorte and Tantanoola Caves taking out bronze in the Major Tourist Attraction category.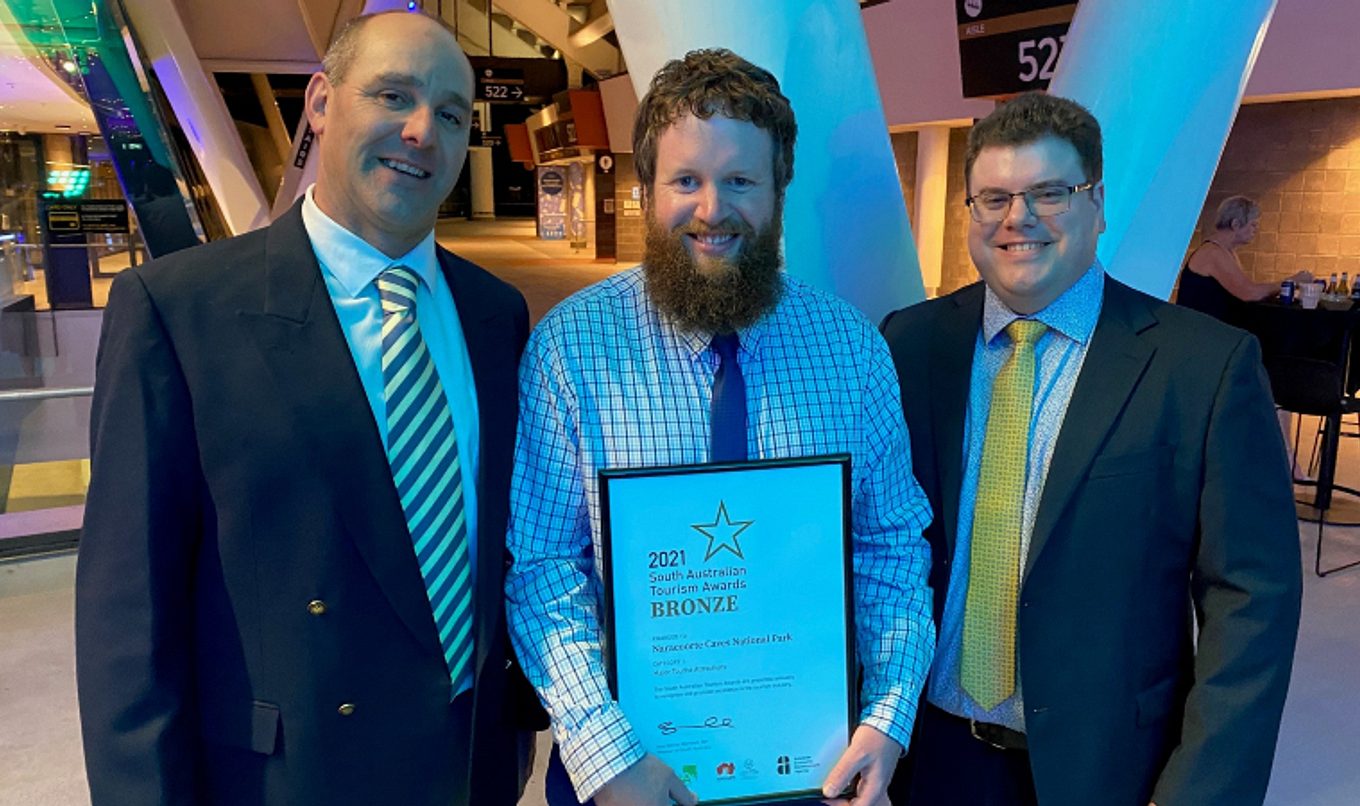 Cleland Wildlife Park General Manager, David Rice, said the team were thrilled to win the award.
"The COVID-19 pandemic has been a challenge for our team, but at the same time it also presented us with many opportunities," he said.
"This award is reflective of the Cleland team's willingness to embrace change and work closely together to develop and improve the customer experience to not only attract first time visitors, but also encourage our loyal customers to visit more often.
"While border closures has seen a decline in international and interstate visitors, we've noticed a generational wave over the past two years. Parents and grandparents who might not have visited for a decade or more, have returned to the park with their expanded families, with many visiting more than once."
National Parks and Wildlife Service Limestone Coast Manager, Nicholas McIntyre, said that the team was incredibly proud of the recognition which follows on from record-breaking visitor numbers for both the Naracoorte and Tantanoola Caves in the 2020-21 year.
"The Naracoorte Caves is South Australia's only World Heritage listed site and is one of the world's most important fossil sites," he said.
"The Naracoorte and Tantanoola Caves are a major tourism drawcard for the Limestone Coast region, playing an important role in boosting the regional economy."
Nine commercial tourism operators who run their businesses in the state's national parks were also finalists in the South Australian Tourism Awards, with several taking out awards. The winners included:
National Parks and Wildlife Service Executive Director, Mike Williams, said that operators running tours in our state's parks provided many great experiences that help people connect with nature.
"More people every year are looking for new ways to connect with nature and tour operators provide a great service with a diverse array of opportunities to enjoy the many spectacular sites in our state's parks," he said.
The full list of winner at https://ticsa.com.au/2021-south-australian-tourism-awards-winners/