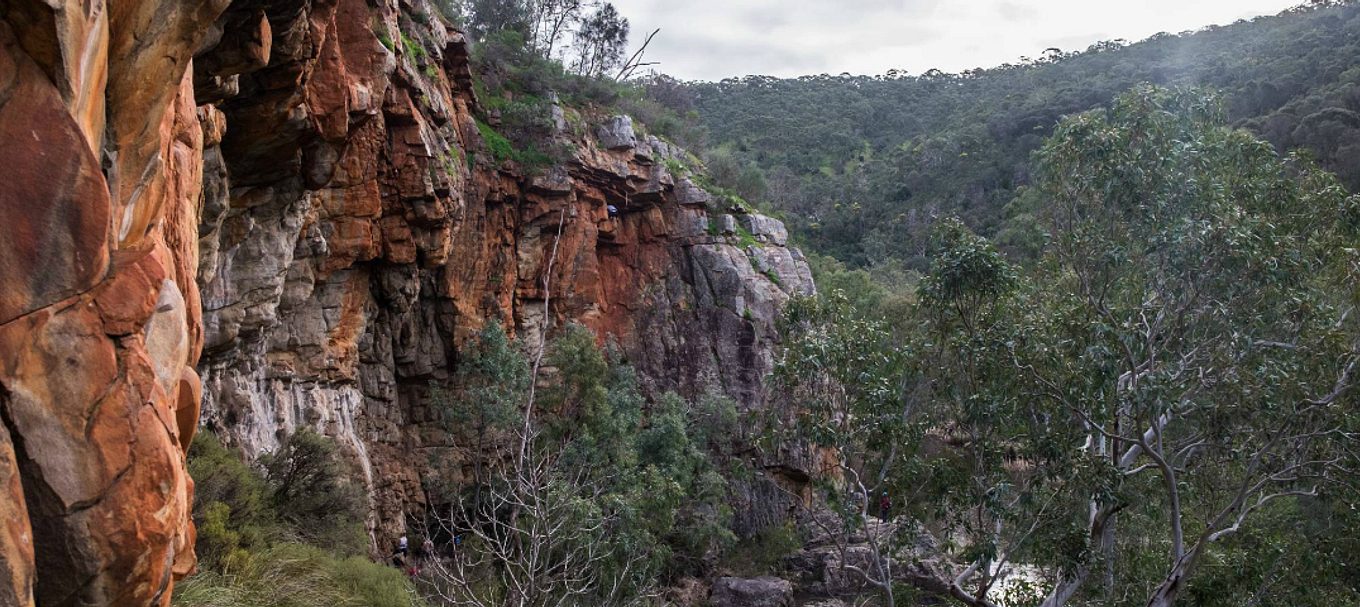 Best national parks for camping near Adelaide
Get out and about in nature at these picture-perfect camping spots in national parks not far from Adelaide's CBD.
Do you live in Adelaide and want to go camping but don't have time to travel too far out of the city?
You're in luck, as there are some amazing campsites in national parks near metropolitan Adelaide, which will mean you'll be able to spend more of your time off enjoying nature rather than driving to your destination.
Here's where you'll find these campgrounds:
1. Onkaparinga River National Park
Located 35 km south of Adelaide, Pink Gum campground in Onkaparinga River National Park offers a quiet getaway from suburban life in Adelaide.
A fantastic option for bush camping, Pink Gum Campground in Onkaparinga River National Park is a short walk away from the spectacular Onkaparinga River Gorge. Before you go, read out story to discover 5 treasures in Onkaparinga River parks.
There are a number of walking and mountain-bike trails that will help you explore the finest remaining pockets of remnant vegetation in the southern Adelaide region. And the campground is also close to the wineries of the McLaren Vale wine region.
For the adventurous, the rock climbing zone is located just a short walk from the campground and features cliffs up to 30 m high with permanent rock pools below.
Before you go: Visit the Pink Gum Campground webpage to check out the campsites and check out our handy guide to camping in Onkaparinga River National Park.
2. Para Wirra Conservation Park
The Wirra campground in Para Wirra Conservation Park is located on Adelaide's northeast edge just 43 km from Adelaide CBD. The campground has 19 campsites including a large group site suitable for tents, caravans, camper trailers and campervans. Each site includes a fire pit for use outside of the fire danger season. There's also a camp kitchen, barbecue facilities and accessible toilets.
While you're staying in the park, make use of the network of walking and cycling trails, the Nature Play Forest and Gawler View Picnic Area. Don't forget to bring a football or cricket bat for a game on the bush oval.
The park also features Aboriginal interpretive signage acknowledging Para Wirra as a special meeting place, which will give you a more in-depth understanding of the area.
3. Deep Creek National Park
About 100 km south of Adelaide, Deep Creek National Park is on the Fleurieu Peninsula and can be accessed via Main South Road from Adelaide or Range Road from Victor Harbor.
Deep Creek is home to a wide array of native wildlife such as western grey kangaroos, short-beaked echidnas and 100 species of birds.
Stringybark Campground, Tapanappa Campground and Trig Campground at Deep Creek National Park are very popular with families. They generally book out really early for long weekends, school holidays and Christmas time.
The well-equipped Stringybark campground is nestled among a native stringybark forest and offers plenty of shade and protection from the elements.
It's a great base to explore the park from, with plenty of birdlife to spot and walking trails to explore. This campground also has 12 sites suitable for caravans.
Tapanappa Campground is a short walk to the spectacular views of the Fleurieu Peninsula.
Campground facilities include a long-drop toilet and picnic shelter. There are some sites suitable for small camper vans and camper trailers.
Popular with families who like hiking, Tapanappa campground is a great base for some stunning walks.
Head to Tapanappa Lookout and walk either the Deep Creek Cove Hike that leads down to the beach or the Deep Creek Waterfall Hike for a view of the stunning waterfall.
Love bushwalking and camping? Check out our blog on 4 parks in South Australia for overnight hiking trips.
Trig campground is a beautiful retreat with plenty of open space and contrasting background of yacka plants.
There is a good mix of large and small campsites and each campsite has a concrete fire ring for use during campfire season. (Note: seasonal restrictions apply).
There are lots of friendly kangaroos near this campsite, sure to delight young kids. Facilities include toilets and large picnic shelter.
For more information, read our guide to camping at Deep Creek National Park.
4. Newland Head Conservation Park
Located on the southern coast of the Fleurieu Peninsula and 91 km south of Adelaide, Newland Head Conservation Park has rolling hills, rugged cliffs and unmatched views, perfect for the family looking to spend some quality time in nature.
Waitpinga Campground is a gorgeous campground with Waitpinga beach only a short walk away.
Waitpinga Beach is also very popular with surfers as it offers both a point break plus a classic beach break. It's also ideal for a spot of fishing, but is not suitable for swimming
Only suitable for tents and swags, the Waitpinga campground has camping toilets, a communal gas BBQ and under-shelter picnic seating.
There are also lots of walking trails starting near this campground. We recommend the 23 km Waitpinga Cliffs to Kings Beach hike if you're going to be camping here.
The Waitpinga campground is very popular in summer with families booking their spots months in advance.
Top tip: For more on National Parks where you can catch some epic waves, look up our blog on 6 great surf breaks in SA's Encounter Marine Park.
Book before you go
Campsites in South Australian national parks need to be booked online. Bookings can be made up to one year in advance. So in theory, if you live in Adelaide you could check which campsites are available online, book a spot, and be out camping in nature within hours.
If you're new to camping, check out our guides for beginners – includingwhat to bring, what towhat to cookandhow to behaveat the campground.
This story was originally posted in April 2017.