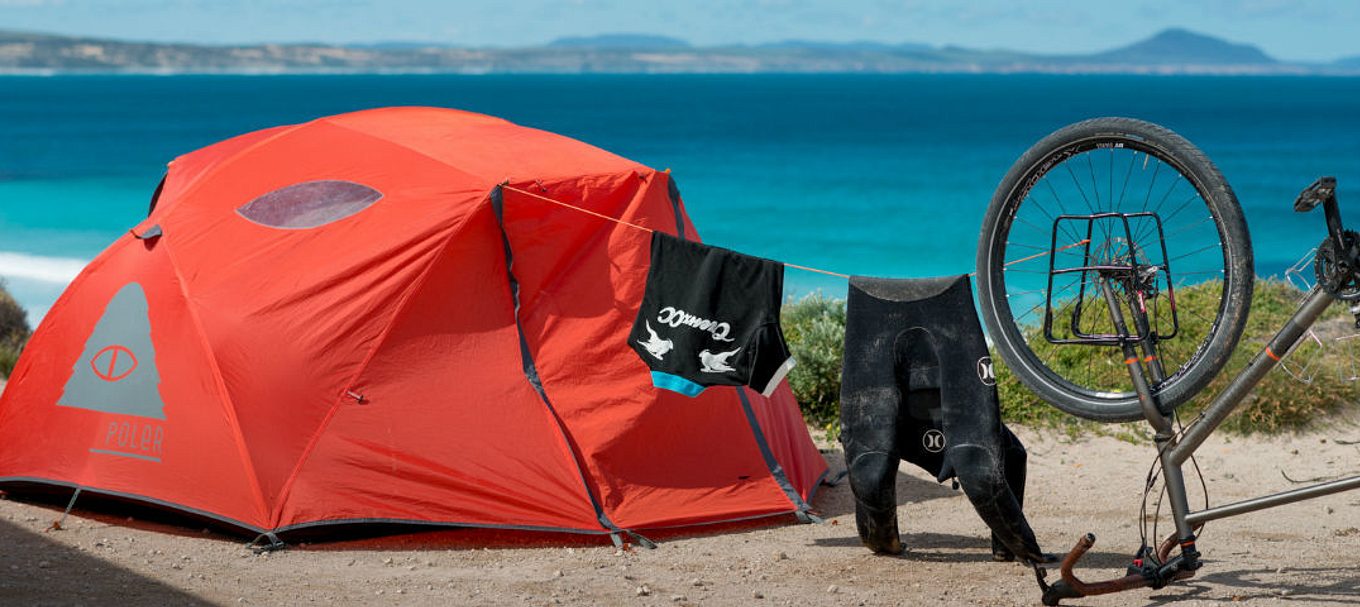 8 camping essentials to take on your next trip
Be prepared for your next camping trip with these must-have items. Don't leave home without them.
If you're new to camping or a regular looking for hints and tips, here are some essential camping items you won't want to leave home without.
1. Long kitchen utensils
Ever burnt yourself trying to get a baked potato off the campfire with standard-sized tongs? Bring along a longer pair and you can say goodbye to burnt fingers and hello to enjoying a pain-free, delicious dinner instead.
2. Cast iron camp oven
From heart-warming stews to delicious damper, you can't go past a cast iron camp oven. Your food will be rich in flavour, and instead of slaving over a complicated meal, you can chop up your ingredients, pop them in the pot and let the oven do the hard work for you.
3. Camp oven tripod
Love open fires but hate it when your camp oven looks like it's about to tip over? Bring along a tripod specially designed to hold your camp oven over the fire. You can even control the cooking temperature for different dishes by adjusting the tripod height so that your oven sits closer or further away from the fire.
4. Hot plate
A good old-fashioned barbeque is essential when camping, so make sure you bring along a hot plate for your sausages, chops and onions. You can also use it to cook steaks, which are a great choice to bring along on a camping trip as not only do they taste good, but they freeze well and can double as ice blocks in your esky to save on space.
5. Camp-friendly crockery
Leave the good crockery at home and bring your plastic picnic ware and wine glasses instead. Picnic sets usually have everything you need for four people and the best news is, the items won't break if you drop them. Like your morning coffee hot? If a plastic mug won't cut the mustard, bring along some stainless steel mugs and a billy too. The stainless steel will keep your drink hot and if you have a billy, you can also cater for tea drinkers.
6. Washing up gear
The bad part of a good meal is cleaning up after yourself. Bring along two plastic tubs big enough to fit plates, cups and cutlery. One is for storing the dirty dishes, the other is your washing up bowl. Don't forget the detergent, tea towels and dish cloths. It's always a good idea to bring more tea towels than you think you might need to mop up any spills.
7. String and some pegs
Camping to some people means action and adventure, which can translate to lots of walking or hiking and stinky, sweaty clothes. Bring a string and some pegs and you'll be able to hang up the clothes you've rinsed out and also dry your bathers and towels if you've been lucky enough to go swimming.
8. Mosquito repellent, sunblock and a hat
Many campers underestimate just how much time they'll be out in the sun and how harsh it can be in certain regions. Remember to slip, slop, slap and bring plenty of sunscreen and a hat. Be wary of mosquitos too. They can spread serious disease so it's important to prevent being bitten. Cover up and wear long, loose-fitting clothing, use insect repellent, and get rid of any still water around the place that mozzies might breed in.
Now that you've got your essentials sorted, it's time to plan your menu. Don't have a trip booked? There's no time like the present to start researching ideas – check out theNational Parks South Australiawebsite for everything you need to know about staying in SA's parks and reserves.
Main image: Port Drummond (image courtesy of Che Chorley)