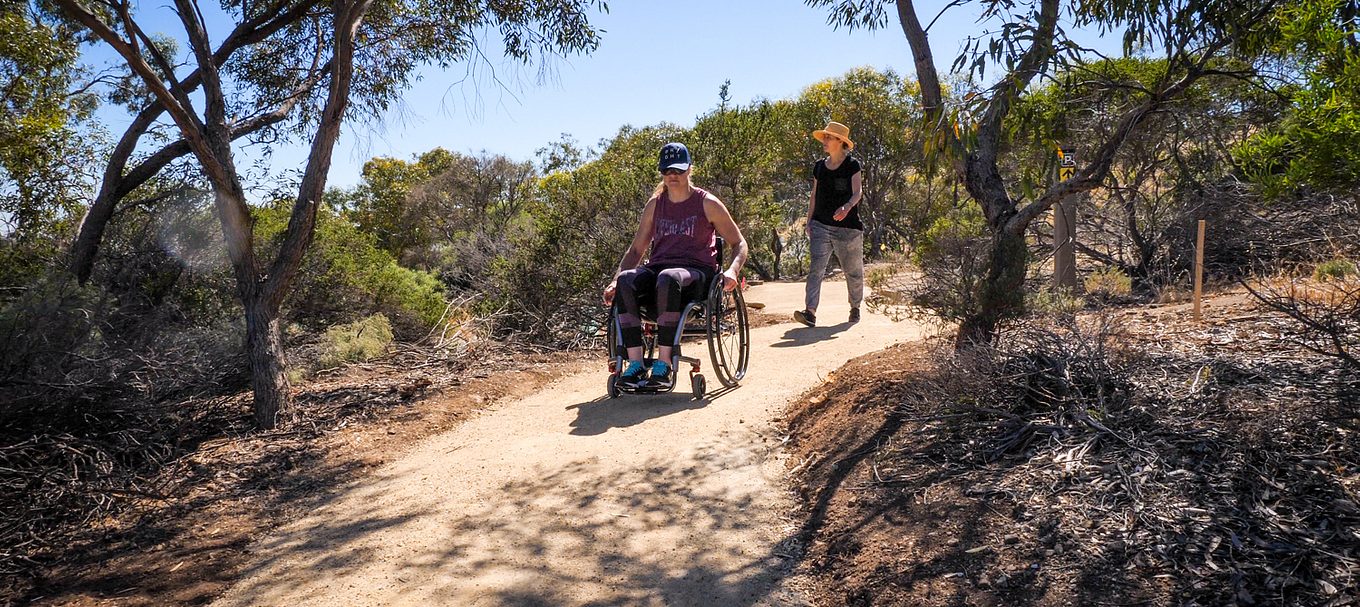 9 national parks in Adelaide with accessible facilities
National parks are for everyone to enjoy. Find out which ones have accessible camping, toilets, parking and trails.
Adelaide is Australia's first and only National Park City. It's no wonder, given there is access for all to enjoy nature close to the state's capital.
Know before you go by checking out this list of Adelaide parks that have accessible features.

1. Anstey Hill Recreation Park
Heading to Anstey Hill Recreation Park in Adelaide's north-east? You can find accessible parking spaces at Gate 1 near Ellis Cottage, and the toilets are right next door – one is accessible (suitable for right-hand transfer) and the other is an ambulant toilet.
As you make your way further into the park, the 650 m Little Quarry Loop features a hard packed gravel surface which is mostly level. The trail begins near the main car park in the former quarry. Fancy a picnic along the way?
There are 3 accessible picnic areas on the loop.
2. Belair National Park
Adelaide's oldest park – Belair National Park – has lots of accessible parking spaces and toilets.

If you're looking for accessible trails, there's a couple that have hard packed gravel and bitumen surfaces.
There's the 1 km Wood Duck Walk trail, which starts at the carpark and circumnavigates Playford Lake, and is a perfect setting to enjoy the area's open-air, all-access picnic ground.
The 3 km Lorikeet Loop Walk starts at Old Government House and travels in an anti-clockwise direction.

You may need assistance on the climb back to Old Government House from the adventure playground. New accessible toilets opened at Old Government House earlier this year.
Pine Picnic Area One is also accessible, and has an accessible parking space and accessible toilet (suitable for left-hand transfer).
If you're keen for a bit of cardio, tennis courts 1, 2, 32 and 33 are accessible. Book and pay for your tennis court and vehicle entry online before you arrive.
3. Cleland National Park
Cleland National Park in the Adelaide Hills is a great park to visit, as there's so much to see.
Try starting at Waterfall Gully, where there are 2 accessible parking spaces. Right next to the car park, you'll find the toilets which include one accessible toilet (left-hand transfer) and an ambulant toilet.

Take the 300 m bitumen trail that climbs from the car park to the first falls pool and back. You might need some assistance because of the gradient.
No visit to Cleland is complete without a visit to Cleland Wildlife Park. As well as being home to some very cute furry creatures, there are many accessible facilities. Check out the park's mobility map.
You should also head to the lookout at Mount Lofty Summit to enjoy the sweeping views across Adelaide. There's accessible parking spaces and accessible toilets there too.
4. Cobbler Creek Recreation Park
You'll find 2 toilets and 2 accessible parking spaces at the main entrance to Cobbler Creek on the corner of Bridge and Smith Roads, Salisbury East. One toilet is accessible (right-hand transfer) and the other is an ambulant toilet.
If you're planning to stay for lunch, there's an accessible picnic area next to the Kites and Kestrels adventure playground. Shelters, seating, and a barbecue are available.
5. Hallett Cove Conservation Park
Heading beachside? There are 2 accessible parking spaces at the south end of Hallett Cove Conservation Park and an accessible toilet (left-hand transfer) next to the car park of the Boatshed Café.
A bitumen path leads from the café towards Black Cliff Lookout where the trail steepens considerably (up to 12%). Assistance will be required on this section to the lookout. Check out the below video of the access trails at Hallett Cove Conservation Park.
What's on at Hallett Cove Conservation Park: new access trails
6. Morialta Conservation Park
There's plenty of accessible parking spaces in Morialta Conservation Park, in Adelaide's eastern suburbs.
You'll find one accessible park at the resource centre, 3 at the Stradbroke Road carpark and picnic area, and another 3 at the First Falls carpark.
The Mukanthi Playspace is a huge attraction at Morialta. There are accessible toilets located here, as well as accessible parking and barbecue facilities. There are also accessible toilets at the First Falls carpark.
To explore the park, try the 1.6 km Morialta Falls Valley Walk. The trail rises gently on a wide, hard packed gravel trail to just below the First Falls. The last section goes below the falls via a boardwalk.
You can also try the Fourth Creek Trail. The first half of the trail is compacted gravel, and the second half is bitumen, both about 1 m wide. The trail is suitable for prams, although there is a short incline near the start, just beyond the Mukanthi Playspace and after the footbridge.
7. Onkaparinga River Recreation Park
If you go to Onkaparinga River Recreation Park in the southern suburbs, you'll find an accessible parking space and an accessible toilet at Perrys Bend. You can also enjoy the picnic area which has a BBQ and picnic tables.
To explore the park, try the 3 km Wetlands Loop Trail. This flat trail is a mixture of boardwalk and gravel paths. The trail isn't considered wheelchair accessible, however, a blog post by Push Adventures describes how it can be accessed by wheelchair users.
8. Onkaparinga River National Park
Across at Onkaparinga River National Park, you'll find one accessible parking space at the Piggott Range Road entrance.
You might like to check out the 2 km Punchbowl Lookout Trail. Descend the wide, hard packed trail to the lookout where there are a number of picnic benches. Return via the same trail which climbs 50 m over a 1 km distance.
If you plan to stay overnight, camp at one of Pink Gum Campground's accessible sites, located at the eastern end of the park.
The campsites are on flat ground with a compacted gravel surface. The road slopes down to the toilets but is accessible by car. You'll find an accessible toilet here. Don't forget to book and pay online before you go.
Top tip: Check out our guide to camping at Onkaparinga River National Park for useful insider tips and inspiration.
9. Para Wirra Conservation Park
At Para Wirra Conservation Park north of the city, you'll find accessible toilets at Gawler View Picnic Area, Wirra Campground Picnic area and Para Wirra Central Picnic Area.
The 1 km Lake Discovery Loop Trail is our pick – we recommend you start from the East Lake carpark and follow the well-signposted trail in a clockwise direction. The trail loops around the lake on a hard packed gravel trail with a few slight rises that may require some assistance.
Don't forget to book and pay online for your vehicle entry fee before you go.
Assistance dogs
Assistance dogs are allowed in most public places which includes South Australia's national parks. They must be appropriately restrained on a lead and remain under your effective control at all times.
Want to explore further afield? Check out our story: 7 regional parks with accessible features. Or for more information about accessibility in parks, head to National Parks and Wildlife Service's website.
This story was originally posted in April 2018 and has been updated with new information.