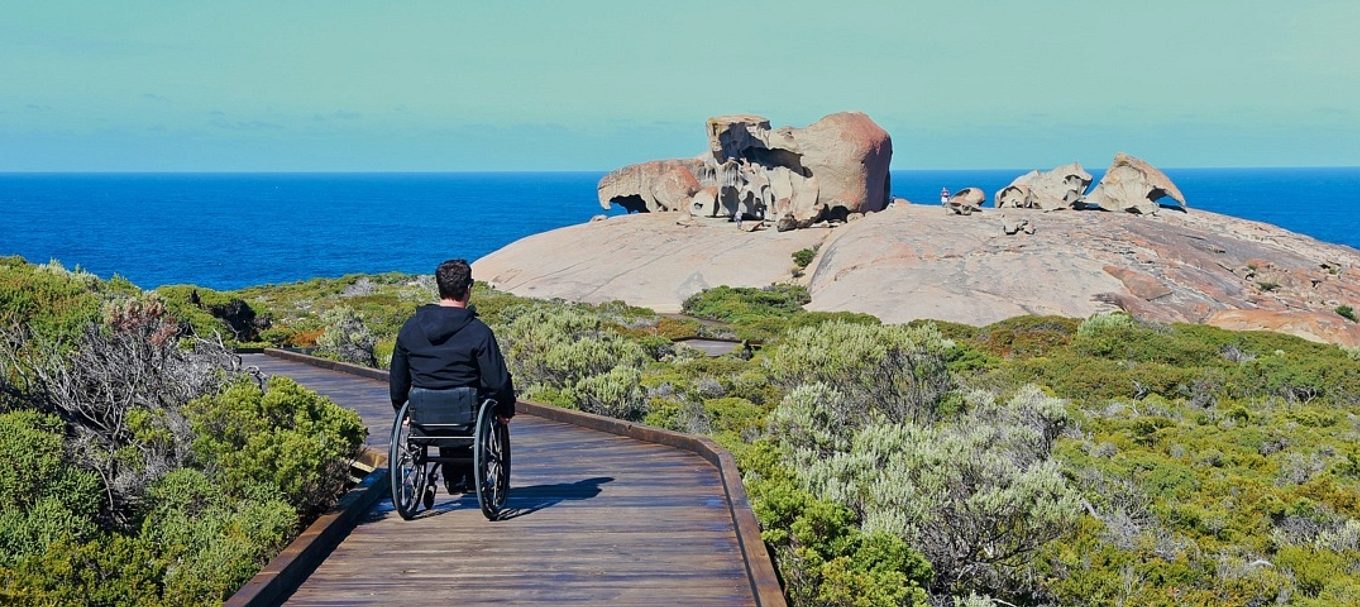 7 regional parks with accessible features
Planning to travel further afield in SA? Find out which national parks have accessible camping, parking and trails.
If you're planning your mid-year getaway in South Australia there can be lots of things to consider, and accessibility might be one of them. Plan a smooth trip with this list of regional parks that have accessible features.
1. Deep Creek National Park
If you're planning a stay in Deep Creek and need an accessible campsite, look no further than Stringybark campground. The campground also has accessible toilets. Visit the National Parks South Australia website to see pictures and descriptions of the campsites and don't forget to book and pay for your campsite and vehicle entry before you go.
The 1 kilometre Remarkable Rocks trail features a boardwalk perfect for wheelchair users to enjoy this spectacular geological feature. The trail is wheelchair accessible until it reaches the rocky outcrop of the Remarkable Rocks. Check out the Push Adventures blog for a first-hand account.
You'll find accessible parking located at the end of the Granite Island Causeway in Victor Harbor. The causeway has a rubber track suitable for wheels. The privately run horse-drawn tram can accommodate a manual wheelchair or you can book a taxi service to cross to Granite Island.
There is also an accessible toilet (right-hand transfer) on the island. Check out the Push Adventures blog for accessible trail descriptions and photos.
The 1.6km Wirra Water Loop has a compacted gravel surface and is suitable for prams. It may be accessible to advanced wheelchair users as it is a consistent width and flat, although the gravel may be loose in parts. The trail features interpretive signage that explains the importance of water in the area as you explore rocky riverbeds.
5. Naracoorte Caves National Park
Visitors to this World Heritage Site can view highlights from a new platform that is accessible to wheelchairs and prams. The 850m-long Rooftop Loop Walk links the Wonambi Fossil Centre with the Bat Observation Centre, Bat Cave and Blanche Cave.
Tantanoola Caves is one of Australia's few wheelchair accessible caves. Enjoy a special hosted experience as a knowledgeable guide introduces you to the history and geology of the caves and explains how its spectacular array of formations has developed over thousands of years. You can then explore the large cavern and take photographs. Add this park to your bucket list, and check out the Push Adventures blog for a description of great accessible spots to visit in the Limestone Coast region.
The 1km Tea-Tree Boardwalk is wheelchair accessible and winds through wetlands, where you can enjoy a variety of birdlife. There aren't any bathroom facilities, so be sure to make a pit stop before you get there.
Want to know which parks are accessible closer to home? Check out our story on9 national parks in Adelaide with accessible features.
The team at National Parks South Australia is working hard to improve the accessibility of parks and they're keen hear your thoughts. If you rely on accessible facilities to visit parks, why not drop them a line by using thiscontact form. More information about accessibility in parks is available on the National Parks South Australiawebsite.
If you're out and about in one of these parks – help spread the word about these accessible facilities and use the hashtag #AccessNPSA on social media.
(Main image courtesy ofPush Adventures)