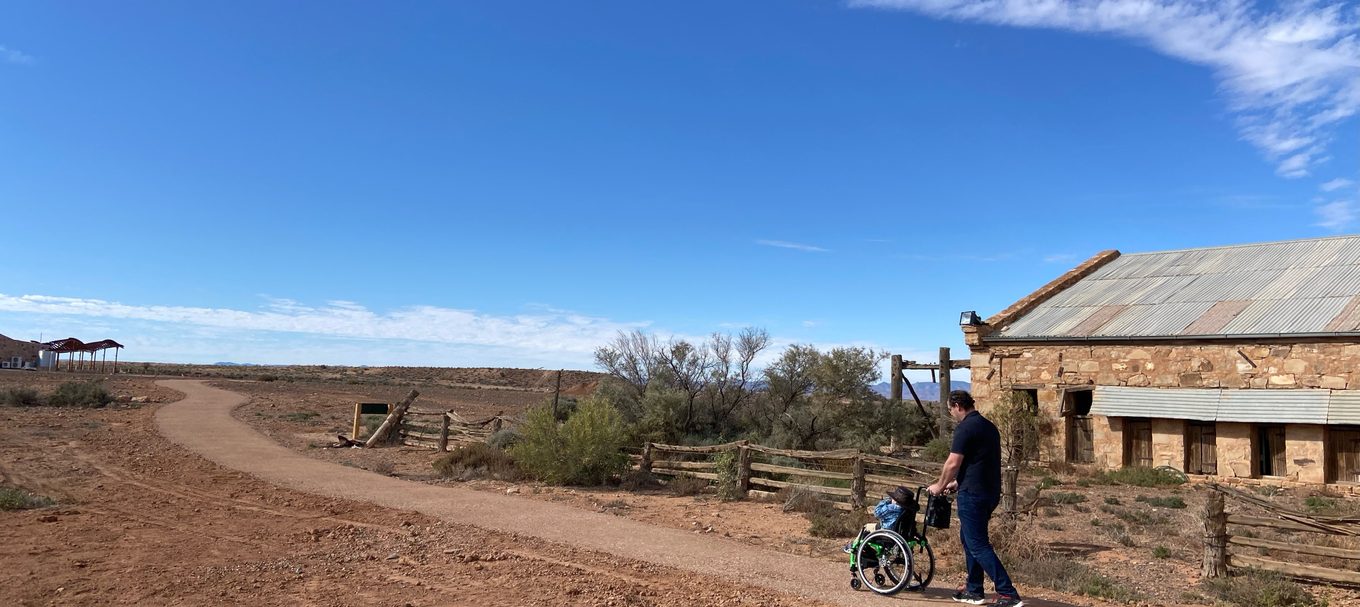 13 regional parks with accessible features
Planning to travel further afield in SA? Find out which regional parks have accessible camping, parking and trails.

There can be lots of things to consider when planning a getaway in South Australia, and accessibility might be one of them. Plan a smooth trip with this list of regional parks that have accessible features.
Located within 100km of Adelaide, Deep Creek National Park is the perfect destination for a day trip or weekend getaway.
The recently developed Goondooloo Ridge precinct features a picnic area, accessible toilet and a 4.2km loop trail. The walk has a hard packed surface (about 1m wide) and slopes gently down towards the Goondooloo Lookout, providing spectacular views over Backstairs Passage to Kangaroo Island. Please note, the walk is a class 2 trail so some people may require assistance.
A TrailRider – all-terrain wheelchair – can also be hired to explore more of the diverse trails available at Deep Creek. Check out this map for suggested routes and booking information (be sure to book early to avoid disappointment)!
For accessible campsites, look no further than Stringybark campground. The campground also has accessible toilets. Visit the National Parks South Australia website to see pictures and descriptions of the campsites and don't forget to book and pay for your campsite and vehicle entry before you go.
If camping isn't your thing, the Southern Ocean retreats offer offers wheelchair friendly accommodation at one of their Ridgetop Retreats.
Check out this video and this story to learn more about accessibility in Deep Creek National Park.


Your trip to Kangaroo Island wouldn't be complete without a visit to Flinders Chase National Park to see the surreal shapes of the Remarkable Rocks.
Following the January 2020 bushfires, upgrades have seen the inclusion of an accessible boardwalk, perfect for wheelchair users to enjoy this spectacular geological feature. New visitor facilities also include accessible car parking and toilet facilities.

The stunningly restored Postman's Cottage is the perfect place to unwind and relax after a day of sightseeing. Designed with accessibility in mind, the historical cottage has step-free access throughout, spacious rooms, accessible bathroom with roll-in shower, wall-mounted shower chair and on-site disabled parking.
Coming soon: work has begun on rebuilding the new visitor centre at Flinders Chase National Park which was destroyed in the January 2020 bushfires. Once complete, the centre will offer a comfortable modern café, public toilets including accessible toilets, accessible car parks and interpretive displays showcasing the region.


Seal Bay Conservation Park is a must for your next Kangaroo Island adventure. There is one accessible car park and an accessible toilet at the visitor centre. The Boardwalk tour is self-guided and fully accessible to people with mobility impairments, including those in wheelchairs. The trail to the lookout is also accessible and offers amazing views of Cape Gantheaume and the wilderness area.


You'll find accessible parking located at the end of the Granite Island Causeway in Victor Harbor. The causeway has a purpose-built section for pedestrians to wander across to Granite Island, it is perfect for wheelchair users, people using walkers or people with prams. The privately run horse-drawn tram can accommodate a manual wheelchair or you can book a taxi service to cross to Granite Island. There is also an accessible toilet on the island.


Mambray Creek campground offers wheelchair accessible sites along with toilet and shower facilities. The paths to the toilet are compact gravel and dolomite.
The 1.6km Wirra Water Loop has a compacted gravel surface and is suitable for prams. It is accessible to wheelchair users however some people may require assistance. It is a consistent width and flat, although the gravel may be loose in parts. The trail features interpretive signage that explains the importance of water in the area as you explore rocky riverbeds.
Check out this video to learn more about accessibility in Mount Remarkable National Park.


Visitors to this World Heritage Site can view highlights from a platform that is accessible to wheelchairs and prams. The 850m-long Rooftop Loop Walk links the Wonambi Fossil Centre with the Bat Observation Centre, Bat Cave and Blanche Cave.


Tantanoola Caves is one of Australia's few wheelchair accessible caves. Enjoy a special hosted experience as a knowledgeable guide introduces you to the history and geology of the caves and explains how its spectacular array of formations has developed over thousands of years. You can then explore the large cavern and take photographs.


The 1km Tea-Tree Boardwalk is wheelchair accessible and winds through wetlands, where you can enjoy a variety of birdlife. There aren't any bathroom facilities, so be sure to make a pit stop before you get there.


Capture an instaworthy shot at the new Gulawulgawi Ngunda Nhagu – Cape Spencer Lookout.
Located in Dhilba Guuranda-Innes National Park, the spectacular lookout gives visitors a 360-degree views of the expansive coastal landscape capturing the Investigator Strait and the Althorpe Island group. From the car park area, the circular lookout can be reached via a short trail suitable for wheelchairs and prams.


A new accessible trail and viewing platform has been developed in Enorama Creek (800 metres from the Trezona campsite), allowing visitors to see the Golden Spike marker. Until now, it has been one of those sought-after attractions that wasn't easily accessible to the general public. Now, people with all accessibility needs can now see evidence of the end of the Elatina glaciation and Cryogenian Period and the start of the Ediacaran Period.


Located at the Southern end of Coffin Bay National Park, Yangie Bay offers accessible facilities including a picnic area with tables suited to wheelchairs.
Check out Templetonia Lookout for spectacular views over Yangie Bay, accessible by a short wheelchair friendly boardwalk. Please note, there is a steep section along the boardwalk so some assistance may be required.
For camping, look no further than the Yangie Bay campground. Most of the campsites are wheelchair accessible and located on flat ground with a compacted gravel surface. Campsites 9, 10, 18 and 19 are closest to the toilets.

There are two accessible pit toilets, one left handed and one right handed. The paths to the toilets are compact gravel.

Coming Soon
One for the bucket list, the new Nilpena Ediacara National Park has a rich cultural heritage and exceptional scientific value, where evidence of the emergence Earth's earliest complex animal life has been discovered.
In the park's unassuming hills, an ancient seafloor containing strange early lifeforms some half a billion years old have been exquisitely preserved in the fine sand­stone grain. When the park opens in 2023, visitors will be able to take guided tours to the Nilpena fossil fields to see firsthand where the significant discovery took place. The tour will include a Class 2, accessible trail that has been developed amongst the fossil fields.
An immersive and accessible Ediacaran fossil experience is also being developed at the former Nilpena Pastoral Station's blacksmith shop, where fossils can be viewed up-close with curated lighting and audio-visual technology.
To learn more, check out our story on why visiting Nilpena Ediacara National Park should be on your 2023 bucket list.
Please note, there will be no overnight facilities or areas to freely undertake recreation due to site being of huge international significance requiring protection.


The Kelly Hill caves are currently being revamped to include a Class 2 interpretive trail. People in wheelchairs will require assistance. While the caves themselves won't be accessible, the walk along the trail with family and friends will be worth it once opened.
Want to know which parks are accessible closer to home? Check out our story on 9 national parks in Adelaide with accessible features.
The team at National Parks South Australia is working hard to improve the accessibility of parks and they're keen hear your thoughts. If you rely on accessible facilities to visit parks, why not drop them a line by using this contact form. More information about accessibility in parks is available on the National Parks South Australia website.
If you're out and about in one of these parks – help spread the word about these accessible facilities and use the hashtag #AccessNPSA on social media.
Main image: Nilpena Ediacara National Park (opening 2023)