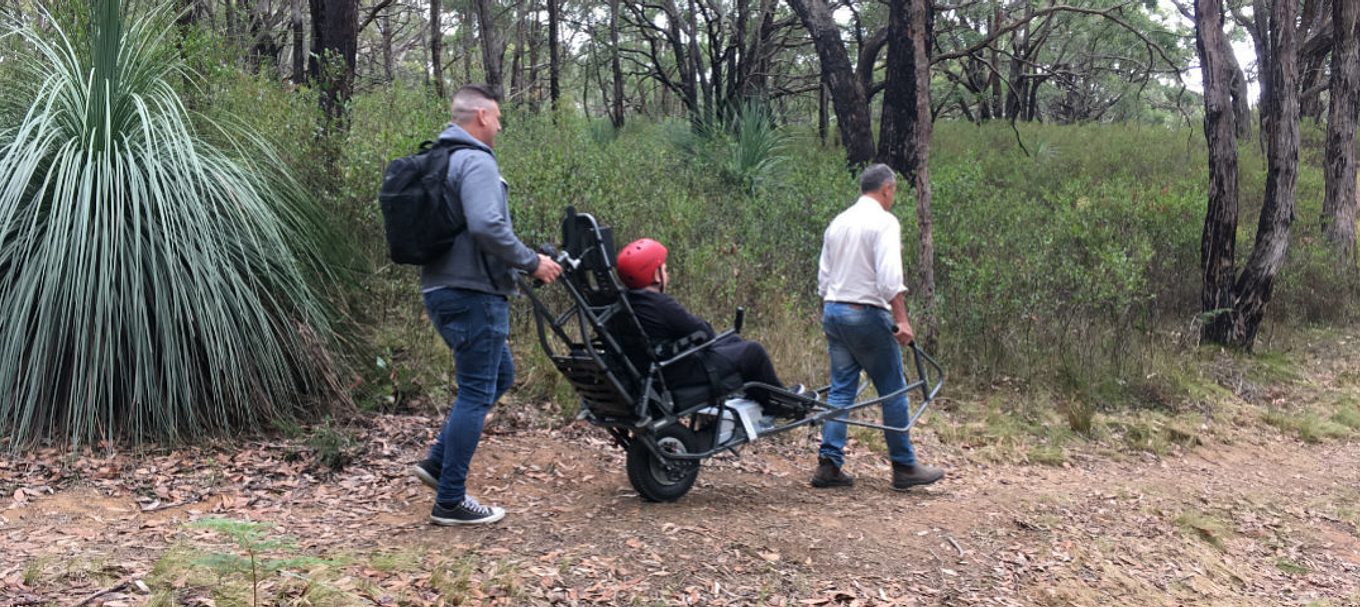 How people with a disability can take to the trails at Deep Creek National Park
This iconic South Australian park has accessible accommodation and free equipment to use. Here's what's available.
Deep Creek National Park is the largest portion of remaining natural vegetation on the Fleurieu Peninsula and is home to an array of native wildlife such as western grey kangaroos, short-beaked echidnas and 100 species of birds.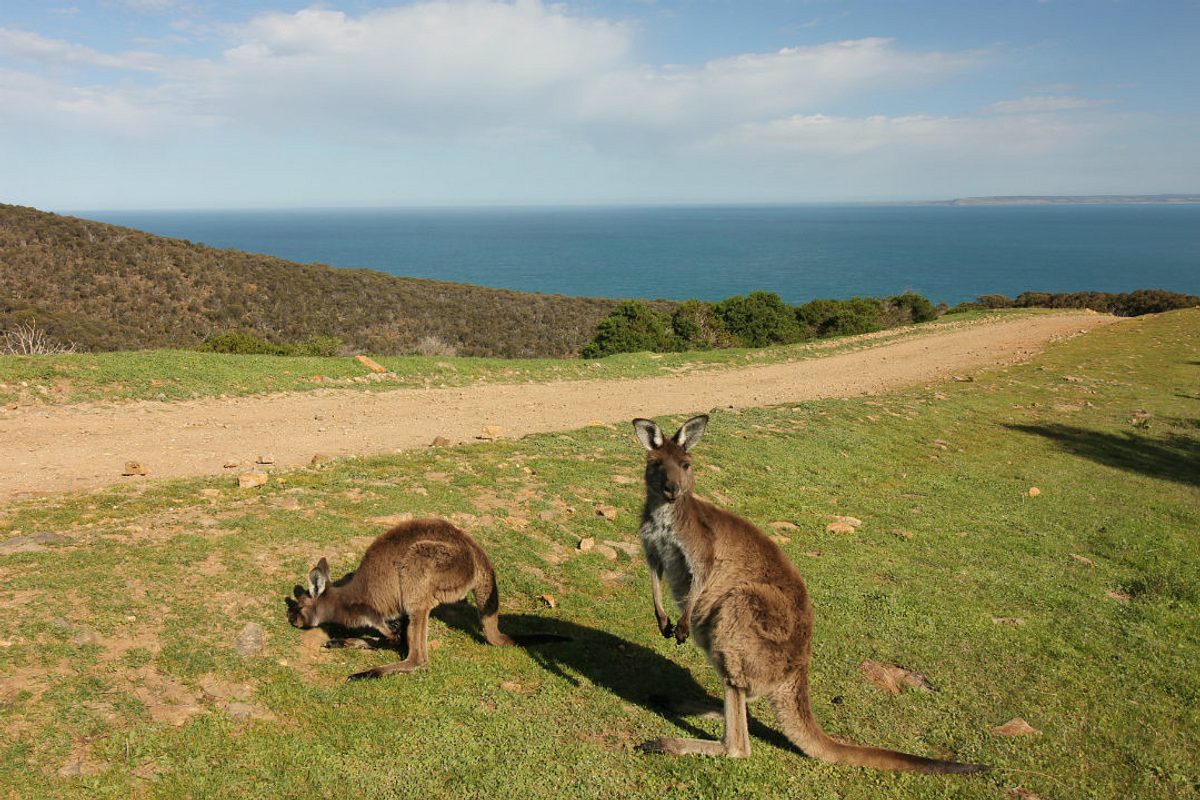 It's located within 100 km of Adelaide – less than 2 hours' drive – making it a perfect destination for a day trip or weekend getaway.
Deep Creek really is a park for everyone to enjoy, with accessible accommodation within the park and equipment available for exploring the trails.
Here's how to make the most of it:
Hire a TrailRider all-terrain wheelchair for free
The TrailRider all-terrain wheelchair allows people with limited mobility to explore Deep Creek National Park's diverse trails. The one-wheeled chair is a cross between a wheelbarrow and sedan chair.
The TrailRider requires a minimum of two reasonably fit people (one at each end of the chair) to control and guide it. Depending on the trails you wish to travel and the strength and level of fitness of your helpers, you might need up to four fit helpers. The chair is motorised, making it easier to explore some steeper and longer trails.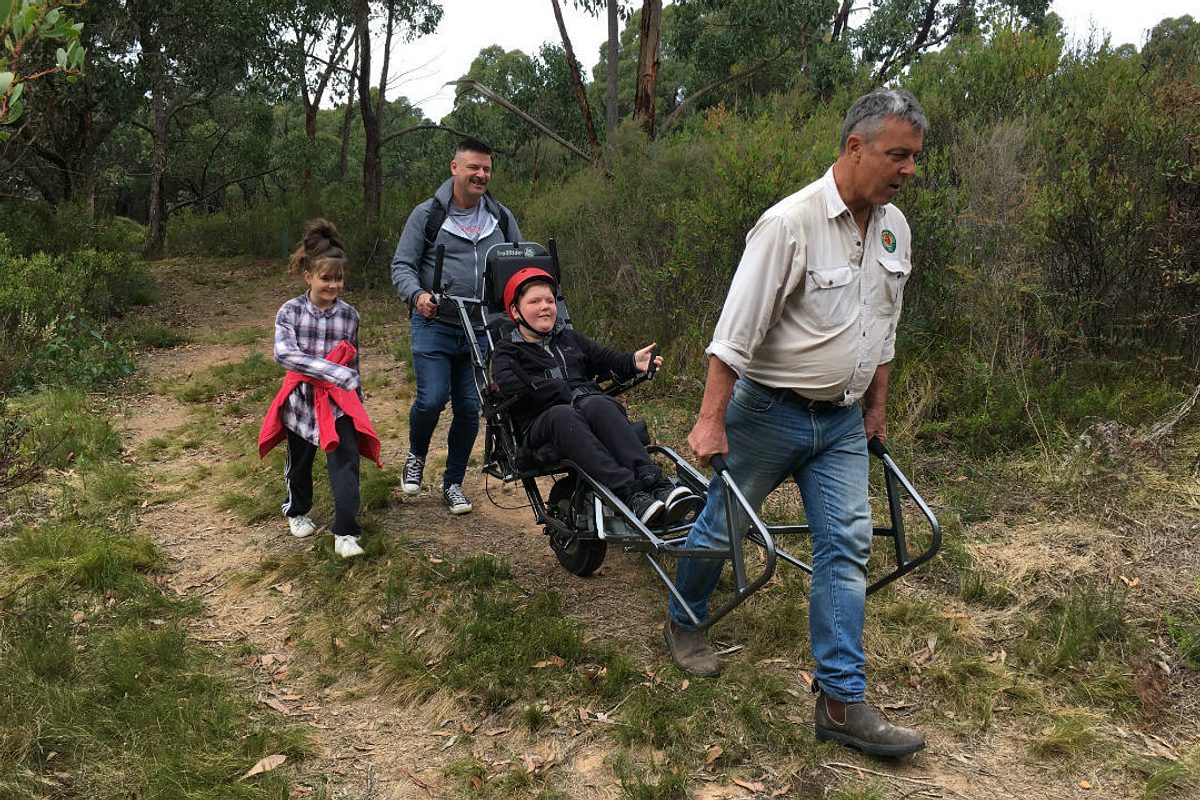 You can hire a TrailRider from the District Council of Yankalilla for free for up to three days. Chair users are required to bring a bike helmet and watch a short introduction video before heading out on their adventure. The chair weighs 25 kg, but can easily disassemble and fit in the back of most medium-sized SUVs.
Bookings are essential and can be made by contacting the Fleurieu Coast Visitor Information Centre on 08 8558 0240 or 1300 965 842, or by email. The visitor centre is located a half-hour drive away from Deep Creek National Park, on the way to the park if you're travelling from Adelaide.
Now that you're decked out with the right equipment, it's time to decide which trail to tackle.
Where to go in Deep Creek National Park with the TrailRider
Check out the TrailRider Wheelchair Suggested Routes map to find out which walks to go on with the TrailRider and details about each trail.
There's information about the condition of the trails, any obstacles you might encounter along the way, such as tree roots, rocks or logs, and a track grading system to help you choose a trail suitable for your skill and fitness level.
Here's a snapshot:
1. Kondoli - Keeper of the Fire Walk - (Beginner, 450 m, no ascent)
An easy loop route along a spray-sealed 1200 mm wide path, the trail includes several spots to sit and take in the views, as well as undercover picnic areas. Interpretive signs tell the story of how Ramindjeri people came about the tools to create fire. The SA National Parks app provides options for visually or hearing impaired visitors including voiceover, audio transcripts and image descriptions. Multilingual support is also provided, with 27 languages supported.

2. Goondooloo Ridge Picnic Area along Goondooloo Ridge – (Beginner, 4.1 km and 68 m ascent)
An easy route along a wide trail which gives a good introduction to operating the TrailRider. As the trail descends and steepens slightly, there are a few small rocks that are easily avoided. The route finishes at the viewing bench. Return to the start by the same route.

3. Forest Circuit Walk – (Beginner, 2.6 km and 48 m ascent)
This circuit is best undertaken clockwise. There are small undulations in the trail surface which has a compact base. The section heading back to the Stringybark camp ground is on a narrow trail.

4. Goondooloo Ridge Picnic Area to Eagle Waterhole – (Advanced, 4.4 km and 125 m ascent)
The first 1.5 km gradually descends on a hard packed track before steeper sections to Eagle Waterhole which provides a good lunch stop. Return to the start by the same route, don't be daunted by the ascent as the motor on the TrailRider makes light work of it.

5. Stringybark Loop Walk – (Advanced, 0.8 km and 31 m ascent)
This trail is relatively short but narrow with rocks, tree roots and logs that will require good handling to negotiate the obstacles.

6. Spring Wildflower Walk – (Advanced, 4.5 km and 90 m ascent)
The route is on mostly good tracks although the first section into the gully is steep and has some loose gravel which the TrailRider handles with ease.

7. Boat Harbor/Heysen Trail – (Highly advanced, 6.8 km and 160 m ascent)
Starting from Pages Lookout car park the compact trail gradually descends towards Boat Harbor. This is a narrow trail but gives few technical difficulties apart from a couple of small rock steps. Although longer with slightly more ascent it makes for an adventurous excursion with stunning scenery throughout. The route ends at the bench/viewpoint. Parking is available at each end of this trail so you may be able to arrange to be picked up once you've
reached the end. Otherwise return by the same route.

Stay in Deep Creek National Park at Ridgetop Retreats
Southern Ocean Retreats offers privately-run accommodation in the park. One of their Ridgetop Retreats has been reviewed by Push Adventures and The Good Scout Travel Co as offering 'good access'.
This retreat has open-plan kitchen living, an accessible wetroom including grab rails around the toilet and shower, a moveable shower rose and safety mats across external entries.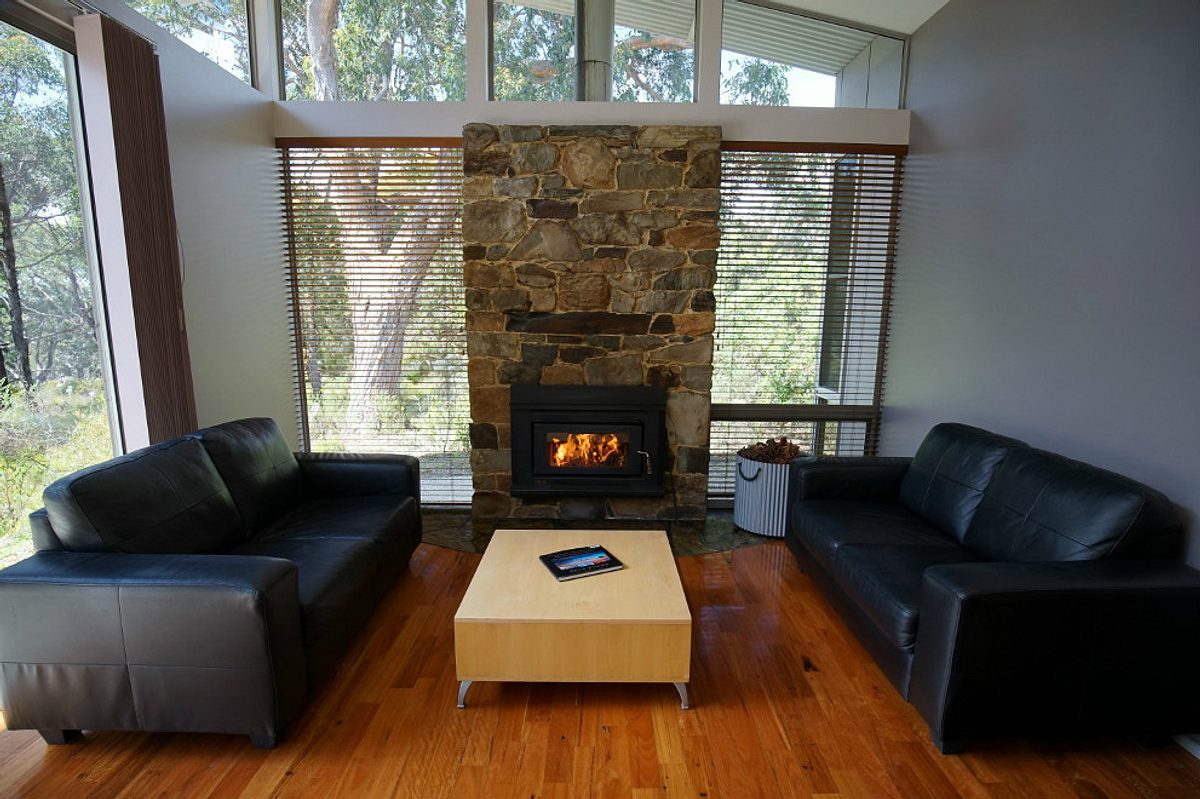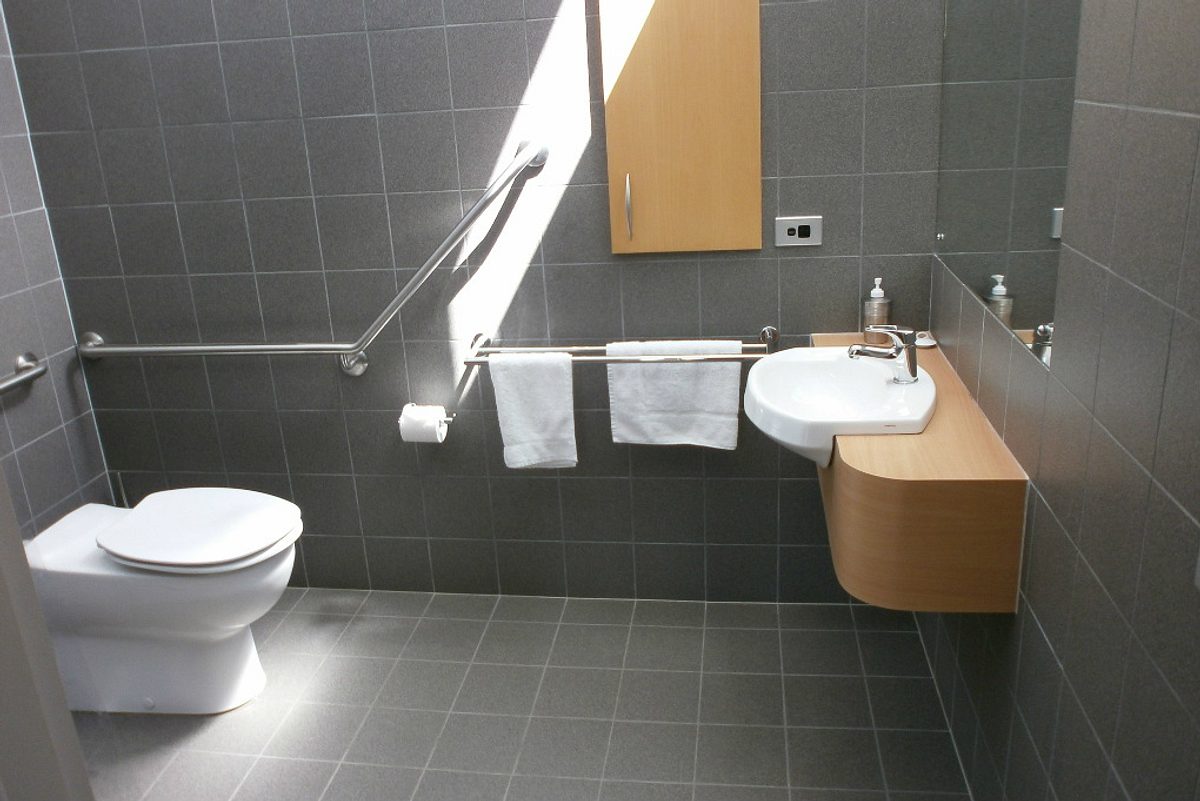 If you would like to comment about accessibility in South Australia's parks, the team at National Parks SA welcome your feedback.
Park of the Month

Throughout the month of June, Deep Creek National Park is being celebrated as one of National Parks and Wildlife Service's Parks of the Month. There are heaps of events and activities to get involved in to help you explore the park. Check the website for all the details.