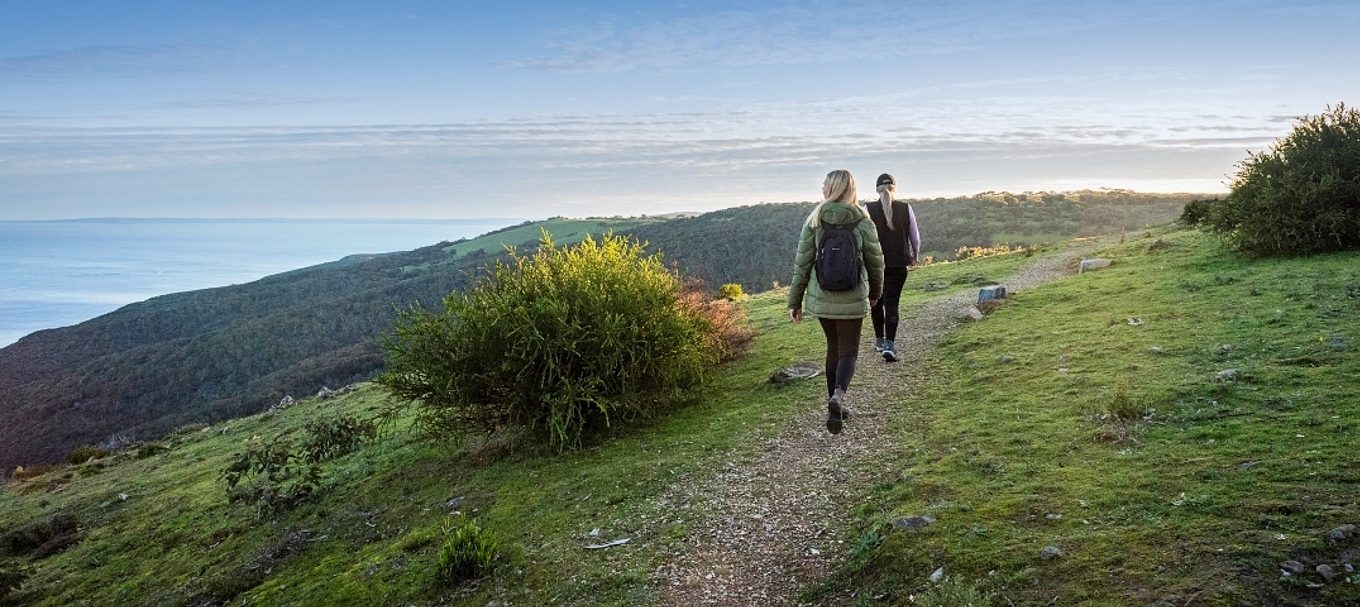 Your guide to enjoying South Australia's national parks in the cooler months
Don't let the cooler weather deter you from getting into parks. Here's 28 experiences perfect at this time of year.
Unless you're a pygmy possum, an echidna or a reptile, there's really no need to hibernate as the weather cools.
South Australia's national parks have plenty of things to see and do and it's no different when the temperature drops. In fact, some of the most unique parks experiences in SA can only be enjoyed during the cooler months.
Here are 28 activities and experiences that we recommend:
In and around Adelaide
1. Chase waterfalls at Morialta Conservation Park
You don't have to go far from the city to experience the wonder of waterfalls.
Morialta Conservation Park, just 13 km east of the CBD, is home to 3 falls and has a great network of trails to bring you up-close-and-personal with each of them.
Winter and spring are great times to visit to see the waterfalls flowing at their best.
Top tip: Read our story to learn about other parks with waterfalls you can visit: 5 of South Australia's waterfall-worthy national parks.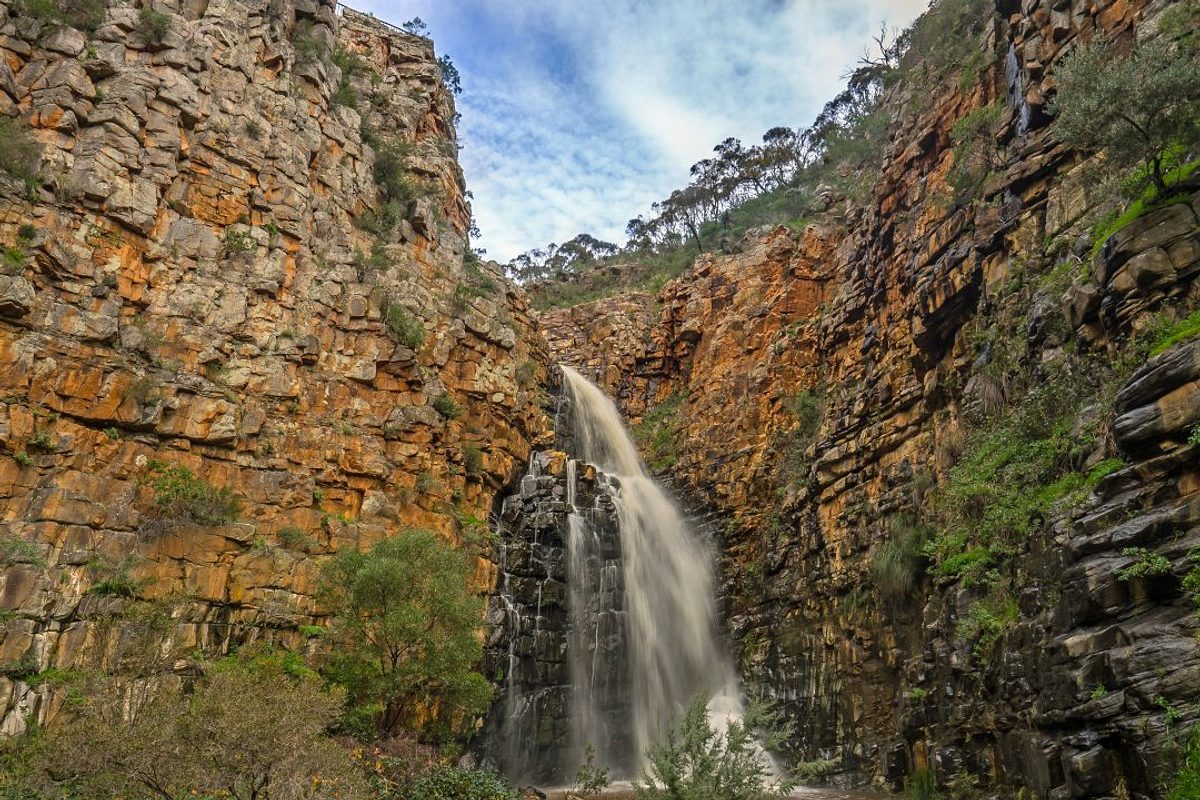 2. Animal encounters at Cleland Wildlife Park
Picture this: a misty morning in the Adelaide Hills, birds chirping and a delicious hot coffee. Now make it happen with a visit to Cleland Wildlife Park, 20 km up the freeway.
Strolling around the park you'll meet some of the most iconic native species, like koalas, kangaroos, wombats and dingoes – and they tend to be more active in winter.
Or you can book in for an experience for something extra special, like a koala hold or Breakfast with the Birds.
Top tip: Don't forget to duck into the Barking Gecko Café for that coffee. And you can warm up in front of the fireplace.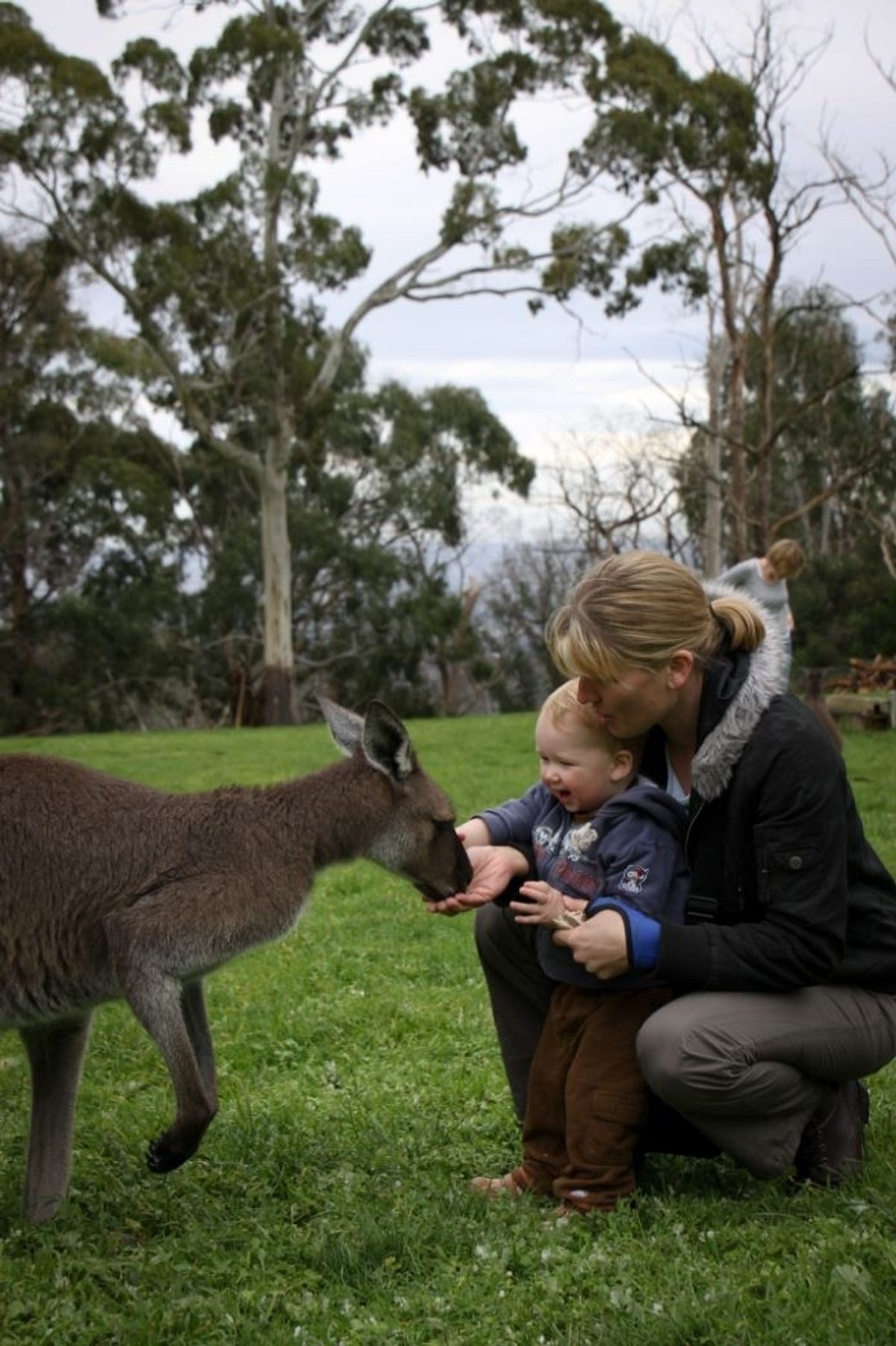 3. Mountain bike at Glenthorne National Park-Ityamaiitpinna Yarta (O'Halloran Hill section)
Mountain biking will get your blood pumping year-round, but in wintery weather you'll get even more of a challenge with mud and slippery trails to negotiate.
Glenthorne National Park-Ityamaiitpinna Yarta's O'Halloran Hill section in Adelaide's southern suburbs is a great place to hit the trails.
Its 8 km trail network includes easy, intermediate and advanced options. There's some great downhill spots for the adventure-seeker, flowy forest trails for the kids to explore, and lots of tight corners and bends for those looking for a challenge.
Top tip: Get a taste of what's in store on these trails by checking them out in Google Street View first. All you need to do is go to the website, click on the 'See and do' tab, click on 'Mountain biking' and listed under each trail you've find a link to Google Street View.
4. Hike to Mount Lofty Summit – with a difference
Did you know there's more than one way to reach Adelaide's highest peak, Mount Lofty Summit?
The popular Waterfall Gully to Mount Lofty Summit hike isn't for the faint-hearted, so if you're after a more leisurely walk you might like to give one of the other 14 options a go.
You could take the 4.2 km loop from Cleland Wildlife Park and follow the Harford Track to the summit, or get set for a longer walk with the 11.5 km return trip from Stirling, which brings you through some of the town's laneways and through Cleland National Park on your way to the top.
Top tip: Keep your eye out for rare fungi in the cooler months. Read our story to find out which types you might encounter: 5 fungi you'll find in the Adelaide Hills.
5. Explore SA's oldest park – Belair National Park
Just 25 minutes from Adelaide's city centre you'll find Belair National Park, set in beautiful natural bushland.
The cooler months are perfect for walking, and there's no shortage of things to see at this park. Explore the many walking and mountain biking trails, stroll through the woodlands and around the lakes, and visit the heritage sites like Old Government House.
Belair National Park is also home to the popular State Flora nursery. Pick up some native plants while you're there – the wetter, cooler months of the year are the ideal time to plant them.
Top tip: Love gardening? Read our story to learn more: 4 simple steps to creating your own native garden.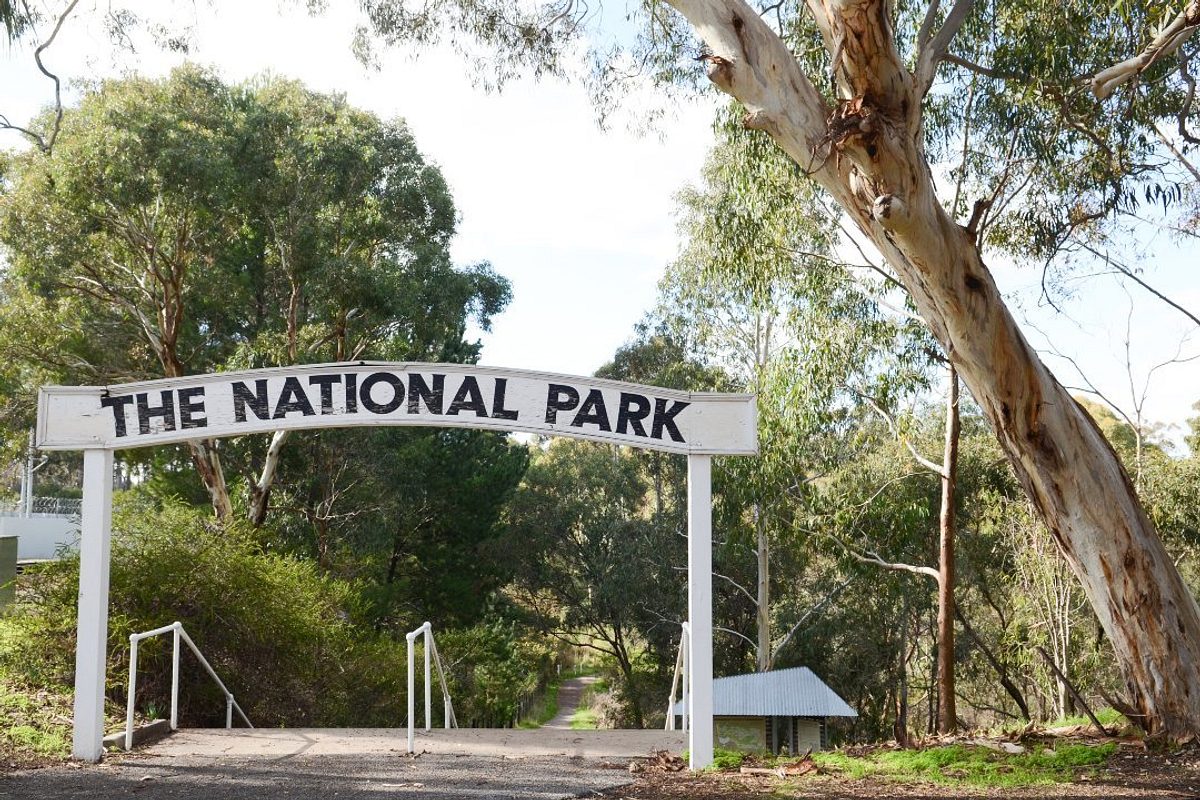 6. Ride, hike or cast a line at South Para Reservoir Reserve
South Para Reservoir Reserve is minutes away from Williamstown, south of the Barossa Valley, and is the second-largest reservoir in SA.
Bring along your mountain bike or hiking boots and follow the network of trails to explore the beautiful surrounds of the reservoir, or take to the water with your kayak or canoe for a short meander or a full-day adventure.
With a recreational fishing permit in hand you can cast your line out from the shoreline in the fishing zone, or on the water from your kayak or canoe. The reservoir is stocked with Murray cod (catch and release), golden perch and silver perch.
Top tip: Make a day of it. There are 2 picnic areas, and one has toilet facilities, so there's no need to rush home.
7. Rock-climb at Onkaparinga River National Park
Onkaparinga River National Park, 35 km south of Adelaide, has a dedicated rock-climbing area that's perfect for your next cooler weather adventure.
Its rugged location features a gorge with cliffs up to 30 m high and large permanent rock pools, and there's top-rope and lead climbing available.
The wintery months bring cool and crisp conditions that bode well for climbers, and you'll likely have more of the park to yourself than during the busier, warmer months.
Top tip: Did you know Morialta Conservation Park is also a top rock-climbing spot? Read our story for all the details: Where you can rock climb in Adelaide's national parks.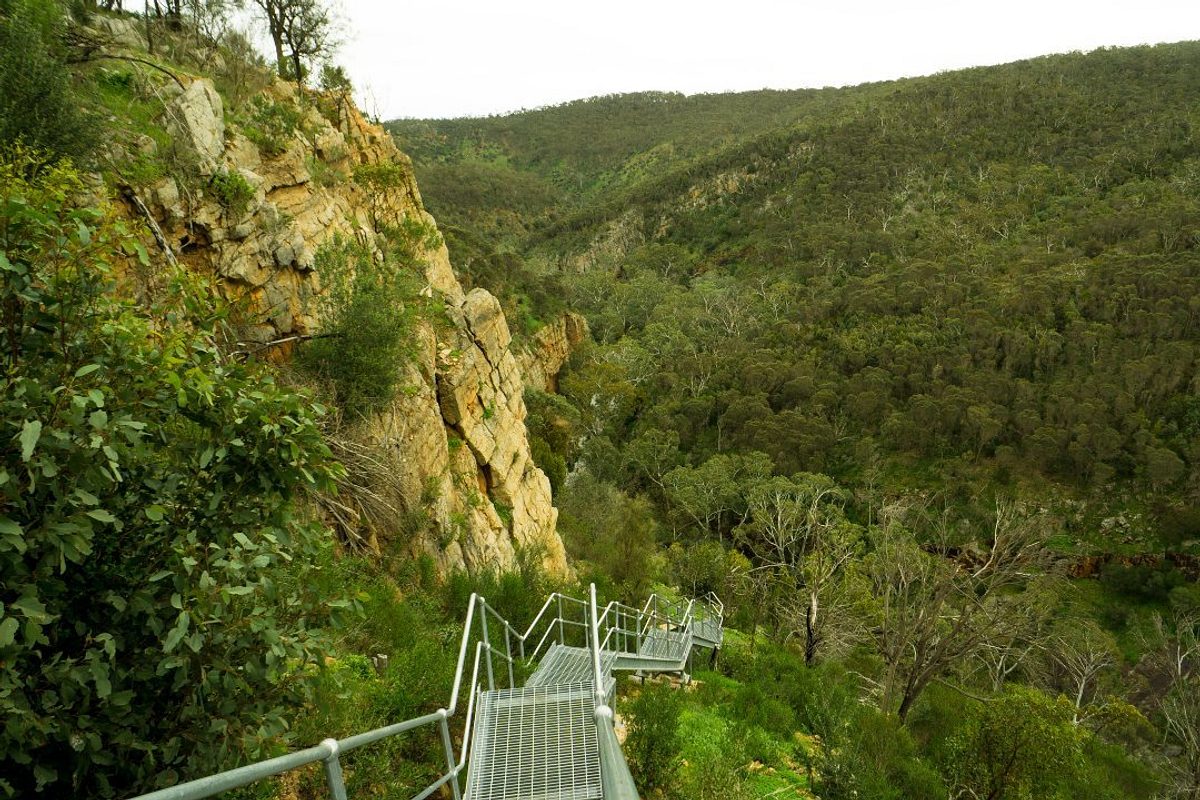 8. Take a hike at Hallett Cove Conservation Park
Winter's changing light casts new shadows on the special rock formations at Hallett Cove Conservation Park in Adelaide's south.
Spend a day exploring this park's cultural and geological heritage, which includes evidence of an Australian ice-age some 280 million years ago.
Follow the Coast Park Path boardwalk along the coastal cliffs, or take the Glacial Hike inland past the spectacular Sugarloaf and Amphitheatre.
Top tip: If you're feeling peckish, there's a café right next door on the beachfront – perfect for lunch or a post-walk beverage.
9. Learn about SA's prisoner past at Adelaide Gaol
In the heart of the CBD, Adelaide Gaol is one of the oldest remaining colonial public buildings in the city.
In its 147 years of operation, about 300,000 prisoners passed through the gates. Forty-five people were executed and their bodies buried within the grounds.
Take a tour on a cold, grey day and it'll really make the eerie nature of this place come to life.
Top tip: You can find your own way around the gaol or book in for a guided tour.
Fleurieu Peninsula
10. Enjoy breathtaking views at Deep Creek and Newland Head
About 100 km from Adelaide on the Fleurieu Peninsula you'll find Deep Creek National Park and neighbouring Newland Head Conservation Park.
Take in the amazing coastal views, see if you can spot Kangaroo Island in the distance, and in the cooler months, be sure to factor in some time for whale-watching.
If you're staying overnight, it's perfect campfire weather (just make sure you check the website for any restrictions), or you could bunker down by hiring one of the self-contained cottages or eco-retreats within the park.
Top tip: Work is underway to develop the Wild South Coast Way on the Heysen Trail, a 5-day, 4-night hiking experience that connects these coastal parks. Now's your chance to experience sections of this trail before the experience opens.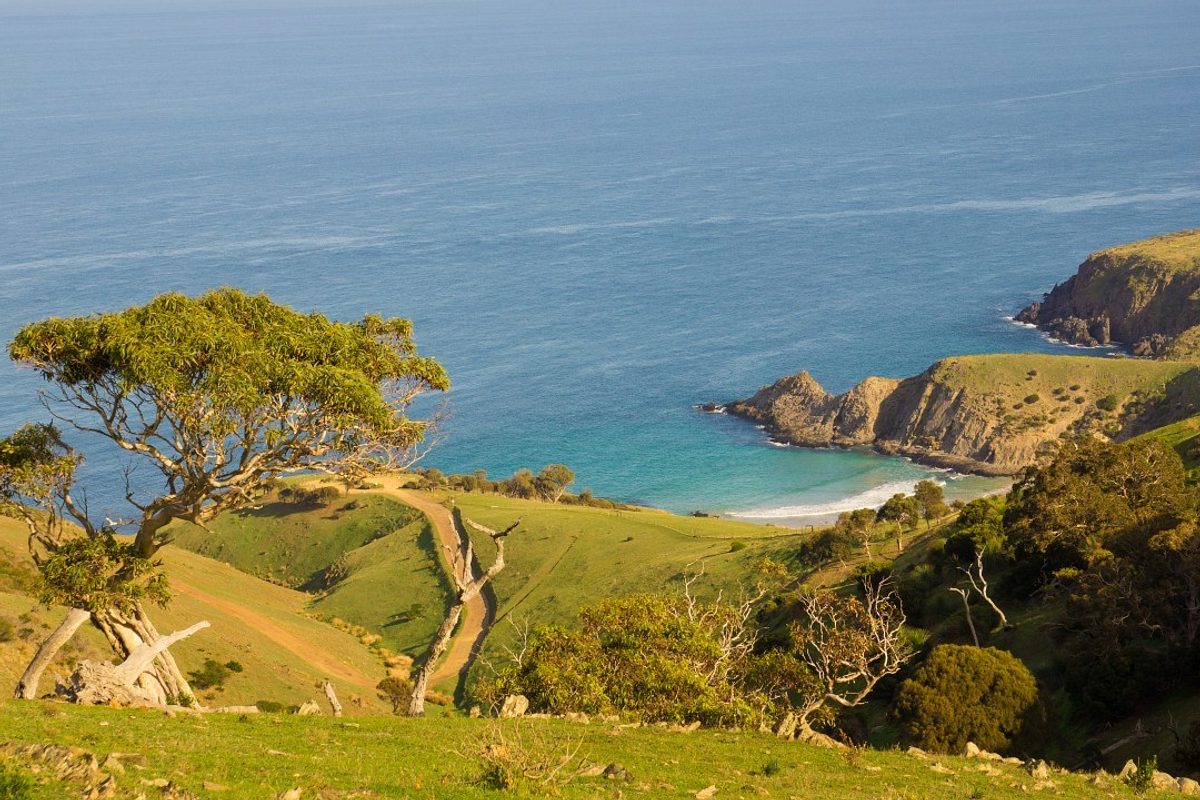 Yorke Peninsula
11. Stay in heritage accommodation in Dhilba Guuranda-Innes National Park
Another great place for a cool-weather retreat is Dhilba Guuranda-Innes National Park, where you can take comfort in the cosy surrounds of its heritage accommodation.
This park, located 300 km south of Adelaide on the south-western tip, has plenty to see including Instagrammable locations like Shell beach and Stenhouse Bay, and the site of the land-based Ethel shipwreck.
It's also home to the new Gulawulgawi Ngunda Ngagu – Cape Spencer Lookout, which offers 360-degree views across the coastal landscape.
Top tip: Winter storms have been known to expose the Ethel in all her glory. Time it right and you'll get some great photos.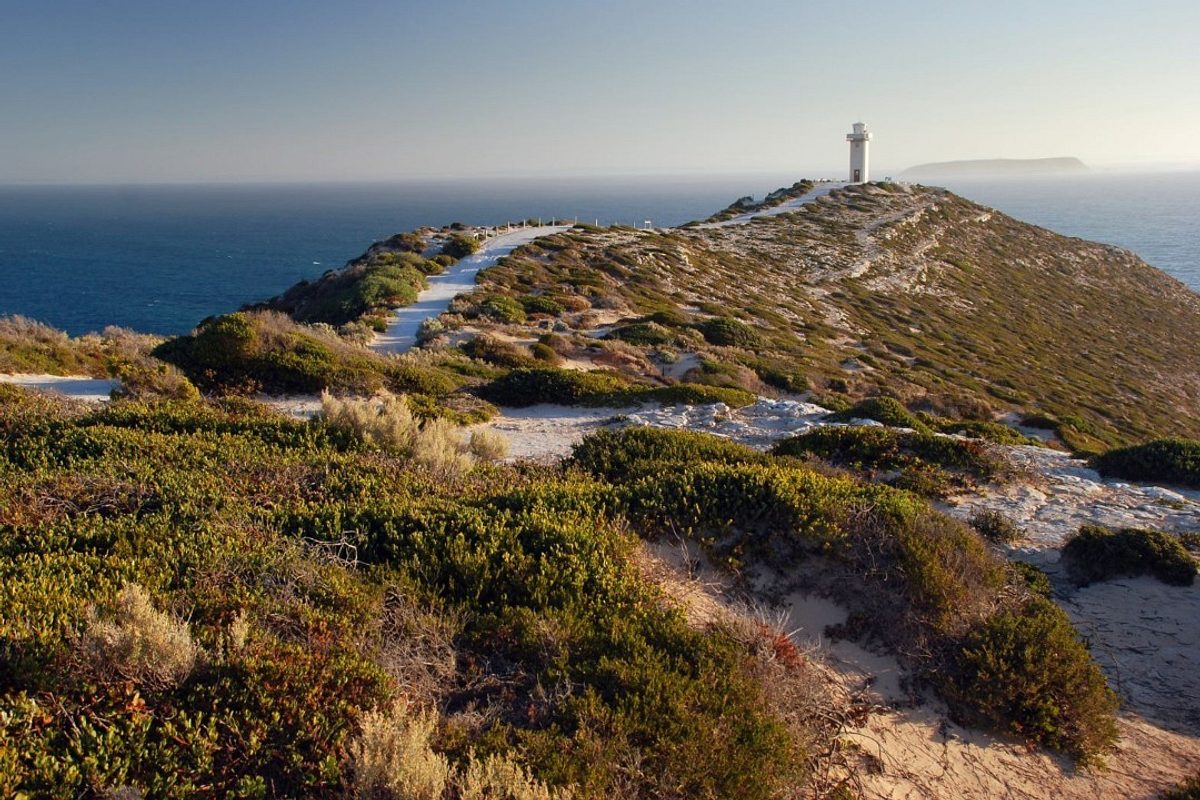 Riverland and Murraylands
12. Learn about Aboriginal history at Ngaut Ngaut Conservation Park
Just south of Swan Reach, about 170 km north of Adelaide, is Ngaut Ngaut Conservation Park.
Explore the picturesque River Murray landscape, marvel at the towering ochre cliffs that offer sweeping views over the river, and see the gallery of beautiful rock art engraved into the limestone walls of the rock shelter.
Top tip: Ngaut Ngaut Conservation Park is on the traditional lands of the Nganguraku and Ngaiwang peoples, and the best way to experience it is with an expert guide from the Mannum Aboriginal Community Association.
13. Stargaze at Swan Reach Conservation Park
Clear winter skies are perfect for stargazing. And there's no better place than Swan Reach Conservation Park, 100 km from Adelaide, which is the core of the River Murray International Dark Sky Reserve.
Here you'll see some of the darkest skies – and brightest stars – in the world and have first-class seats to the one of the best views of the Milky Way in Australia.
Top tip: Swan Reach Conservation Park is 2000 hectares of untouched Mallee bushland, but it can only be accessed by 4-wheel drive, so be prepared.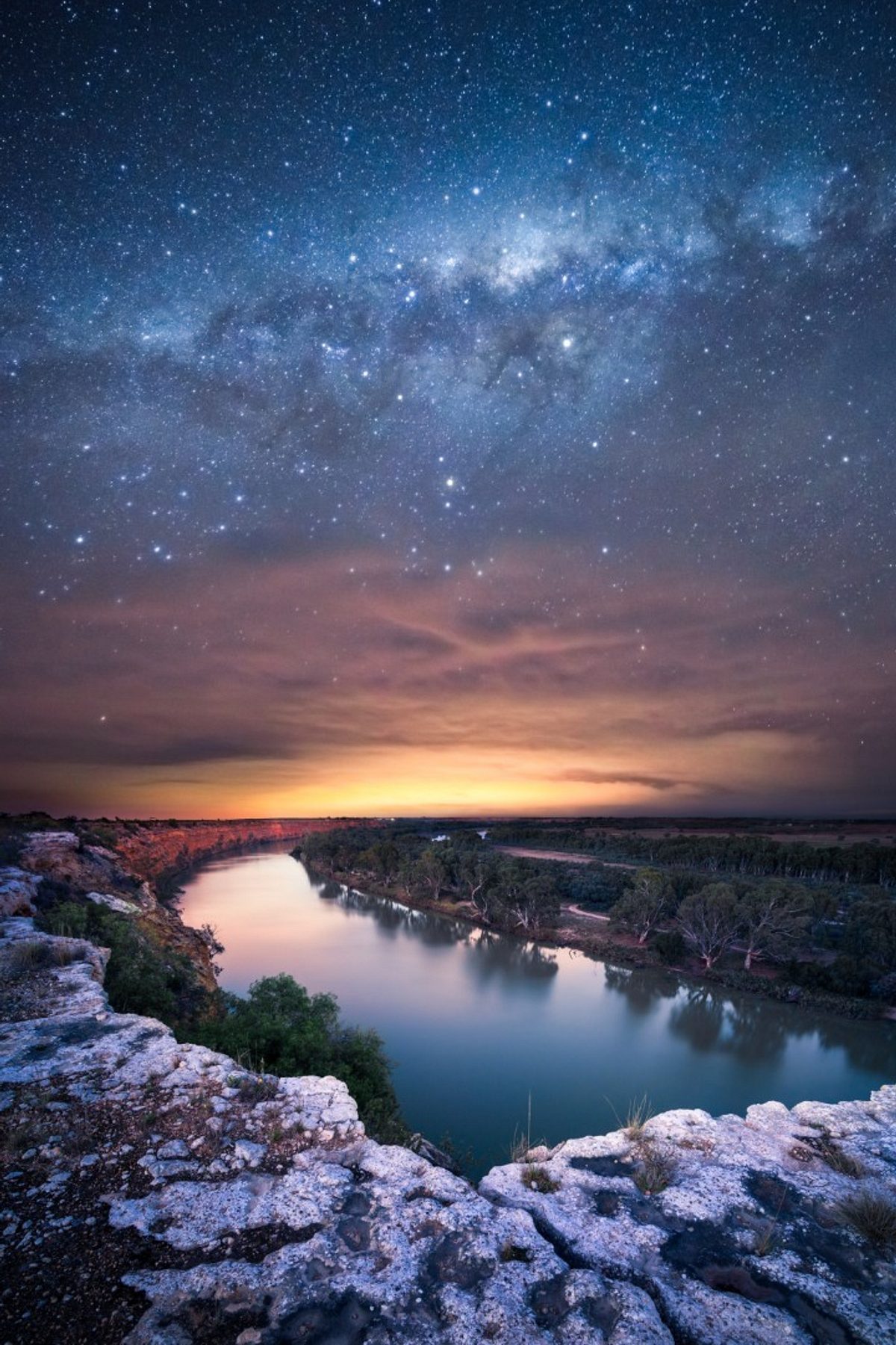 14. Kayak at Murray River National Park
The River Murray is generally quieter and more peaceful during the cooler months and the mild days are perfect for spending time on the water.
Head to the Katarapko section of Murray River National Park, about 220 km from Adelaide, and take a paddle in the quiet backwaters. Be sure to keep your eyes peeled for birdlife.
Top tip: SA has plenty of great places to kayak. Try these 8 parks that are perfect for it or go somewhere new altogether, like Myponga Reservoir Reserve.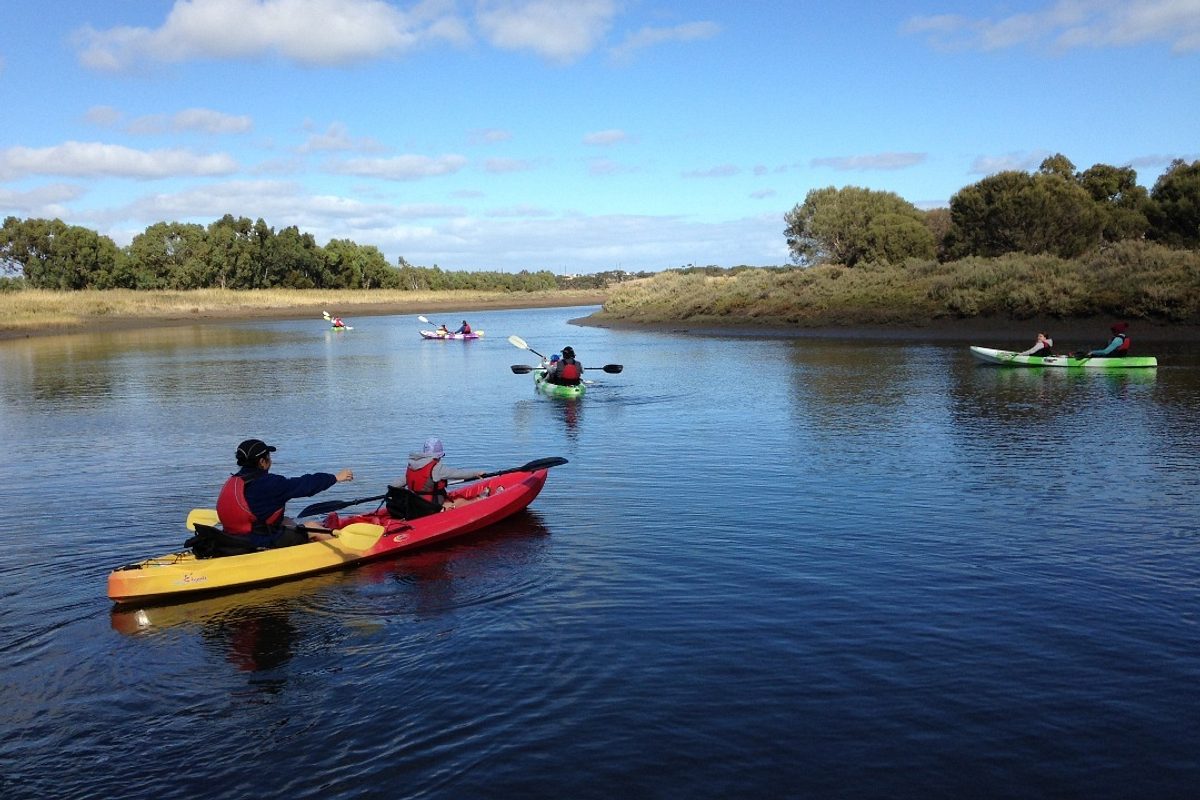 South East
15. Explore the World Heritage-listed Naracoorte Caves
Did you know Naracoorte Caves are a constant 17 degrees all year round? This makes them the perfect winter holiday destination.
About 3.5 hours from Adelaide, this World Heritage site has plenty to keep you busy, like the UNESCO-recognised Victoria Fossil Cave and the Wonambi Fossil Centre.
Top tip: Not keen to head underground? The award-winning Roof Top Loop Walk is fully accessible and provides wheelchair and pram access.
16. Go underground at Tantanoola Caves Conservation Park
Another great location to explore caves is just northwest of Mount Gambier, at Tantanoola Caves Conservation Park.
Enjoy the extraordinary display of cave decorations (speleothems) in beautiful shades of pink and brown, coloured by its dolomite base rock.
Top tip: Tantanoola Caves is one of Australia's few wheelchair accessible caves.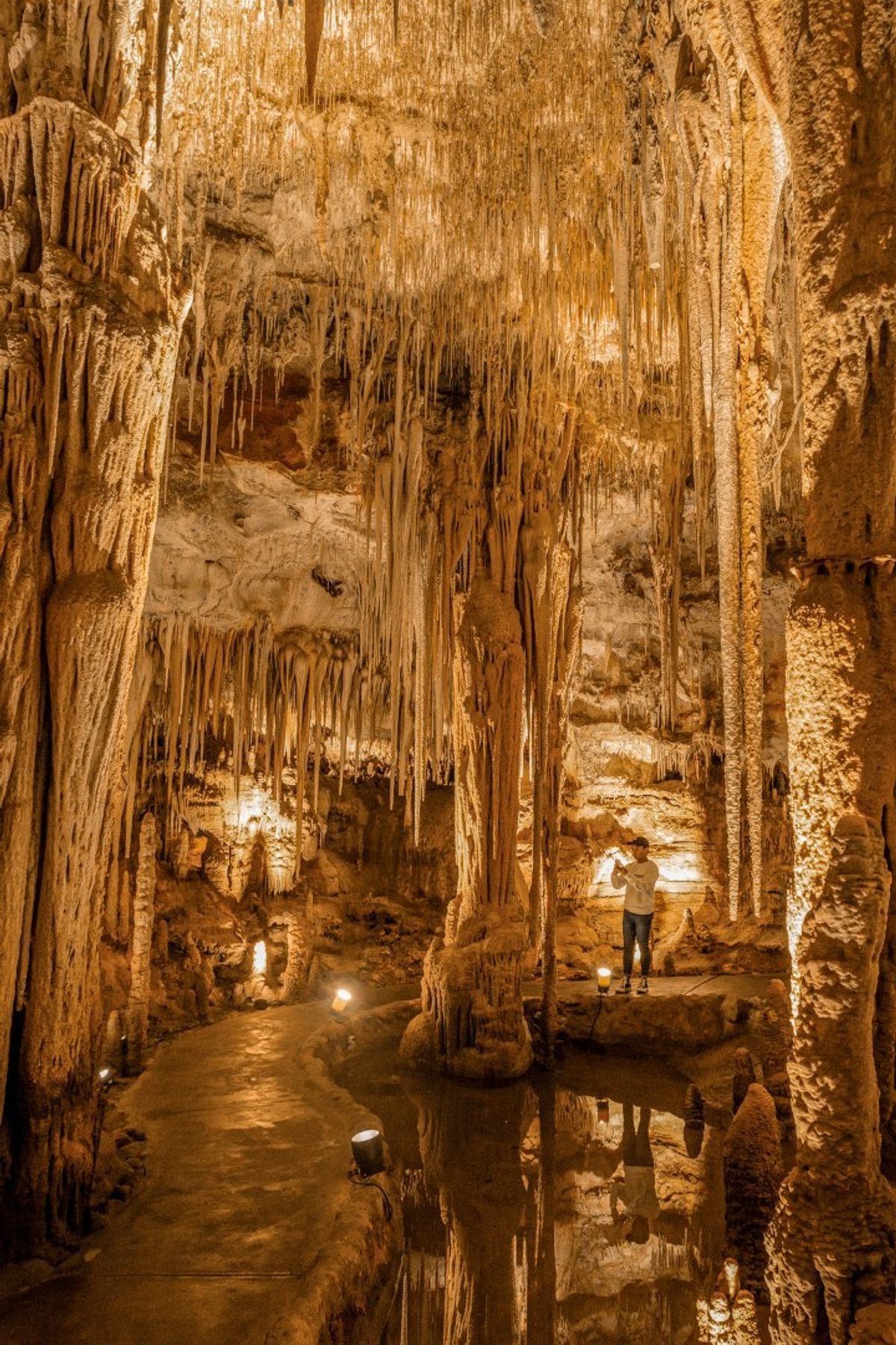 17. Spot ghost mushrooms in OneFortyOne Plantations
Experience the glow of the luminous ghost mushroom at Ghost Forest Lane at OneFortyOne Plantations, a commercial pine forest 16 km northwest of Mount Gambier.
These mushrooms' soft green glow is a result of a chemical reaction between fungal enzymes and oxygen. It can be bright enough to read the words on a page
Top tip: You have to be quick to enjoy this experience, as ghost mushrooms only pop up in May and June each year. So put this one in your diary for next year!
Kangaroo Island
18. Get a photo at Remarkable Rocks in Flinders Chase National Park
Winter is a great time to go walking in Flinders Chase National Park on the south-west end of Kangaroo Island – in fact, it's the park rangers' favourite time to go.
While there's plenty of hikes you could pick, the short stroll to Remarkable Rocks is one of the most rewarding.
You'll want to have your camera handy when you see the surreal shapes and golden orange colours of these enormous boulders.
Top tip: There's lots to see close-by to Remarkable Rocks, like the impressive Admirals Arch formation at Cape du Couedic.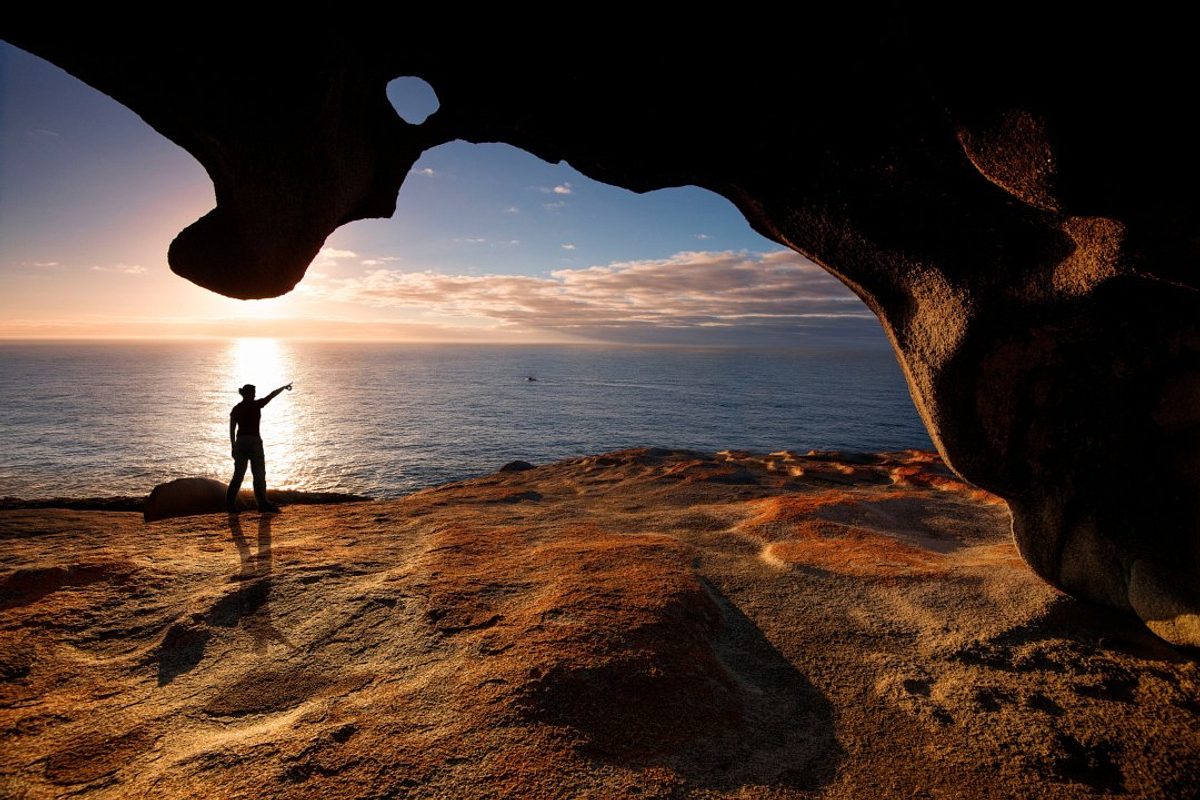 19. Spot a seal pup at Seal Bay
Right now is pupping season at Seal Bay, on the southern coast of Kangaroo Island. Pupping season only comes around every 18 months, so now is a particularly special time to visit.
At Seal Bay you'll be taken into the heart of the sea lion colony where the experienced guides will teach you about these endangered animals.
Or if you prefer, you can set your own pace on the wheelchair accessible boardwalk which meanders through the dunes to a number of viewing platforms.
Top tip: Learn more about these gorgeous babies with our story: 5 things you didn't know about sea lions and their pups.
20. Stay in a heritage lighthouse at Cape Willoughby Conservation Park
On Kangaroo Island's eastern end you'll find Cape Willoughby Conservation Park, where you can stay in a lighthouse keepers' cottage.
It's the perfect winter retreat, especially when there's the chance of spotting whales from the kitchen window.
Top tip: Learn more about this special site with our story: Your guide to Kangaroo Island's most famous lighthouses.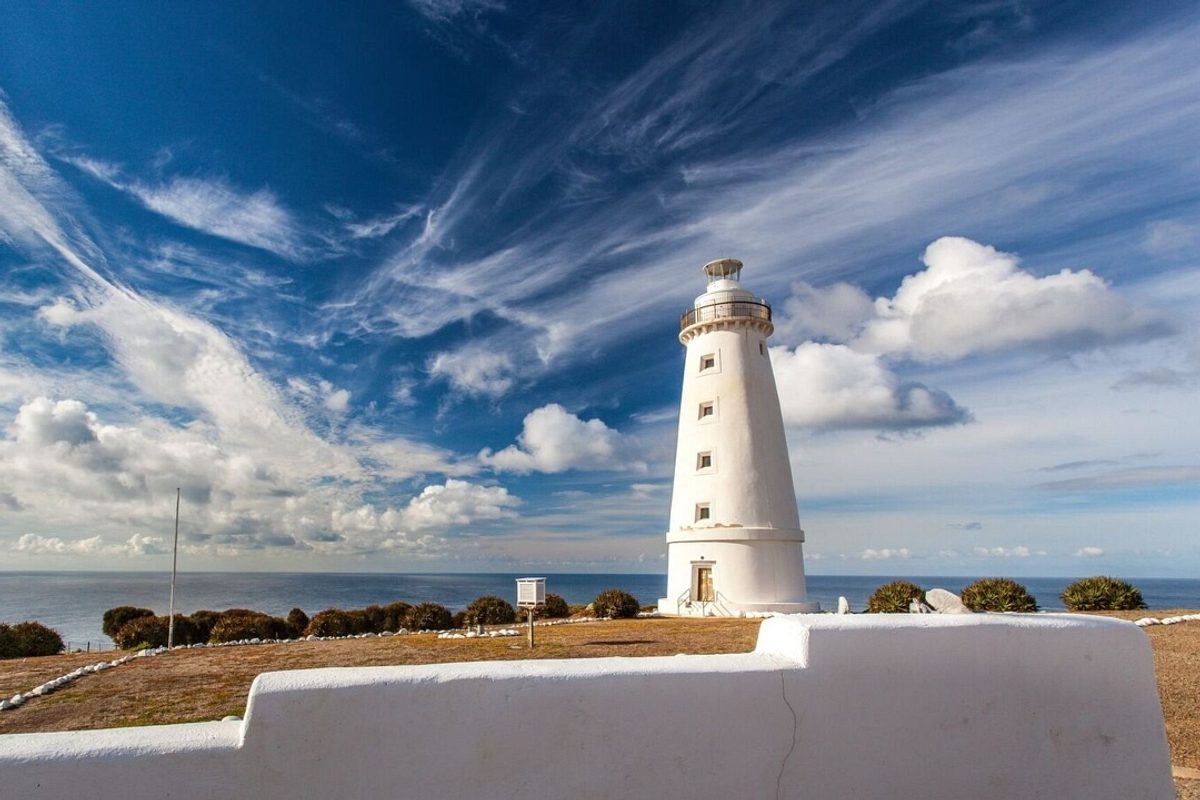 Eyre Peninsula
21. Go whale-watching in the Far West Coast Marine Park
Winter is whale watching season in SA, and one of the best places to see these creatures of the deep is in the Far West Coast Marine Park.
Pack up the car and enjoy the scenic 12-hour drive from Adelaide to Head of Bight Whale Watching Centre.
You'll be amazed by the number of southern right whales nursing their young beneath the viewing platform.
Top tip: There's lots of great spots to whale watch in SA. Read our story to find out where: Top spots for whale watching.
22. Swim with giant Australian cuttlefish in Upper Spencer Gulf Marine Park
Have you heard about the giant Australian cuttlefish that congregate in SA waters each winter?
They congregate off the coast of Whyalla, along a 10 km stretch of the Upper Spencer Gulf Marine Park, from about May and numbers generally peak in June and July when the breeding season is in full swing.
They are expert colour-changers and masters of camouflage, and can change shape and texture to look like rocks, sand or seaweed – a spectacular sight to see.
Top tip: Wondering why they congregate in these waters? It's because of the rocky seabeds, which provide the perfect environment for females to lay and delicately attach their eggs.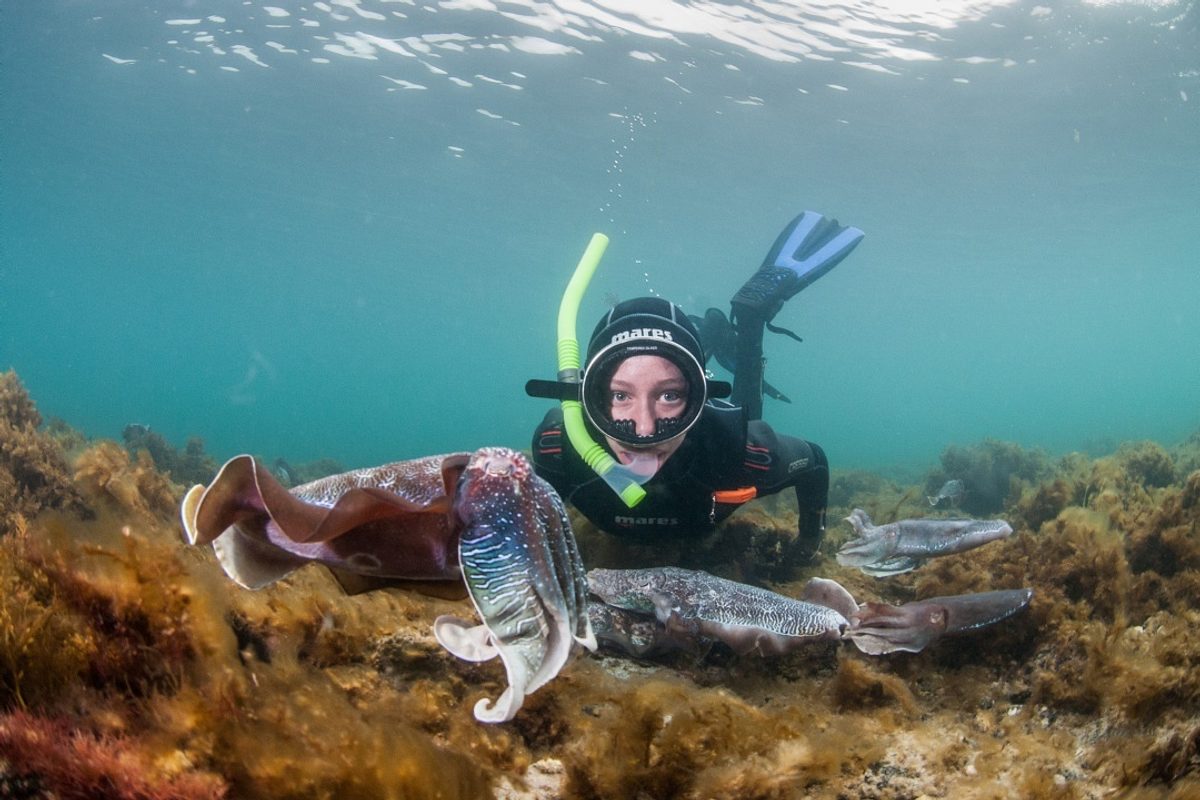 23. Dive with great white sharks at Neptune Islands Conservation Park
Heat up your winter by getting the blood well and truly pumping with an experience like no other – shark cage diving.
In SA, the place to go is Neptune Islands Conservation Park, which can be accessed by boat from Port Lincoln on the tip of the Eyre Peninsula.
Male great whites inhabit the islands year-round, but it's from April to August that the females are around – and they're about a metre bigger than the males, measuring up to 6 m long.
Top tip: You need to take a tour for an experience like this. Check the website for all the details.
24. Go glamping at Lincoln National Park
A toasty campfire at your feet, glowing stars above and the creature comforts to keep you cosy and warm at night – that's what you can expect when you go glamping at Lincoln National Park near Port Lincoln.
The park overlooks Boston Bay, the largest natural harbour in Australia, and is a great spot for boating, nature walks and whale watching at this time of year.
Top tip: Always make sure you check the website for any fire restrictions if you're planning on lighting a campfire. Glamping experiences can be booked with Kata & Belle.
Flinders Ranges and Outback
25. Mountain bike at Mount Remarkable National Park
Within easy reach of Adelaide, at the southern end of the Flinders Ranges, is Mount Remarkable National Park.
It's about 45 km north of Port Pirie and is a popular park for mountain biking, particularly in the Willowie Forest area.
Cool days, stargazing and campfires make visiting at this time of year an ideal choice. Just be sure to check the website for any fire restrictions before you go.
Top tip: Did you know that work is underway in Mount Remarkable and other parks in the area to create a new adventure-based tourism destination in the Southern Flinders Ranges? Learn more by visiting the website.
26. See Wilpena Pound from the air in Ikara-Flinders Ranges National Park
Winter is the perfect time for an outback adventure at Ikara-Flinders Ranges National Park, 450 km north of Adelaide.
The days are generally milder, but the nights are cool – so crack out that campfire if conditions permit. The stargazing is spectacular when you're so far from any city lights.
Something pretty special to book in for is a flight over Wilpena Pound, the park's iconic amphitheatre. If you think the view from within is amazing, just imagine what it looks like from above.
Top tip: If you're heading to the park towards the end of winter, take a look out for the wildflowers that begin to bloom near spring.
27. Go four-wheel driving in the Simpson Desert or Ngarkat Conservation Park
Time for some extra adventure? Four-wheel driving might be the answer.
Munga-Thirri –Simpson Desert National Park, 957 km north of Port Augusta is a popular choice, with the best time to visit between May and August when the weather is milder.
Then there's Ngarkat Conservation Park near Pinnaroo in the state's east, home to the famous Border Track, which is only open from April to October.
Top tip: These types of trips need careful consideration, as there's lots of safety aspects to factor in. Always check the website before heading off.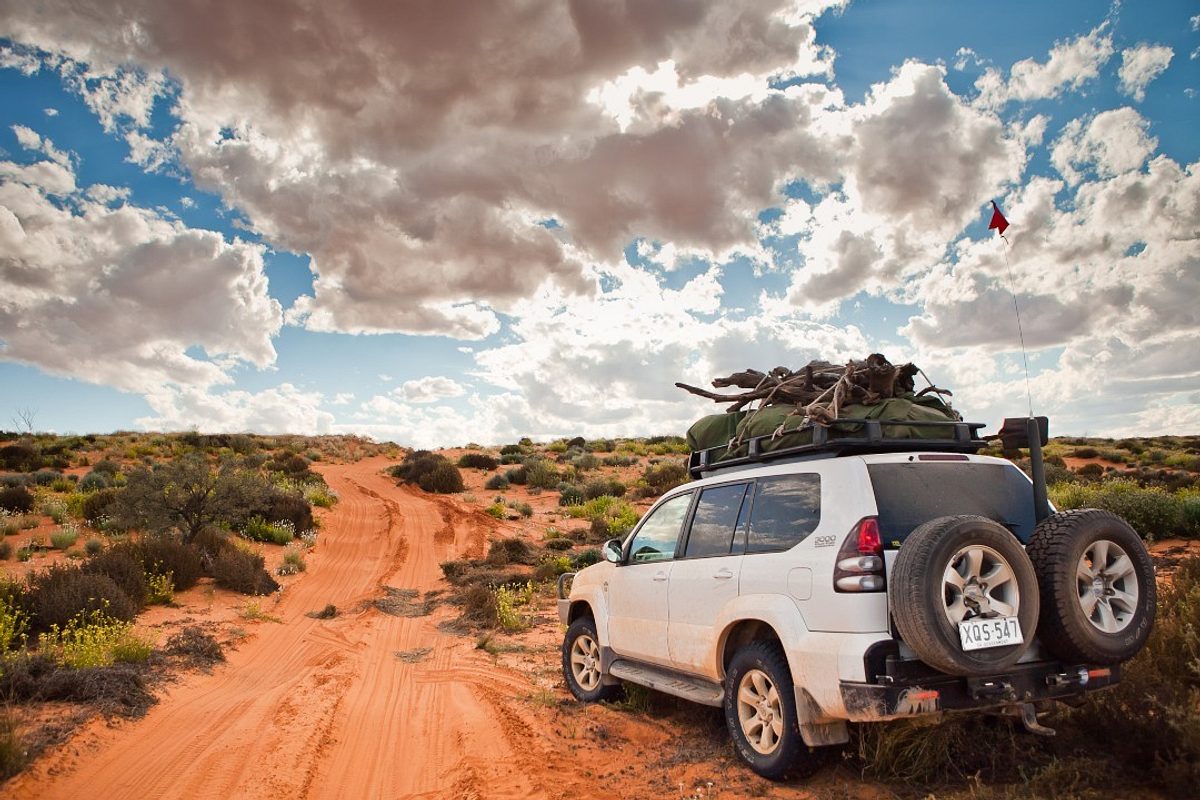 28. Soak in a hot spring at Witjira National Park
Witjira National Park, 887 km north-west of Port Augusta is home to the world famous Dalhousie Springs.
It's perfect for a winter's day when the outside temperatures are cool but the water in the main spring sits at a constant 38 to 40 degrees.
Top tip: Learn about this magical place, and others like it, in our story: Your guide to visiting mound springs in SA's desert parks.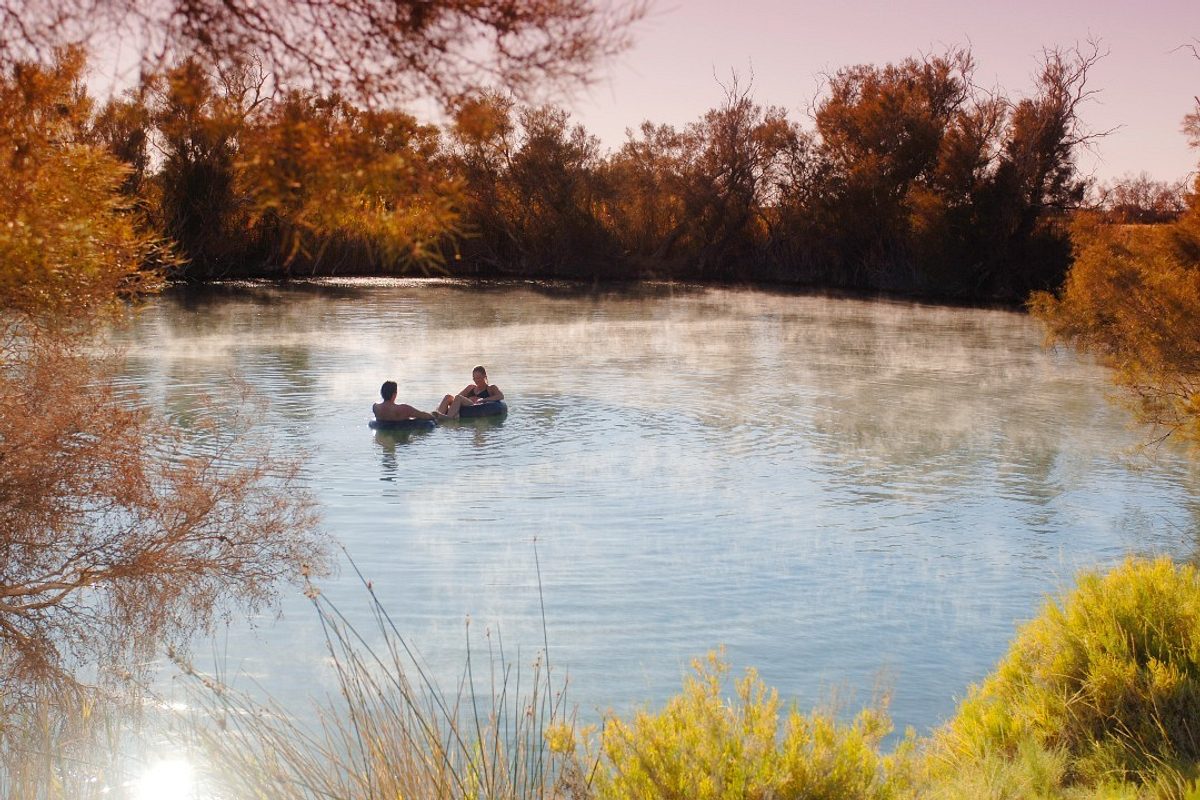 Main image: Deep Creek National Park (image courtesy ofJohn Montesi)
This story was originally posted in May 2021.