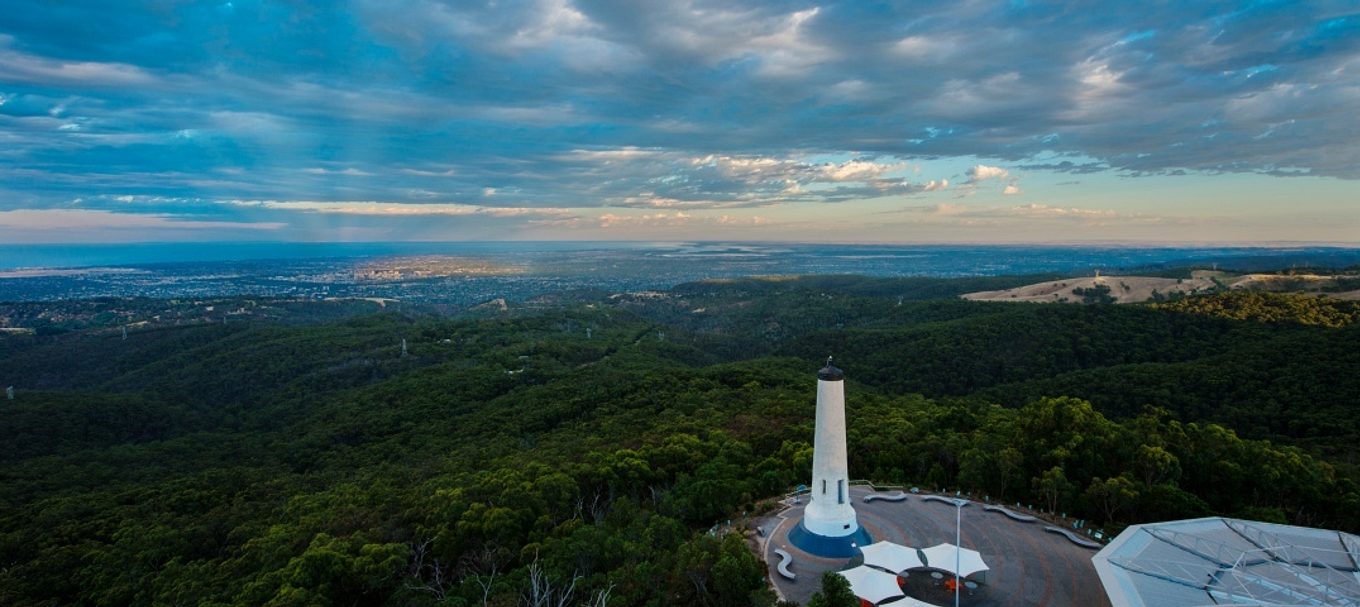 14 other ways to walk to Adelaide's Mount Lofty Summit
Change up your fitness routine with this list of 14 alternative ways to get to Adelaide's highest point.
If you live in Adelaide, it's likely you've tortured yourself on the popular Waterfall Gully to Mount Lofty Trail, but did you know there are at least 14 other ways to get to the top?
With the help of our friends at Walking SA, we've compiled this list of alternatives for you to try on your next visit:
Shorter distances
1. Stirling via laneways and fire tracks to Mount Lofty
4 hours return (11.4 km)
This walk starts and finishes in the leafy Adelaide Hills town of Stirling, which is the perfect spot to fuel up for your walk at one of its many cafes. You'll stroll down various lanes of the town before using some of the fire tracks in Cleland National Park to get to the summit.
2. Cleland Wildlife Park via the Harford Trail
4 hours return (4.2 km)
This walk is perfect for the little people in your life due to its short duration and guaranteed wildlife spotting. Get your wildlife fix at Cleland Wildlife Park, then follow the Harford Track through the forest to the main Mount Lofty track, which will take you the rest of the way.
3. Mount Lofty Botanic Garden
4 to 6 hours return (10.2 km) After enjoying the spectacular colour, rich aromas and amazing diversity of the botanic garden, follow the Nature Hike and the Heysen Trail up the quiet hidden valleys that ascend to the summit.
4. Crafers
4 to 6 hours return (9.6 km)
This trail is a hidden gem and is perfect if you enjoy peace and quiet. The trail is a lot wider than the Waterfall Gully to Mount Lofty track and it's a great way to build your fitness as the incline is more gradual than steep.
5. Adventure Trail
4 to 6 hours return (10 km)
Follow the forests and long ridges of Cleland National Park and join the main Mount Lofty trail just below the Youth Hostel. This trail uses parts of the Chinamans Hut Track, which can be quite steep.
6. Wine Shanty Trail
4 to 6 hours return (10 km)
Contrary to popular belief, there's no stopping for wine tasting on this tour, but you'll be treated to beautiful scenery in the stringybark forest of Cleland National Park. Keep your eyes peeled for echidnas, kangaroos, koalas and bandicoots.
Medium distances
7. Greenhill Recreation Park to Mount Lofty via Chambers Gully
4 to 6 hours return (17.8 kilometres)
Take in the views across Adelaide from the quiet Greenhill Recreation Park before heading through picturesque Cleland National Park before reaching Mount Lofty Summit.
8. Chambers Gully and Harford Trail
4 to 6 hours return (16.4 km)
Enjoy the cool sanctuary of Chambers Gully, listen to the sound of cockatoos and spot butterflies and bandicoots along a track fringed with ferns.
9. Winter Track and Long Ridge Track
4 to 6 hours return (13.4 km)
While you're checking out amazing views across the city and coast, keep your eyes peeled for a koala or kangaroo.
10. Measdays Lookout
4 to 6 hours return (14 km)
This is the perfect hike to do in warmer weather, as you'll be shaded by the cool secluded gully.
Longer distances
11. Heysen Trail from Bridgewater
4 to 6 hours return (15.6 km)
Like to stop and admire nature on your walks? Check out this trail if you fancy seeing a fairy garden.
12. Coach Road Skye and Heysen Trail to Mount Lofty
6 to 8 hours return (20.8 km)
Not for the faint hearted, this journey starts off on the fringes of Skye, and passes through Horsnell Gully Conservation Park and Cleland National Park before reaching Mount Lofty Summit.
13. Pioneer Women's Trail from Beaumont to Mount Lofty
6 to 8 hours return (20.4 km)
This challenging walk is named after the women and girls of Hahndorf. They carried baskets of vegetables and dairy products on their backs or on wooden beams across their shoulders to supply fresh produce to Adelaide, at a time when most fresh food had to be imported. They left Hahndorf at midnight to walk the rough bush track to Adelaide 35km away.
14. Yurrebilla Trail from Brownhill Creek
6 to 8 hours return, 22.4 km
Open grassy hills and ridgetops set the scene for this challenging walk. Be sure to pack plenty of drinking water, and wear a hat and sunscreen.
Love walking in nature? Check out our blogs on 5 alternative walks to Mount Lofty, 10 pram-friendly walks in Adelaide's national parks, and 17 dog-friendly walks in Adelaide.
This story was originally posted in October 2018