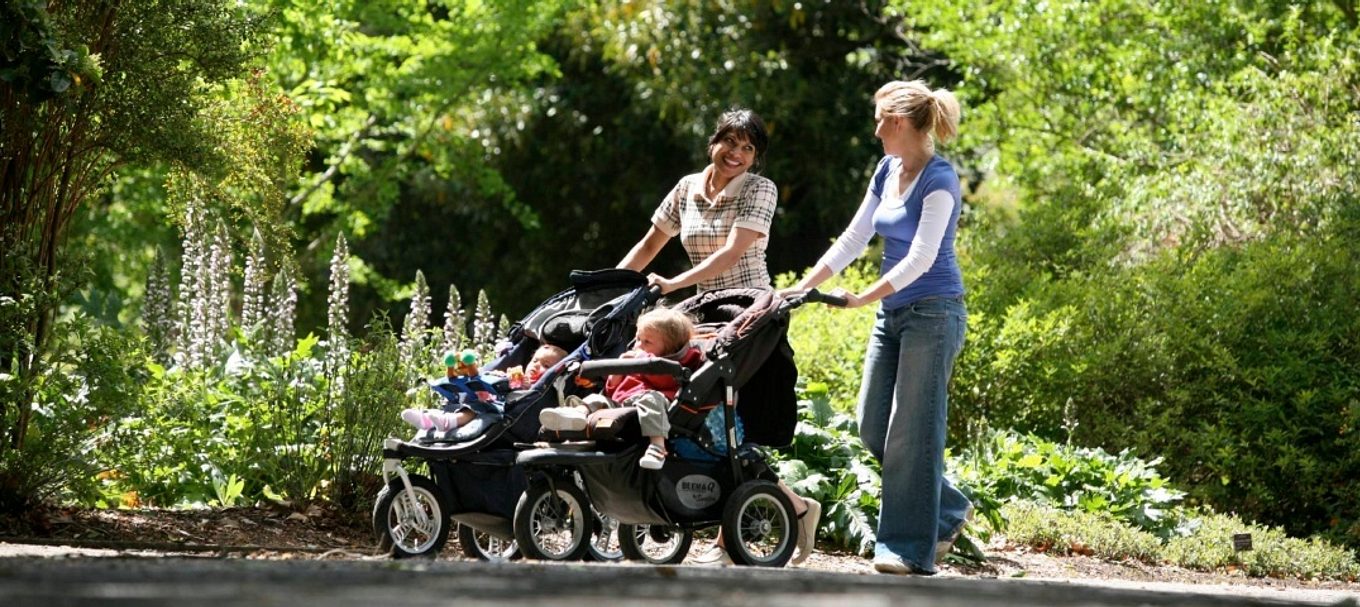 10 pram-friendly walks in Adelaide's national parks
Looking for a pram-friendly way to connect with nature? Try these walks in parks not too far from Adelaide.
There's lots of beautiful walks in Adelaide's national parks, but when you've got a baby or a toddler in tow, then convenient parking, shorter trail distances, flatter surfaces, and facilities like toilets may be important things to consider.
We've taken the guesswork out of it for you with this list of pram-friendly walks in Adelaide parks and some of the handy facilities nearby:
SOUTH
1. Wood Duck Walk – Belair National Park
As the name suggests this walk in Belair National Park is a great spot for you and your little ones to spot – you guessed it – ducks! The trail is only 1 kilometre long and starts at the carpark and picnic area at Playford Lake, so if you have to hightail it home due to a tantrum – or worse! – the car won't be too far away.
2. Lorikeet Loop Walk – Belair National Park
If you're after a slightly longer walk, check out this 3 km loop that starts from Old Government House in Belair National Park and travels in an anti-clockwise direction. If you need to provide the kids with some encouragement along the way, you can tell them they'll be rewarded with a visit to the park's adventure playground.
3. Black Cliff Lookout – Hallett Cove Conservation Park
Heading beachside? Try this great pram-friendly trail in Hallett Cove Conservation Park that takes in beautiful coastal views. This 1.8 km round-trip starts at the carpark, which is handy as it's close to the toilets and Boat Shed Café.
Here's a sneak peak of these access trails:
What's on at Hallett Cove Conservation Park: new access trails
4. Goondooloo Ridge Walk – Deep Creek Conversation Park
Further afield in Deep Creek National Park, just over 100 km from Adelaide, Goondooloo Ridge walk has everything you could want in a day visit.
It's a Class 2 trail that takes on average 2 hours to complete, taking you through re-vegetated and remnant native bushland and leading you to the new lookout and picnic area.
At the lookout, you can rest for lunch and take in the spectacular views over Backstairs Passage to Kangaroo Island.
5. Wetlands Loop Trail – Onkaparinga River Recreation Park
The 3 km Wetlands Loop Trail in this park is a mixture of gravel paths and boardwalks, making it suitable for prams.
You'll find parking and a toilet at Perrys Bend, and can also enjoy the picnic area, which has a BBQ and picnic tables.
6.Punchbowl Lookout Trail – Onkaparinga River National Park
For spectacular views of Onkaparinga Gorge, check out the 2 km Punchbowl Lookout Trail in Onkaparinga River National Park.
If you need a rest part-way through your walk, there's seating along the way.
The easiest spot to park is at Gates 8 and 9 on Piggot Range Road and you'll find toilets at the nearby Sundews Lookout at Gate 11.
EAST
7. Morialta Falls Valley Walk – Morialta Conservation Park
No doubt you've heard of Morialta's gigantic Mukanthi Playspace, but if the kids still have energy to burn after enjoying the playground this trail is perfect to cart your pram along.
The 1.6 km Morialta Falls Valley Walk is a good short walk on a wide, hard-packed gravel trail that reaches just below First Falls. The last section goes below the falls via a boardwalk.
8. Fourth Creek Trail – Morialta Conservation Park
Another option at Morialta is the Fourth Creek Trail, which is a 3 km round-trip.
The first part of the path has a compacted gravel surface, and the second half is bitumen. There is a short incline near the start, just beyond the Mukanthi Playspace and after the footbridge.
9. Steub Trail – Cleland National Park
The newly-opened Steub Trail in Cleland National Park provides an accessible family-friendly option for those wanting to explore Mount Lofty. It's a 7.7 km return trail that will take about 3 hours to travel on.
It starts at Cleland Wildlife Park, which is located in the heart of Cleland National Park, and winds gently through forest woodlands on the way to the Mount Lofty summit.
As well as being home to some very cute furry creatures, it's very pram-friendly.
You should also head to the lookout at Mount Lofty Summit to enjoy the sweeping views across Adelaide. Parking spaces and toilets are in handy reach and the Summit Café is a great spot for coffee or lunch if the kids are getting hungry.
NORTH
10. Lake Discovery Loop – Para Wirra Conservation Park
The 1 km Lake Discovery Loop Trail in Para Wirra Conservation Park is a great pram-friendly walk. Start from the East Lake carpark and follow the well-signposted trail in a clockwise direction.
The trail is also suitable to ride on, so if you have other little ones in tow don't forget to bring their bikes.
Keep an eye out for the ducks and birds – the trail's proximity to the lake makes it a haven for waterbirds.
If you want to make a day of it, the park has a new nature play space and lots of picnic spots to stop for lunch. The good news is, you'll never be far from the loo – there's plenty of toilets near these facilities.
11. Little Quarry Loop – Anstey Hill Recreation Park
The Little Quarry Loop starts at Anstey Hill Recreation Park's main carpark in the former quarry and winds its way around in a 650m concrete loop. It's a great spot if your other little ones are learning to ride bikes.
There's plenty of car parking right near the trail and also three different picnic areas to choose from. You'll find a couple of toilets near Gate 1, which is just down the hill.
Looking for other family-friendly activities to enjoy in parks? Check out thesefive school holiday ideas for the whole family, and theTop 3 Adelaide parks for your toddler to enjoy mud, glorious mud.
This story was originally posted in July 2018.