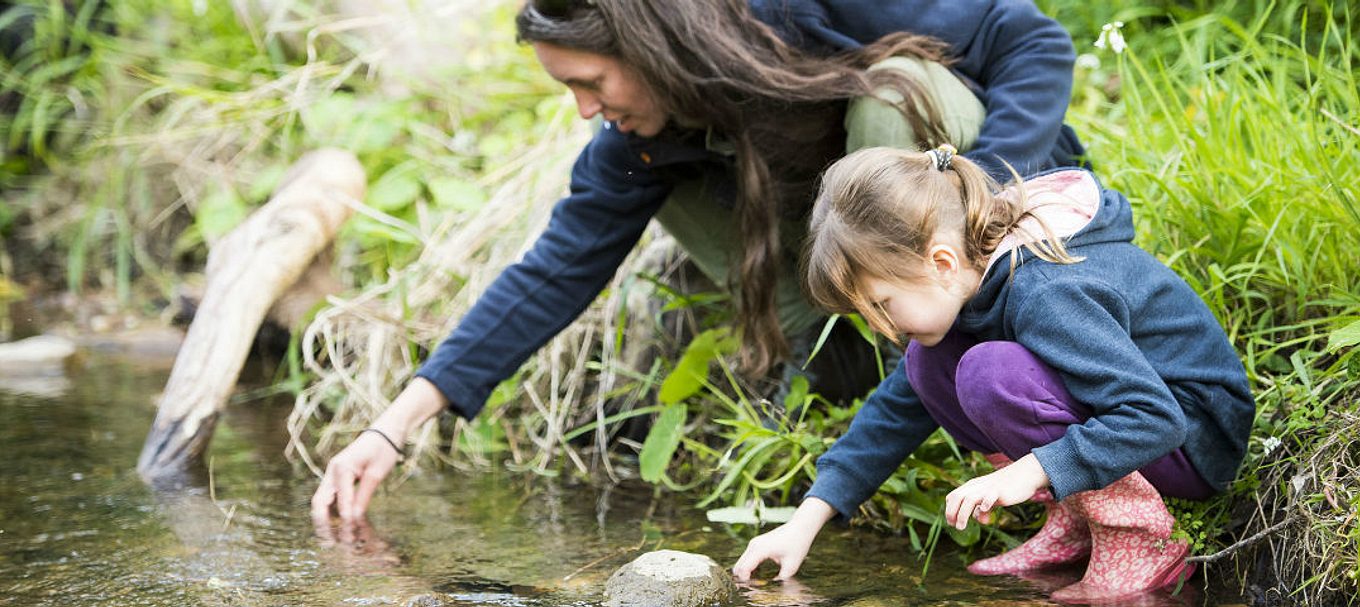 Top 3 Adelaide national parks for your toddler to enjoy mud, glorious mud
Test out the kids' gumboots with a splash in the mud at one of Adelaide's national parks. Here's where we suggest.
Wondering what to do with the kids on a rainy day?
Once they've put food in their hair, emptied the kitchen cupboards and annoyed the cat, it's time to do the other thing that toddlers like best – splashing around in mud.
Parks and reserves around Adelaide have plenty of places for kids to test out their gumboots and raincoats with a splash in a shallow creek or a slop in a muddy puddle.
After road-testing these spots with a thrilled 2-year-old, we've come up with this packing list for a family-friendly day out near Adelaide:
gumboots
a change of clothes – probably for all of you
a towel
a picnic lunch
a camera to capture happy faces.
Toddler enjoys muddy fun
Here's our top three parks for your next stomp and splash session:
1. Morialta Conservation Park
Morialta Recreation Area near the corner of Stradbroke Road and Wandilla Drive at Morialta Conservation Park in Adelaide's east is our favourite splashy spot, combining the shallows of Fourth Creek, the epic Mukanthi Nature Playspace, sheltered areas, easy access to public transport, local cycling trails, parking and public toilets.
Water levels vary with rainfall, but there can be smaller, shallower tributaries running off the creek at the eastern end of the recreation area. The sides of the creek often widen to pebbly spots where you can pick up rocks to chuck in the water with a satisfying plonk.
The Stradbroke Road Picnic Area carpark has 3 access carparks and paved trails leading to picnic areas and access toilets with left-hand and right-hand dismount.
Entry to Morialta Conservation Park is free.
Note: the main pools at the Morialta Falls area are not safe for children. Visitors should not enter beyond the barricade.
2. Belair National Park
Generations of Adelaide families have had a splashy good time at Belair National Park in the cooler months. Australia's second-oldest national park, 25 minutes south of Adelaide's CBD, has plenty of good puddles around the Adventure playground and near Minno Creek (south of the playground, near the bottom of the Gold Escort Picnic area). There are toilets and barbecues near the playground.
Deeper in the park there are several creeks running through the Long Gully picnic area. They're quite shallow and kid-friendly where they run through the middle of the grassed area. Visit this part of the park after rain in winter and you'll find a bit of a quagmire with plenty of good muddy spots. There are toilets and barbecues near the Long Gully Pavilion.
If you wish to take your car into the park you can pay your vehicle entry fees online before you visit, or when you get there at the Belair Information Office. Park entry to Belair is free on foot or bike.
3. Brownhill Creek Recreation Park
Venture just 8 km south of the city to Brownhill Creek Recreation Park. Its narrow creek flows through a steep-sided valley studded with river red gums – some more than 300 years old.
Stomp through crossings of Brownhill Creek on the Wirraparinga Trail, which criss-crosses the creek on its 2.3 km, or 45-minute, one-way journey.
The kids might not notice this, but you can also stop to appreciate the small, threatened ecosystem of greybox grassy woodland that the park supports.
Entry to Brownhill Creek Recreation Park is free – but note, there are no public toilets there.
Looking for more ideas to explore nature in the cooler and often wetter months? Check out our story for inspiration: Your guide to enjoying South Australia's national parks in the cooler months.
This story was originally posted in August 2017.