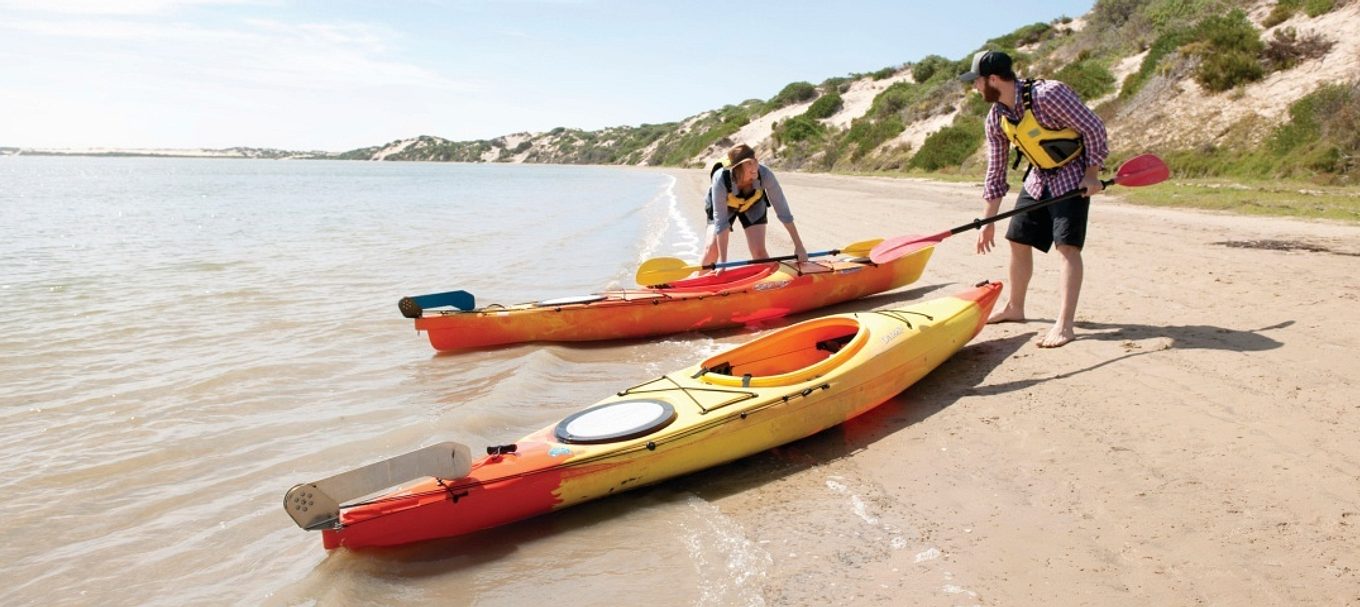 7 national parks in South Australia to go kayaking
Kayaking is a great way to enjoy coasts and rivers, and see wildlife. Try one of these spots for your next paddle.
If you've never been kayaking before, you're missing a wonderful experience. The great thing is that it's really easy for beginners to learn, so why not give it a try?
Go hard and fast to get your cardio, go slow to enjoy the scenery, or just float, relax and try your hand at fishing. Pack plenty of water and snacks, and wear a lifejacket, hat and sunblock, and you'll be up for a great day out.
Here are some of our favourite places to dip a paddle in South Australia's national parks.
1. Adelaide International Bird Sanctuary National Park – Winaityinaityi Pangkara
Where to launch: At the end of Port Gawler Road
The mangroves at Port Gawler in Adelaide's north-west are a lovely peaceful spot for kayaking. There are two places to launch your boat: the carpark near the historic jetty at the end of Port Gawler Road or a small shoulder about 100m before the carpark.
Head west from the carpark about 700 m to the river mouth, or east to explore the narrower parts of the channel.
The mangroves are part of the Adelaide International Bird Sanctuary, so they're an ideal place to look for water birds, especially when the migratory shorebirds start to arrive in spring.
Kayaking in the Garden Island mangroves
2. Encounter Marine Park
Where to launch: Near the Second Valley jetty, or near the Rapid Bay jetty
Whether you launch from the Fleurieu Peninsula's Second Valley or Rapid Bay, Encounter Marine Park's coastline is a treat to paddle.
Follow the coast to the south-west and you'll pass by stunning cliffs, sea caves and hidden beaches perfect for a rest and a swim. If you're lucky, you might see long-nosed fur seals and dolphins, especially around Rapid Head.
If you'd like to extend your stay, there's a caravan park at Second Valley, or beach camping at Rapid Bay.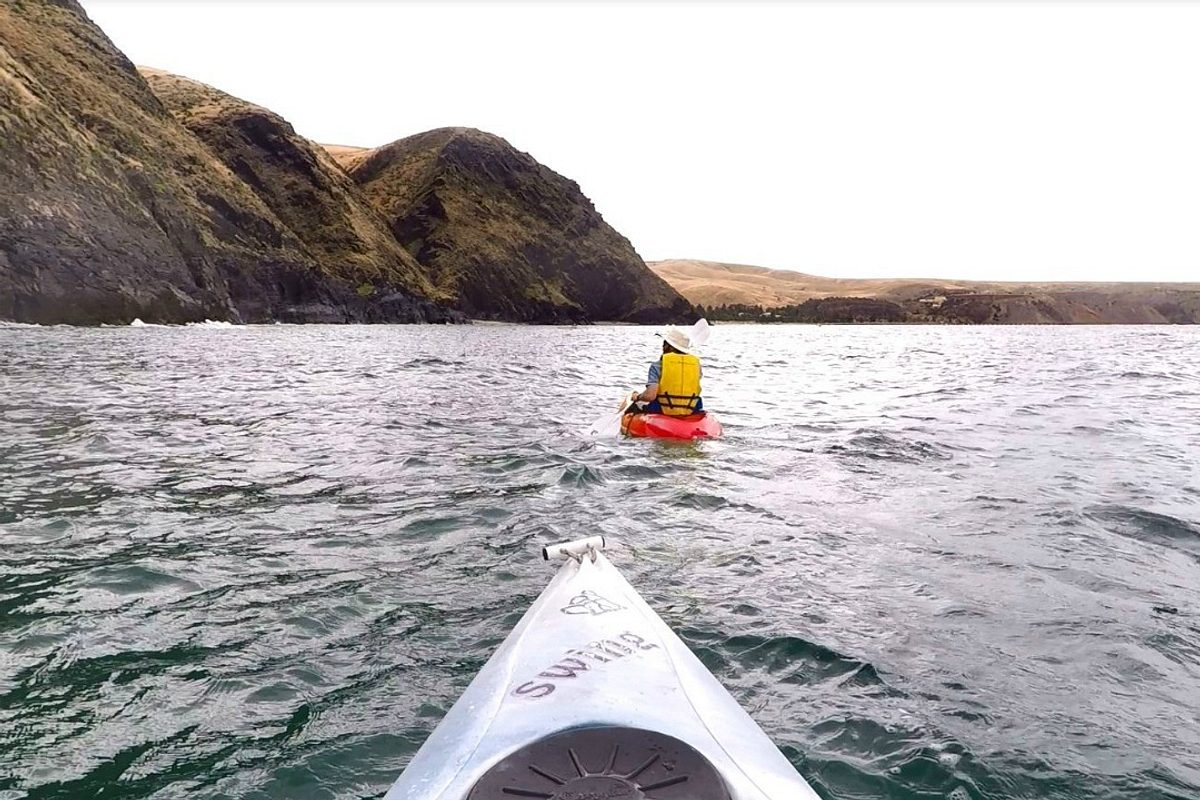 3. Onkaparinga River Recreation Park
Where to launch: Perry's Bend kayak launch on River Road, Noarlunga Downs
Onkaparinga River Recreation Park in Adelaide's south is a great place for a leisurely paddle or some fishing– take your pick. Put your boat in the water at the dedicated kayak launch at Perry's Bend, then makeyour way north towards the river mouth.
Look out for waterbirds like pelicans, black swans and cormorants.
Top tip: Onkaparinga River is tidal, so if you launch at high tide, you'll be able to carry your kayakstraight down the ramp and put it into the water, avoiding the mud.
Onkaparinga Kayaking
4. Coorong National Park
Where to launch: Boat ramp on Beacon 19 Boat Ramp Road at Goolwa South, or Sugars Beach on Hindmarsh Island
The Coorong is a true South Australian icon. Located about an hour-and-a-half south-east of Adelaide, this unique place is listed under the Ramsar Convention as a Wetland of International Significance, providing feeding and breeding grounds for pelicans and dozens of other species of waterbirds.
The North Lagoon in Coorong National Park is a great spot for kayaking. If you launch from the Beacon 19 Boat Ramp, paddle towards the Murray Mouth. If you want a longer paddle, you could go on to the Godfreys Landing Campground, which is only accessible to boats and also has toilets and a walking trail. If you decide to launch at Sugars Beach near the Murray Mouth Lookout, paddle south-east around Bird Island and Mundoo Island towards Narrung.
Wherever you start, you'll have a fantastic experience. There's plenty of wildlife, so keep an eye out for waterbirds, birds of prey and long-nosed fur seals.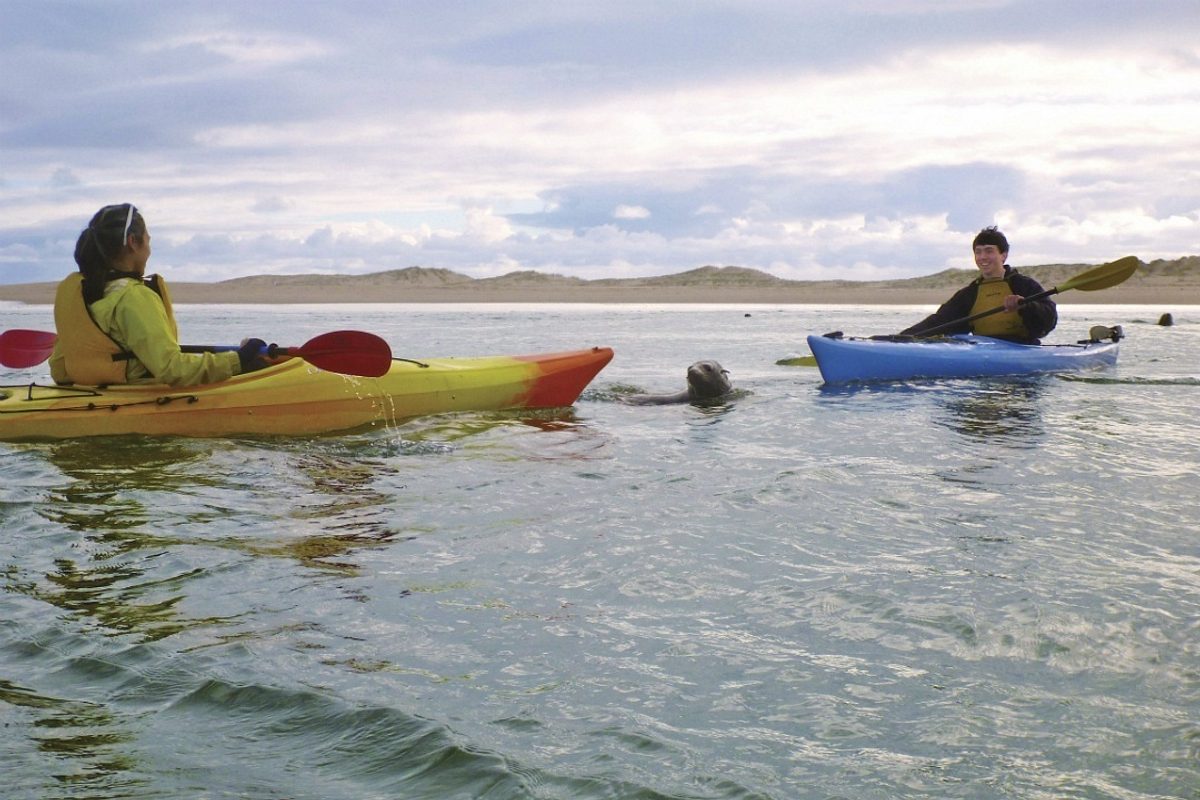 5. Murray River National Park
Lined with river red gums, the Katarapko section of Murray River National Park is an important breeding area for waterbirds and other native wildlife, making it a sensational spot for birdwatching.
There are lots of campsites with easy sloping banks in Katarapko Creek where it's easy to put your kayak in the water.
Look out for waterbirds like egrets, spoonbills, cormorants and darters, and birds like red-rumped parrots, crimsonrosellas, and brown tree creepers in the vegetation on shore.
It's also a great spot for a bit of fishing, but be aware of the seasonal closure for fishing for Murraycod.
Check conditions and park closures before you go during high water events.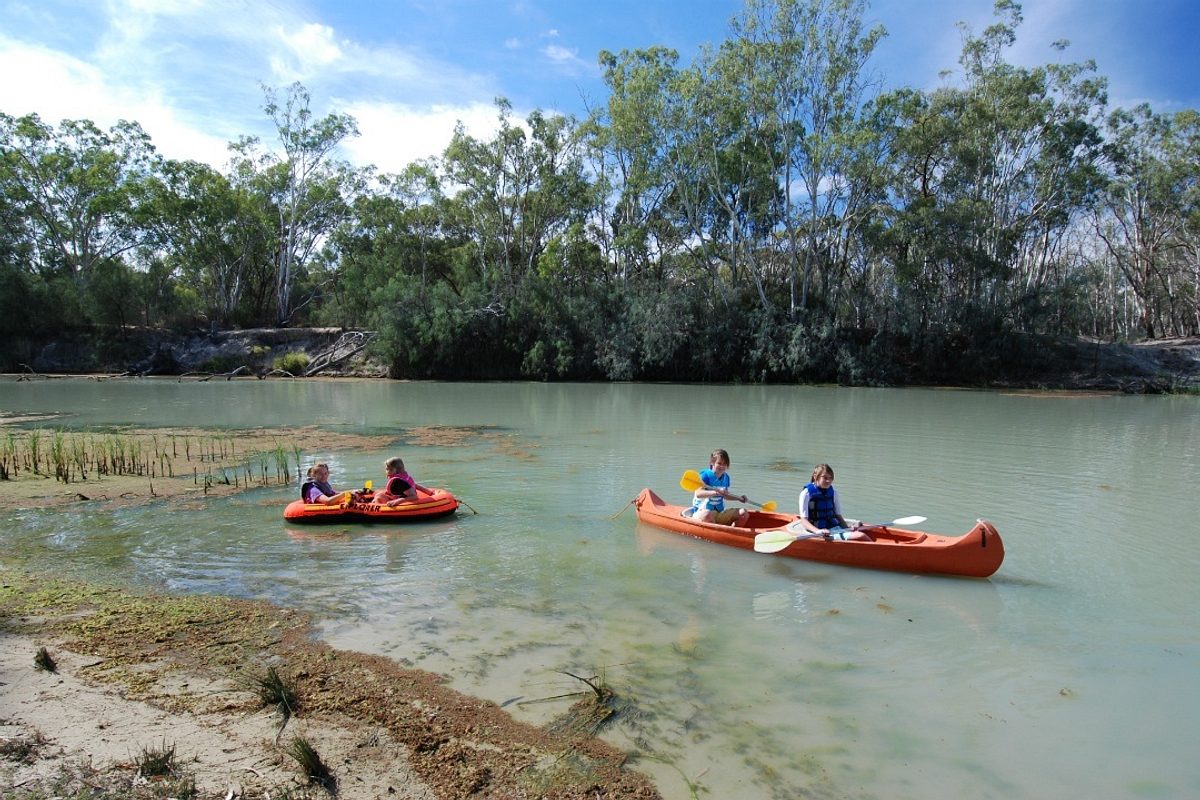 6. Coffin Bay National Park
Where to launch: kayak launch area near Yangie Bay Campground
Coffin Bay National Park, located on southern Eyre Peninsula, is renowned for its pristine coastal scenery, tranquil bays and abundant wildlife.
It's also home to Yangie Bay, which is quite sheltered and has slow water movement, making it ideal for kayaking.
You'll paddle through the Yangie Bay Sanctuary Zone in Thorny Passage Marine Park, which acts as a nursery area for a number of fish species. If you look closely you can spot tiny fish jumping out of the water as you paddle by.
The kayak launch area is conveniently located near the Yangie Bay Campground, which features 19 campsites, toilets and a picnic shelter. Make sure you book online to reserve your spot.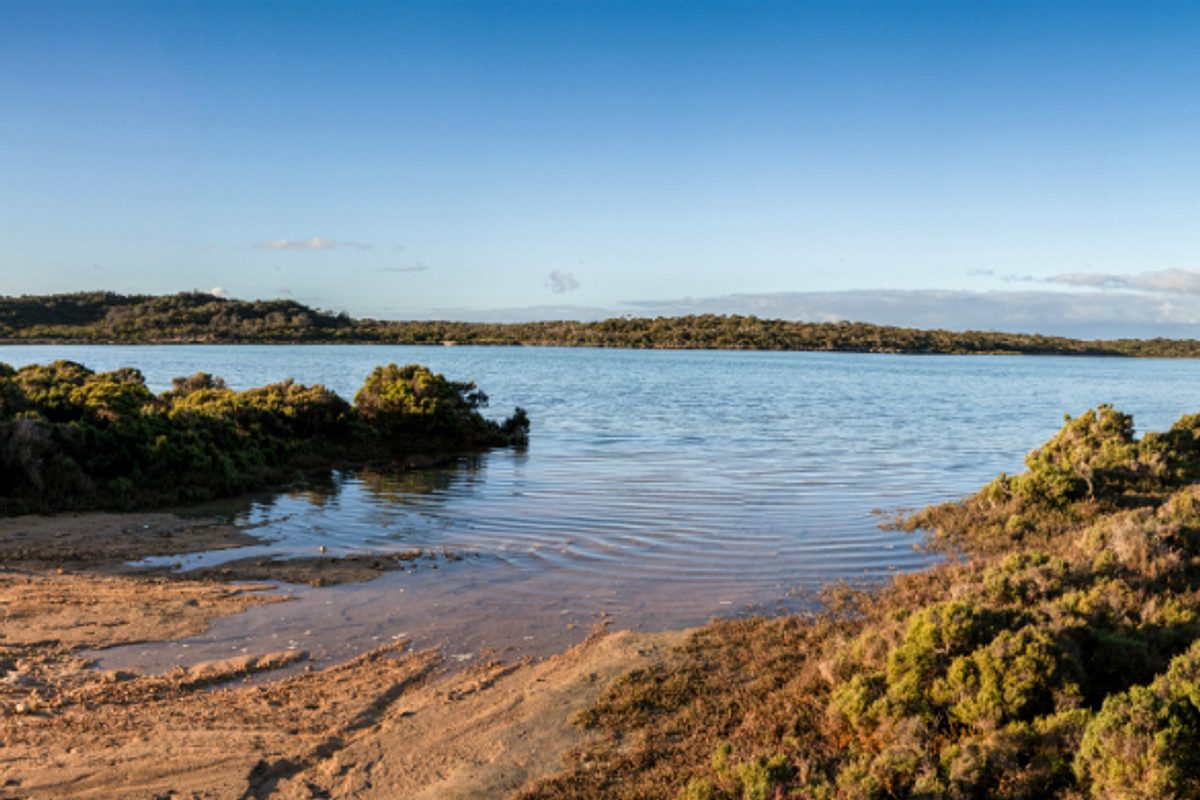 7. Adelaide Dolphin Sanctuary
Where to launch: Garden Island Boat Ramp
With a resident pod of dolphins, a 10,000-year-old mangrove forest, and the Ships' Graveyard Maritime Heritage Trail, the Port River around Garden Island and North Arm is one of the most interesting places to go kayaking close to Adelaide. This place is known as the Adelaide Dolphin Sanctuary and is only a 20-minute drive from the CBD.
Paddle north-west from the boat ramp towards the Garden Island Yacht Club. On the far side of the river, you'll see the entry to a winding channel between the mangroves. At high tide, you can follow the channel for 10 or 15 minutes and find out for yourself why this spot is known as 'Little Amazon'.
Once you've explored the mangroves, paddle back past the boat ramp, then follow the Angas Channel and Eastern Passage to North Arm and the Ships' Graveyard. Two of the most prominent wrecks are the iron-hulled Santiago and the remnants of the wooden schooner Dorothy H. Sterling.
Along the way, keep an eye out for dolphins. If you see one, stop paddling and wait. They are naturally curious, and will often come to you.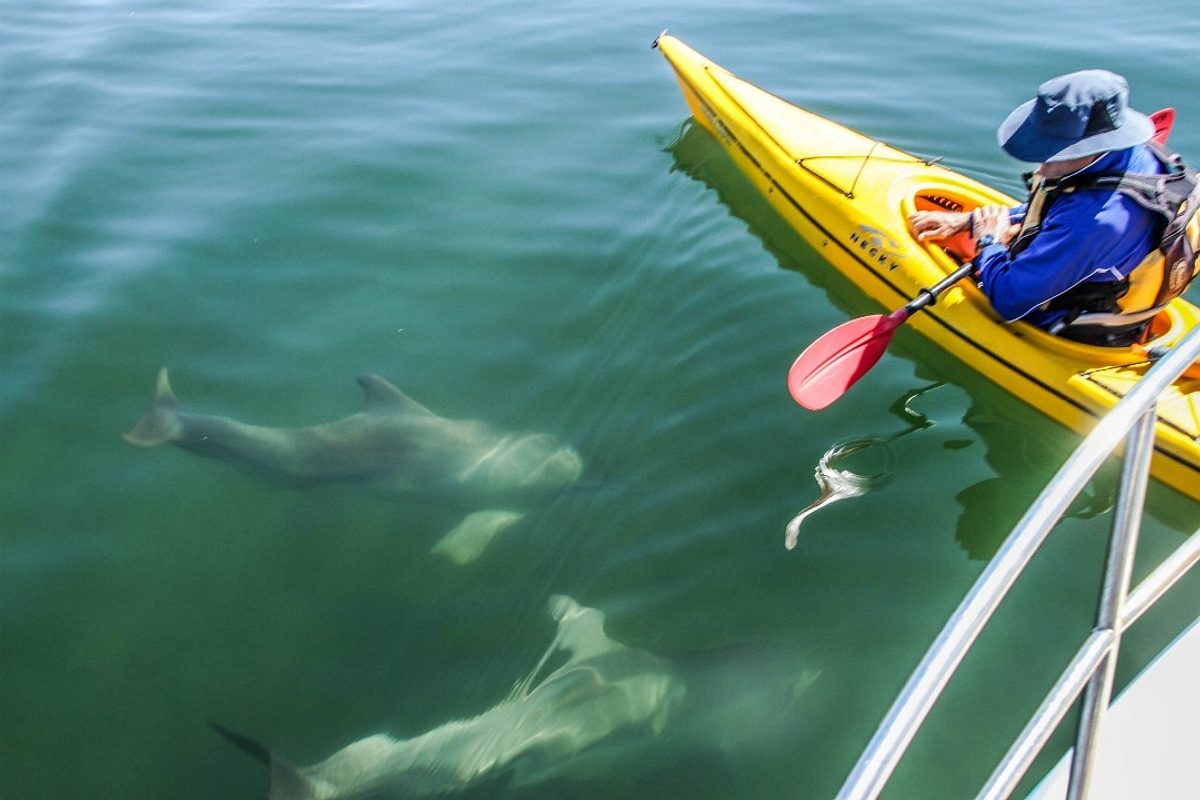 No kayak? No problem!
There are plenty of companies that can help you out with kayak hire or guided tours, like Adventure Kayaking SA for Garden Island and Rapid Bay, Easy Kayaks for the Onkaparinga River and Noarlunga Reef, Canoe the Coorong for the Coorong and Hindmarsh Island, or Canoe Adventures for the River Murray.
First time kayaking? Theseeight top tipswill help you get started. Before you go, remember to check the National Parks and Wildlife Service SA website for the most up-to-date information about the park you plan to visit.
(Main image: Coorong National Park courtesy of SATC)
This story was originally posted in July 2018.