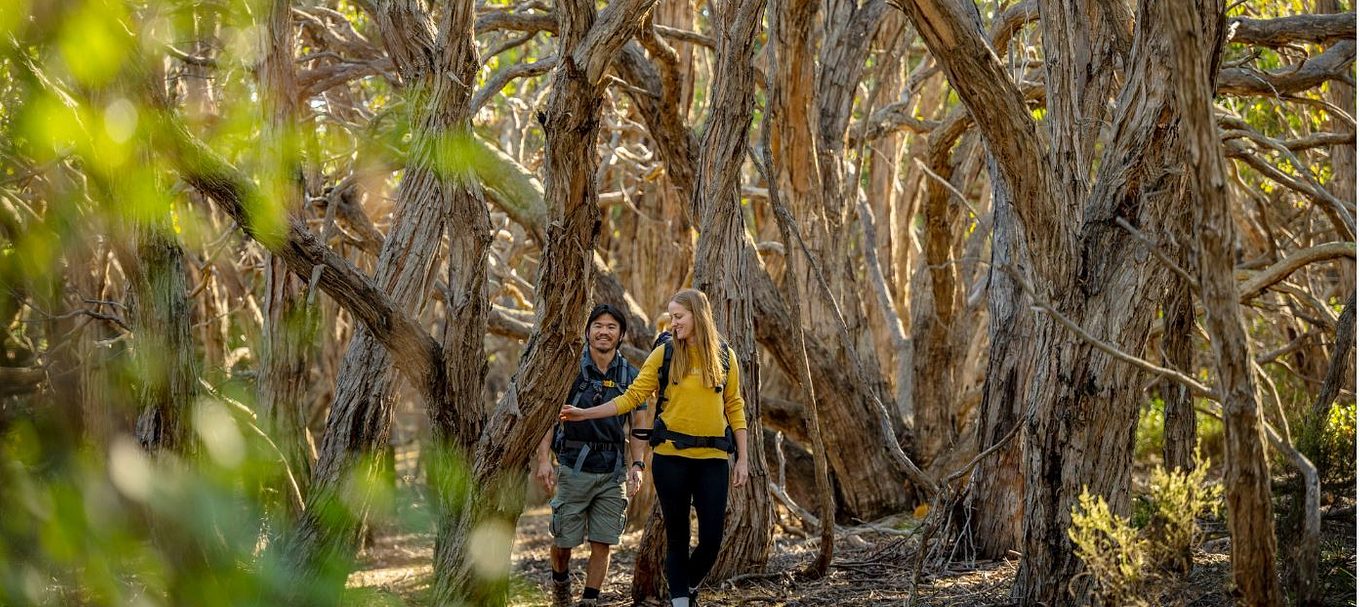 Your guide to the walk-in campgrounds along SA's newest multi-day walking experience
Get off the beaten track and stay at these newly created campgrounds on the Wild South Coast Way. Here's everything you need to know.
If hiking the Fleurieu Peninsula is on your wish list, be sure to get your boots on for a multi-day experience to remember.
The Wild South Coast Way on the Heysen Trail is South Australia's newest long-distance walking trail covering 74 km between Cape Jervis and Victor Harbor on state's south coast.
The complete experience can be walked over 5 days, or you might like to choose a section or 2 for an overnight trip.
Whichever option you pick, you're in for a treat with some great new facilities along the way – like the 4 new walk-in campgrounds.
Unlike the other 4 campgrounds on the trail, which are accessible by foot or by vehicle, these new walk-in campgrounds give visitors the opportunity to go even further off the beaten track.
These campgrounds are tucked off the trail and a stone's throw from some of the lesser-seen coastal landscapes. What makes them really special is that each is located in a unique coastal environment notable to the Fleurieu Peninsula.
And best of all, they're plotted out at various sections along the entire trail so you can choose the setting that appeals to you. Regardless of the campground you choose, each one is perfect to recharge and reset before venturing onto the next leg of your journey.
Here's everything you need to know about these new walk-in campgrounds:
Campground facilities
Each of the 4 walk-in campgrounds along the Wild South Coast Way contain 10 sites, suitable for a 2-person tent, and are a mixture of low-impact raised timber platforms or compacted earth sites.
The timber platforms are suitable for free-standing tents, which can be latched down to the pop-up pegs and tie rails. Make sure you bring extra cord to ensure your tent is firmly fixed.
The compacted earth sites accommodate all tent types – bring along your tent pegs to hammer your tent into the ground.
The campgrounds each have a well-fitted camp kitchen to help you recharge after a day of walking, so be sure to pack supplies to whip up that hearty meal.
There's room to spread out, with undercover tables and benches. And it's also a great meeting place to share stories of the day with fellow walkers.
If nature is calling, whether you're staying at the campground or even if just you're passing through, you can get some relief at one of the unisex drop toilets. Sinks with untreated rainwater are also available for a quick wash up.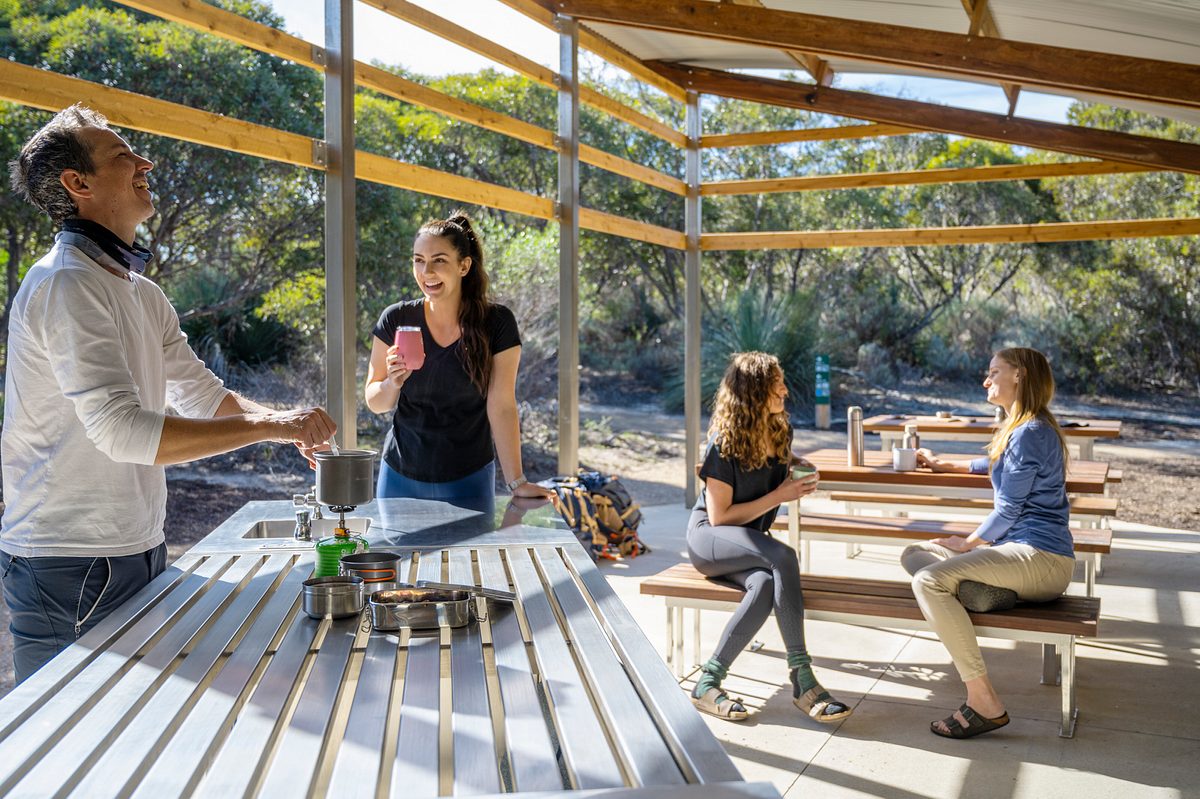 Location of the walk-in campgrounds
As you walk the Wild South Coast Way, you'll be retracing the final footsteps of an ancient ancestor named Ngurunderi, who is said to have shaped the landscapes, spiritual identities and cultural traditions of the Ngarrindjeri palek (people).
Deciding which campgrounds to stay in will really be determined by the sections of the trail that you choose to walk, and over how many days and nights.
You can check out the interactive map to see where the new walk-in campgrounds are located on the trail, or read on for more detail about each of them.
In geographical order from Cape Jervis to Victor Harbor, here's a glimpse into each of them:
1. Wuldi Krikin Ngawanthi
Located in Deep Creek National Park, Wuldi Krikin Ngawanthi campground (pronounced Wool-dee Krik-ren Ngah-wun-thee) is also referred as Eagle Waterhole Campground.
It is snuggled amongst shady gums and surrounded by the iconic yaccas of the area.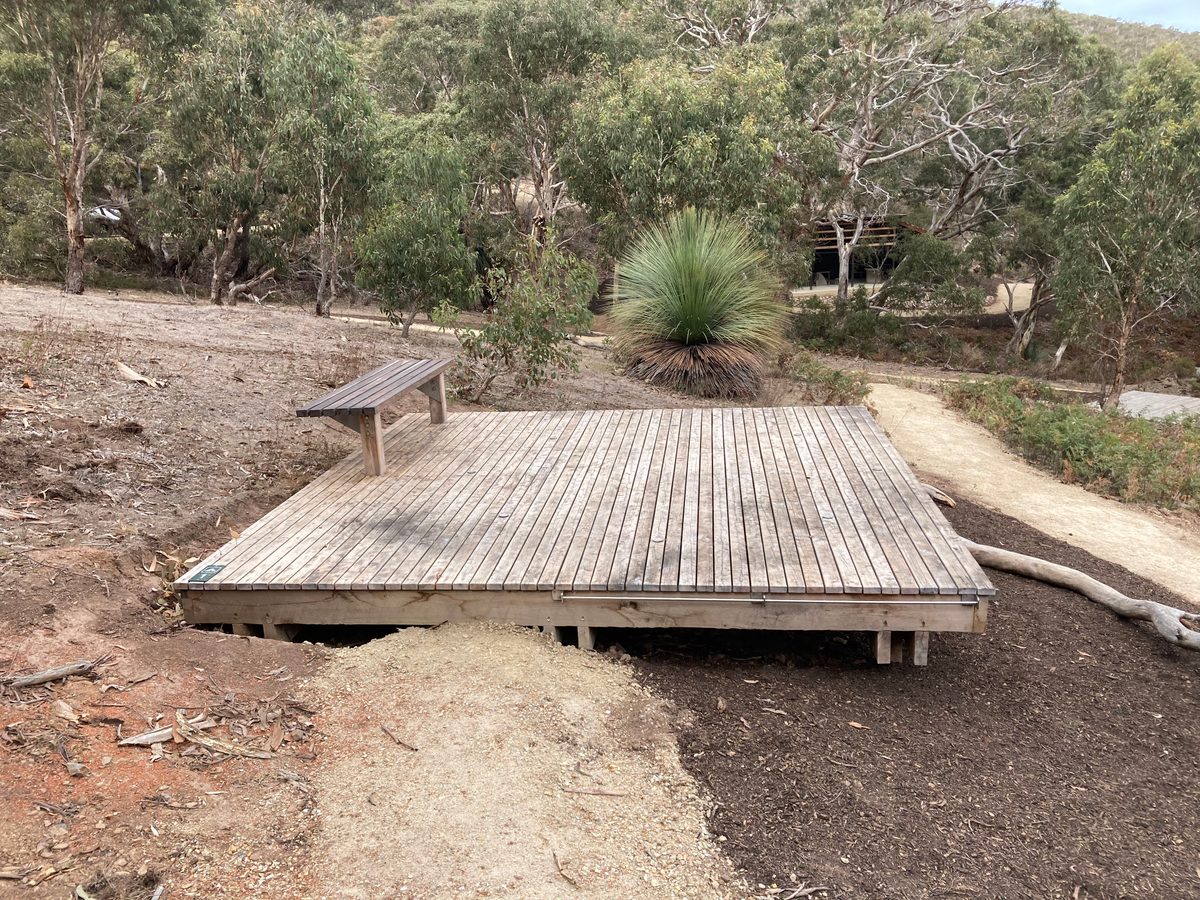 2. Yapari Ngawanthi
Also located in Deep Creek National Park is Yapari Ngawanthi (pronounced Yah-pah-ree Ngah-wun-thee) and also referred as Cliffs Campground.
The campground has a variety of elevated and unique settings amongst stringybark trees.

Top tip: Be sure to explore this campground as it has an elevated viewing platform to look out over the coastline to catch either a sunrise or sunset – or even a selfie!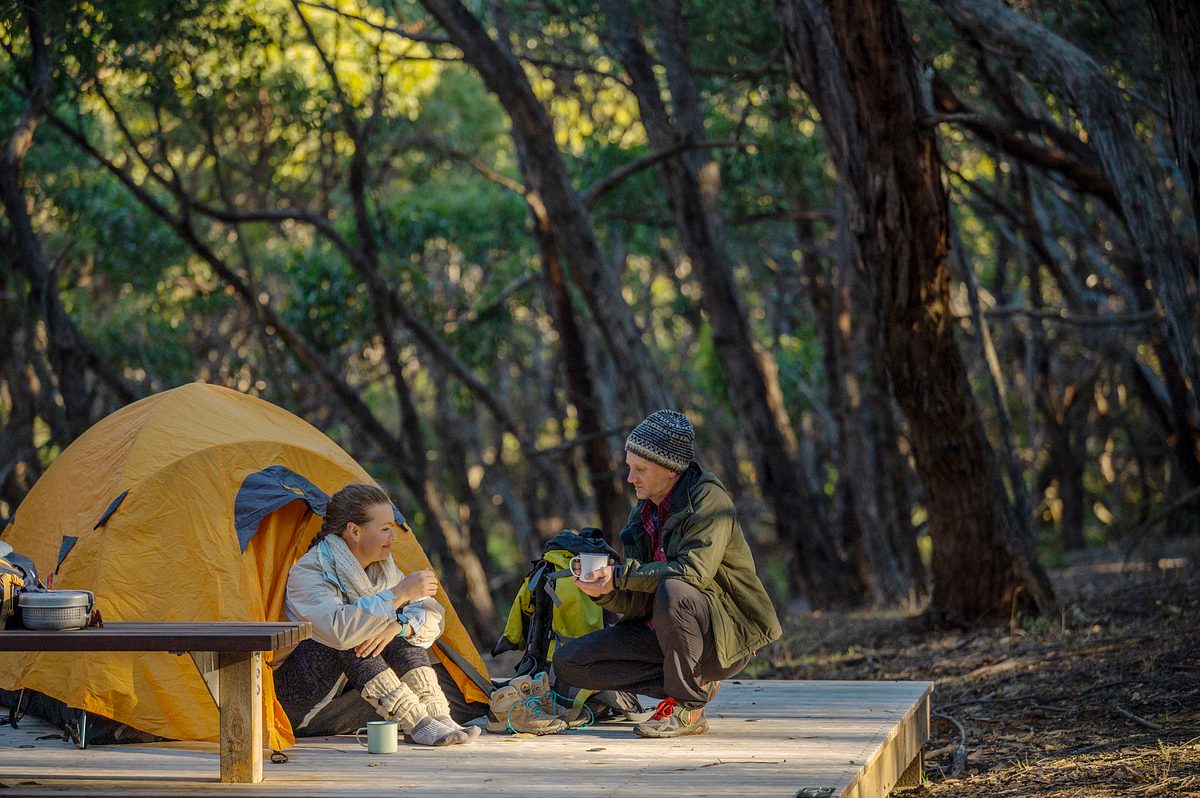 3. Kurri Ngawanth
Kurri Ngawanthi (pronounced Koor-ee Ngah-wun-thee), also referred to as Creek Campground, is located in Ballaparudda Creek Recreation Park.
Those who are familiar walking the Heysen Trail will recognise it as the former Balquhidder Campsite – but with a big facelift.

The campground offers a grassy outlook within rolling hills and is located alongside the Ballaparudda Creek.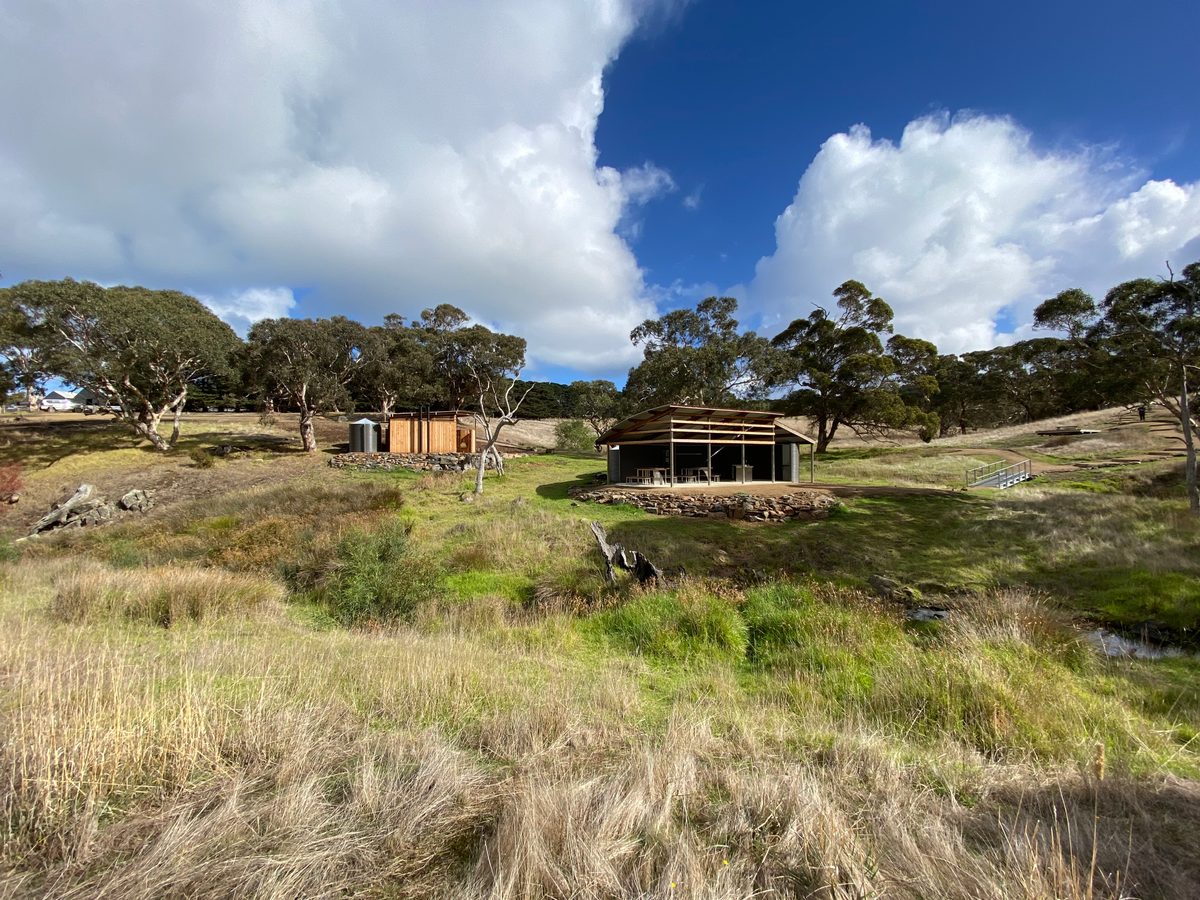 4. Natunyuru Ngawanthi
Natunyuru Ngawanthi (pronounced Nut-un-yoo-roo Ngah-wun-thee) and also referred to as Sand Dunes Campground is located in Newland Head Conservation Park.
This campground is perfect for those who are seeking that special place to unwind after exploring the nearby coastal experiences. You'll have the pick of sites surrounded by coastal white mallee. It's for those who are wanting an overnight option after catching views of coastal cliffs or long sandy beaches.
Top tip: Look out for echidnas and the small orchids that thrive in this location.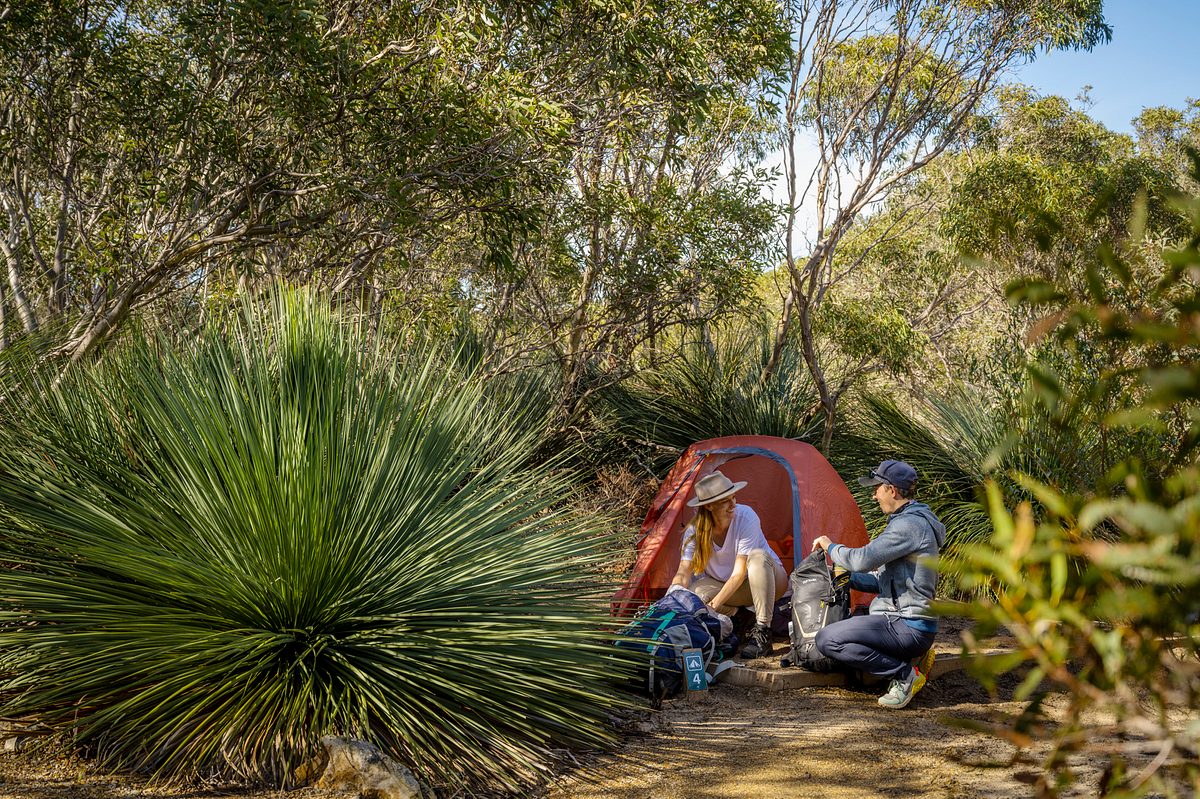 Things you should know before you go
The Wild South Coast Way is free to those entering national parks by foot, however campsites require an overnight fee and must be booked online prior to departure.
Check out the bushwalking options to choose from, and each is graded to help you narrow down what is achievable for you. The complete experience can be walked over 5 days and is recommended for the experienced multi-day walkers.
Parking is only available at day- visitor facilities and if you leave your vehicle overnight in Deep Creek National Park, you will need to pay a vehicle entry fee for each day that you are in that national park.
Given the remoteness of some locations along the trail, internet access is infrequent so we recommend to plan your trip in advance.
To start planning your next walk, check out our online resources for the Wild South Coast Way on the Heysen Trail.
Wanting to do a day trip and a shorter walk along the Wild South Coast Way, read on about our new day visitor facilities created at Goondooloo Ridge.