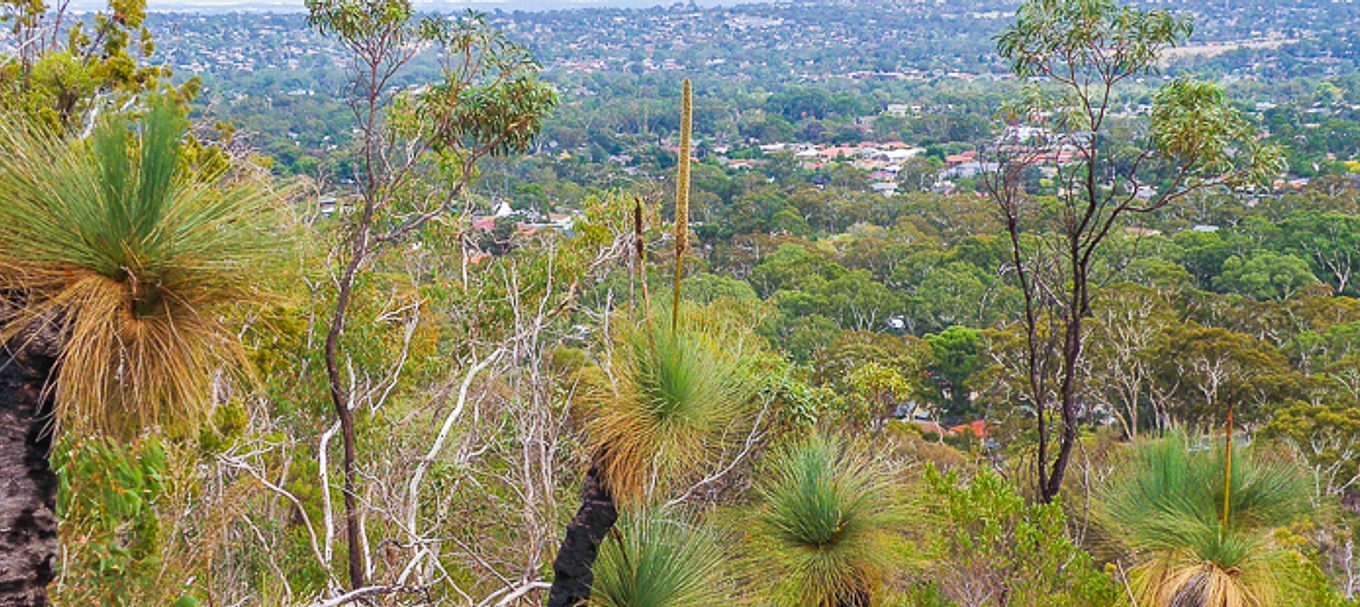 Take a walk in Anstey Hill Recreation Park: the Yellow-tail Loop
Explore a new walking trail each month in one of South Australia's national parks. Here's one to try next.
The Yellow-tail Loop is one of the more popular, yet challenging hikes found in Anstey Hill Recreation Park.
Located in Adelaide's north-east, this spectacular national park is easily accessible by both car and public transport, and offers visitors an escape into the wilderness only a stone's throw from suburbia.
Starting at Anstey Hill's main carpark (Gate 1), the Yellow-tail Loop stretches for 6.2 km around the heart of the recreation park, and takes approximately 3 hours to complete.
With hills to climb and plateaus to wander, this walk will reward those brave enough to embark upon it with wonderful views of the Adelaide CBD and surrounding suburbs, as well scenic vantage points to take in the beauty of the slopes and valleys of Anstey Hill.
The park is not only home to an array of native plants and flowers, including almost 40 species of native orchid, but provides valuable habitat for some of our most popular native animals, including western-grey kangaroos, koalas and short-beaked echidnas, all of which can be seen with relative frequency by park visitors.
Be sure to keep an eye to the skies, as the remarkable birdlife that calls Anstey Hill home will be sure to dazzle, in particular the namesake for the Yellow-tail Loop, the stunning yellow-tailed black cockatoo.
Your furry friends are also welcome to join you on this hike, as Anstey Hill Recreation Park is a dog-friendly national park. Just make sure to keep your dog on a lead no more than 2 m long and stick to the designated walking trails.
There are no bins in the park, so please take any rubbish away with you.
Getting there
There are several entrances for Anstey Hill Recreation Park, with the main entrance at Gate 1 being found off Northeast Road in Tea Tree Gully.
Before you go, download the park mapvia the National Parks and Wildlife Service SA website or download it on the Avenza Map App. This app uses your phone's in-built GPS to place your location directly onto the map.
Read our story to learn how it works.
What else can you do at Anstey Hill?
Newman's Ruins
A visit to the ruins of Newman's Nursery is worthwhile on any visit to Anstey Hill. Located at the intersection of Water Gully Track and Newman's Track, the ruins offer a fantastic insight into early life and economy in the area, and are great exploring fun for both adults and children.
There are remnant examples of some of the species the nursery grew back in its heyday dotted around, adjacent to the creek line, so have a wander and see how many you can spot!
Top tip: for those wanting to learn more, there are several interpretative signs at the ruins, which provide more information about the history of the site and local area.
Mountain biking
For those who are a little more thrill-seeking, why not take on one of the mountain biking trails and explore the park by bike?
Specially designed shared-use trails allow you to explore the park from a different perspective, with 2 dedicated mountain bike-only trails also located at Anstey Hill: the Grand Canyon Downhill and Wildside Downhill.
Be sure to check which trails you are planning to ride along, as some do not permit mountain bikers. When utilising shared-use trails please remember to consider hikers and other park users.
Top tip: check out our story handy tips for mountain-biking in national parks to find out a little more about mountain biking in parks.