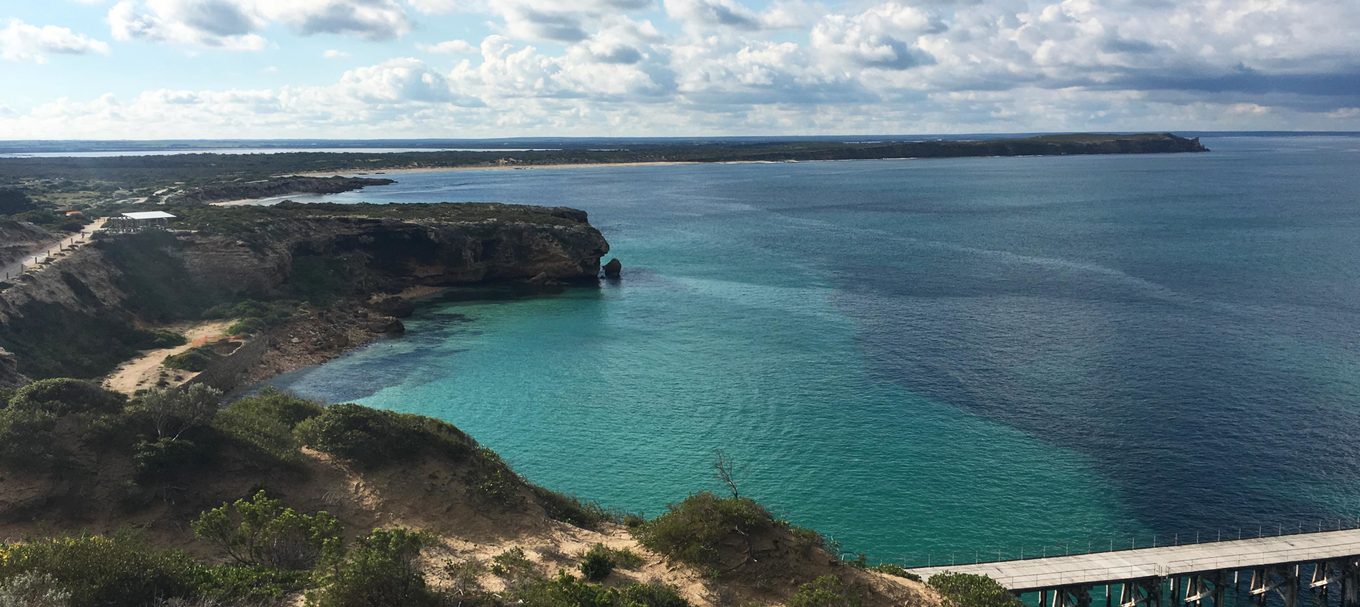 Take a walk in Dhilba Guuranda-Innes National Park: the Stenhouse Bay Lookout Walk
Explore a new walking trail each month in one of South Australia's national parks. Here's one to try next.
At the tip of South Australia's Yorke Peninsula, about 3 hours' drive from Adelaide is the picturesque Dhilba Guuranda-Innes National Park.
The park is filled to the brim with incredible spots for camping, fishing and surfing, and has a variety of bushwalking trails that you can head out on to explore the park.
One of these trails is the Stenhouse Bay Lookout Walk – a 2 km loop that will take about 1 hour to complete.
The trail starts from the jetty car park and takes you around the clifftops above Stenhouse Bay, where you'll be treated to spectacular views of Investigator Strait and the Stenhouse Bay jetty.
There are 9 lookouts along the trail, and interpretive signage provides an insight into some of the natural and cultural history of the area.
There's plenty of wildlife to be seen along the trail, such as the tammar wallaby – a species that was once extinct on the Australian mainland but now has a thriving population in the park thanks to a reintroduction program in 2004.
Keep an eye to the sky for the white bellied sea eagles and osprey that nest, breed and hunt in the area. You may also spot one of the park's resident emus taking a stroll.
Looking down, check the coastal waters for dolphins and sea lions. In winter, you might even be lucky enough to spot southern right whales as they migrate from sub-Antarctic waters to the waters off the South Australian coast to calve and mate.
Getting there
Dhilba Guuranda-Innes National Park is located on the south-western tip of the Yorke Peninsula, roughly 300 km from Adelaide via Port Wakefield, Ardrossan, Minlaton and Warooka.
Travel along the Yorke Highway, which leads to the park entrance. Stop in at the visitor information centre to have a chat with the friendly park staff who can provide you with a map of the park and any tips and information.
Follow signage to the Stenhouse Bay Jetty, about 8 minutes into the park, and park in the jetty carpark for best access to the trail.
Things to prepare before you go
Before you head into the park, be sure to buy your vehicle entry pass either online or from one of the booking agents on your way.
You may also like to download a park map to your phone while you still have clear internet reception.
Alternatively, a great way to navigate your way around the park is through the Avenza Maps app, which uses your phone's built-in GPS to plot your real-time location onto a map – no internet reception required! Find out more about how it works.
There are limited facilities in the park, so make sure you pack enough drinking water and food. It's also a good idea to pack sun protection (a hat, sunglasses and sunscreen) and insect repellent.
It's also essential you wear suitable clothing for hiking, such as long pants.
There are no bins in national parks, so you'll also have to think about how you can take your rubbish home. Find out more about how you can leave no trace.
Want to explore more of this beautiful park? Check out our guide for a day well-spent in the park, and get Ranger Mark Davison's insider tips on the best places to visit and must-do activities.
Main image: views from lookout 6 on the Stenhouse Bay Lookout Trail (image courtesy of Walking SA).