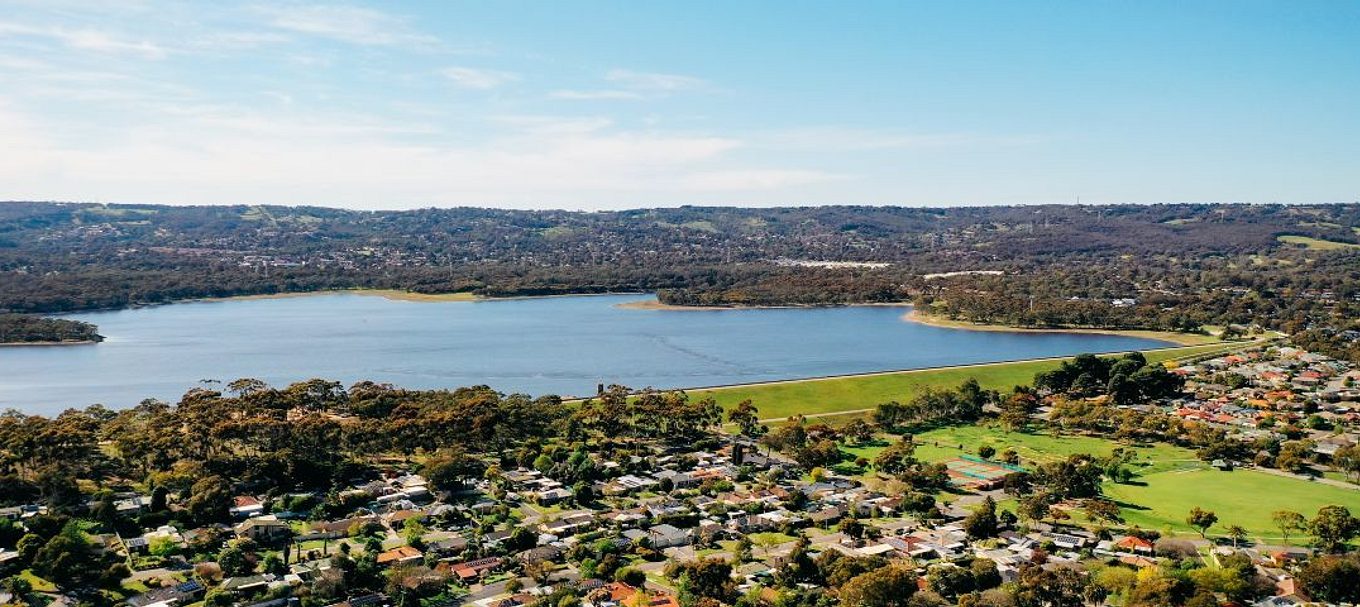 5 activities you can now enjoy at Adelaide's Happy Valley Reservoir Reserve
Happy Valley Reservoir Reserve is a must-visit destination this summer. Here's what you can do when you get there.
South Australia's reservoir reserves have been opening to the public for recreational access since 2019, and Happy Valley Reservoir Reserve is the 10th and latest to have its gates swung open – as of last weekend.
Nestled in Adelaide's southern suburbs just 30 minutes from the CBD, this beautiful green open space brings a range of land and water-based activities.
With the weather warming up, there's endless opportunities for adventure and fun.
With a 20 km trail network and 110 hectares of water, Happy Valley Reservoir Reserve combines fitness, relaxation and wellbeing.
Here's what you can do when you're there:
1. Fishing
Happy Valley Reservoir should be at the top of your list of new places to go fishing.
With a fishing permit, you can fish from the shoreline, or on the water from a canoe or kayak.
The reservoir has been freshly-stocked with about 1000 catch-ready Murray cod, improving the fishing experience for anglers keen to drop a line in for the first time.
The stocking of Murray cod – one of the largest native freshwater fish in Australia – is a first for Happy Valley Reservoir, and forms part of a broader fish stocking plan that will eventually also include other species like rainbow trout.
Prized among recreational fishers, catching one can be a challenging and exhilarating experience.
As they are a protected species, they are catch and release only. So if you're lucky enough to catch one, keep it under water once you've reeled it in, gently remove the hook and set it free.
Top tip: If you happen to catch carp or redfin in the reservoir, they must be taken home for cleaning and consumption as they cannot be returned to the water.
2. Walking and running
A walk along some of the reserve's 20 km of trails takes you along the water's edge, through a pine forest, native flora and open grassy areas.
If you're looking for something a little more vigorous, there is also a trail link to Glenthorne National Park-Ityamaiitpinna Yarta, making the combined area more than 1500 hectares.
Want to up the ante? Put on your trail runners and enjoy it all at a faster pace!
3. Cycling
All paths at Happy Valley Reservoir Reserve are suitable for mountain bikes – and it's a great way to experience the reserve.
These paths are shared with pedestrians, so whether you're heading out on two-wheels or on foot, make sure you're considerate of all other trail users too.
4. Kayaking and canoeing
You can choose your own experience with a kayak or canoe – from a short meander to a full day's kayaking adventure exploring the more than 110 hectares of water and shoreline.
There is a launch pontoon and a shoreline beach launch area to help get you on the water – no matter what the water level.
The western side of the reservoir also features a kayak drop-off area along with internal car and trailer parking, ensuring you can seamlessly get on the water.
5. Picnicking
Happy Valley Reservoir Reserve is the perfect place to stop and enjoy a picnic with friends or family.
There are two open space picnic areas with barbecues and shelters, or you can pack a picnic basket, blanket and chairs and discover your own private spot to sit back, relax and enjoy this uniquely beautiful place.
More information about recreational access at South Australia's reservoir reserves, including conditions of entry, can be found on the Reservoirs South Australia website. Or check out our story for all the details:10 South Australian reservoir reserves that are now open to the public.