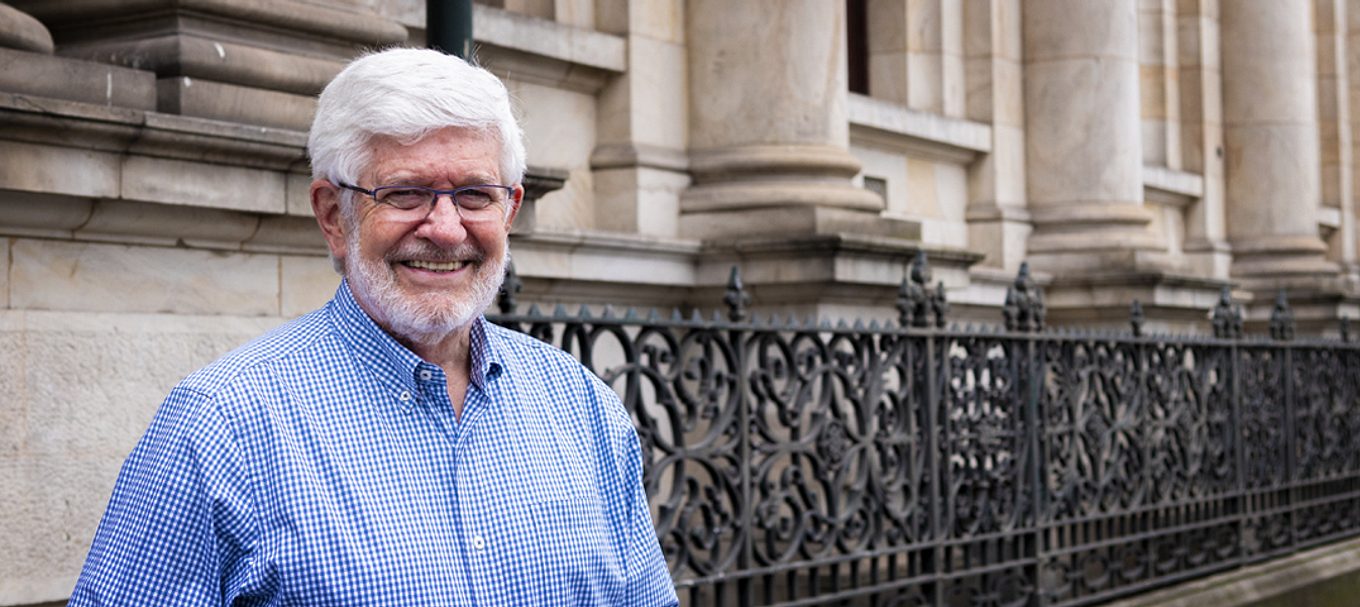 5 historic buildings you'll see on Adelaide's Edmund Wright Trail
GUEST BLOG: Hear from 'Mr South Australia' Keith Conlon about this unique, short walking trail in Adelaide's CBD.
If you live in Adelaide or have visited before, you might have unknowingly walked past some of the city's most elaborate buildings, like Edmund Wright House.
Edmund Wright House on King William Street is an ornate old bank building that stands as a lasting symbol of the South Australian community's innate love of heritage, as it was saved from demolition in 1971 by a long and loud campaign.
Would you like to know more about the colonial architect that the building honours?
Read on as veteran broadcaster and Chair of the South Australian Heritage Council, Keith Conlon, showcases the historic buildings that make up the easily walkable Edmund Wright Trail.
In just an 800-metre strip, the trail passes five prominent King William Street buildings that Edmund Wright co-designed, leaving a lasting contribution to the feel of Adelaide today.
Here's Keith's commentary about the five historic buildings you'll see:
1. The GPO – northwest corner of King William Street and Franklin Street
London trained, Edmund Wright was well established in Adelaide when he won a competition to design a new General Post Office with partner E.J. Woods.
As with his other successful entries in competitions, the original concept was much changed by others, to reduce costs.
The General Post Office's grand Victoria Tower is much shorter than first envisaged, for instance. Nevertheless, it was Adelaide's tallest structure for nearly a century after its completion in 1872.
The building is State Heritage listed, which will protect its look during the 2020 transition to become part of a Westin Hotel with an accommodation tower behind.
Top tip: Listen for the chimes from the bell tower. The bells were cast in England to replicate the sounds of the Westminster Abbey peal.
Adelaide General Post office
2. The Adelaide Town Hall – 128 King William Street

The Adelaide Town Hall was lauded as the finest municipal building in the Southern Hemisphere when it was opened in 1866.
A mighty symbol of the strength of a young colony helped along by a copper mining boom, it also signifies the rise of young architect, Edmund Wright.
He had arrived in Adelaide in 1849, and within a decade he'd reached the role of Mayor and won a competition to design the Council's Town Hall (with partner E.J. Woods).
Actually he won two competitions! Lack of funds killed off the first attempt, and also compromised the second design. In fact, the admirable cut stonework in the Victoria Tower only came about after a successful community campaign for more money.
The Adelaide Town Hall has seen some huge celebrations – most recently, the arrival of Father Christmas in town for the Christmas Pageant. From now on, his ceremonial wave comes from the Adelaide Town Hall balcony.
Top tip: Find the heads carved above the arches on the street – Queen Victoria, her Consort Prince Albert, and Governor Sir Dominick Daly.
Adelaide Town Hall
3. The Bank of Adelaide – southwest corner of King William Street and Currie Street
This building's design was another competition winner – this time for Edmund Wright and his architectural partner from 1879, J.H. Reed.
The Bank of Adelaide head office is a reminder of Wright's love of the Italianate style of classical detail.
The corner section was completed in 1881, with an extension down Currie Street coming much later, in 1940.
Wright became influential in architectural circles, and wrote about the advantage of Italian features in our similarly hot Mediterranean climate – high ceilings and long narrow windows to combat summer temperatures, for instance.
Top tip: Look out for the grand entrance and imagine how much more striking it must have looked before the stone layers of alternate light and dark stone were painted over.
Bank of Adelaide
4. Edmund Wright House – 59 King William Street
The most ornate of our five buildings, it is easy to see that the Bank of South Australia was thriving on a triple boom in the colony's economy.
In the 1870s, wool, wheat and copper were big contributors to the city as well as the regions. Wright partnered, this time, with Melbourne architect Lloyd Tayler for this building's design.
During the fight to save the 'no-longer-required' bank from being demolished in 1971 to make way for an office tower, sculptor John Dowie described Wright as 'the Christopher Wren of Adelaide' because of his substantial legacy of classical buildings.
Many South Australians will remember the Bank of South Australia building's elaborate banking chamber and entrance hall, especially as it housed the Registrar of Births, Deaths and Marriages for several years after being saved by the Dunstan government purchase.
Top tip: Turn and look across to the first shop in from the Beehive Corner on Rundle Mall. It's there that Wright, as a young engineer/architect from London, set up his practice on arriving in 1849.
Edmund Wright House
5.Parliament House – northwest corner of King William Street and North Terrace
What a bookend for our Edmund Wright Trail! With its handsome rows of classical marble pillars, it was the high point of the architect's career.
There was a certain similarity to its progress, however. Yes, it was another competition win for Wright and Lloyd Tayler, and yes, its design was significantly altered by others to cut costs.
The original design even featured a massive dome, rather like St Paul's in London. Not only did that disappear, but only the first half of the building was attempted in the 19th century.
Wright died in 1888, just a year before the opening of the House of Assembly (the half closest to the Railway Station). Exactly 50 years passed before we gained a complete Parliament building on North Terrace.
Top tip: Book a tour of the interiors of both Houses of Parliament. Inside, the contrast is striking between the 1880s Victorian décor of the House of Assembly, and the 1930s modernist and simple design of the Legislative Council.
Parliament house