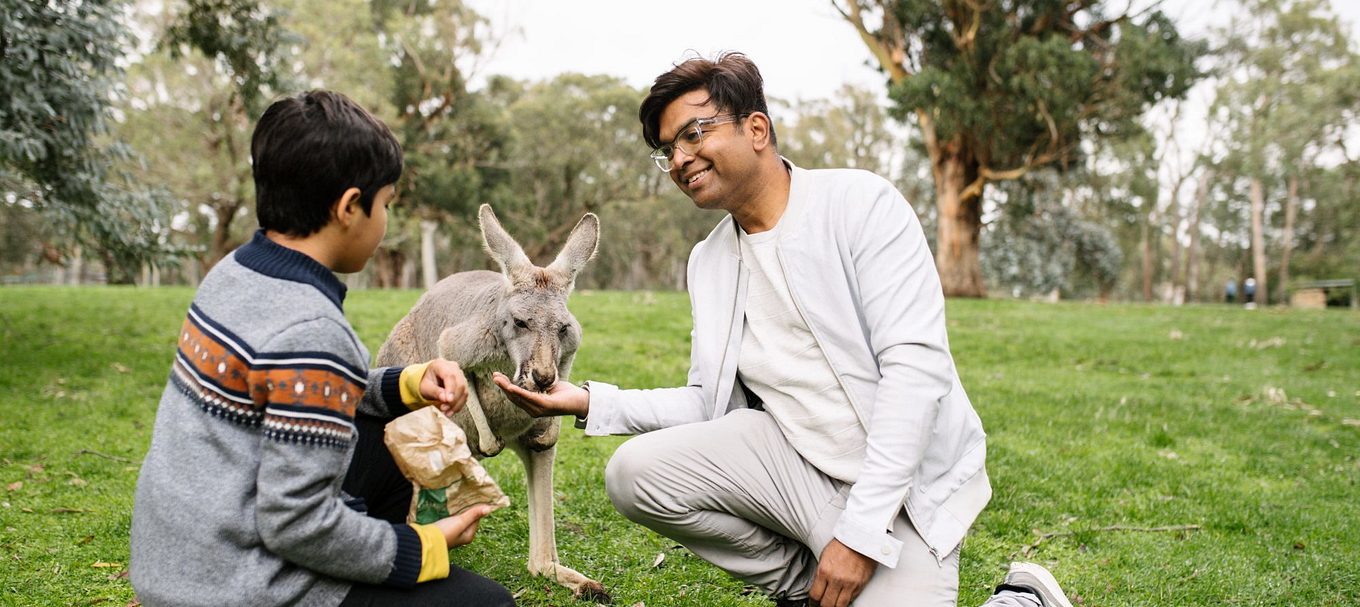 Where to spend time with native animals these school holidays
Take the kids wildlife-spotting these school holidays with a visit to Cleland Wildlife Park. Here's what's in store when you get there.
Still wondering about the best way to give your kids a nature experience these school holidays without having to drive for hours?
If you're looking to swap screen time for green time, Cleland Wildlife Park in the Adelaide Hills might be just what you're after.
From full day activities and self-guided trails to story-time on the lawn, there's plenty to keep the whole family entertained.


Here's what you can expect when you get there:
What's on?
1. Wildification
Step back to a time to when giant goannas and marsupial lions roamed the Australian bush.
Kids can join this full day program and experience hands-on fun activities and discover what megafaunaexisted in Australia many years ago, and what animals resemble them today.
Sessions for Wildification are designed for specific age groups so there's sure to be something for everyone. Check the websitefor all the details.
2. Self-guided trails
Take up the Easter challenge. Follow the 'Where's Bilby?' trail to discover some fascinating features and interesting bilby facts on an adventure around the park.
Or join the 'Mega Monsters of the Past' self-guided trail and discover what megafauna existed in Australia many years ago and what animals resemble them today.
Find out more about these trails on the Cleland website.
3. Storytime on the lawn
Held on each Friday of the school holidays (except Good Friday), join the Cleland keepers as they share some fun tales about the animals that call Cleland home.
Each session will focus on one native animal. Cleland staff will read a storybook, tell some amazing facts and recommend where you can find that animal within the park.
Mats will be provided on the café lawn to make it extra comfy.
What else is there to do?
Want to make the most of your day at Cleland? After the self-guided tour, story time or a Wildification session, why not spend the rest of the day exploring the park?
If you need to refuel first, grab yourself a tasty lunch at Cleland's Barking Gecko Café or bring some snacks from home, find a cosy spot on the lawns (you're welcome to bring your own picnic rug!) and chill out amongst Australia's most iconic animals.
It's probably lunchtime for some of Cleland's furry friends too. You can purchase a bag of feed at the café and hand-feed the animals that are roaming through the park by moving slowly and quietly towards them.
While we're talking food, you might also like to check out the program of Animal Feeding Times, which is when Cleland's keepers feed the animals and share some stories about their table manners!
After that, wander at your leisure. Grab a park map when you buy your tickets and make your way around the park, making sure you don't miss anyone. Oh, and have your phone handy for photos.
Want to make the most of your visit to Cleland. Here is everything you need to know to plan your perfect Cleland itinerary.