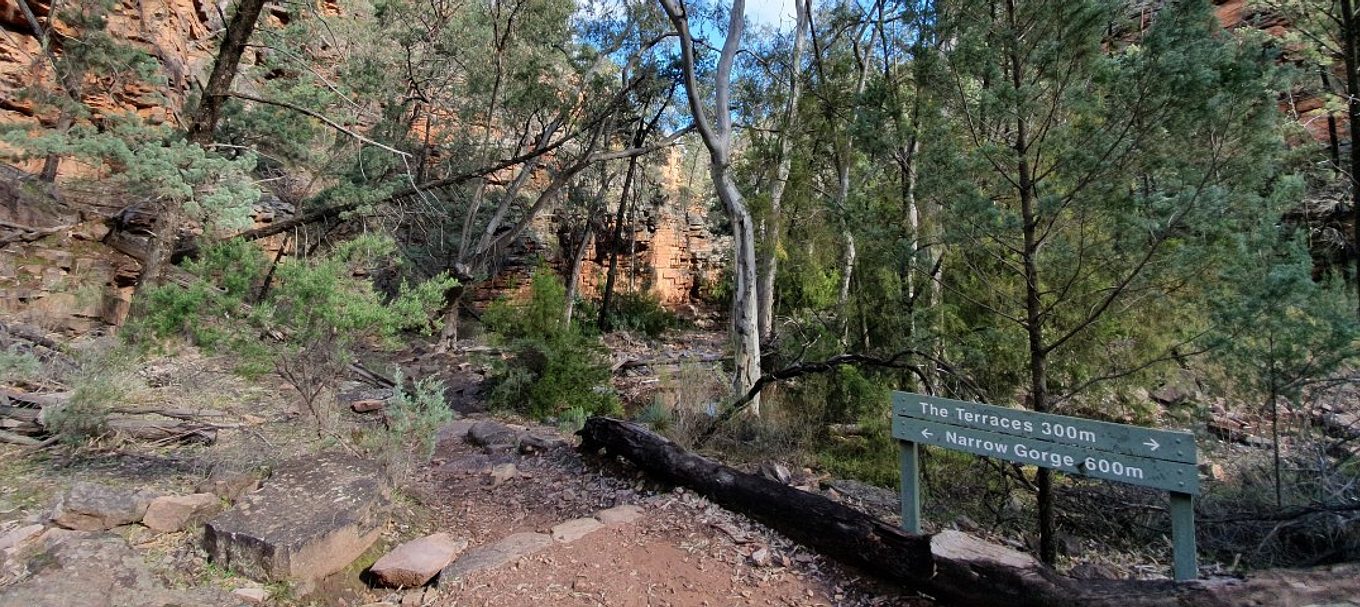 Take a walk in Mount Remarkable National Park: The Narrows Hike in Alligator Gorge
Explore a new walking trail each month in one of South Australia's national parks. Here's one to try next.
About 4 hours north-west of Adelaide is the renowned Mount Remarkable National Park. Known for its popular bushwalking trails, there are some incredible views to be had – the 960 m-high Mount Remarkable Summit sits above the Willochra Plain and looks out to the Spencer Gulf.
The Narrows Hike is a popular hike which takes you through the full length of Alligator Gorge.
Starting at the Alligator Gorge car park, the trail descends the steep steps down into Alligator Gorge.
Take your time to head a few hundred meters right once you reach the bottom of the steps to view The Terraces before heading back the way you came and continue past the bottom of the steps to pass through the spectacular Narrows. You'll know you've reached this section when the towering ochre walls close in and are only few metres apart.
Make sure you're wearing sturdy shoes, as the gorge floor is uneven and can be slippery when wet. This loop trail will take you back to the Alligator Gorge car park via the Blue Gum Flat picnic area.
This trail is a great chance to spot some wildlife in the park. Keep a look out for kangaroos, emus and wedge tailed eagles flying high above.
Top tip: Vehicle entry fees apply to visit Mount Remarkable National Park. Before you visit, go online to purchase a pass or visit one of our booking agents to pay in person.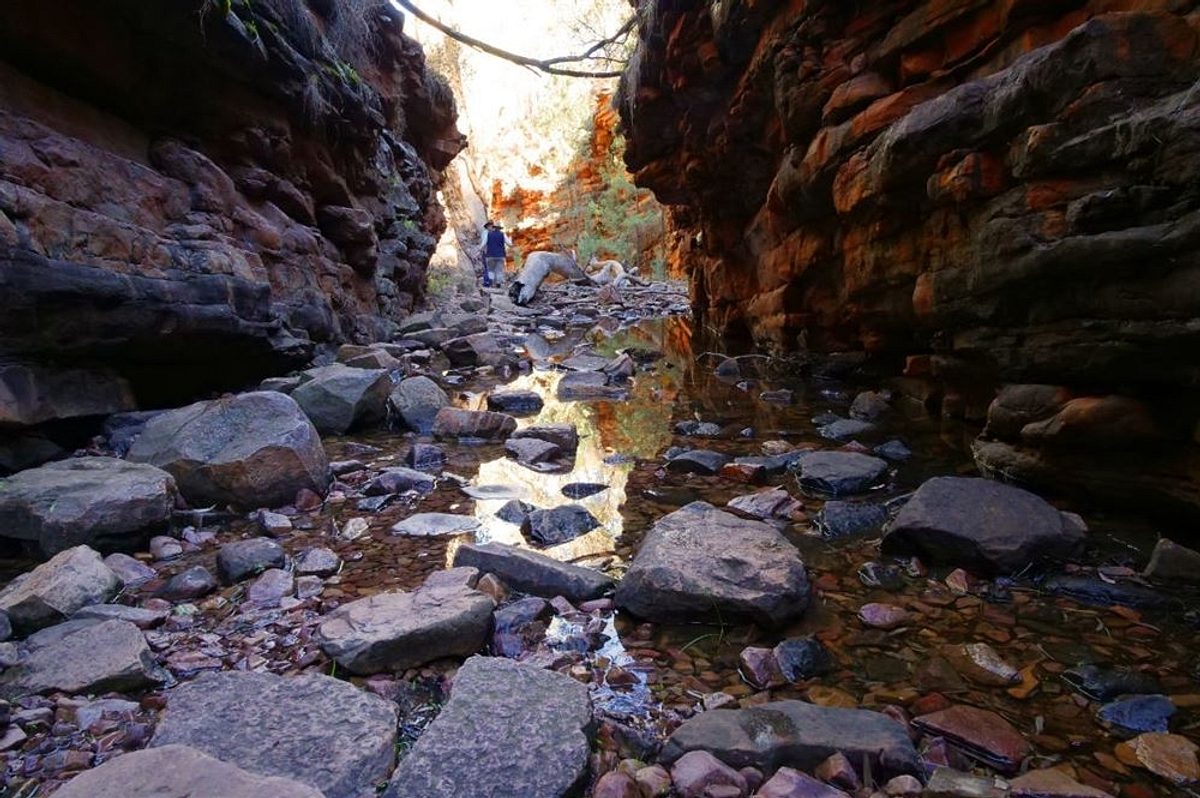 Getting there
The park is located 45 km north of Port Pirie. Access is from National Highway One via Mambray Creek.
Alligator Gorge can be reached via a picturesque – but sometimes challenging – drive, commencing 1 km south of Wilmington on Main North Road. This road is very steep and is unsuitable for caravans, camper trailers and buses.
You can also walk into the park from the adjacent town of Melrose, which lies at the foot of Mount Remarkable.
Top tip: There are no public roads that pass through Mount Remarkable National Park. Horrocks Pass and Port Germein Gorge are the nearest public roads to the park where you can pass over the Flinders Ranges in an east-west direction.
Before you go, download the park map from the National Parks and Wildlife Service website, or download it on the Avenza Map App. This app uses your phone's in-built GPS to place your location directly onto the map. Read our story to learn how it works.
Stay in the park
There are a variety of campsites available at Baroota and Mambray Creek campgrounds.
Mambray Creek Campground is a well-established campground with 53 campsites set among the river red gums. The sites are level and offer various levels of shade and protection from the wind.
Top tip: This campground contains hot showers and toilets, a must if you're going camping during the colder months!
As part of the Southern Flinders Precinct project, Mambray Creek Campground will soon undergo a variety of upgrades, providing visitors with an even better experience.
Baroota Campground is located near the western entrance to the park and has 10 campsites that offer various levels of shade and protection from the wind.
Top tip: To reserve your campsite, book online up to 12 months in advance.
If camping isn't your thing, don't fret, there are a few accommodation options available. Alligator Lodge has room for 10 people, while Mambray Creek Cabin has room for 4.
Alligator Lodge is a spacious three bedroom self-contained lodge set into the hillside. It's perfectly located to explore the park's numerous bushwalking trails and a short drive to the park's scenic gorges.
The Mambrary Creek Cabin is situated in the main campground at Mambray Creek. The front verandah provides an ideal spot to relax and enjoy the sounds of nature.
Top tip: You'll need to provide all bedding, linen, pillows, towels, tea-towels and your esky. All cooking utensils, crockery, cutlery are provided.