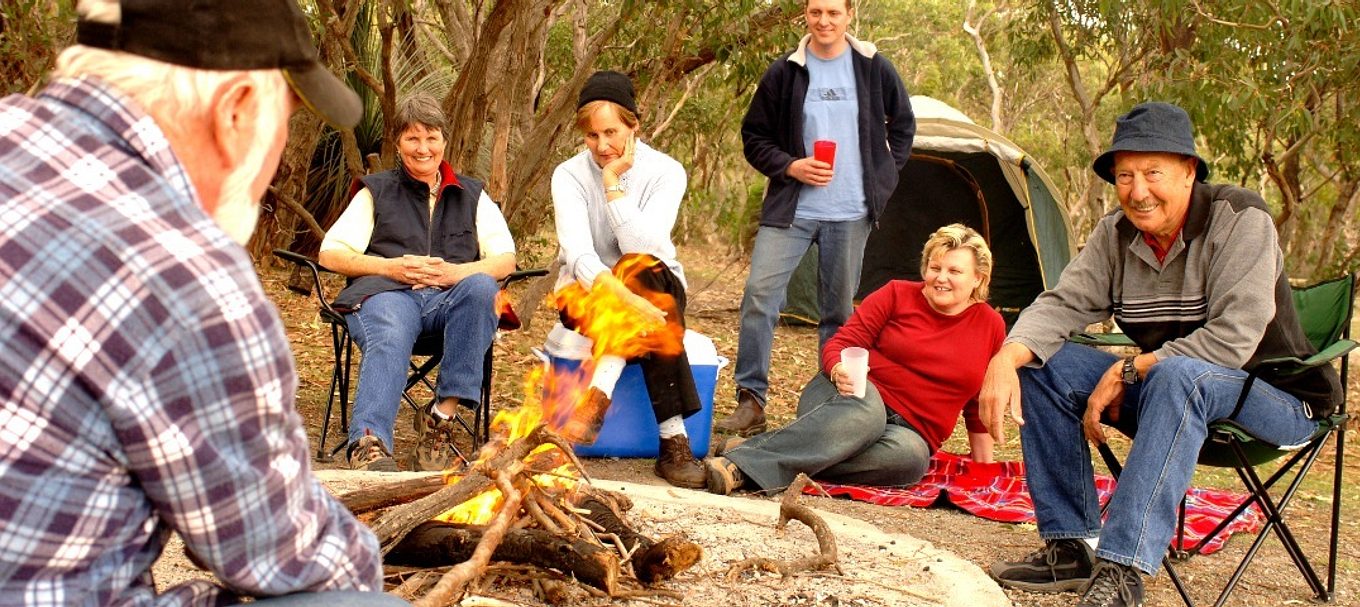 Everything you need to know about when and where to enjoy a campfire in SA's national parks
Love relaxing around a campfire in a national park but not sure when or where you can have one? Here's the lowdown.
The onset of crisp, cold autumn nights has many campers keen to light a campfire during their next stay in a national park. But how do you know when it is okay to light a small campfire, and when it isn't?
Each year across South Australia a Fire Danger Season is set by the South Australian Country Fire Service (CFS). Fire restrictions in national parks usually start at the same time as the Fire Danger Season for that area, however they won't always finish at the same time. Fire restrictions may be removed before Easter so national park visitors can enjoy a campfire over the Easter weekend, as long as there are no Total Fire Ban days declared.
Find out how this works.
How do Fire Danger Season dates get set?
As the bushfire hazard leader for South Australia, CFS sets Fire Danger Season dates for each Fire Ban District, with local bushfire management committees.
There are 9 committees across South Australia: Adelaide and Mount Lofty Ranges; Fleurieu Peninsula; Flinders, Mid North and Yorke Peninsula; Kangaroo Island; Limestone Coast; Lower Eyre Peninsula; Murray Mallee; Outback; and Upper Eyre Peninsula.
Each committee includes local communities in decision-making with National Parks and Wildlife Service (NPWS) represented by its Regional Fire Management Officers.
The committee gets together to consider the seasonal outlook, local conditions, soil dryness, curing, and how much harvest has been completed in their district – along with a number of other factors. As these factors vary year to year, Fire Danger Season dates can change from one year to the next.
After considering all the variables, bushfire management committees recommend dates to the CFS Chief Officer who declares and gazettes the final dates.
How do national park fire restriction dates get set?
Around the same time as Fire Danger Season dates are declared, the NPWS fire management team plans fire restriction dates for public land it manages.
A spreadsheet is available for quick and easy searches on fire restrictions for every park.
Mostly the start of fire restrictions in national parks align with the start of the Fire Danger Season in each Fire Ban District, however local factors are taken into consideration for each park and occasionally the dates differ.
Then there are parks that sit over 2 Fire Ban Districts, so NPWS makes a call with its dates, normally choosing the earliest start date of the two districts.
Fire restrictions in national parks are usually lifted just before Easter. This means that although it may still be in the Fire Danger Season, campfires might be allowed in the park you're visiting, as long as it isn't a Total Fire Ban day.

How do I know if and when I can have a campfire in a national park?
It's important to remember that many national parks don't allow solid fuel fires (wood and charcoal) at any time of the year.
To check whether a campfire is allowed in the park you want to visit, find a park on the NPWS website and search on 'Camping' / 'Campfires (seasonal restrictions apply)'. This will display all parks that allow campfires.
Each park is unique so remember to also check the full list of park fire restrictions to see what rules apply to any NPWS national park.
Don't forget that if a Total Fire Ban is declared, no fires of any kind are allowed, so it's important to check the CFS website.
What other rules are there for lighting campfires?
So you've checked that you can have a campfire at your chosen park for the dates you're going to be there. Now it's time to brush up on the other rules, because even when campfires are allowed in a national park, strict conditions apply to lighting them.
Here are a few tips for you to follow while you're visiting a national park:
Bring your own firewood, as collecting firewood in national parks is prohibited. Make sure the firewood is free from dirt and weeds, to avoid bringing pest species into the park. Read more about the rules for collecting firewood.
Consider the weather when lighting a fire – make sure the fire stays where it should by not lighting a fire on a hot and windy day.
All fires and barbecues (including gas and liquid fuel) are not allowed on days declared by the CFS as Total Fire Ban. To find out whether a Total Fire Ban has been declared for the park you are visiting refer to the CFS website.
Campfires must be carefully managed once lit – they must be in designated areas and controlled until extinguished. Make sure the area around and above the fire is clear to four metres and have a responsible person near the fire at all times with water or an appropriate extinguisher on hand. Read more in our story about safely enjoying a campfire.
This information relates to national parks land only. Restrictions under the Fire and Emergency Services Act 2005 may remain on other land. For further details visit the CFS website.
Now that you know how to find out when and where to have a campfire, get your shopping list out as you'll want to add ingredients for thesetasty campfire treats.