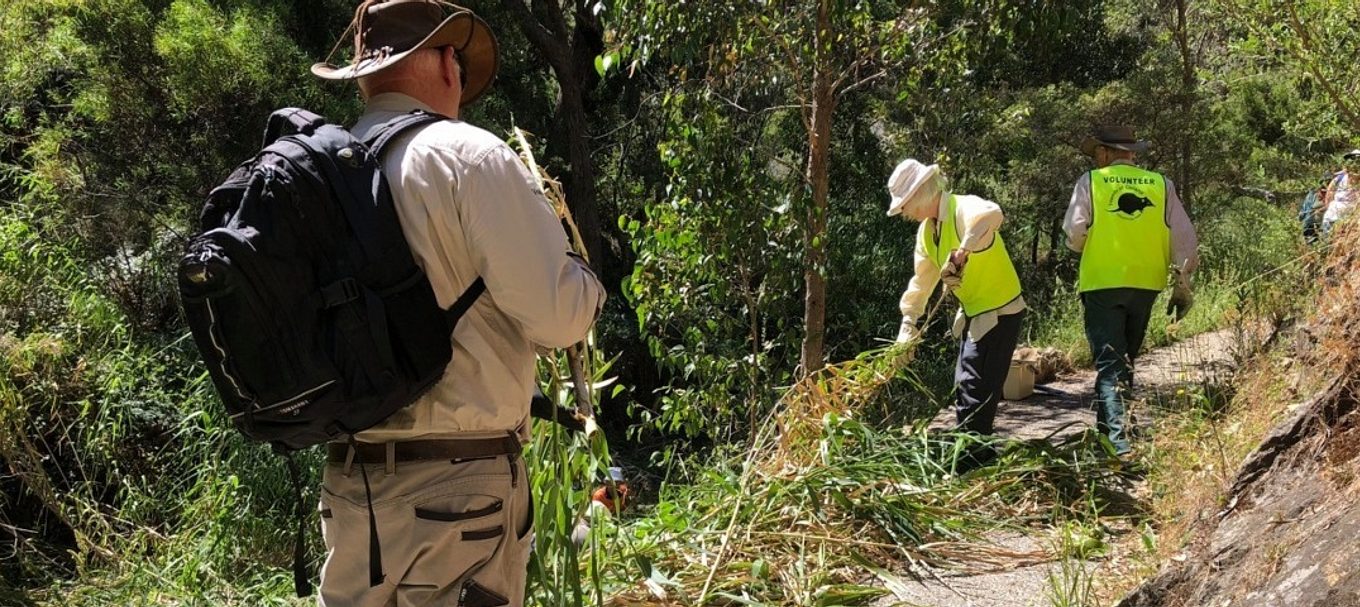 How to become a volunteer ranger in South Australia's national parks
Do you love spending your free time in nature? Learn what a volunteer ranger does and how you can become one.
If you have a passion for the environment, are 18 years old or over, and can spare a minimum of 75 hours a year (which is the equivalent of 10 working days), then South Australia's volunteer ranger program might be the thing for you.
As a volunteer ranger, you can make a difference by connecting people with SA's national parks and, in turn, help them care for our environment.
Volunteer rangers will play a key role in running activities in the state's parks, like guided walks to help visitors enjoy our natural wonders, as well as get involved in park maintenance and conservation programs.
You might be thinking, 'yeah, that's nice, the environment is cool, but why would I want to give up my time?' Well here's five reasons to apply to be a volunteer ranger in SA:
1. Reap the benefits of being outdoors
There's lots of research that shows that spending time in nature is good for us.
Being outside is a mood-booster, it helps your brain to function better and provides rejuvenating fresh air to your lungs.
2. Build your skills
Being a volunteer ranger means you'll learn lots of new skills and knowledge to give you the confidence to speak with park visitors and support nature conservation across SA's parks.
You'll be given the opportunity to learn about the native plants and animals that live in the state's parks, as well as tricks of the trade to support nature conservation.
You'll also be given the chance to share your learnings, as well as build your public speaking skills by leading guided tours of parks.
3. Network with like-minded people
Volunteering is one of the best ways to meet people with similar interest and make some life-long friends!
Not only will you gain knowledge and skills through training, but also by working with other like-minded people.
4. Gain valuable experience
Being a volunteer ranger is a valuable stepping-stone to pursue a career in the environmental sector, as well as other professions.
It's your chance to get a glimpse of the behind-the-scenes management of our national parks, meet experienced park rangers and other environmental experts, gain valuable experience and boost your knowledge about our parks.
5. For the greater good
As a volunteer ranger, part of your role is to help visitors connect with the park. But it's also bigger than that.
By connecting people with parks you can also help them better understand the importance of nature, which, in turn, encourages them to care for the environment.
Ultimately, this will help create a more environmentally conscious society.
Apply to be a volunteer ranger
Volunteer rangers are currently being sought in the Far West, Riverland and Murraylands, Southern Yorke Peninsula, Mid North, Kangaroo Island, and Flinders and Outback areas.
Volunteer rangers will support the wonderful work already being done by existing park volunteers and park rangers.
For more information and to apply to be a volunteer ranger visit the website.
Wondering how else you can get involved and care for the environment? Check out our stories about othervolunteering opportunitiesandcampground hosting.
This story was originally posted in July 2019 and has been refreshed with information on the latest intake of volunteer rangers.