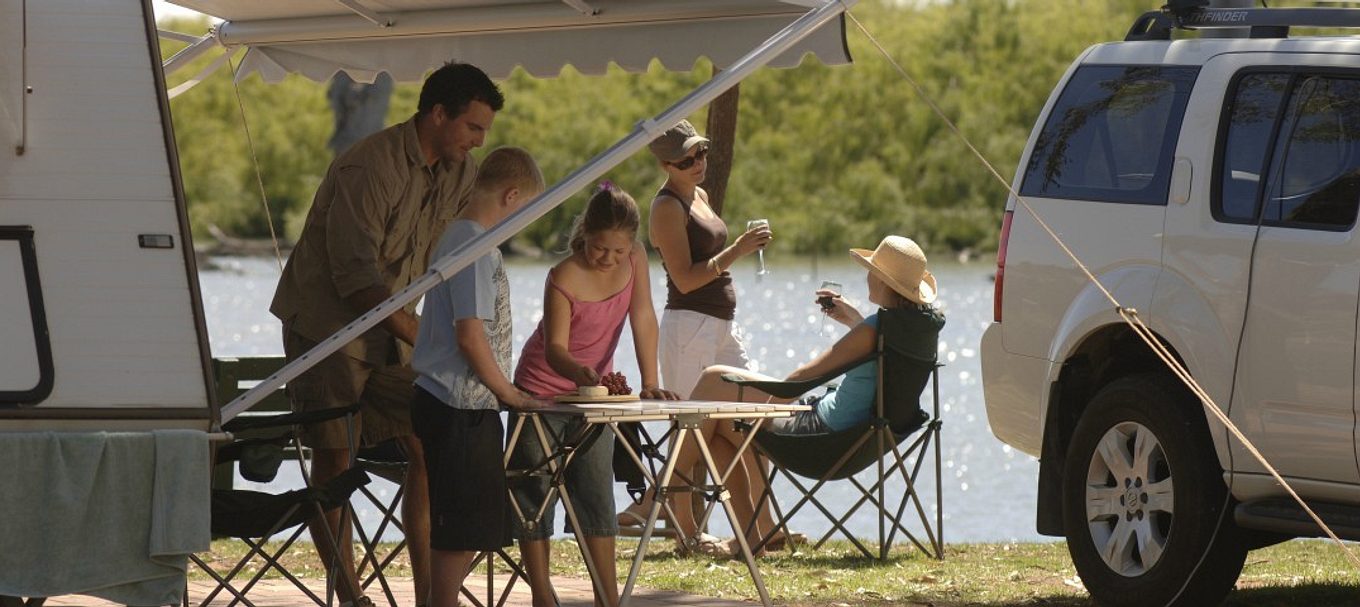 5 holiday adventures to enjoy along South Australia's River Murray
If a break by the river floats your boat, read on for some great school holiday ideas to keep all ages entertained.
It's that time of year again – school holidays. So if you're pulling out your hair for ideas to keep the kids busy, look no further than the River Murray.
There's plenty to see and do, and for all ages and abilities. Here are our top five ideas for families wanting to either chillax during the break or add some adventure to their summer:
1. Get outdoorsand go camping
Get your skates on and plan a camping trip.
There's so much choice for river camping. Whether you're a newbie and want to get under the stars for a night or two, or you're seasoned campers ready to roll out the swags for longer, there's something on the river just for you.
Murray River National Park offers options from being totally self-sufficient right through to sites with amenities.
The park is long and stretches along the river around the towns of Berri and Renmark. Head to Lyrup Flats on the northern side of the river for birdwatching, fishing and camping.
If your four-wheels are itching for a beach run, look no further than Coorong National Park. Just remember to book before you go.
Top tip: With kids on board, planning trips and getting there can be just as fun as the destination. So check out our camping with kids blog and get ready to enjoy the river.
2. Giddyup
No need to quit horsing around these holidays because the River Murray is exactly the place to get on a high horse.
Options vary, from dusk and dawn treks to group lessons and trail rides, so take your Old Town Road off a beaten track this summer.
If you love the idea of horses Daryl Braithwaite style, head to Goolwa Beach where you can ride along the coast as long as you have a permit.
Top tip: Check out our blog for more horsey spots along the River Murray.
3. Get on your bike
Why not hop on a bike to explore the river. From the 30-kilometre Encounter Bikeway from the Bluff at Victor Harbor to Goolwa, to the more challenging mountain bike trails of the Kinchina Conservation Park near Murray Bridge, there's a path for every peddling level… and it's free.
Those with younger kids – or a little rusty on wheels – should try the Matulick Riverfront Trail in Renmark. At 3.5 km it's the perfect warm-up for the longer 6.7 km Lock 5 loop circuit.
Top tip: Check out more River Murray cycling spots in our blog. Happier with your feet firmly on the ground? Then check out our blog on walks around the River Murray instead.
4. Nothing to do? Jump in a canoe!
One of the best ways to really discover the river is to go with the flow. Meander through wetlands and waterways and take some time to look out for wildlife.
The River Murray is home to some of Australia's most amazing plants and animals, with some only found in particular sections of the river.
Watch emus, birds and kangaroos watching you back, and look out for seals in the Coorong.
If you don't have a kayak gathering cobwebs at home, there's always the hire option that can also lighten your load.
If a guided tour is more to your liking, try a wetlands tour, a Riverland or Coorong sunset paddle, or even an overnight canoe camp.
Bird-watching tours and four-day expeditions are also available for larger groups. Just remember to paddle safely and be sun smart.
5. Follow a trail of food and wine
After so many days focused on the kids, might be high time to put the parents first. Don't just stick to the well-worn Barossa and Clare valleys, there's great wineries all along the river too.
It makes sense – more than a quarter of Australia's wine grape production is in the Riverland. From the wineries of Langhorne Creek near the start of the river, to the Southern Hemisphere's biggest winery and distillery Berri Estates, there's plenty to see and an occasional sip to enjoy.
If gin is more your style, why not tour and taste at Renmark's award-winning Twenty Third Street distillery. Or if you'd rather sail to your ale, dock riverside to enjoy the Woolshed Brewery at Murtho.
Those with a sweet tooth can try an ultimate chocolate experience at Havenhand Chocolates or grab a platter to go from Illalangi, both in Waikerie.
See ourFun things to do along the River Murrayblog for more holiday ideas.
This story was originally posted in April 2018 and has been updated with fresh ideas.