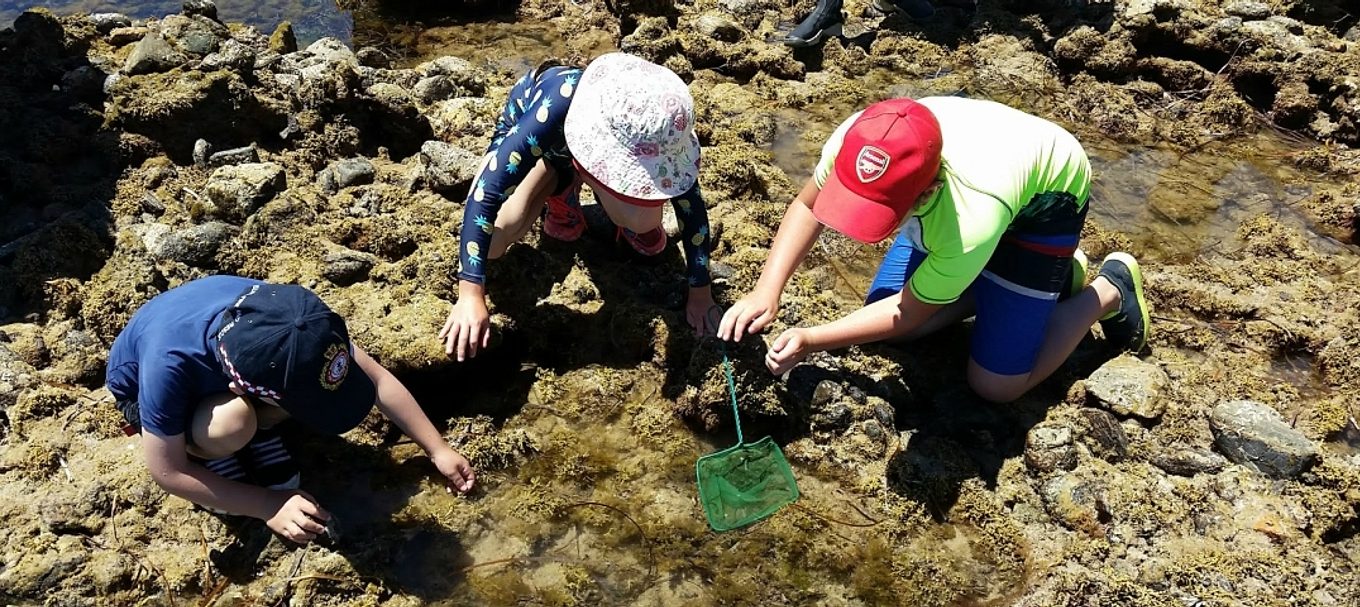 8 rock pools to explore in South Australia
Head out with the kids and uncover South Australia's fascinating rock pool treasures. Here's where to go.
Rock pools are natural aquariums left behind by the tide on rocky sea shores.
These watery seaside treasure-troves are interesting places that offer kids and adults alike endless hours of fun discovering mini ecosystems and secret marine worlds at any time of year.
You can find all sorts in South Australia's rock pools – small fish, jellyfish, crabs, sea anemones, sea stars (they aren't actually a fish but an echinoderm), coral, shells, barnacles, seagrass, sea sponges and wrack, which is loose kelp or seagrass that washes up ashore.
Experience nature but take nothing but photographs. It's actually illegal to remove any animals or plants from foreshore and seashore rocky reefs in SA (from high tide down to 2 metres). We want our marine life to continue to live and thrive.
Here are 8 of the best rock pools to explore across SA:
1. Kingston Park
Kingston Park is located about 17 km south of Adelaide, near the seaside suburb of Brighton.

Take a walk down on the beach to the south. You'll find lots of large rocks, and in between them is a great place for kids to search for rock pools.

Top tip: There is a beachfront park nearby with a picnic area, playground and toilet, as well as a tennis court if you want to have a hit.
2. Moana Beach
Moana Beach is about a 45-minute drive from Adelaide's CBD. Kids can tiptoe through the rock pools at the northern end.

Top tip: At this spot, you can even park your car on the beach.
3. Oliver's Reef
Oliver's Reef is located at Victor Harbor in Encounter Marine Park. Enjoy a fun time beachcombing at the reef.

Top tip: When walking down to the beach remember to look both ways when crossing the Cockle Train tracks.
4. Aldinga Reef
Aldinga Reef Sanctuary Zone is also part of Encounter Marine Park.
Take a wander through the Aldinga Reef rock pools at low tide. You might spot sea stars, crabs, urchins, different types of algae and sea grass pools.
Top tip: Aldinga Reef is recognised as one of Australia's best dive sites.
5. Second Valley
Second Valley beach is a scenic one-and-a-half-hour drive from Adelaide's CBD. It is one of SA's smallest yet most significant beaches.
Kids can spend hours exploring Second Valley's mysterious rock pools.
Top tip: Second Valley is ideal as a Kangaroo Island stopover as it's only a 15-minute drive from the ferry at Cape Jervis, or 20 minutes from Deep Creek National Park with its spectacular scenery and bushwalks.
6. Stokes Bay
Stokes Bay is located on the North Coast of Kangaroo Island. The bay is a secluded beach protected from the pounding surf by a giant pool surrounded by rocks.
Walk through the rocks to emerge on to a beautiful sandy beach with rock pools.
Top tip: Take a stroll in Lathami Conservation Park, located next to Stokes Bay, and keep an eye out for the endangered glossy black-cockatoo.
7. Smooth Pool
Smooth Pool is south of Streaky Bay on the West Coast of the Eyre Peninsula.
This is a secluded location but has an enormous rock pool protected from the surf. It has a life of its own with numerous habitats and hidden rock outcrops.
Top tip: This is also a great beginner's snorkelling location.
8. Lady Bay
Lady Bay beach is in Normanville, nestled between Second Valley and Carrickalinga near Lady Bay Road.
The beach is a great spot for a family day out with beautiful white sand and lots of rock pools to explore.
Top tip: Lady Bay is only a stone's throw away from some of the best bakeries on the Fleurieu Peninsula.
Don't forget to be sun-safe and wear soft-soled shoes to protect your feet and the animals living in the rock pools.
Your guide to South Australian marine life
If you love all things marine, then we've got some great news for you.
National Parks and Wildlife Service and Parks Australia have put together 2 guides with information about different species you might find on the beach and in the water in SA.
The beach explorer's guide and underwater guide will help you identify the fascinating species you might find while exploring South Australia's beaches, rocky reefs and waters.
You can find out more about South Australia's marine life by visiting 'The rock pool' website. It's an SA-focused coastal and marine information hub.
Main image: Smooth Pool
This story was originally posted in September 2016.