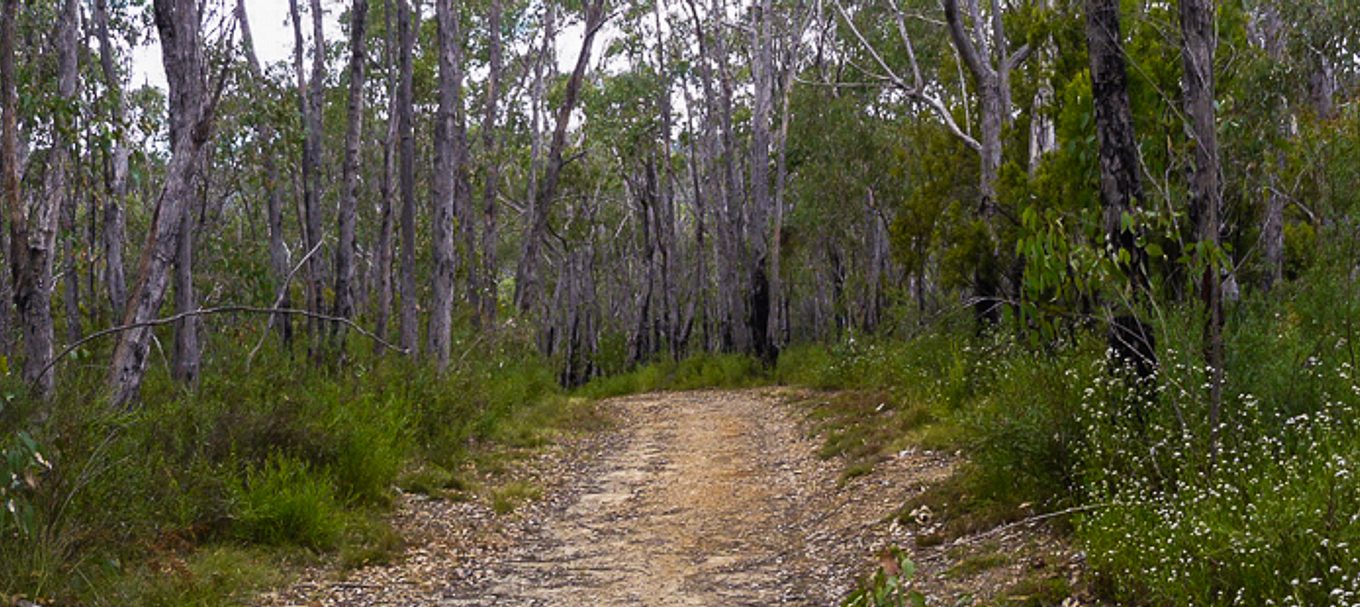 Take a walk – or 2 – in Mark Oliphant Conservation Park
Explore a new walking trail each month in one of South Australia's national parks. Here's a few to try next.
Mark Oliphant Conservation Park is a beautiful patch of Adelaide Hills' bushland. Situated 5 km from Stirling on Scott Creek Road, it has some incredible native plants and animals for you to discover.
Named in honour of Sir Mark Oliphant's contribution to conservation, the park helps protect vital populations of endangered animals and rare plants and is a great place to enjoy a bushwalk through the forest landscape.
Mark Oliphant Conservation Park is dominated by rough-barked and beautiful stringybark gum trees.
The park consists of one short Grade 2 walk to the old oval within the old Loftia park site, and 3 Grade 4 walks through the challenging south-facing slopes through Mark Oliphant Conservation Park.
Take a read to find out more about each of the trails:
1. Candlebark Trail
The Candlebark trail is a short 250 m smooth, flat trail that leads you to the shelter and picnic area near mighty candlebark gum trees that only grow in high rainfall areas of the Adelaide Hills.
These rare candlebark gums stand proudly alongside their stringybark neighbours and can grow as tall as 40 m, while their delicate white flowers provide food for many different insects and birds.
The shelter and small oval that you reach at the end of this trail is perfect for a family picnic. Kick back and relax while you enjoy these grand trees.
This trail is well-suited for families with young children and for mobility impaired visitors, but it may require assistance.
2. Heath Trail
The Heath trail is an adventurous 2 km loop trail with uneven footing but spectacular scenery. It'll take approximately 1 hour to complete.
In the winter months you might see the ephemeral waterfall, and be sure to look out for antechinus climbing the trees while you're there.
These little guys may look a bit like mice, but don't let their appearance fool you! These are brave little hunters that will take on a huge variety of prey, tackling spiders, moths, centipedes, and even small reptiles.
These ferocious little predators live in tree hollows in the stringybark gums, and can have up to 14 young clinging tightly to their mother's tummy.
3. Bandicoot Trail
The 4.5 km Bandicoot trail meanders through the centre of the park and takes you into many of the different environments that the park has to offer. It will take about 1.5 hours to complete.
Take care on Evans Drive as well as any steep or slippery sections.
Keep an eye out for endangered southern brown bandicoots along this trail. They are nature's gardeners – they dig and turn over the soil through the park, hunting fungiand insects for a feast.
Known as ecosystem engineers, they help to keep the bush healthy by aerating the soil, moving seeds, and encouraging fungi to grow.
These cute critters are endangered because of habitat loss and introduced predators. Mark Oliphant Conservation Park is an essential refuge for this fascinating species.
4. Skink Trail
The Skink trail is a gentle 3 km loop trail with some steep and uneven sections that'll take about 45 minutes to complete.
Enjoy the grand stringybark gum trees and vibrant understorey plants along the way.
If you're a keen birdwatcher, keep an eye out for some bold and brightly coloured cryptic birds. Also see if you can spot rosellas, kookaburras, wrens, treecreepers, and the secretive bassian thrush tucked away in the dense bushland.
Things to prepare before you go
Plenty of car parking is available at the park's Scott Creek Road entrance. Nearby is a picnic shelter with an accessible path connecting the facilities to the newly redesigned car park.
Make sure you pack enough drinking water and food for your visit. It's also a good idea to pack sun protection (a hat, sunglasses and sunscreen) and insect repellent. It's also essential you wear suitable clothing for walking, such as long pants.
Some sections of the trail can be slippery or unstable underfoot so be sure to wear sturdy shoes.
There are no bins in national parks, so you'll also have to think about how you can take your rubbish home. Find out more about how you can leave no trace.
Is this the first time you've heard of Mark Oliphant Conservation Park? There are many more lesser-known parks out there. Check out this list of 10 national parks near Adelaide you might not have heard of to begin exploring.